A sneak peek at New York's brand-new neighborhood, Hudson Yards
The most exciting new additions coming next year to the futuristic enclave rising on the far west side.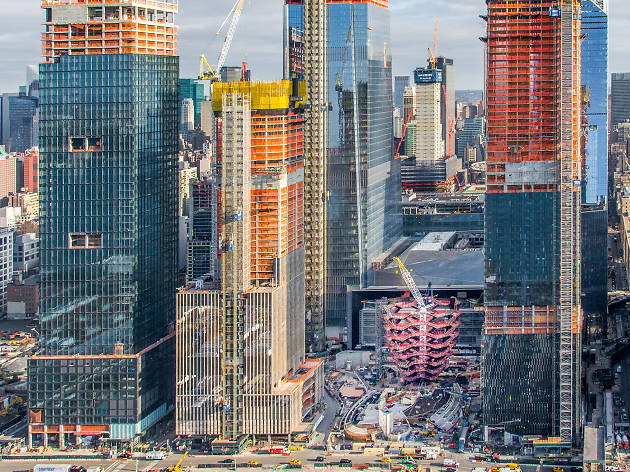 It's hard to miss all of the construction happening at Hudson Yards these days. The one-time abandoned train yard is in the midst of a transformation into a sleek cultural destination with soaring towers, cutting-edge performance spaces and, yes, plenty of new food options. Here are four things opening next year that it's time to get excited about.
The Vessel

The Vessel
Photograph: Courtesy Forbes Massie-Heatherwick Studio
Paris may have the Eiffel Tower, but next spring, Manhattan is acquiring a functional art installation of its own: the Vessel. The 60-ton, honeycomb-shaped immersive sculpture, designed by British architect Thomas Heatherwick, will be the focal point of Hudson Yards, a 18 million–square-foot mixed-use neighborhood being developed above the rail yard west of Penn Station.
"The Vessel is a playground for everybody," says Jay Cross, president of Related Hudson Yards, the company behind the massive real estate project. "It's a series of platforms and stairs, and there are an infinite number of routes to the top. It's a public folly." He envisions New Yorkers racing up and down the steps or proposing marriage and picnicking when the project opens to the public in March 2019.
The Shed

The Shed
Photograph: Courtesy Diller Scofidio + Renfro/Rockwell Group
Launching in spring 2019, this independent nonprofit cultural institution is dedicated to commissioning, producing and presenting new works across the performing arts, the visual arts and popular culture inside a 200,000-square-foot, Diller Scofidio + Renfro–designed structure.
Hudson Yards Observation Deck

Hudson Yards Observation Deck
Photograph: Courtesy Related Oxford
Slated to soar in 2019, the open-air, 100-story observation deck isn't for acrophobes. But everyone else can enjoy unobstructed views of the Hudson River and skyline as well as a restaurant serving bites at 1,000 feet elevation.
Public Square and Gardens

Public Square and Gardens
Photograph: Related Oxford
Surrounding the Vessel, this massive public space will "function like a piazza in Italy," says Thomas Woltz, owner of Nelson Byrd Woltz Landscape Architects. Elevated above 30 active rail lines and landscaped with native plants from the Hudson Valley, the park will sit near new dining (a Momofuku concept!) and shopping (NYC's first Neiman Marcus!) destinations. "People can sit and linger in a place no one could access before," says Woltz. "Our mission is to create an extraordinary gathering place in the middle of the West Side that combines horticulture, beauty and contemporary lifestyle."
Looking for other things to do on the west side of Manhattan?