Heads up! We're working hard to be accurate – but these are unusual times, so please always check before heading out.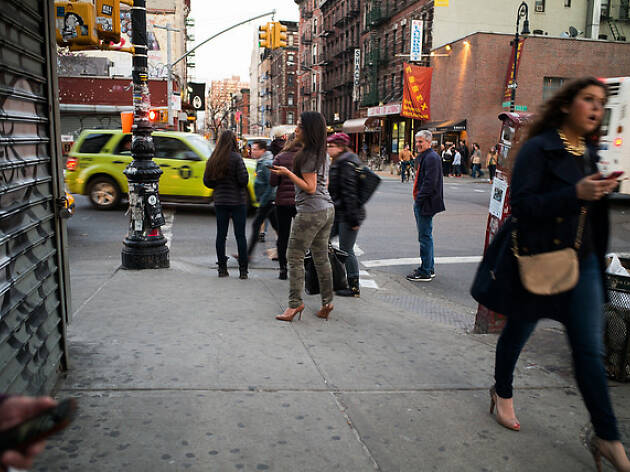 Are people who FaceTime while walking down the street literally insane?
This is what's driving us bonkers in NYC right now and making us (almost) want to move
We live in a walk-and-talk kind of town—I get it. When I'm on my morning commute or running between meetings, you can bet your ass I'm using that precious time to "catch up on calls," which is code for "calling my mother." However, I see more and more people roaming the streets while FaceTiming. This behavior is unacceptable.
RECOMMENDED: See more New York rants
Listen, I can understand that the occasional tourist would want to share their trip to the Best City on Earth through the lens of their iPhone for someone back home. But this is not what's happening here. These distracted lollygaggers are always discussing some meaningless nonsense (personally, my conversations are witty, informative and brief) with some groggy pal in a disheveled bed right here in the tristate area.
While I get the allure of a face-to-face convo, these FaceTimers are pinballing into pedestrians and completely ignoring the flow of traffic. Must I get bumped around so that you can whisper sweet nothings to your boyfriend in Yonkers?
Let's bring back the days when New Yorkers just obnoxiously shouted into their phones with a robust disregard for others. At least then they would see where they were going.
Not all of NYC is annoying!
Join the Brooklyn Academy of Music for New York City's largest public celebration of Dr. King's legacy featuring world-renowned activists, public figures, and civic leaders alongside musicians and other performers, including a keynote address by Alicia Garza (author of "The Purpose of Power," principal at Black Futures Lab, and co-founder of the Black Lives Matter Global Network) and performances by Grammy winner PJ Morton, Tarriona "Tank" Ball, Sing Harlem!, poets Timothy DuWhite and Ashley August, and other changemakers, this tribute to Dr. King grounds us in a message of "hard-earned hope."
Don't miss BAM's new outdoor installation starting January 15. "Let Freedom Ring" is a series of new and existing images and text-based work by Brooklyn artists meant to be a provocative exploration of the notion of freedom and Dr. Martin Luther King Jr's legacy. It'll be located at the corner of Lafayette and Flatbush avenues.
Integral Yoga New York is celebrating Dr. Martin Luther King Jr. Day with a workshop that combines floor based yoga, breathwork, and guided meditation accompanied by live cello, followed by a sound bath of gongs, chimes, and singing bowls. It'll be streamed live on YouTube but pre-registration is required at least 30 minutes in advance. A portion of proceeds will go to the Integral Yoga's Racial Diversity and Anti-Discrimination Committee for the development of scholarships, classes, and events.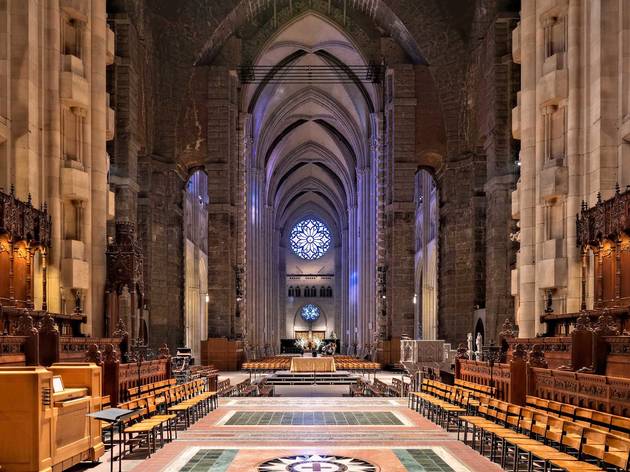 Photograph: Shutterstock
Pre-Inauguration Candle Lighting Ceremony for Unity
The Cathedral of St. John the Divine is hosting a candle lighting for unity ahead of the presidential inauguration on Tuesday, January 19 from 3 to 6pm. The community is invited to stop by the Cathedral's front steps to light a candle in support of American democracy and national unity. At approximately 5:15, members of the Cathedral's clergy will offer a brief prayer service for the health of the nation. Joining with houses of worship around the country, the Cathedral will then toll its bells in solemn commemoration of all who have died due to COVID-19 and civic unrest in the past year.
A creative residency of aerialists and acrobats is performing at City Point's BKLYN STUDIOS every Sunday and Thursday through February 28—and you can see them for free. Some of New York's top circus performers, who have been furloughed since March, are practicing and displaying their works-in-progress and show-ready acts and of dazzling skills, innovative movements, super-human resiliency and flexibility (while adhering to Covid-19 guidelines). You can catch their showcases twice a week (Thursdays at 7pm and Sundays at noon) and their rehearsals on weekdays from 9am to 1pm and from 6 to 9pm, as well as on Sundays from 10am to 7pm.
Ernst-Alper and photographer Giles Clement also collaborated on New York City Performer Series for an installation featuring images of aerialists, burlesque personalities, clowns, and dancers in the Atrium at City Point. Each image will be sold as a limited-edition print and as part of a set of 10 postcards. Proceeds from sales will be shared with the performing artists to help them through the pandemic.
BRIC is presenting "Latinx Abstract," a groundbreaking exhibition that asserts the enduring
legacy of abstraction among Latinx artists, from January 21 to May 2, 2021. The show features a cross-generational survey of ten artists—Candida Alvarez, Karlos Carcamo, Maria Chavez, Alejandro Guzman, Glendalys Medina, Freddy Rodriguez, Fanny Sanín, Mary Valverde, Vargas-Suarez Universal, and Sarah Zapata. The artists' work "challenges the established history of abstract art in the United States, which largely excludes the contributions of Latinx artists, individuals of Latin American descent based in the United States." The show will be on both virtually and in-person at BRIC House (647 Fulton St). In-person viewing at BRIC will be available during reduced hours, Wed-Sat 11am-6pm, and at reduced capacity. Visitors are encouraged to reserve a space 48 hours in advance by contacting BRIC. In-person viewing availability is subject to change.
On Tuesday, the day before Inauguration Day, President-elect Joe Biden is holding a lighting ceremony at the Lincoln Memorial Reflecting Pool in honor of lives lost to COVID-19. Biden is also inviting communities around the country to join in lighting up their buildings and ringing church bells at 5:30pm in "a national moment of unity and remembrance," according to the event page. The Empire State Building is joining in that night with its own lighting display—a red heartbeat that will flash to Alicia Keys' anthem "Empire State of Mind" via iHeartMedia New York's Z100. It'll beat from 5:30pm to 2am.
A new COVID-19 Memorial is blooming in NYC now through February 28. After
laying 20+ floral hearts
around the city, artist Kristina Libby (
@lightvslight
) has once again put her
Floral Heart Project
on display in a new public art window exhibit at
SpreadLightNYC
, 100 Franklin Street in Tribeca. "Heartbleed" is a video installation and sculpture piece that reflects the lives lost to COVID-19. Each petal represents a life and is timed to fall corresponding to a day. When you watch the entire video, you will see a petal for every person lost and the timeline over which we have lost them. The floral heart sculpture is a memorial intended to provide and promote healing in our community.
Laugh it up at this heated, outdoor and socially distanced comedy show with comics from Netflix, Comedy Central and NBC. Hosted by Stephen Campbell, Katie Boyle and Lindsay Theisen, it will feature Usama Siddiquee (America's Got Talent), Chanel Ali (Comedy Central), Eagle Witt (Comedy Central), Courtney Maginnis (Comedy Central), Casey James Salengo (Comedy Central).
Prismatica, an immersive art installation consisting of 25 rainbow-like prisms, will be installed this Monday on the Broadway pedestrian plaza between 39th and 40th streets, courtesy of the Garment District Alliance. The six-foot-tall prisms will reflect a kaleidoscope of colors as they move, creating a colorful environment for pedestrians to traverse. Along with the colorful reflections, musical sounds will create a truly immersive landscape along the public thoroughfare. The outdoor art installation will be on view through January 30. Looking for more great art to see in NYC? These are the best art exhibitions in NYC right now.
America's most famous dogs are getting their due at the AKC Museum of the Dog. This week, the museum launched "Hollywood Dogs" featuring drawings, portraits and posters of some of the biggest canine blockbusters like Lassie to Old Yeller and All Dogs Go to Heaven. Inside the exhibit, you'll also see animated and cartoon dogs in old celluloid, pencil sketches, comic strips, old portrait photos of Rin Tin Tin and other headlining canines. The exhibit will be on through April 11 at 101 Park Avenue, but it'll also be put online at a later date so dog lovers can view it from home.