Rockefeller Center Tree lighting guide
Don't miss your chance to see the Rockefeller Center tree lighting ceremony—this year's show will certainly be magical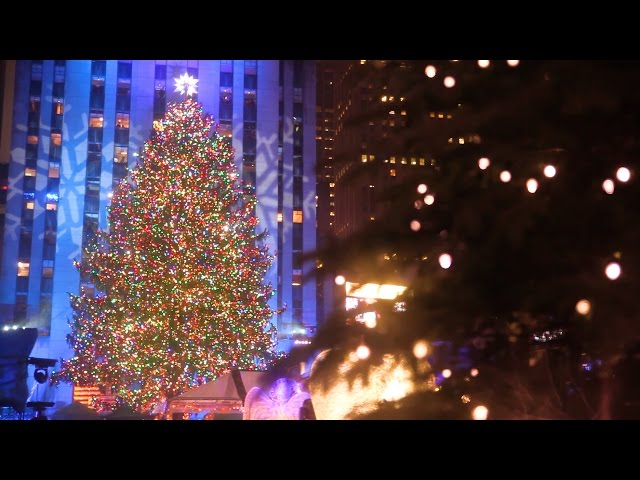 Every Christmas, there are several tree lighting ceremonies happening all throughout New York, but none compare to the Rockefeller Center tree lighting (this year's should be the best one yet!). You'll find illuminated pine trees displayed at holiday markets and other NYC attractions, but there's nothing better than going ice-skating, warming up with hot coca and taking pictures with the stunning Rockefeller Center tree as your backdrop. Since the official tree lighting ceremony is one of the best NYC events in November, we want to make sure you have all the information you need in order to stake out a good spot to watch the 94-foot Norway Spruce (covered in 50,000 energy-efficient LEDs) light up for the holiday season. This is the only tree-lighting ceremony you can watch live on TV (tune in to WNBC), which is great for any anxious New Yorker—er, all of us—that wants to avoid the crowds.
RECOMMENDED: Full guide to the Rockefeller Christmas Tree
When is the Rockefeller Center tree lighting ceremony?
The Rockefeller Center Christmas tree will be lit for the holiday season on Wednesday, November 30 at 8:55pm during a special ceremony. There will be fantastic performers and live music starting at 7pm sharp. The hosts for the evening are Matt Lauer, Savannah Guthrie, Al Roker and Hoda Kotb.
Where is the Rockefeller Center tree lighting ceremony?
The Rockefeller Center tree lighting ceremony is located at Rockefeller Center on 49th St between Fifth and Sixth Avenues.
Who will be performing at the Rockefeller Center tree lighting ceremony?
This year's lineup includes performances by Neil Diamond, Sarah McLachlan, Tori Kelly and The Radio City Rockettes. Additional performers include Garth Brooks, Trisha Yearwood, Dolly Parton, Tony Bennett, Josh Groban and Jordan Smith.
Want to see past Christmas trees?
Is there anything more beautiful than the Rockefeller Christmas Tree lit up at night? These photos prove there isn't.
Read more