Heads up! We're working hard to be accurate – but these are unusual times, so please always check before heading out.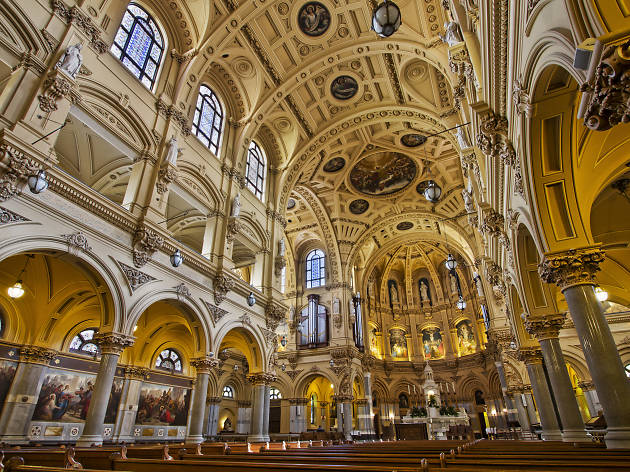 The most beautiful churches in NYC
At the most beautiful churches in NYC, step back in time with historical architecture or attend a religious service
Old New York is disappearing, especially our beautiful churches in NYC. However, the many of our hallowed, centuries-old churches and cathedrals still stand. Though a few no longer host regular services, their photogenic architecture rank right up there with some of our most extravagant museums. From midtown to the Financial District, these are the most gorgeous churches in NYC you need to visit. Some of them even host concerts and events. Praise! After gorging hard at our best restaurants and drinking your weight in liquor at the bar, do a church crawl to, y'know, repent for your sins.
RECOMMENDED: Full guide to the best New York attractions
Most beautiful churches in NYC
One of New York's most famous landmarks, this neo-Gothic-style Catholic cathedral draws thousands of tourists each year—it can seat 3,000 of them at once. Located directly across from Rockefeller Center, it was first built by in the 1800s as a replacement for Old St. Patrick's Cathedral in Chinatown. Taking up an entire block, its notable design elements include a block's work of Tuckahoe marble, a detailed rose window and a large sculpture of the Pietà.
Believed to be the world's largest Anglican cathedral-church, St. John the Divine was built by the Episcopalians, in part to compete with the Catholics' St. Patrick's Cathedral. Built in the traditional stone-by-stone construction (a mix of limestone and granite), the cathedral exemplifies France's High Gothic style and features seven separate chapels, each named for a different patron saint.
With three centuries of history, Trinity Church is one of the most historical religious institutions in New York City. Built for the Church of England by charter from King William III, it was at one time the tallest building in the city due to its towering spire. Over the years, there have been various renovations and additions, joining together three separate buildings on the same lot. The church is constructed in the neo-Gothic style and boasts 23 bells which can be heard chiming through downtown Manhattan.
This Episcopal church was founded in 1868 for the neighborhood of Longacre Square, now called Times Square. Known for its heavy of use of incense, the church is sometimes called Smoky Mary's. The main attraction here is the well-preserved Gothic architecture—with vaulting columns ideal for its famous booming organ pipes—along with the splashes of blue and gold added during a '90s redecoration.


Photograph: Courtesy CC/Flickr/Ben Kilgust
5. Church of St. Luke and St. Matthew
Modeled after the basilicas of Italy, this Neo-Romanesque church was designed by famed Brooklyn architect John Welch. Sitting in the neighborhood of Clinton Hill, the church boasts a facade with grand arches, stone walls and a 28-foot diameter rose window over the main door. 520 Clinton Ave, Brooklyn (718-638-0686, stlukeandstmatthew.org)
An Evangelical-Baptist church, Judson became a famous performing and visual arts space in the 1900s. It has since showcased works by everyone from painter Robert Rauschenberg to Yoko Ono and choreographer Trisha Brown, founder of Judson Dance Theater. Long dedicated to social outreach causes, including women's rights and AIDS resources for the LGBT community, the church now engages in the New Sanctuary Movement for immigrant rights.
This Flatiron institution has served the city's Catholic community since 1851—today it caters to a more progressive congregation. Originally founded by Fordham Jesuits, the original building was torn down in 1878, with a replacement reconstructed in 1882. The exterior of the church was made in the Neo-Baroque style, with stained glass windows and religious paintings and sculptures on the inside.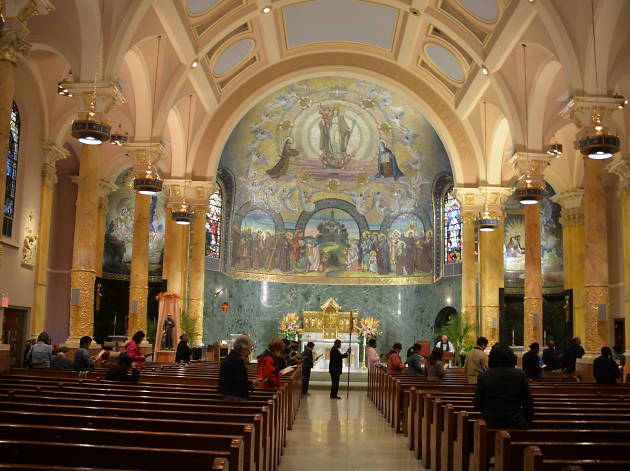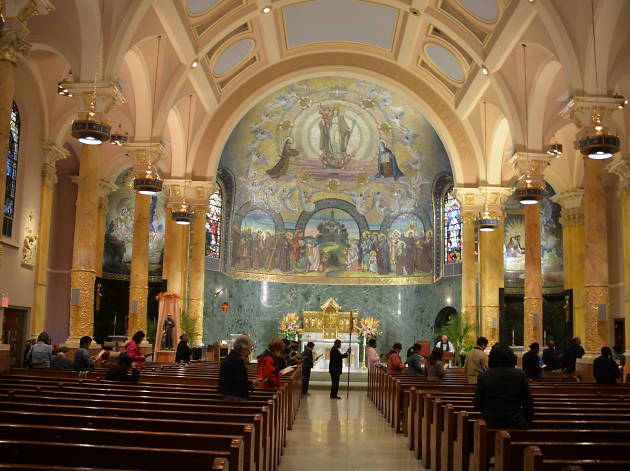 Photograph: Courtesy CC/Flickr/Paul Sullivan
8. Church of St. Francis of Assisi
Located in the tourist-heavy Garment District, this Roman Catholic parish church was built in 1892 to cater to what was then a rapidly changing neighborhood. Constructed in the traditional Gothic Revival style, it's known for being home to one of the largest mosaics in the country, The Glorification of the Mother of Jesus. The church is also known for operating one of the country's longest-running breadlines, started during the Great Depression to feed the hungry. 135 W 31st St (212-736-8500, stfrancisnyc.org)
The original Cathedral of the Archdiocese of New York, the Basilica of St. Patrick's Old Cathedral was built 200 years ago in what is now Chinatown. Steeped in history, the building was attacked by anti-Catholic rioters in 1836. Along with its sister church, the nearby Shrine Church of Most Precious Blood, Old St. Patrick's is a must-visit when strolling through Chinatown. (Pro tip: Take a walk through history with a candlelit tour of the catacombs beneath the church.)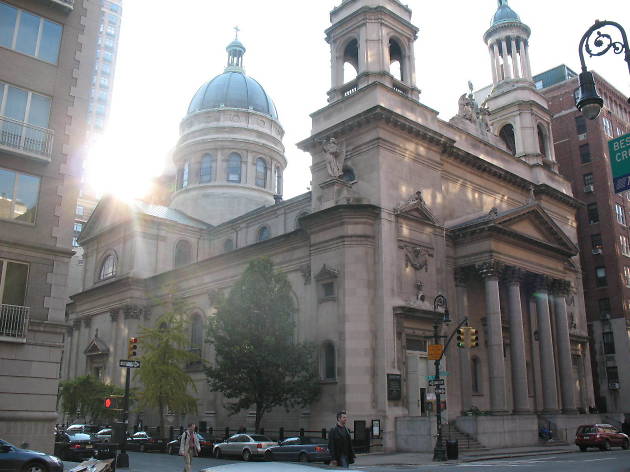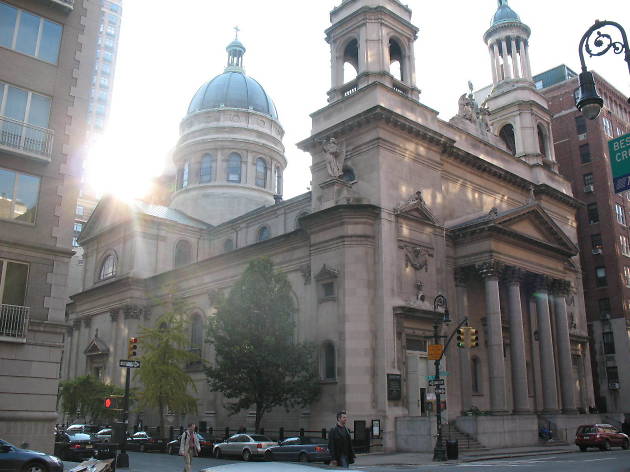 Photograph: Courtesy CC/Flickr/snapsparkchik
10. Église St-Jean-Baptiste
Historically catering to the French-Canadian population of the Upper East Side, this Catholic parish church was designed by an award-winning Italian architect influenced by the styles of Mannerism. Named a city landmark in 1969, the church is distinguished as one of the only ones in NYC with a dome. 184 E 76th St (212-288-5082, stjeanbaptisteny.org)
Show more
Looking for more things to do in NYC?
Historical attractions like the Woolworth Building and Brooklyn Bridge provide a glimpse into NYC's past