The most beautiful NYC buildings
These stunning NYC buildings—from Flatiron to the World Trade—will have you falling in love with the city all over again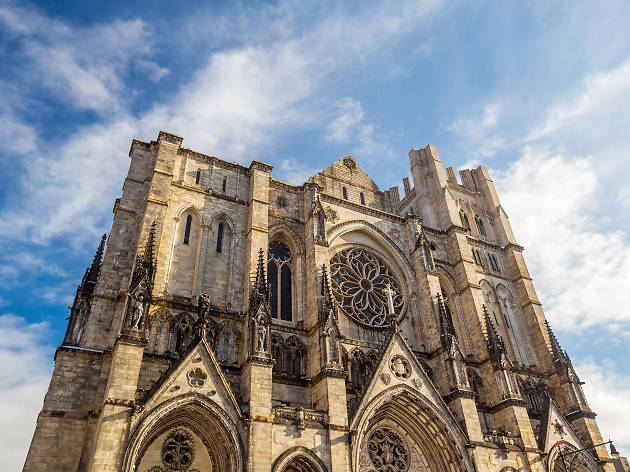 NYC's skyline is the eighth wonder of the world, which is why we took it upon ourselves to highlight the most beautiful NYC buildings. Call us crazy, but whether you've lived in Gotham your whole life or you're just visiting, there's nothing quite like the rush of seeing the best views in NYC from either the Empire State Building or The Chrysler. But what about the sheer architecture of our art museums? Or the city's lesser-known gems like the conservatory at the New York Botanical Garden? We've put together the most breathtaking skyscrapers and more right here, encompassing the city's architectural peaks. So go check 'em all out, along with the many other New York attractions we love.
RECOMMENDED: Full guide to New York attractions
Most beautiful NYC buildings
1
The triangular peculiarity of the Flatiron Building has been one of the New York's most captivating and talked-about edifices. When it was built in 1902, it so defied common architectural practices that it was commonly believed it would collapse as soon as it was faced by a strong gust of wind. Over a century later, it's still standing, and even served as the office of the fictional Daily Bugle in Sam Raimi's Spider-Man movies. 175 Fifth Ave between 22nd and 23rd Sts
Book now
Read more
2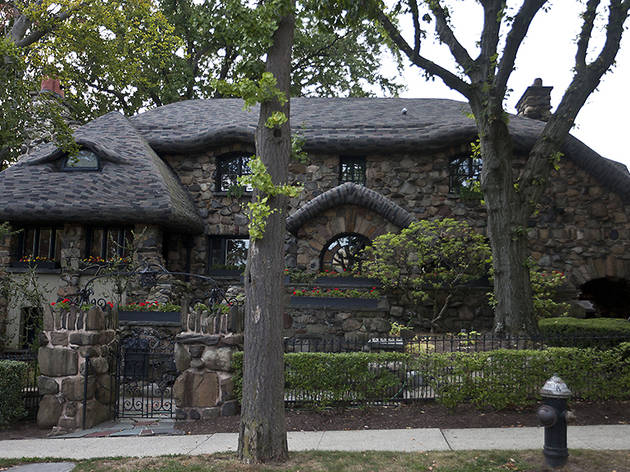 The Gingerbread House
Sometime during World War I, Hansel and Gretel apparently packed up and moved to Bay Ridge to construct their dream home. The result? This fairy-tale-sequel, block-wide, stone-and-thatched-roof cottage. And guess what? It's been on the market for a mere $10.5 million! We assume there must be a stock of magical potions in the basement that's driving up the price. 8220 Narrows Ave between 82nd and 83rd Sts, Bay Ridge, Brooklyn
3
You're familiar with the Bloomberg Tower, right? Given it's NYC's 15th-tallest building, you can't miss it. But at the foot of this otherwise unremarkable skyscraper is the building's courtyard, circled by a glorious, curving glass structure that's housed Le Cirque restaurant since 2006. 151 E 58th St between Lexington and Third Aves
Book now
Read more
4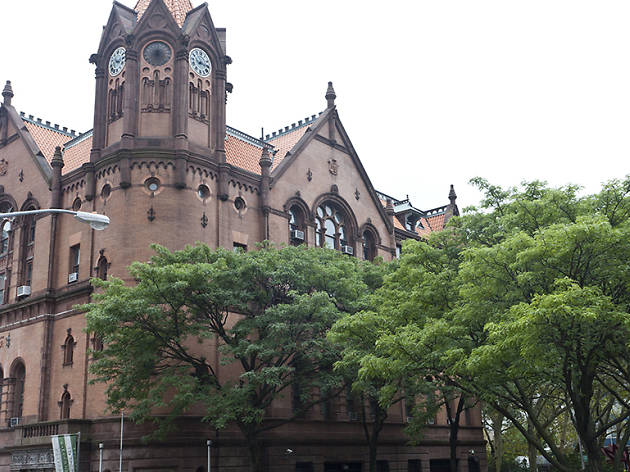 Harlem Courthouse
Built in 1891, this municipal courthouse functioned as such until 1961 and contained 40 jail cells until the 1940s; it's now the more friendly-sounding Harlem Community Justice Center. Architecturally speaking, this is a Romanesque Revival building with Victorian flourishes—just look at those lovely gabled roofs and archways, and the belfry with four clock faces. We'd like to see it used in the next Wes Anderson movie, please. E 121st St
5
High and mighty, indeed: The Woolworth Building is one of New York City's 20 tallest buildings, and at the time of its erection (ahem) in 1913, it was the tallest in the world. Its lights were turned on in a fancy opening ceremony by President Woodrow Wilson, who pushed the on switch from Washington, D.C. Since the demise of the Woolworth Company in the '90s, the building has passed hands to property developers who plan to convert the top 30 floors into luxury condos. Priced at $110 million, the penthouse will be downtown Manhattan's most expensive sale. 233 Broadway
Book now
Read more
6
Has any actual radiator in history looked as grand and gorgeous as this? Perhaps the radiators in the White House? Wait, perhaps the radiators in the Radiator Building! Either way, this glorious Gothic tower was built for the American Radiator Company in 1924 by John Howells and Raymond Hood, and is the subject of Georgia O'Keeffe's 1927 painting, Radiator Building—Night, New York. The building's black brick symbolizes coal, and the gold brick represents fire. It's now the fancy Bryant Park Hotel. 40 W 40th St
Check prices
Read more
7
As iconic as it is, the Chrysler Building must suffer from a serious little-brother complex. It held the undisputed title of world's tallest scraper for a mere 346 days after its completion in May 1930, at which point it was usurped by…the Empire State Building, only a few blocks away. (Stupid Empire State Building, always hogging the postcard images and whatnot.) Amazingly, Walter P. Chrysler funded the entire construction out of his own pocket. 405 Lexington Ave between 42nd and 43rd Sts
Book now
Read more
8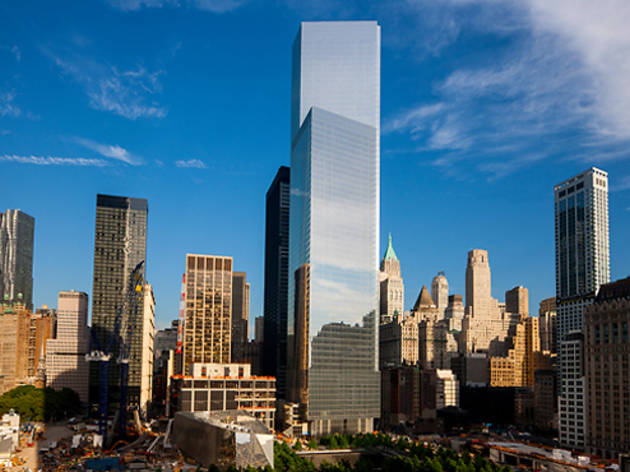 4 World Trade Center
The original, nine-story 4 WTC was destroyed on 9/11, so its replacement, a glimmering glass tower designed by the legendary Fumihiko Maki that opened to the public November 2013, is all about renewal—in more ways than one. Indeed, 100 percent of the energy used in the building comes from renewable sources like solar and wind. And hey, business world, there's still plenty of office space available! 4 World Trade Center
9
Take a look at 30 Rockefeller Plaza, in all its magnificent, truly skyscraping, slender, elegant glory—and it's hard to not hear the opening refrain from "Rhapsody in Blue" playing, such is this building's old-school New York romanticism. Completed in 1939 by tycoon and philanthropist John D. Rockefeller Jr. in the Art Deco style, it's long been the HQ of NBC and still houses such TV classics as Saturday Night Live. But our favorite 30 Rock feature? The Christmas tree, of course! 1250 Sixth Ave
Book now
Read more
10
The sturdy gray fieldstone structure of the Van Cortlandt House dates back to before the Revolutionary War, and served as a homestead for the Van Cortlandt family until the late 19th century. George Washington stayed there on no less than two occasions, during which he remarked, "I cannot tell a lie; this is a nice house." (Probably not true.) Broadway, Van Cortlandt Park at 246th St, Bronx
Read more
Show more
How will NYC's skyline look in the future?
Check out the super tall towers that will alter the look of New York City's skyline within five years
Read more
Related video
Check out the crazy changes that are happening to the NYC skyline