The best arcades in NYC
Play old-school pinball machines, quarter video games and other retro delights at these arcades in NYC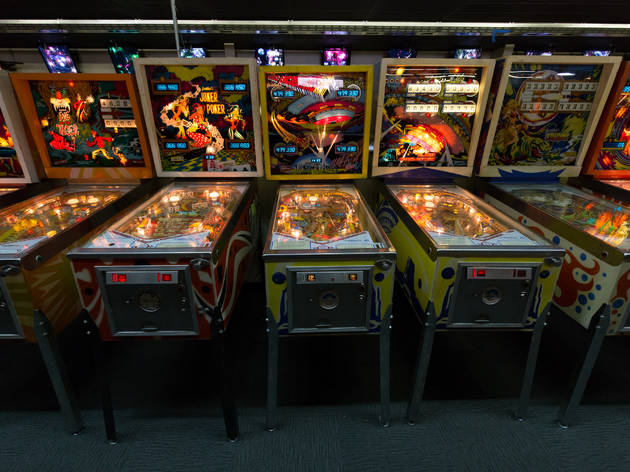 Quit out of Candy Crush on your phone: It's time for some old-school gaming at one of the best arcades in NYC. Yes, '90s-style pinball halls still exist, and a new crop of trendy bars with games has also joined the pack. Whether you're looking for things to do on a rainy day or want to tap into your inner teenage gamer, playing a few rounds of Pac-Man or Donkey Kong is sure to be a good time. And for your next nerdy excursion, why not try one of the best escape rooms in NYC?
Best arcades in NYC
Part arcade, part museum, this Murray Hill spot spreads the love of the game with every high score. The selection of 30 new and restored games dating back to the '70s includes favorites like Xenon and FunHouse, plus an open cross-section of a working machine that you can still play. It's not just fun and games, though: Staff also use the inner workings of the games to teach STEM classes to schoolchildren in their Pinball EduFun program. Even grown-ups can learn something from a visit, and luckily, it's not pricey: You can pay to play by the hour ($14.95) or the whole day ($29.95). This arcade doesn't serve food or drinks, but your wristband comes with a 10 percent discount at the Mad Hatter pub next door.
Book now
Read more
Adolescent gamers flocked to this Lower East Side arcade for five decades until it shut its doors in 2011. Thankfully, it reopened only a year later with a fresh coat of paint, new management and more kid-friendly options. Stop by to try your hand at Japanese street-fighting games or bust a move on Dance Dance Revolution. Still, the old timers lament the absence of the legendary tic-tac-toe–playing chickens that rarely lost a game. Staffers say the birds are merely "on vacation," but don't expect them to make an appearance anytime soon.
Book now
Read more
Venue says: "HAPPY HOURS M-FRI until 7pm! $1 off Beer, Wine and Well Drinks | Select Beer & Jim Beam shot for $10"
Players looking to get their booze on while dominating at Mario Kart will want to check out this craft beer bar–arcade combo. The tap list rotates frequently, but often includes local quaffs like Brooklyn Brewery's Sorachi Ace Saison and LIC Beer Project's Trigger Rye. The outposts in Williamsburg, the East Village and Chelsea all offer a slightly different selection of classic quarter machines, so check the website before you go if you're on a hunt for Ms. Pac-Man or Q*Bert.
Read more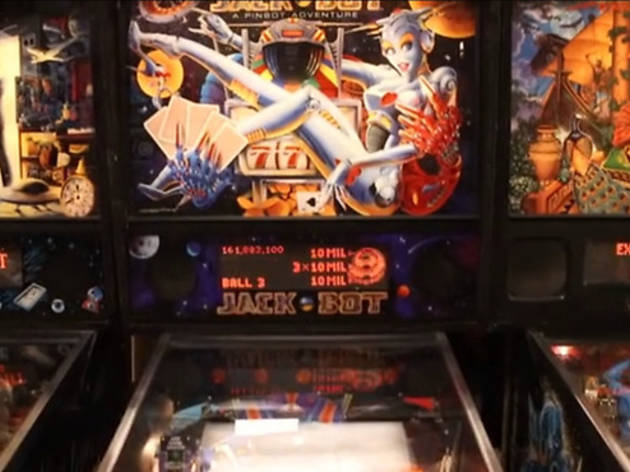 Sunshine Laundromat
Where else in New York City can you wash a load of laundry, play classic arcade games and down a beer all in the same hour? The front of Sunshine Laundromat really is a working laundromat, but a speakeasy-style door made out of a washer-dryer combo leads you into a back bar filled vintage machines in pristine condition. There's Attack From Mars, Monster Bash and even a fortune-telling animatronic monkey. The owner's dogs have been known to hang out in the laundromat, too—just don't expect them to help fold your whites.
This Lower East Side bar gets its name from the old-fashioned word for a quarter—which is also the amount it costs to play one of its 20-plus vintage arcade games. Once you've gotten your fill of Tetris and Frogger, plunk down at the bar to check out the lewd drawings of video game characters done by a local artist. Two-Bit's has a robust selection of wine, beer and sake, but the best deal might be the 40s of Colt 45. Come for the games, but stay for the booze and throwback flicks projected onto the back wall of the bar.
Read more
Though it doesn't have as much local character as some of the other arcades on this list, Dave and Buster's wide selection of current and vintage games is nothing to shake a stick at. From Pac-Man Battle Royale to Angry Birds to Galaga to Skee-Ball, there's something for every type of player—and the bar serves plenty of alcoholic slushies and glow-in-the-dark snow cones to sweeten the deal.
Read more
Looking for more things to do?
From funhouses where you can play a bazillion arcade games to party venues with insanely delicious fried chicken, your options are endless
Read more