The best places to go bowling in NYC
The only way you'll master that 7-10 split is by bowling! NYC has some excellent alleys where you can practice.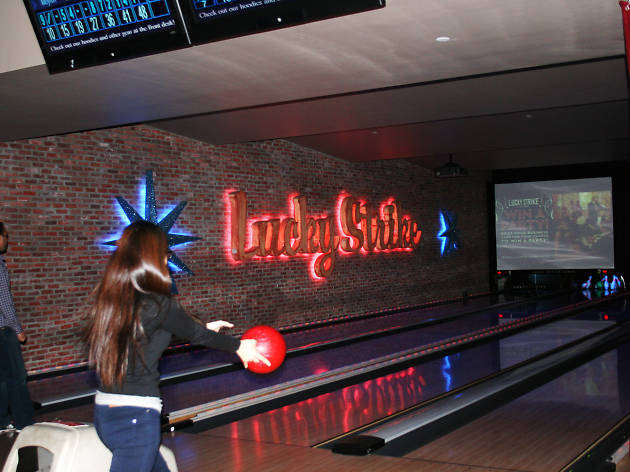 When you're searching for things to do in winter, you can't go wrong with this classic indoor pastime: bowling. NYC has plenty of alleys, including some of the city's best bars with games, where you can attempt to facilitate the perfect strike. From funhouses like Bowlmor Lanes where you can play a bazillion arcade games to party venues like Brooklyn Bowl with its insanely delicious fried chicken, your options are endless. To make it a little bit easier, we've complied and ranked the best spots for you.
Best places to bowling
1
Bowlmor's newer Midtown West location boasts 50 lanes divided among seven NYC-themed rooms: enter the Times Square of the 1960s through a naughty storefront, or warm yourself by the cozy fireplaces in the Bethesda Fountain–inspired bowling suite. There's also a great location at Chelsea Piers.
Read more
2
The performance venue-slash-16-lane alley is set in the abyss of a renovated warehouse, which leaves more than enough space for an on-site Blue Ribbon. Gorge on comfort food favorites (like a sloppy joe or fried chicken platter) among fellow mid-20s brethren—the scene is decidedly a postgrad favorite.
Book now
Read more
4
The Hell's Kitchen outpost of this national chain boasts 26 state-of-the-art lanes and 11 billiard tables ($15 to $20 per hour). Have a drink in the lounge or a meal in the restaurant while you wait for a personal buzzer to announce that your lane is ready. We recommend booking ahead for weekends; lane reservations can be made up to three weeks in advance.
Read more
5
The addition to the Williamsburg bar scene adds a unique twist—eight bowling lanes. Special events like Monday night trivia at 7pm help draw in crowds not enticed enough by the combination of alcohol and hurling bulky objects.
Read more
6
A bumper system allows adults, kids and double-digit bowlers to all play on the same lane. We like the in-house pizzeria (owned by Gennaro's), the on-site pro shop, the High Roller Lounge's pool tables and darts, and the 100-ounce beer tub for $22.
Read more
7
This alley is open 24/7. That's a turkey right there, but we also dig the fab chicken wings and crispy french fries on offer at the snack bar. You can also have your bowling balls custom-drilled at the on-site pro shop. Pay $19 for all-you-can-bowl on Saturday and Sunday mornings (8am–noon) as well as on Monday and Tuesday nights (10pm–2am). Also, $60 gets up to five people an hour of unlimited bowling, shoes included.
Read more
8
You name it, they have it: dartboards, pool tables, a pro shop, a sweet game room with five Skee-Ball machines, a sports bar with bucket specials and a pizzeria-grill. Moreover, the pulsating Xtreme Glow-in-the-Dark Bowling makes for a wildly bright Friday or Saturday night. From 9:30pm to 12:30am on Mondays, it's Bowl-Till-You-Drop: all-you-can-bowl for $10 per person (minimum four people per lane). From 9:30am–11:30am on Saturday and Sunday, up to six people can rent a lane for $10 per hour.
Read more
Want to take a painting class?
At painting classes in NYC, learn how to be an artist worthy of NYC's best galleries. Or just sip wine while you work.
Read more