The best water sports in NYC
You don't need to get out of town to catch a wave, dude. Consider this your guide to the best water sports in NYC.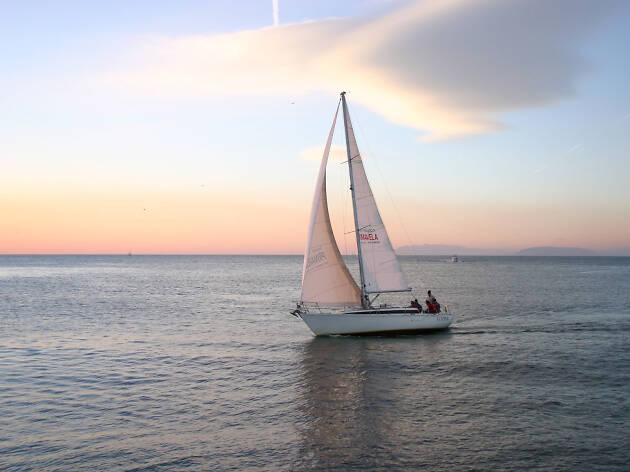 Though Manhattan is technically an island, you're more likely to spend a hot summer afternoon drinking at a rooftop bar than lounging on a sandy beach. Still, there are plenty of water sports in NYC to try—and no, we don't just mean the ubiquitous boat tours around the bay. Whether you prefer kayaking, sailing or kiteboarding, the city has plenty of outdoor adventures to offer. Next time the muggy summer heat descends over the city, go cool off with one of these extreme water sports.
RECOMMENDED: Full guide to things to do in the summer in NYC
Water sports in NYC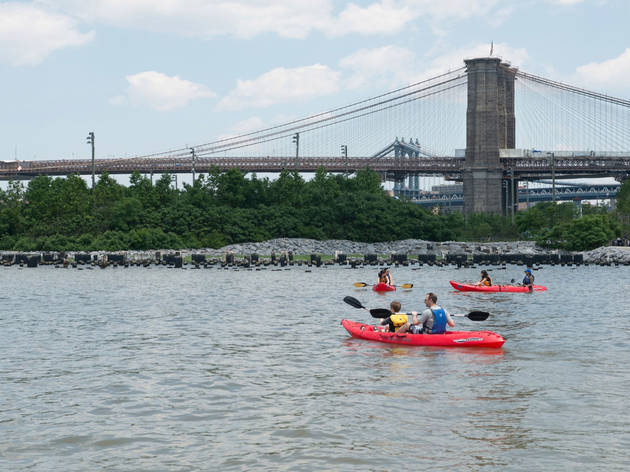 Kayaking
Queue up at the Brooklyn Bridge Park Boathouse for a free-of-charge paddle in the majestic shadow of the green space's namesake from June through August. The wait is often long, but it's worth it: The BBPB folks have a 15-vessel fleet, and you can play skipper on the East River for about 20 minutes. The granddaddy of NYC's free-kayaking scene, though, is the New York City Downtown Boathouse, which hosts walk-up outings at both Pier 26 and Governors Island all summer long. Once you've signed a waiver and donned a life jacket, you can take your kayak out in designated areas for 20 minutes at a time—or longer if others aren't waiting. Or, if you'd like to spend some more time out on the water, book a Kayak 1-2-3 course through Manhattan Kayak to spend six cumulative hours paddling the Hudson.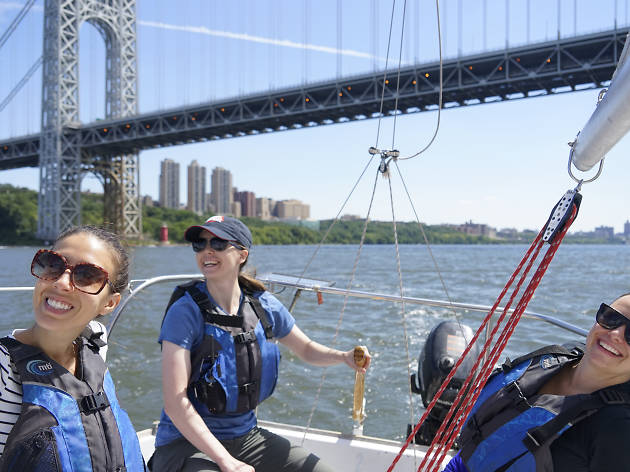 Sailing
Helpful tip: Channel Bill Murray's character from What About Bob? by shouting "I'm sailing!" and "Ahoy!" throughout your voyage. You're guaranteed to make friends. (Actually, on second thought, save it until the last few minutes for the sake of your fellow passengers; it's a small boat.) Hudson River Community Sailing boasts intro-to-sailing classes, in which you and a small group of other newbies will learn how to control sails, steer and other essentials—while basking in beautiful views of the skyline, of course.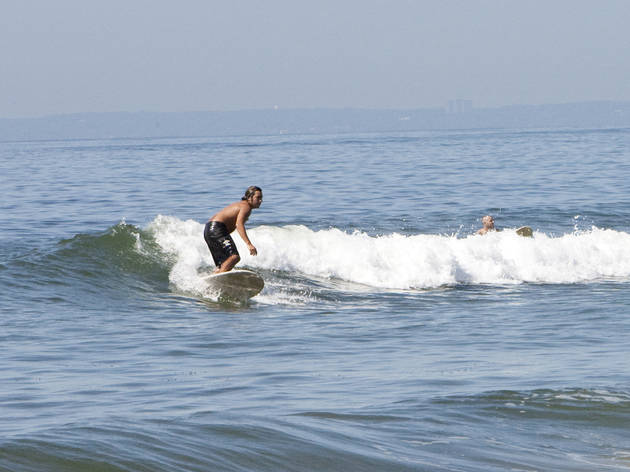 Surfing
On your way to Rockaway Beach, be sure to blast the classic Ramones cut of the same name, and get pumped for a day filled with (hopefully) lots of wave riding and few wipeouts. Expert instructors—who also happen to be Nassau County lifeguards—at Surfs Up NY will teach you the basics on the shore before you even dip a toe in the water. You can expect to learn how to prop yourself upright on a longboard midwave, get out of dangerous rip currents and perform other basic moves.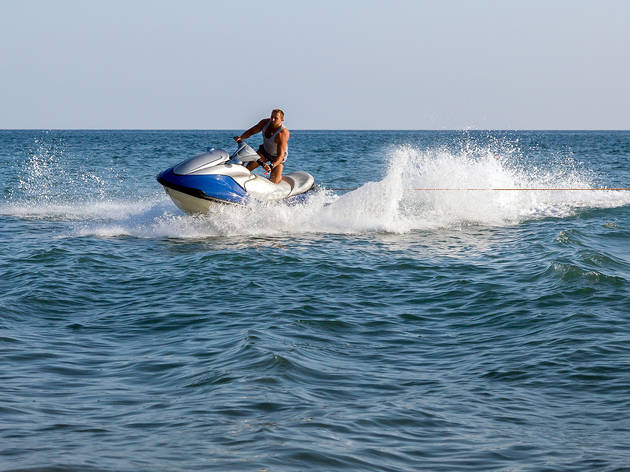 Jet skiing
Jet skis are essentially just toys for grown-ups. It's almost impossible to have a bad time on one–especially when you're cruising past Gotham's shorelines. Brooklyn-based Empire City Watersports offers group excursions to Coney Island and the Statue of Liberty—one three-hour tour even circles the entire island of Manhattan. Want to set out on your own and go anywhere you damn please? Just rent a Yamaha VX Waverunner for an hour to zoom around Gravesend Bay at your own pace.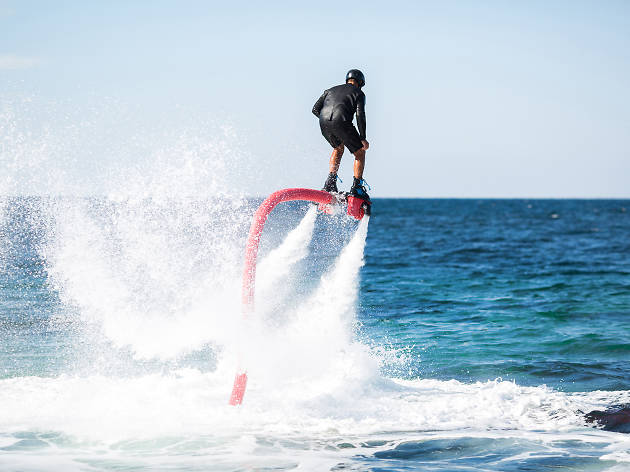 Flyboarding
Want to walk on water? It's actually possible if you book a flyboard lesson in the Long Island Sound with Watersports NYC, the only company in the city to offer this experience. Once you strap your feet into the X-Jets Jetblade, jet propulsion from a connected jet ski lifts you up into the air, giving you the sensation of flying. It's easy to learn, too—Watersports NYC says they can get you zooming and spinning through the air after just 15 minutes of instruction. More experienced adventurers can also try out the jetpack, another jet propulsion device that you wear like a backpack.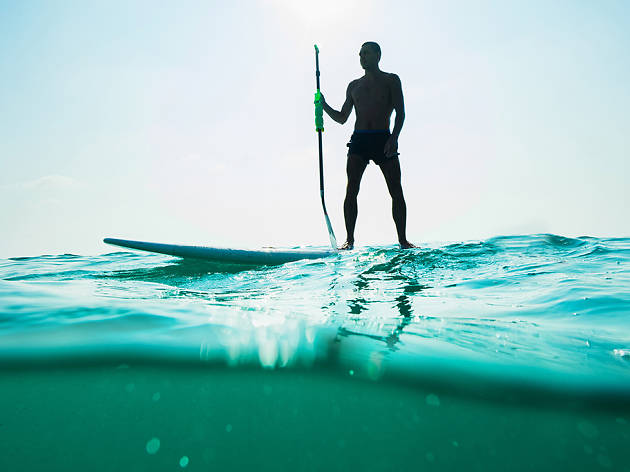 Stand-up paddleboarding
At first glance, newcomers might be a little intimidated by stand-up paddleboarding. It takes some serious balance, core strength and boldness to float out into the ocean atop what looks like an extra-large surfboard, after all. But once you try the super buoyant boards in a Long Island Stand-Up Paddleboarding lesson, you'll get the hang of it surprisingly quickly. Trust us, you'll feel like a Hawaiian god or goddess the first time you ride the board through a swell. Your newly toned bod only accentuates the beach babe vibes.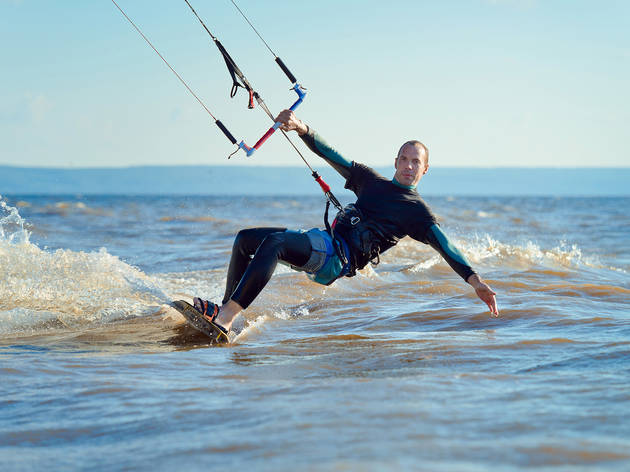 Kiteboarding
Talk about an extreme sport: Kiteboarding combines elements of windsurfing, wakeboarding, surfing, paragliding and gymnastics into one incredible activity. Learn the ropes in a four-hour beginner's lesson at NYC Kite Club's Brooklyn or Long Island location. Spend the first two hours on the beach learning to control the kite that will propel you in the ocean, then discover how to use the wind to drag your board along the surface of the water. It takes some time to master, but once you get the hang of it, you'll look seriously impressive out there.
Scuba diving
Most New Yorkers would probably scoff at the suggestion of the northern New Jersey coastline as a world-class diving destination. But it's true: That's where you'll find Wreck Valley, a network of shipwrecks dating all the way back to the early 1900s. Would-be explorers looking to explore the ruins in search of centuries-old artifacts must get scuba certified first. The New York branch of Scuba Network offers a streamlined, convenient training: After completing an online course, you learn how to operate the equipment during two pool sessions in the Flatiron district. Once you complete four supervised free dives, you're ready to swim off into wild blue yonder. Wreck Valley, here you come!
Looking for more adrenaline-pumping activities?
For picture-perfect panoramic views of Gotham's iconic skyline, you've got to book one of these helicopter tours in NYC.
Read more
Sponsored listing
Rustik
This neighborhood tavern has something for everyone: beers, cocktails, wines, food and a rotating roster of entertainment. Stop by on Tuesday nights for an open mike—sometimes music, sometimes poetry—or listen to the DJ's selection on Friday nights.
Venue says: "Date Night every Tues - Sun (6p-10p) - join us for 1 shared starter, 2 entrees, 1 shared dessert & a bottle of wine - $35 per person"