Heads up! We're working hard to be accurate – but these are unusual times, so please always check before heading out.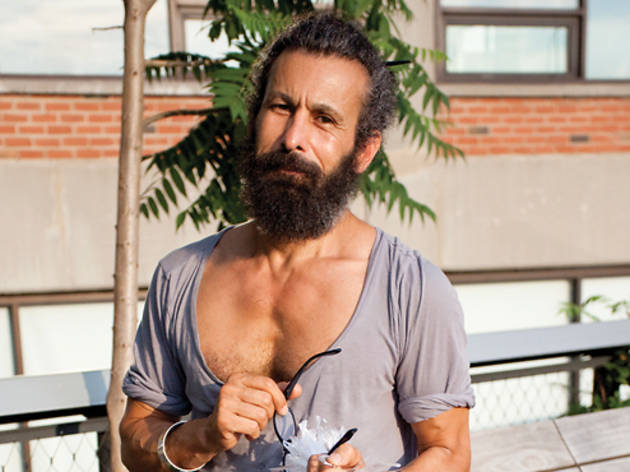 Public eye: Amir Toos, 55
New York street interviews: Stories from the sidewalk as told by real New Yorkers about their lives in the city that never sleeps.
The High Line
It looks like you're holding some sort of fake fur. [Laughs] People have referred to it as a boa, a shawl, a shag rug—you name it.
And how do you describe it? It's going to be a 25-foot-long free-form sculpture. It's made from recycled material—actually, the plastic string that holds the towels together at my gym; I've been collecting it for three years now.
So is this your studio? Yes, the High Line is my summer studio.
Guess you don't care about privacy, huh? No, I love the commentary. Everyone who walks by has something to say. One woman said, "What do you mean, 'It's a sculpture?' Sculptures are made from cement!"
Ha. So are you a sculptor? I earned my living in the fashion industry for the last twenty-some years. Art was something I've always wanted to do, so I started taking classes at the Art Students League. I'm pretty much a self-taught artist.
Where is your accent from? I was born in Iran.
Does it make you uncomfortable that your country is the recipient of so much negative attention lately? Not at all; I'm actually an American citizen, and I am a lot more American than I am Iranian. This is my life—I have children, I live here. Just because I was born there...I don't defend their philosophy.
Did you leave because of the Iranian Revolution? I left right before it. I wanted a certain lifestyle and a kind of education the government wasn't giving to people in my generation. And then the new regime was even worse—contradictory to all my beliefs.
You think that kind of craziness could happen in the U.S.? Up until eight years ago, I was really gung ho about the U.S. I thought America was living by example. But behind the scenes, it's not really true.
You supported Bush eight years ago? No, no, not at all—God forbid, no! I just mean I supported America. The fact that you can have a free life here. You can choose your own thing and go about it without anyone questioning you.
And indulge in your own sculptural preferences. Yes. To me, that is an awesome feeling.
More from Amir

"Unfortunately, all my passions are a complete financial disaster."
You might also like
See more New York stories from the sidewalk
See photos of New York street style
See more in Things to Do