Heads up! We're working hard to be accurate – but these are unusual times, so please always check before heading out.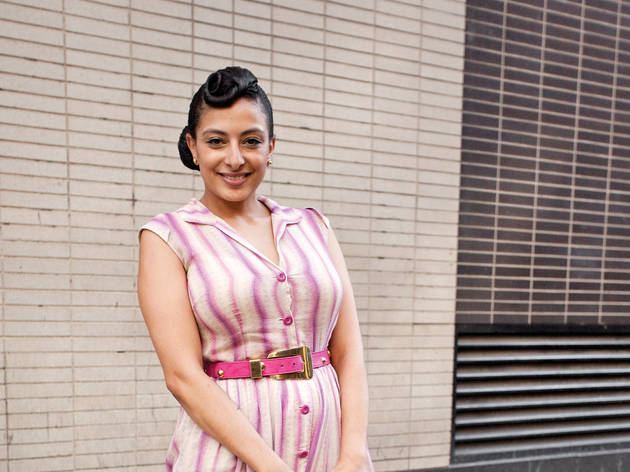 Public eye: Irena Lasenby, 28
New York street interviews: Stories from the sidewalk as told by real New Yorkers about their lives in the city that never sleeps.
19th St at Broadway
What do you do? I'm a concierge.
One of those fairy-godmother types who get rich people what they want? [Laughs] Something like that. I secure sold-out tickets to Broadway shows, get reservations to booked restaurants, plan extravagant trips for people, staff people's homes…
What kind of insane requests do you get? Oh, like a request for a private plane when flights are canceled. It's not insane exactly, but sometimes flights are grounded for a reason.
You can't change the weather? I'm working on getting a magic wand.
Where are you from? I was born in Ethiopia. I'm mixed Greek, Ethiopian and Yemeni. I grew up in L.A., San Diego and Florida, and I've lived in Chicago, New York and Portland.
That's quite a sampling. It gave me a sense of our society from all sorts of vantage points. I've been a womenswear buyer, I've designed gourmet food packaging, I've been a stylist and a restaurant manager. I love food, spirits and great music. And I collect midcentury furniture and tchotchkes. My pad is very '60s mod.
But your look is more… I look better in '50s and early '60s styles. I wish mod clothes suited me, but I'm too curvy.
But who wants to look like Twiggy? Curves have their pluses. Clothes were not made for me, but nudity was.
Now there's a pickup line. Um, yeah, but I don't know about the men in this city. I've never met so many men who are so incredibly entitled. They all seem to want to date an accessory more than a human being.
Hmm. Is this the kind of man who uses a concierge service? No, I've dated starving artists, architects, drug dealers—every type of man.
And they're all entitled? Yeah, there's something about New York that attracts people who care too much about their images. The transplants seem to come for the fantasy of it. I don't want post-Giuliani, Gossip Girl New York. I want real, gritty New York.
Does that New York exist anymore? Yes. In Berlin. [Laughs]
More from Irena

"I'm adopted; my biological mother is coming to meet me for the first time in October."
You might also like
See more New York stories from the sidewalk
See photos of New York street style
See more in Things to Do