Heads up! We're working hard to be accurate – but these are unusual times, so please always check before heading out.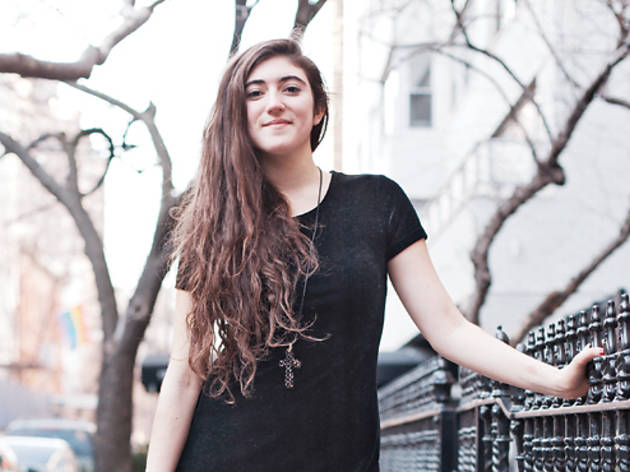 Public eye: Natalia Lepore Hagan, 21
New York street interviews: Stories from the sidewalk as told by real New Yorkers about their lives in the city that never sleeps.
13th St between Seventh and Eighth Aves

Where are you from? Ohio. I just moved here a few months ago.

What brought you here? Broadway! I'm a performer. I actually just signed on with an agency.

Does that qualify as a big break? Yeah, I think that's the first step to becoming a leading lady. Now I'm just going to hit the pavement auditioning and trying to work as much as I can, paying my Broadway dues.

Like playing the role of "crowd member No. 43"? Absolutely. Anything. Everything is one step closer to my dream.

Are you feeling the big-pond effect of New York? Well, yeah. I'm a serious Ohio girl. I want to talk to everybody on the street.

Aw. I know. I'm really sweet. I'm always holding doors open for people. Sometimes it's intimidating here, but I've been coming to New York my whole life. My aunt is Nanette Lepore—she's the one who's housing me, totally pushing me and supporting me. She's my biggest fan; she is wonderful.

Nanette Lepore! She must have some good connections for you. It's a different industry, but yes—she has introduced me to some of my mentors here.

Is your family in the performing arts? Yeah, my mom has a degree in dance and my dad is a politician.

A close cousin to acting. [Laughs] Yeah, right? It's funny. My dad is really honest. I was jaded growing up thinking that all politicians were honest, and then you kind of realize that they're not. But he's one of the good guys, and I support him wholeheartedly. One day I'd like to follow in his footsteps.

Before you go all Ronald Reagan, what's your ideal Broadway role? Omigod, every day that I'm at the gym or taking classes, I'm chanting, "Velma Kelly, Velma Kelly" [from Chicago]. I got to play her just after my freshman year of college at the Youngstown Playhouse. I think that was the happiest moment of my life, walking up those stairs to the stage and becoming Velma Kelly. I know when I can call that role mine I'll have really succeeded.
More from Natalia
"I was raised doing classical ballet since I was three."