Heads up! We're working hard to be accurate – but these are unusual times, so please always check before heading out.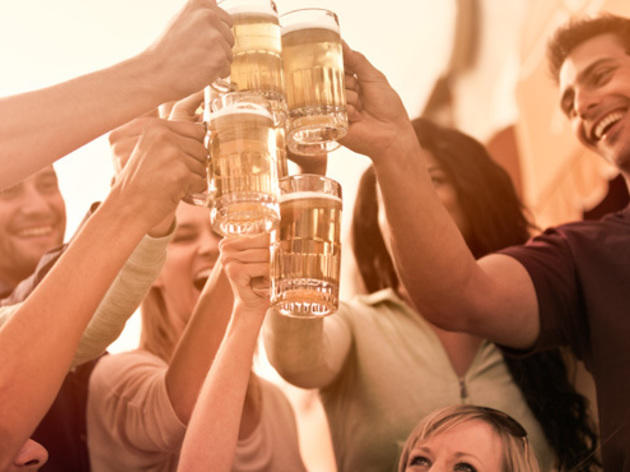 The expert's guide to daytime drinking
Worried that starting the day with a boozy brunch will lead to being fast asleep by 5pm? Read on to see how the pros do it.
All-day drinking: It's something you do without thinking twice in your college days, but the older you get, the more likely it is that a couple of excitable cocktails at 11am is going to end with you snoozing facedown in the park by dinnertime. If you want to take advantage of the truly wondrous number of great bars in New York, avoid the early fade and up your barhopping stamina with this helpful guide (admittedly, not so helpful to your liver).

Our expert advice comes from NYC nutritionist Marissa Lippert, top dietician and owner of Nourish Kitchen + Table. You can thank her next time you make it all the way through till last call.


Before drinking
Rise, stretch, shower, say a prayer and stick on your best drinking clothes, it's time to hit the bars! But whatever you do, for the love of God, eat plenty of food. You're going to be putting bad, bad drinks inside you, and you need to defend yourself against them. (Nobody wants to see you walking up and down the High Line singing "I'm so fancy" at 1am because you didn't eat enough food that morning.)

Surprisingly, and against conventional wisdom, it's not a big old pile of fried food and carbs that you need. "Try and eat a balanced meal," says Lippert. "Fruit, some greens, a nice omelet, maybe some avocado on toast with a fried egg. These foods will line your stomach and give you a solid breakfast. And a good foundation for drinking!" Omelets. Is there anything they can't do?
While drinking
All around you, your friends will be getting silly and trying to make you do shots at a time of day you'd usually be wearily sipping a latte. It's because daytime drinking feels exciting and wrong somehow. But heed our advice! "Take things slow and steady," advises Lippert. "Drink water between alcoholic drinks and maybe add some club soda to wine to make a spritzer—girly or not, it will help! It's important to know your limits, but above all, pace yourself."

Sticking to low-alcohol-content drinks like beer is the best strategy. Shots will get you hammered, a bottle of wine will do the same. Basically, you're not going to want to do that tray full of Jägerbombs at noon, because you'll be a jabbering mess in the corner of the bar by 12:45. Says Lippert: "Ensure you're lining the stomach as you go. Snack as you drink, maybe on some vegetables and dip, or chips with guacamole."

It's also important to remember that New York has strict limitations on when and where you can purchase and consume alcohol. If you want to take a break between bars, don't try sitting in Central Park swigging Jack Daniels from a paper bag. You'll get arrested. (Also, ew.)
After drinking
We've all crashed through the front door after a day's drinking and drunkenly ransacked the kitchen like a hopped-up monkey after a hidden banana, trying to cook a falafel and potato-chip chow mein sandwich at 2am. But if possible, try and follow Lippert's advice.

"I know you're probably going to want to order and eat an entire large pizza," she says, correctly. "But if you can, once again, go for balanced foods, it will help your recovery for the next day. If you must have something greasy, have a grilled cheese on wheat toast. You need to rehydrate too, and coconut water is my secret to doing that effectively. Drink at least two glasses of regular water as well."

Got that? Good. Yes, we see you tucking that Domino's menu discreetly behind the couch cushions. Just be safe, you.