Heads up! We're working hard to be accurate – but these are unusual times, so please always check before heading out.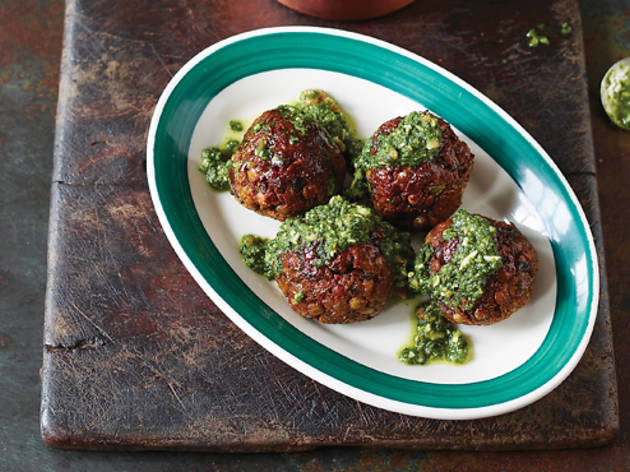 1/2
Photograph: John Kernick
Veggie balls from The Meatball Shop Cookbook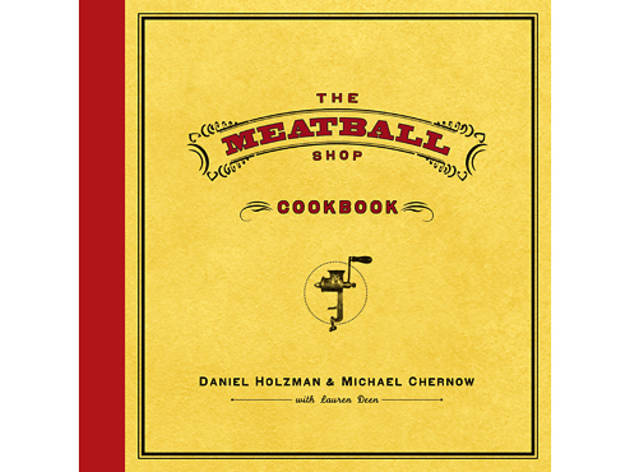 2/2
The Meatball Shop Cookbook by Daniel Holzman and Michael Chernow
Tiny Kitchen Recipes: Veggie balls from the Meatball Shop Cookbook
Eat healthy with this vegetarian recipe from Daniel Holzman and Michael Chernow's überpopular NYC meatball restaurant.
Welcome to Tiny Kitchen Recipes, a feature in which we ask chefs, writers, and food bloggers in New York City and beyond to share a recipe with us. Always wallet-friendly, these creations are feasible whether you live to cook or recently stopped using your oven for shoe storage.
RECOMMENDED: All recipes from us
We featured new and cool fitness classes, social sports and endurance obstacle courses in our Fall Fitness issue, and here's a healthy recipe to go along with your new workout routine—and newly ripped bod.

Veggie balls from The Meatball Shop Cookbook by Daniel Holzman and Michael Chernow

Ingredients:
- 2 cups lentils
- 1/4 cup plus 2 tbsp olive oil
- 1 large onion, chopped
- 2 carrots, chopped
- 2 celery stalks, chopped
- 1 garlic clove, minced
- 1 tbsp chopped fresh thyme
- 2 tsp salt
- 3 tbsp tomato paste
- 8 oz button mushrooms, wiped clean and sliced
- 3 large eggs
- 1/2 cup grated Parmesan cheese
- 1/2 cup bread crumbs
- 1/2 cup chopped fresh parsley
- 1/4 cup finely chopped walnuts
1) Combine the lentils and 2 quarts water in a medium stockpot and bring to a boil over high heat. Reduce the heat to low and simmer until the lentils are soft (but not falling apart), about 25 minutes. Drain the lentils and allow to cool.
2) Add 1/4 cup of the olive oil to a large frying pan, and sauté the onions, carrots, celery, garlic, thyme and salt over medium-high heat, stirring frequently, for about 10 minutes, until the vegetables are tender and just beginning to brown. Add the tomato paste and continue to cook, stirring constantly, for 3 minutes. Add the mushrooms and cook, stirring frequently, for 15 more minutes or until all the liquid is absorbed. Transfer the mixture to a large bowl and allow to cool to room temperature.
3) Add the eggs, Parmesan, bread crumbs, parsley and walnuts to the cooled vegetables, and mix by hand until thoroughly incorporated. Place in the refrigerator for 25 minutes.
4) Preheat the oven to 400°F.
5) Drizzle the remaining 2 tablespoons olive oil into a 9" x 13" baking dish, and use your hand to evenly coat the entire surface. Set aside.
6) Roll the mixture into round, golf-ball–size meatballs (about 1 1/2 inches), making sure to pack the vegetable mixture firmly. Place the balls in the prepared baking dish, allowing 1/4 inch of space between the balls and in even rows vertically and horizontally to form a grid. The meatballs should be touching one another.
7) Roast for 30 minutes, or until the meatballs are firm and cooked through.
8) Allow the meatballs to cool for 5 minutes in the baking dish before serving.
Makes about 2 dozen 1 1/2 inch meatballs
This recipe is reprinted from Daniel Holzman and Michael Chernow's The Meatball Shop Cookbook (Ballantine Books). If you don't feel like cooking, you can drop into the Meatball Shop's saucy Italian-orb restaurants in Chelsea, Williamsburg, the West Village and the Lower East Side, as well as a newly opened outpost on the Upper East Side (1462 Second Ave between 76th and 77th Sts; 212-257-6121).