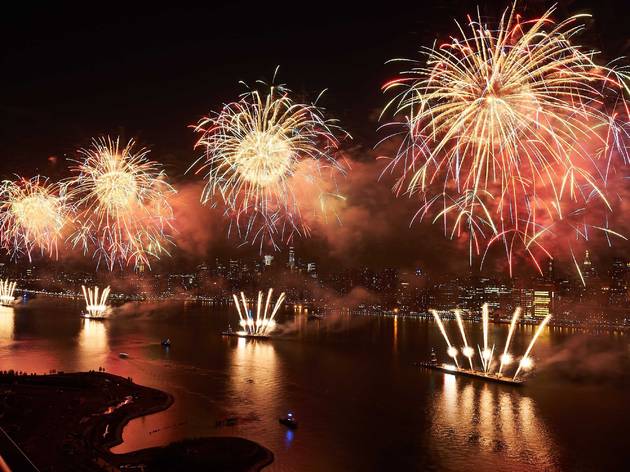 How to watch the 4th of July fireworks in NYC
Macy's 4th of July Fireworks—NYC's most impressive pyrotechnic show—is back this year. Here is how to watch it.
Ladies and gentlemen, we're pleased to announce that, following last year's paired-down affair (duh), Macy's 4th of July Fireworks will officially make a comeback next month.
"I'm happy to announce that America's biggest fireworks display is back," Mayor Bill de Blasio said during a press conference announcing the news this week. "They are bringing the full-scale fireworks show as we have loved it for decades and decades back to New York City for all of us to enjoy. This will be the biggest show yet. Literally, Macy's is putting together the biggest fireworks display they've ever had."
Here are the details: On Sunday, July 4, beginning at 9:25pm, over 65,000 shells will be launched off five different barges on the East River. The extravaganza will last 25 minutes and feature, according to Macy's itself, "dozens of colors and shapes, creating dramatic effects a mile across the river and from 1,000 feet in the air to the water's edge."
New Yorkers will be able to catch the event live from areas split into "vaccinated" and "unvaccinated" sections. If you're not feeling up for that just yet, worry not! The happening will also be broadcast on NBC between 8-10pm and will also feature some super-exciting opening acts, including Black Pumas, Coldplay, OneRepublic and Reba McEntire. Although it's not yet clear whether the artists will actually be performing live from New York, we do know that Tori Kelly is scheduled to sing "You'll Never Walk Alone" from the musical Carousel and that the Broadway Inspirational Voices will treat us to their own version of "Lift Every Voice and Sing."
Another exciting detail: Following the East River fiesta, folks in Coney Island will be treated to yet another firework display, this one running from 10 to 10:15pm and visible from the neighborhood's famous boardwalk.
As understandably uneventful as last year's happening was, New York is clearly making up for it in 2021. Happy (almost) 4th of July, folks!
RECOMMENDED: Full coverage of the 4th of July in NYC
Want to hang out in an NYC park?
NYC parks offer verdant green spaces to relax, get some sun, picnic and more. Don't miss any offerings with our guide.
Best selling Time Out Offers