Winter survival guide: 50 ways to warm up in NYC
There's more than one way to keep warm when the temperature plummets. Here are 50 ways to warm up and combat the winter blues.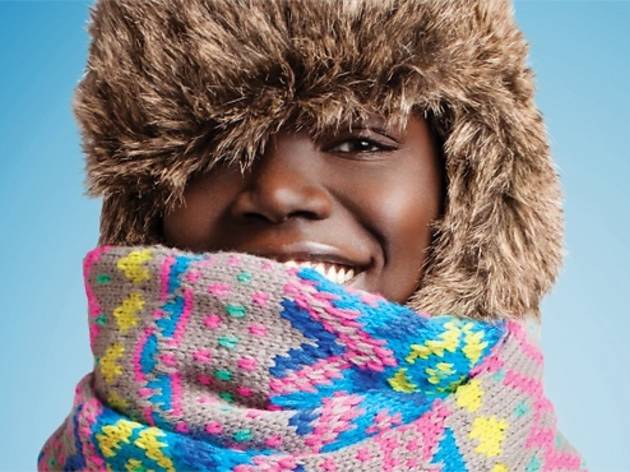 It's here: winter, the darkest, coldest, saddest time of the year. But why let a little frigid air get you down? We've put together a guide to help the chilly and the seasonally affected find ways to warm up and stay above the weather—or revel in it. Catch a movie, play in the snow, tour a museum, take a class, or just curl up on your couch with a great TV show.—Edited by Jenna Scherer
RECOMMENDED: Full guide to things to do in winter in NYC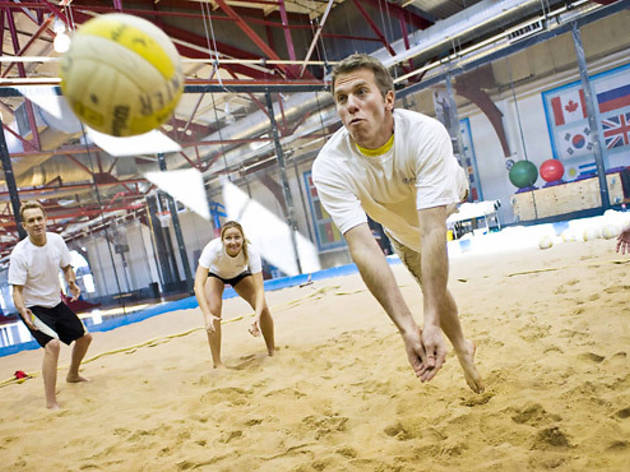 Avoid the cold with this virtual NYC summer day
Trying to avoid the cold? Make a frozen winter day feel like the middle of July with this handy itinerary—complete with plenty of ways to warm up. We know, we know: It's a hell of a long time until June, and it's hard to avoid the cold. Every sidewalk is a frigid wind tunnel, all the trees look like skeletons, and the sun just scrapes over the horizon before dropping below it again. You may not be able to beat the weather, but you can pretend it doesn't exist. We've cobbled together an itinerary you can use to trick yourself into believing it's actually high summer, starting with beach volleyball and swimming, and ending at a palm-frond-bedecked tiki bar. Begin your morning at the Sports Center at Chelsea Piers (Pier 60, 20th St at the Hudson River; 212-336-6000, chelseapiers.com), home to the only indoor sand-volleyball court in NYC. Ditch your shoes and show off your spiking skills at an open-play session, which is men's, women's or coed depending on the hour (schedule varies; check the website for details). Then, swim some laps in the complex's 25-yard-long swimming pool, whose wall-to-wall windows look out over the Hudson. (A day pass will cost you $50 and will also grant you access to the Sports Center's many other amenities; if you're a member, you're golden.) So maybe you didn't actually go to the beach—but it kinda feels like you did, right? Complete the effect with a spray tan from Brazil Bronze Glow Bar (580 Broadway  between E Houston and Prince Sts, suite 50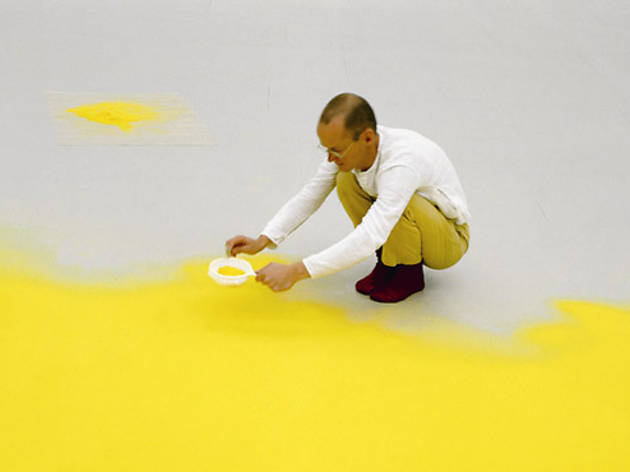 Winter events to lift you out of the doldrums
Languishing on your couch in a sweatshirt? Stop it! These fun happenings are just the thing to keep the depressive chill at bay. Winter Comedy Jam Belly laughs are the perfect tonic for the cold-weather blues, and you'll get plenty at this stand-up show featuring Original King of Comedy D.L. Hughley, who will churn out his trademark biting social commentary. Earthquake, Bruce Bruce, Smokey Suarez and Joe Torry also perform.  Wolfgang Laib, Pollen from Hazelnut Break up all that gray-sky gloom with a visit to this massive installation. The German artist will fill the floor of MoMA's Marron Atrium with an 18-by-21-foot rectangle of hazelnut pollen—which Laib himself gathered over several decades—injecting the white room with an invigorating blast of bright yellow. Stop by to get a jolt of spring—just be sure to take a Claritin first. Ecstatic Music Festival You'll hear some truly transcendent tunes at this third annual series presented by the Kaufman Music Center, which pairs classical and indie-rock musicians. My Brightest Diamond's Shara Worden kicks things off with the Brooklyn Youth Chorus on Jan 25; turntable whiz DJ /rupture and avant-garde collective Zs play on Feb 2; and offbeat rock outfit Deerhoof joins Ensemble Dal Niente on Feb 20. 212-501-3330, ecstaticmusicfestival.com. $15–$25, festival pass $150. Winter Jam 2013 Last year's celebration of all things snow-sporty was canceled due to overly warm temperatures. But this year, Gore Mountain Ski Resort will be u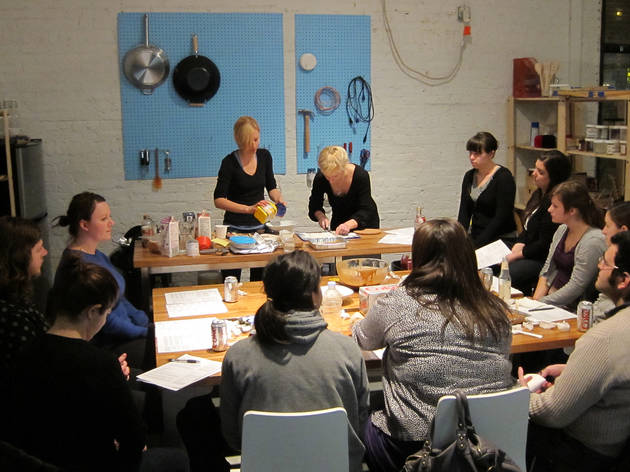 Winter classes to keep your head, hands and psyche occupied
Learn how to make pizza, create stop-motion animation and more at these winter classes; come spring, you'll have a whole new set of skills to show off. Brooklyn Brainery This DIY institution's mission is to provide affordable education for the community, by the community. Local experts share their wisdom on various topics—many suggested by Brooklynites—at affordable prices. The course offerings are diverse, covering everything from the history of doomsday cults to Southeast Asian appetizers. The Brainery also just opened a second location in Prospect Heights. Coming up: Learn the basics of screenwriting at "Writing Your Original TV Pilot" with small-screen scribe Ian Grody (Carroll Gardens; Jan 24, 31 and Feb 7 7–10pm; $105). Urban-planning and sewage buffs should check out "The History of the Gowanus Canal," taught by journalist and Gowanus expert Joseph Alexiou (Prospect Heights; Jan 31 8:30–10pm; $11). 515 Court St at 9th St, Carroll Gardens, Brooklyn • 190 Underhill Ave between St. Johns Pl and Sterling Pl, Prospect Heights, Brooklyn • 347-292-7246, brooklynbrainery.com España-Streb Trapeze Academy Who among us doesn't dream of flying through the air with the greatest of ease? The España-Streb school is a collaboration between seventh-generation circus performers Ivan and Noe España and maverick choreographer Elizabeth Streb. Part of the larger Streb Lab for Action Mechanics (SLAM), a home for both choreography and theoretical exploration of space and motion, the ac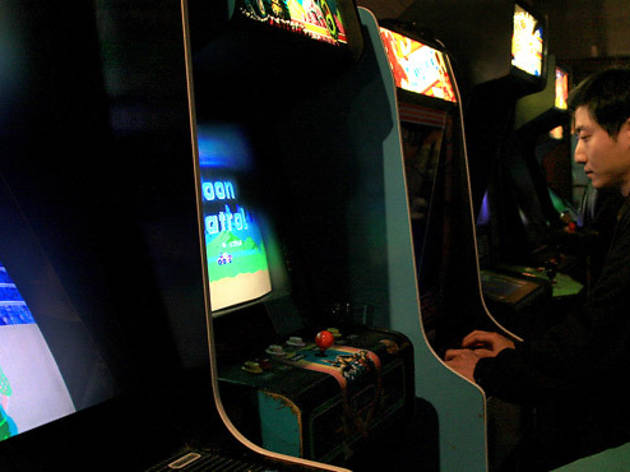 Bars with games: Where to drink and play in NYC
At these bars with games, you can put your skills to the test while you warm up with a few glasses of the strong stuff. There's more to do at New York bars than curl up with a beer and wait for Staten Island Chuck to make his Groundhog Day prediction. We've assembled a list of bars with games like bocce, Ping-Pong, Skee-Ball, pinball and more, plus one with a great jukebox to keep your ears busy, too. We can think of few more fun ways to keep warm than by honing your skills at these indoor pastimes. You might also like Best pinball machine spots in New York City Bring a pocketful of quarters and try for the high score at one of Gotham's top pinball spots. History was made in 1976, when New York City lifted its 30-year ban on pinball machines—before that, they were considered gambling devices and were therefore illegal. These days, you can find the machines in bars, skate shops, even Laundromats. Just make sure to bring enough quarters…or dollar bills, as the case may be. Satellite Lounge Pinball aficionado Allen Cihak, who rents a warehouse in Greenpoint to accommodate his overflowing collection of pinball machines, loaned some of his favorites to Satellite Lounge when it opened last year. The seven games (including Spider-Man and Batman) stationed by the front window lend an air of playfulness to the no-frills bar. Reciprocal Skateboards The nine games at this skateboarding shop attract a crowd of both teenage and fully grown pinball jockeys. Owner John E., wh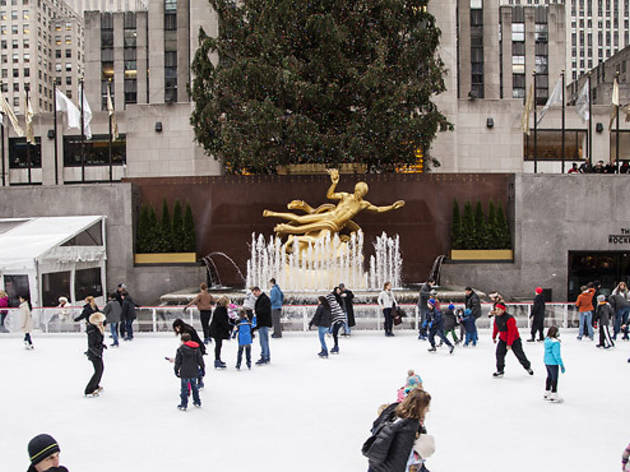 Outdoor activities to make the chilly winter season fly by
Our guide to outdoor activities this winter will keep you so busy snow tubing, sledding and more that you'll forget to be cold. Remember when you were a kid, and you actually looked forward to winter instead of dreading it? Revel in the season grade-school style with these fun outdoor activities, from skiing and snow tubing to ice-skating and stargazing. And remember: If you don't slow down, you can't get chilly. Ice-skating Now that the tourist-heavy holiday season has passed, Manhattan's rinks are less clogged with out-of-towners. Trump Rink still attracts the masses for its unparalleled views of surrounding Central Park (enter at W 59th St and Sixth Ave; $5–$17, skate rental $7). If you want a little more space, show up at or make an online reservation for the Rink at Rockefeller Center (30 Rockefeller Plaza between 49th and 50th Sts, therinkatrockcenter.com; $12–$20, skate rental $10), which only allows 150 skaters on the ice at a time. Don't let the elements hinder your winter fun: Riverbank State Park Ice Skating Rink (Riverside Dr between 137th and 145th Sts; $5, children $3, skate rental $6) has a roof to keep out the worst of the weather, and scenic views of the Hudson to boot. Skiing Thunder Ridge Ski Area is only about an hour away from the city and boasts top-tier skiing, scenic views of the Hudson Valley's rolling hills and free Wi-Fi in the lodge. The 30 available trails will appeal to both pros who hurtle Olympics-style down the slopes and newbies who inc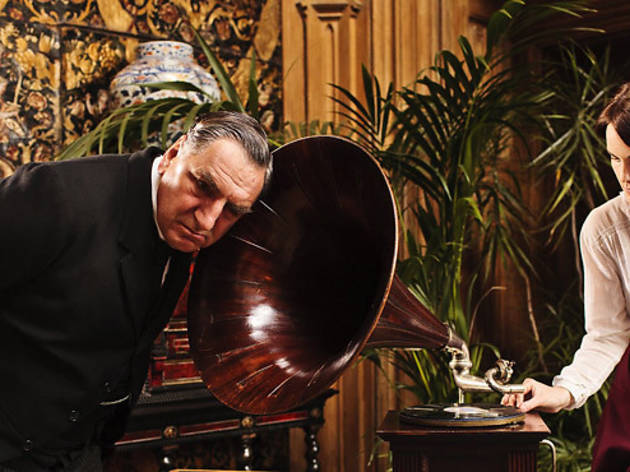 The best TV shows on Netflix to curl up with this winter
Here are the best TV shows on Netflix Watch Instantly, whether you want to spend your winter with Don Draper or Walter White. Aw heck, you didn't really want to leave your couch anyway, huh? Keep warm by the glow of your laptop screen with some of the best TV shows on Netflix. Catch up on back episodes of eight current television series, including Downton Abbey, Mad Men and Archer. Downton Abbey (airs Sun at 9pm on PBS)After what Maggie Smith's Dowager Countess might describe as an unsuitably long wait, this month America's Abbeyheads are finally getting the chance to sink their talons into the third series of Julian Fellowes's beloved historical soap opera. If you have yet to be introduced to the aristocratic Crawley family, their amazing costumes, and their retinue of servants both virtuous and conniving, now is the time to get hooked. Seasons available: 1 Portlandia (airs Fri at 10pm on IFC)Together, SNL's Fred Armisen and Wild Flag's Carrie Brownstein have turned hipster satire into a fine art. They've made us rethink the ways we obsess about cocktails, music festivals and artisanal everything, and forever redefined the word cacao. The third season hit the tube earlier this month, but you can't really move forward until you've watched last year's epic brunch episode. Seasons available: 1, 2 30 Rock (airs Thu at 8pm on NBC)You've come a long way, Liz Lemon. After seven years, Tina Fey's absurdist backstage comedy is coming to a close on Jan 31. Follow the TGS crew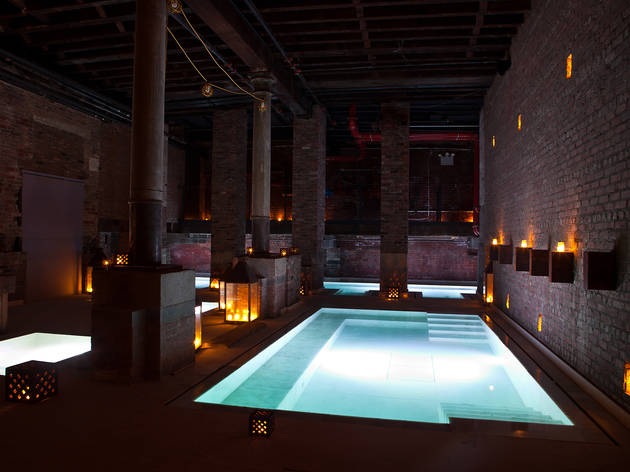 New York spas with hot pools, saunas and steam rooms to warm you up
Take refuge from the cold at these four New York spas, where you can find Jacuzzis, saunas, steam rooms and—in one case—an indoor waterfall. The microclimates inside these New York spas are pretty much the opposite of what you'll find out there on the sidewalk. Hide from the wind at these luxurious water spas, steam rooms and bathhouses, where you can kick back in a hot tub, get a massage, or just let the warm air melt all the tension out of your bones. Aire Ancient Baths Modeled after the public bathhouses of ancient Greece and Rome, this candlelit sanctuary offers sumptuous, classically-inspired decor and a bathing cycle similar to those practiced by the Greco-Roman elite. During a 90-minute session, you'll progress through a series of warm, hot and cold pools (including saltwater and multijet baths), plus a 97°F steam room. Top it all off with a cup of tea and a lie-down in Aire's hot-marble relaxation area. Brooklyn Banya At this 10,000-square-foot Russian-Turkish bathhouse, you can hop between two saunas, a steam room, a Jacuzzi (99°F) and a 60–80°F half-pool, all beneath a supremely kitschy mosaic of a mountain landscape. Fuel up before you go with a snack from the on-site Russian restaurant. Great Jones Spa Cycle through a steam room, a Finnish-style river-rock sauna (kept between 150 and 200°F), a thermal hot tub and a cold-plunge pool at this subterranean Noho refuge. You can also kick back in a chakra-light steam room, which combines shifting colors and wet h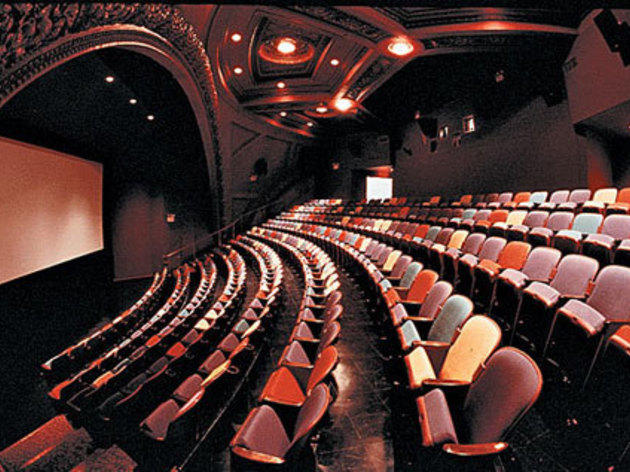 Best New York movie theaters: Top spots to catch a flick
Whether you're into indies, classics or new releases, here are the best New York movie theaters for settling in and popping open a bag of popcorn. NYC is a film lover's dream town—just ask Woody Allen. We've assembled a list of the choicest New York movie theaters to see indie gems, great documentaries, cinema classics or new winter releases. There are even some spots where you can nosh on house-made snacks or toss back a drink while you watch. BAM Rose Cinemas For 15 years, Brooklyn cinéastes have flocked to the four screening rooms at the elegant Peter Jay Sharp Building. Showings, from indies made on a shoestring budget to retrospectives on noted directors, are expertly curated, and big names (Jim Jarmusch, Noah Baumbach) occasionally drop in for prefilm talks. The annual BAMcinemaFest, held each June, screens NYC, U.S. and world premieres, including flicks that have made a splash at Sundance, SXSW and Cannes. $13; seniors, students (Mon–Thu only) and children (weekdays) $9; BAM Cinema Club members $8. Cobble Hill Cinemas If you're looking to catch a new blockbuster or awards-season contender, this five-screen throwback is a nice alternative to those maddening multiplexes. Crowds are noticeably more respectful, and retro touches like prescreening announcements to turn off your pagers and refrain from smoking add to the old-school charm. On certain days and times, admission is reduced to seven bones (Tue, Thu all day; Mon, Wed, Fri until 5pm). $10, seniors and childr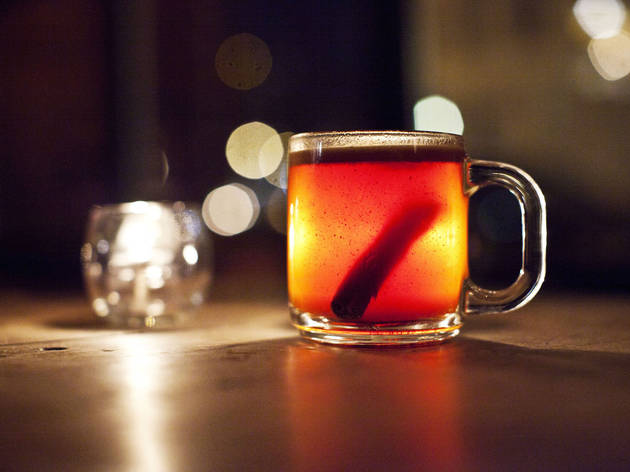 NYC's best boozy hot drinks for the cold weather
Hot drinks are one of the few saving graces of New York's endless winter months. Try one of the ten warming cocktails below to stay toasty this season. Even in our modern age, few things take the edge off the cold like a hot buttered rum or warm mulled cider. To help stave off the cold, bars are rolling out their contemporary takes on old winter cocktails—as well as new creations—for the huddled, scarf-wrapped masses. Whether it's boiled by a red-hot poker or heated by freshly made coffee, one of these drinks is sure to wet—and warm—your whistle. You might also like Ten game-changing cocktails 52 bartenders Cutting-edge cocktail trends Vodka makes a comeback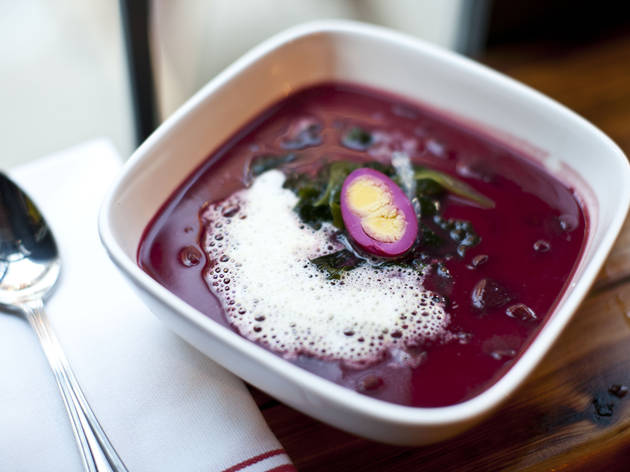 Soul-warming bowls: Soups, stews and more in NYC
Take on New York City's near-freezing temps with piping soups, hearty stews and comforting broths. These ten steaming potages will warm you up this winter. When the festive warmth of the holiday season is gone and all that's left  is bone-chilling winter, there's nothing more restorative than a soul-warming bowl. We tracked down NYC's best soups, stews and broths, including the superior house ramen at Ganso, a classic tomato spiked with sriracha at Earl's Beer and Cheese, and an update on Grandma's matzo ball at Jack's Wife Freda. Dip a spoon into one of these potages to bring color back to your wind-chapped cheeks and fire back in your belly this winter.Beet soup at Todd's MillAt this bar-cum-bistro, chef Eric Simeon ladles up a fuchsia-hued bowl—as gorgeous as it is tasty—that would convert even the staunchest of beetphobes. Within the satin-smooth base, a swirl of tangy white horseradish crème cuts the root veg's sweetness, while silky kelp ribbons add a vital hit of salt. The pièce de résistance is the pickled quail egg bobbing amid al dente cubes of beet. Brined in the star ingredient's juice, the purple egg is a bold pop of acerbity, lingering on your tongue long after the last bite. 162 Orchard St between Rivington and Stanton Sts (212-995-0300, toddsmill.com). $8.Acqua pazza at Rosemary'sFishermen's stew isn't the first item we'd think to serve well-heeled West Villagers, but Wade Moises elevates the blue-collar meal to an elegant dish becoming of the clientele.