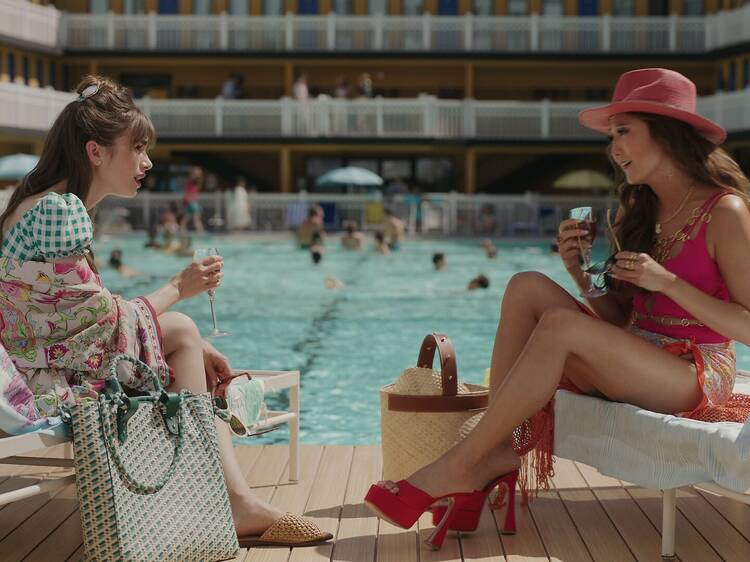 Photograph: Netflix
Where was 'Emily in Paris' season three filmed?
The trailer for the new series revealed many of the same landmarks that featured previously (such as the Eiffel Tower, Arc de Triomphe, Pont de Bercy, Canal Saint-Martin and Palais Garnier – more on those below).
On top of that, landmarks such as the Tuileries Gardens, Place de la Concorde and Place Juliette Gréco all make an appearance. As does the gorgeous Piscine Molitor, where Emily is seen sipping cocktails by the pool.
Early episodes of the series see Emily have a style showdown at the Musée des Arts Décoratifs and make a grand romantic gesture to boyfriend Lucien at the Quai des Célestins on the Seine.
As in season two, the third season of 'Emily in Paris' sees the main character head out of the French capital. Later in the season she heads to the lavender fields and vineyards of Provence. The hilltop town of Gordes and the Château de Montpoupon, a castle in central France's Loire Valley, were used for filming.
Back in Paris, revue theatre La Nouvelle Eve, railway station Gare du Nord, church Basilique du Sacré-Coeur de Montmartre and romance hotspot 'le mur des je t'aime' (the wall of love) all feature in season three.
There's also a particularly Instagrammable episode which sees Emily explore a museum filled with balloons. That place does actually exist – it's called the Pop Air Balloon Museum – but while it was in Paris when the crew were filming, it's since closed and moved elsewhere. It'll be in Milan until February 2022 and you can find out more here.
Given that Alfie, Emily's love interest at the end of season two, is British, we'd sort of hoped that part of the new series might take Emily to London or the UK. (Here's how we imagine that panning out.) But it looks like we might need to wait till season four.