Paris ice skating rinks
Grab your warmest gear and get on the ice this Christmas in Paris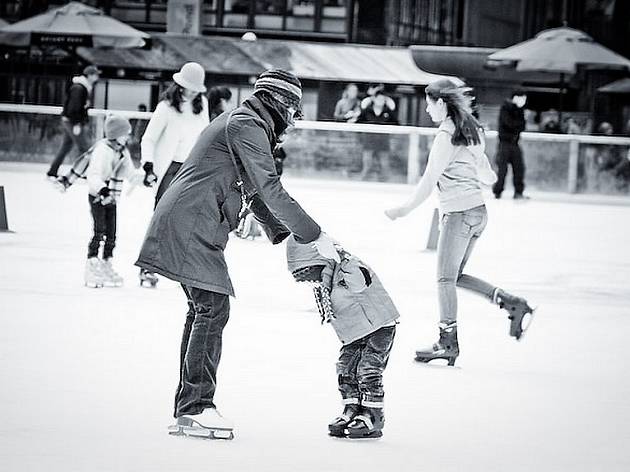 What's more Christmassy than strapping on a pair of ice skates and doing figure-8s under the stars? Tumbling onto the ice with flailing arms in Paris while 80s rock blares from the loudspeakers, of course. Many seasonal ice rinks are conveniently placed next to Christmas markets, so you can sip a restorative vin chaud after skating your heart out. Happy gliding!
Christmas ice skating in Paris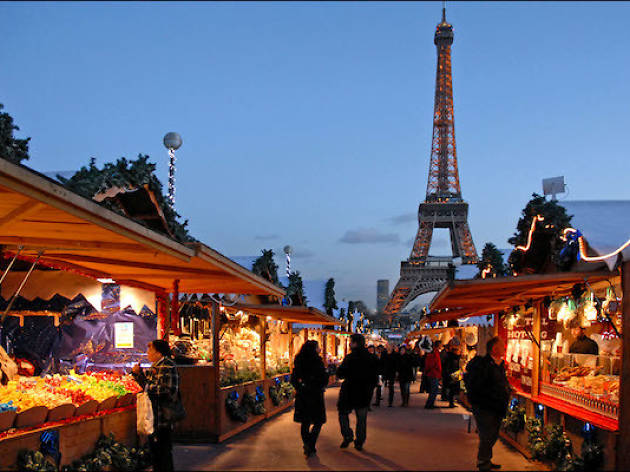 Trocadéro on Ice
Where? Jardins du Trocadéro, 75016
When? December 15 2016 - January 3 2017
How much? Free

Back for its seventh edition, Trocadéro On Ice returns to this well-trodden patch of land in the shadows of the Eiffel tower with its fortnight-long Christmas market and musical ice skating rink. The specially installed 300-square-metre rink is relatively small and perfect for amateur skaters after a fun (and slippery) night out under the stars. Nearby, 100 German Christmas market-syle chalets sell artisanal products and local specialities from a variety of European countries.
Where? Grand Palais, 3 Avenue du Général Eisenhower
When? December 14 2016 - January 2 2017
How much? €15/€20/€27 depending on the time of day, €12 for children under 12

For the third year running, Grand Palais is being turned into a giant indoor ice rink - one of the biggest ever created in France. Kids will adore whizzing around the 2700m2 rink and adults will marvel to see this magnificient architectural gem transformed. Perfectly situated so you can fill up on treats from the Champs-Elysées Christmas market and then hit the ice - it's open every day until 2am.

Find out more information here.


Read more
Patinoire du village de Noël des Champs-Elysées
Where? Avenue Champs-Elysées (closest metro: Champs-Elysées Clémenceau)
When? November 13 2016-January 8 2017
How much? €10 for adults, €8 for children under 12

Grab your skates and head to the Champs-Elysées Christmas market for a spin on the ice. Afterwards, a giant slide and rides will keep the children happy. Make sure to check out some of the market's 200 market stands and their selection of French gastronomie and crafts.
Where? 32, rue Edouard Pailleron, 75019
When? Open daily throughout the year
How much? €3.50

Reopened in 2006, this 800m2 rink is part of a renovated art deco sports complex. Skaters will enjoy a spin on the ice at this friendly and festive rink. If you want to perfect your skill or try something different, sign up for hockey and dance lessons.

Find out more information here.
Read more
Where? 222 Quai de Bercy, 75012
When? Sat-Sun 3-6pm, Fri-Sat 9.30pm-1.30am, Sun 10am-midday
How much? €3-6 (extra for skate hire)

Paris' ice-rink is named after pre-war Norwegian ice-skating champion Sonja Heinie, credited with the invention of certain performance styles in figure skating. On Wednesdays, Fridays and weekends, don your leotards and leg-warmers and show Paris just how graceful you can be. During the weekend night sessions (which run until 12.30am), the music cranks up a notch and coloured lights ripple over the ice in psychedelic splashes...

Find out more informantion here.
Read more
Where? Parc Zoologique de Paris (closest metro: Porte Dorée)
When? December 2 2016 - January 3 2017
How much? €5 for an evening skate

The recently renovated Parc Zoologique (often known as the Zoo de Vincennes) is celebrating Christmas with a bumper programme of festive activities. Their ice rink will stay open until 8pm, lit up by pretty fairy lights and decorations. Look out for special events involving the zoo's wildlife - and Santa may even make an appearance.

Find out more information here.
Book now
Read more
Now warm up with a drink by the fireside
Get ready to go from 'brrr' to 'aahh' at one of these cosy firesides.
Read more