Paris ice skating rinks
Put on your earmuffs and glide, baby, glide this Christmas in Paris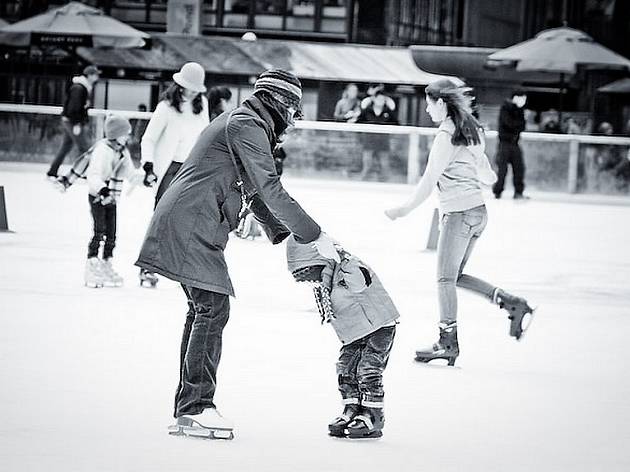 What's more Christmassy than strapping on a pair of ice skates and doing figure-8s under the stars? Tumbling onto the ice with flailing arms in Paris while 80s rock blares from the loudspeakers, of course. Besides the two skating rinks that are accessible year round, a number of venues are specially open around the city for the Christmas period only. Put on your earmuffs and glide, baby, glide.
Christmas ice skating in Paris
Patinoire du village de Noël des Champs-Elysées
Grab your skates and head to the Champs-Elysées Christmas market for a spin on the ice. Afterwards, a giant slide and rides will keep the children happy. Make sure to check out some of the market's 200 market stands and their selection of French gastronomie and crafts. Entry is €10 for adults and €8 for children under 12.
The Champs Elysée Christmas market rink will run from November 13th 2015-January 3rd 2016.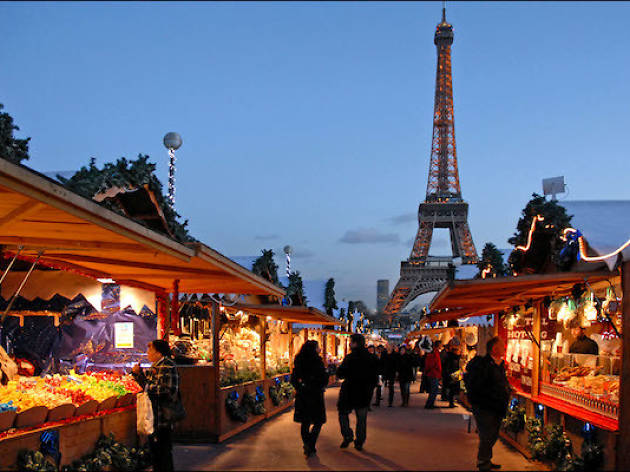 Trocadéro on Ice
Back for its sixth edition this year after a year away due to building works, Trocadéro On Ice returns to this well-trodden patch of land in the shadows of the Eiffel tower with its fortnight-long Christmas market and musical ice skating rink. The specially installed 300-square-metre rink is relatively small and perfect for amateur skaters after a fun (and slippery) night out under the stars. Nearby, 100 German Christmas market-syle chalets sell artisanal products and local specialities from a variety of European countries.
Trocadéro On Ice will run from December 18th 2015-January 3rd 2016.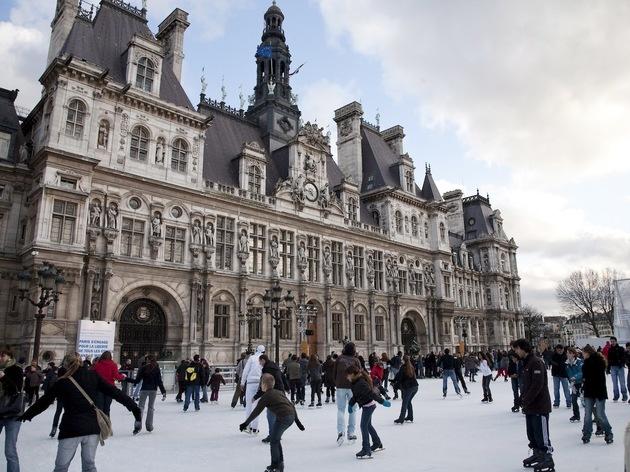 Patinoire de L'Hôtel de Ville
The most popular seasonal ice skating venue in town (and with the queues to prove it), this huge open-air rink in front of the city hall has become a symbol of Christmas in Paris. It's especially grand after sundown, when the handsome 19th-century building is lit up against the chilly sky. New to the ice? Fear not: the 1,365-square-metre rink includes a smaller area for children and beginners. Access is free for those who have their own skates, but €6 if you borrow on site.

The Hôtel de Ville rink has been cancelled this year, due to the COP21 conference.

Reopened in 2006, this 800m2 rink is part of a renovated art deco sports complex. Skaters will enjoy a spin on the ice at this friendly and festive rink. If you want to perfect your skill or try something different, sign up for hockey and dance lessons.

For more information, click here.
Read more
Paris' ice-rink is named after pre-war Norwegian ice-skating champion Sonja Heinie, credited with the invention of certain performance styles in figure skating. On Wednesdays, Fridays and weekends, don your leotards and leg-warmers and show Paris just how graceful you can be. During the weekend night sessions (which run until 12.30am), the music cranks up a notch and coloured lights ripple over the ice in psychedelic splashes...

For more information, click here.
Read more