Heads up! We're working hard to be accurate – but these are unusual times, so please always check before heading out.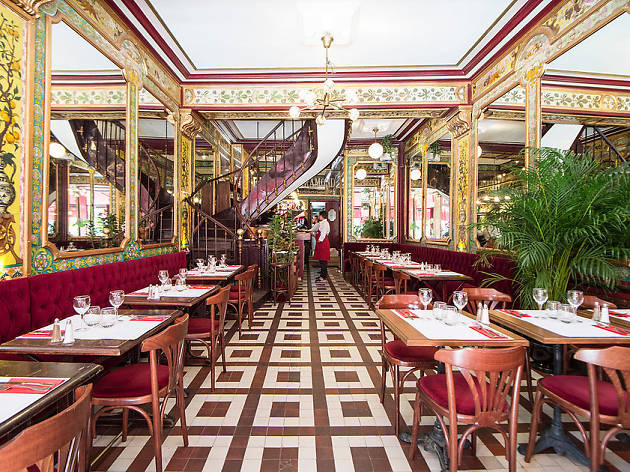 The 13 best bistros in Paris
Get your fill of steak-frites, soupe à l'oignon and other French classics at one of the very best bistros in Paris
What would Paris be without its bistros? These fun, cosy, affordable restaurants have been at the heart of French dining culture for centuries. Steak-frites, pot-au-feu, soupe à l'oignon – just three of the delicious culinary classics we can thank them for popularising the world over.
Yet in recent decades the traditional bistro has come under threat, as our obsession with old-school dining has dwindled in favour of all things nouvelle cuisine. Only in the past few years have Parisians rediscovered a love for the bistro's more homely style of cooking and eating, albeit often now with the optional extra of natural wines and impeccably sourced ingredients.
The bistros we've picked here are both new and old, and stand out from other French restaurants and brasseries thanks to their informal ethos and cuisine. So order a kir, bag a comfy spot on a banquette and settle in for the menu du jour.
RECOMMENDED: Full guide to the best restaurants in Paris
Best bistros in Paris
What's the deal? Bistrot Paul Bert's steak-frites are the stuff of legend. This 11th arrondissement restaurant might have been on the map for years, but it's fully deserving of every accolade. With tiled floors, leather banquettes and chalkboard menus, it ticks every bistro box. Little touches like gougères to nibble on while you're waiting give it our top spot.
What should I order? Scallops on the half shell, steak tartare and Grand Marnier soufflé for dessert (it's definitely big enough for two, but that doesn't mean you have to share).
Where? 18 Rue Paul Bert, 11th
What's the deal? Remarkably given its location in a no man's land between Gare du Nord and Barbès, Les Arlots has had us in raptures about saucisse-purée (aka sausage and mash) since they opened in 2016. Thomas Brachet and Tristan Renoux have now expanded into bistro-bar Billili next door, but the original address remains the must-visit.
What should I order? It's all about the sausage. Try the chou farci or caramelised beef cheek on your second visit.
Where? 136 Rue du Faubourg-Poissonnière, 10th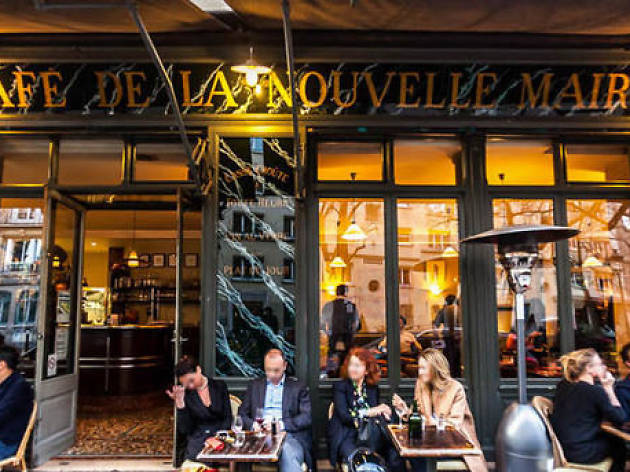 Photograph: Café de la Nouvelle Mairie
3. Café de la Nouvelle Mairie
What's the deal? Expect an unusual natural red from the Auvergne rather than a bitter espresso at the zinc bar of this much-loved Left Bank café. Café de la Nouvelle Mairie is old school in appearance only. The menu has plenty of classics, but also simple, ingredient-led dishes with a lighter touch – think ricotta with heirloom tomatoes in season.
What should I order? Don't skip the entrées: bulots mayonnaise or poireaux vinaigrette.
Where? 19 Rue des Fossés Saint-Jacques, 5th
What's the deal? The wine list at this new-ish Buttes-Chaumont bistro is worth a trip alone (yes, we're talking plenty of Pét-Nat and bottles from the Jura). Thanks to the big flavours and pared-back presentation, their menu is among the most exciting on this list. It changes daily, usually featuring around five entrées and three plats.
What should I order? The tête de veau with a surprisingly spicy sauce ravigote.
Where? 1 Rue Pradier, 19th
What's the deal? This gorgeous Belle Époque bouillon might appear little changed since it opened in 1832, but it's riding high on a retro revival. The prix are petits and the portions are huge. Profiteroles come swimming in chocolate sauce, baked camembert is drizzled in honey and mountains of frites are served with everything from andouillette to moules marinières. Come hungry and prepared to queue.
What should I order? The boeuf bourguignon with coquillettes and a gratin dauphinois to share on the side.
Where? 24 Rue de la Grande Truanderie, 1st
What's the deal? Over the past five years, Le Jourdain's young, passionate team have nailed the recipe for a new style of neighbourhood bistro in this pint-sized restaurant. Come at lunch for one of the best-value set menus in Paris (three courses for €19) or at night for seriously creative and seafood-heavy dishes to share. They're also a dab hand at wine pairings – natural, of course.
What should I order? As many dishes as you can fit on the table: perhaps clams in a spicy, pork-y broth, beetroot veiled in lardo and cod ceviche.
Where? 101 Rue des Couronnes, 20th
What's the deal? A beacon of contemporary bistro culture steps from the Champs-Élysées, Le Mermoz brings the spirit of the city's eastern arrondissements to one of its fanciest quartiers. Dishes are appropriately elegant, whether designed to share or for ordering solo at the bar. Hearty cooking this is not.
What should I order? The cockles, served with twists varying from coriander and candied lemon to a tomato and bacon consommé depending on the season.
Where? 16 Rue Jean Mermoz, 8th
What's the deal? Older sibling by some 90 years to Aux Bons Crus (it was taken over by the same team this year), this is the place to come for Burgundian bistro dining in Paris. Unmatched in terms of ambience and authenticity, its wood-panelled dining room is straight out of a different era – somewhat at odds with the generally cool clientele.
What should I order? Coq au vin and a baba au rhum.
Where? 3 Rue Bachaumont, 2nd
What's the deal? One of the original bistros to gain a cult following, and still one of the best, Le Baratin counts Pierre Hermé and Anthony Bourdain among its devotees. Although foreigners now pour in, at its heart it remains a restaurant du quartier, defined by chef Raquel Carena's warmth and unparalleled cooking.
What should I order? Anything slow-cooked or with offal: beef confit in a rich red wine sauce or tender fraise de veau with tomatoes and capers.
Where? 3 Rue Jouye-Rouve, 20th
What's the deal? Xavier Denamur's bistro is set apart by his fervent commitment to serving 'le vrai fait maison'. That means only organic, sustainable suppliers (with named farms on the menu) and absolutely everything made from scratch. Les Philosophes might be slap bang in the heart of the Marais, but it couldn't feel more intimate.
What should I order? Go meaty with rillettes to start followed by the confit duck leg.
Where? 28 Rue Vieille du Temple, 4th
What's the deal? Unless you come for the lunchtime formule, mains around the €40 mark make bistronomy pioneer Stéphane Jégo's Basque bistro more of a splurge. But it's absolutely worth it. Little changed since he took over in 2004, the restaurant is traditional in both décor (bare tables, banquettes) and cooking (ris de veau, roast chicken, slow-cooked beef cheeks, wild boar). Book ahead.
What should I order? The famous rice pudding for dessert.
Where? 27 Rue Malar, 7th
What's the deal? Ironically, it's an American chef, Daniel Rose, who's responsible for reinventing the wheel at Chez La Vieille. Taking its name from previous chef Adrienne – nicknamed 'the Old Woman' despite being just 25 years at the time she started in the kitchen – it's remained a bastion of bistro tradition as Les Halles and the surrounding area has transformed.
What should I order? Rabbit kidneys on toast and the blanquette de veau.
Where? 1 Rue Bailleul, 1st
What's the deal? No list of Parisian bistros would be complete without mention of Yves Camdeborde, friend and inspiration of Stéphane Jégo, and generally considered the founder of bistronomy. His Hôtel Relais Saint-Germain bistro might not be groundbreaking these days, but it was one of the first to set the standard so many others have followed. Come for lunch, as it's a prix fixe menu at night.
What should I order? Simple dishes that let the ingredients shine. There's never a bad time for foie gras and escargots.
Where? 9 Carrefour de l'Odéon, 6th
And if it's tip-top mixology you're after?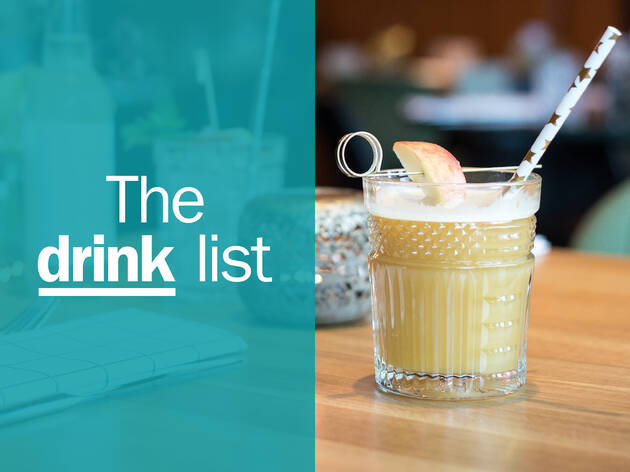 Thanks to the dozens of speciality wine bars, craft beer dens and cocktail temples cropping up in nightlife hotspots Pigalle and Strasbourg Saint-Denis, Paris's drinking scene has quietly become one of the best and most diverse in the world.