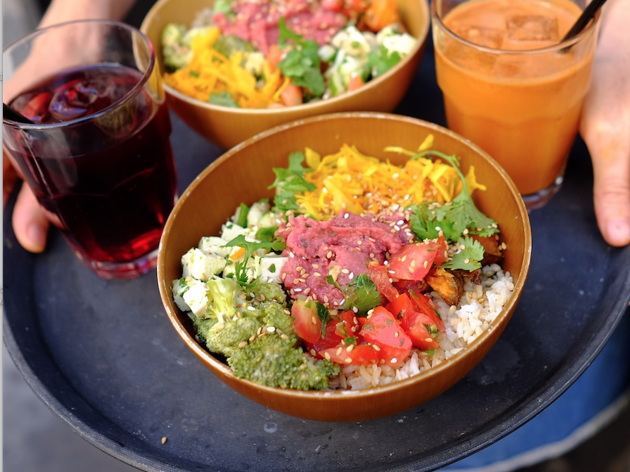 The 11 best vegan and vegetarian restaurants in Paris
Don't believe the clichés – there are vegan and vegetarian restaurants all over Paris. Here are our faves right now
Don't let anyone tell you Paris doesn't cater for vegans and vegetarians. These days it's not all entrecôtes and biftecks in the City of Light – and if you know where to look, there's all manner of first-rate restaurants that are totally meat-free. From Indian to British to Syrian, our pick of the best vegetarian and vegan restaurants in Paris span a range of cuisines and price tags. And frankly, all of it tastes about as fresh and balanced and downright delish as it gets. So whether you're fully committed or flexi, get your health kick at these brunch spots, cafés and other addresses making veganism more than palatable to Parisians.
RECOMMENDED: Full guide to the best restaurants in Paris
Best vegan and vegetarian restaurants in Paris
What's the deal? It's not called the Latin for 'chill AF' for nothing. With its subdued lighting, sunflowers and brick walls, this spot feels relaxed, autumnal and very, very homely. So kick back and tuck in. The menu's fully vegetarian and changes regularly.
What should I order? The bowl of the day – whatever it is.
Where? 56 Rue de la Rochefoucauld, 9th
What's the deal? This minimalist English-themed café run by a Franco-British couple stands out for the quality of its ingredients as well as the too-good-to-be-true puddings: carrot cake, sticky toffee pudding and, in winter, a chocolate and chestnut tart. The DIY salad plate is crunchily satisfying – try that, then go in for a gâteau.
What should I order? The pink lemon cake, with a very indulgent hot chocolate.
Where? 46 Rue des Martyrs, 9th
What's the deal? A mainstay of Paris's vegetarian dining scene since 2007, this address has gained a rep for its incredibly generous (and very delicious) brunch. Decked out Brooklyn loft-style with lots and lots of glass, Soya's menu weaves Asian and Italian influences into its diverse offering, while drinks span everything from organic wine to kombucha.
What should I order? Any of the vegan couscous dishes.
Where? 20 Rue de la Pierre Levée, 11th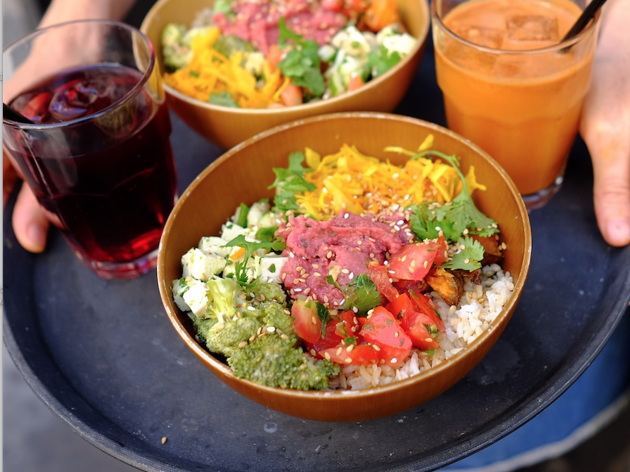 Photograph: Jah Jah
4. Jah Jah By Le Tricycle
What's the deal? From the same gang behind hit vegan hotdog spot Le Tricycle, Jah Jah serves everything from fried plantain snacks to hearty, healthy 'bowls du jour' packed with things like rice, tandoori cauliflower wings and a roast courgette salad. They also host talks and discussion about veganism and why you, you awful meat-eater, should cut back on the good stuff.
What should I order? Come for brunch at the weekend – the vegan pancakes are a sure-fire treat.
Where? 11 Rue des Petites Écuries, 10th
What's the deal? Self-styled influencers would struggle to find a more fashionable spot than this LA-style health food canteen. Come here to detox with mini bottles of cold pressed juice (€5.50 for 250ml) and small salad bowls (€9-€10). The room's calm, cool and filled with appealing wooden furnishing and greenery.
What should I order? One of their speciality SuperBowl salads, with a Hollyweed CBD drink (less gimmicky than it sounds).
Where? 19 Place du Marché Saint-Honoré, 1st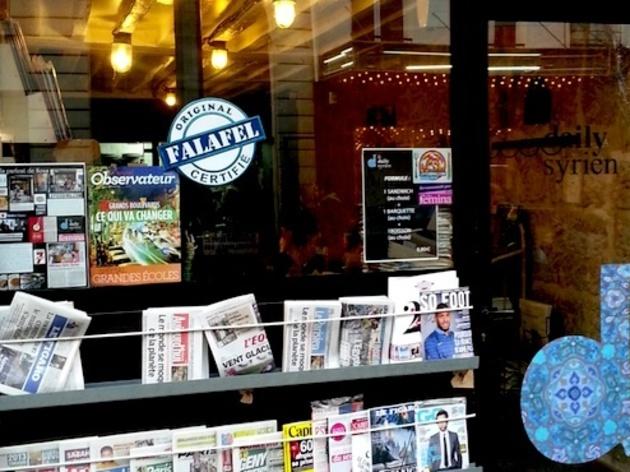 Photograph: Time Out
6. Le Daily Syrien Veggie
What's the deal? It feels quite symbolic – a restaurant that's 100 percent vegetarian located in a former butcher's shop on the Rue du Faubourg-Saint-Denis. Le Daily Syrien have even kept hold of the huge, once meat-packed fridge. Grab a pitta and stuff it with everything you can get your hands on – the falafel, hummus and lentil dishes are particularly good.
What should I order? A huge bowl of hummus, topped with broad beans.
Where? 72 Rue du Faubourg-Saint-Denis, 10th
What's the deal? Consider yourself a gourmet and want to be schooled in top-notch modern vegan cuisine? Try La Chance in Château-Rouge. Overrun with plants, this former hairdesser's feels like a literal urban jungle. And the food? It's stylish, cheap – and completely plant-based. The coffee, from Hexagone, is fantastic too.
What should I order? One word – curry.
Where? 4 Rue de la Pierre Levée, 11th
What's the deal? Just off the Rue Dénoyez, cradle of Paris's street artists, the quaintly named, pedestrianised Rue Lemon is one of very few central drags that feel totally hassle-free. Canteen Primeur is where you should hang – expect a seasonal, organic, almost entirely vegan menu.
What should I order? The vegan lasagne, packed with fresh, seasonal veg.
Where? 4 Rue Lemon, 20th
What's the deal? Snuggled up against the Montmartre steps, Soul Kitchen is a delightful café-restaurant overseen by three charming, inspired female chefs – just the sort of place you'd want as your local. Come at midday to eat lunch in great company, choosing from excellent ever-changing menu of homemade recipes made with organic local produce.
What should I order? Either the chilli sin carne, or a pichade, a chunky onion and tomato tart with garlic and basil sauce.
Where? 33 Rue Lamarck, 18th
What's the deal? Specialising in vegetarian dishes from northern India and already something of a hit across Paris, this restaurant on the Rue de Cail is now one of four Krishna Bhavan addresses across the capital. This particular outlet can be a tight squeeze, but it's worth getting used to the cosiness for all the great, filling, cheap food on offer.
What should I order? Three moreish vegetable curries and a cheese paratha for €8.50.
Where? 24 Rue Cail, 10th
What's the deal? Florist meets coffee shop meets concept store? Peonies sure gets points for originality (and we like it). Sip on your organic matcha green tea, eat 100 percent vegetarian food and leave with a bouquet of flowers when you're done.
What should I order? The avocado toast or the house granola with fresh fruit – simple but tasty.
Where? 81 Rue du Faubourg-Saint-Denis, 10th
After more solid recommendations?
Paris may well have been the world's ultimate cocktail city during the roaring '20s, but it's only recently regained its stripes when it comes to mixology worth splashing out on. These are the bars shaking things up right now.
Best selling Time Out Offers