Heads up! We're working hard to be accurate – but these are unusual times, so please always check before heading out.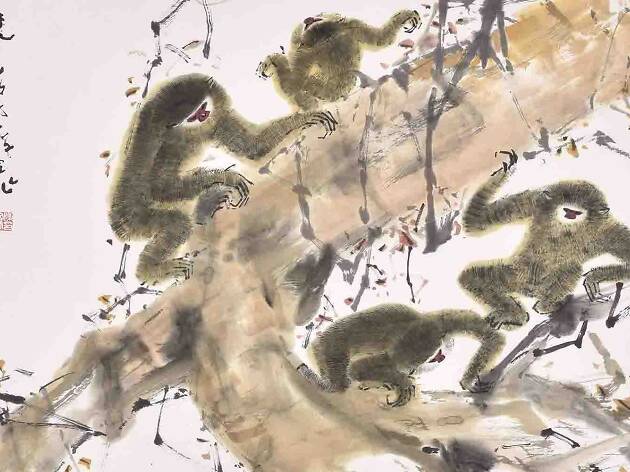 6 artists behind the Nanyang-style art movement in Singapore
The local artists who paved the way and why they still matter. By Tanya Singh
One of the most important movements of Singapore's cultural history is the Nanyang- style art movement of the 1950s. It was pioneered by artists now known as the Singaporean masters, namely Cheong Soo Pieng, Liu Kang, Chen Wen Hsi and Georgette Chen. Blending western techniques with traditional Chinese ink and wash painting, these artists depicted the realities of living in Southeast Asia in their works.
The Nanyang art movement was the first of many Singapore has experienced. Some might even argue that the city has always had a vibrant arts culture even before British influence. As Nanyang art garnered more recognition on the global stage, a second wave of artists expanded upon it and developed a number of mini art movements along the way. Here's the low-down on the epoch-making local artists you should know.
RECOMMENDED: Time Out Singapore's guide to staying cultured during a pandemic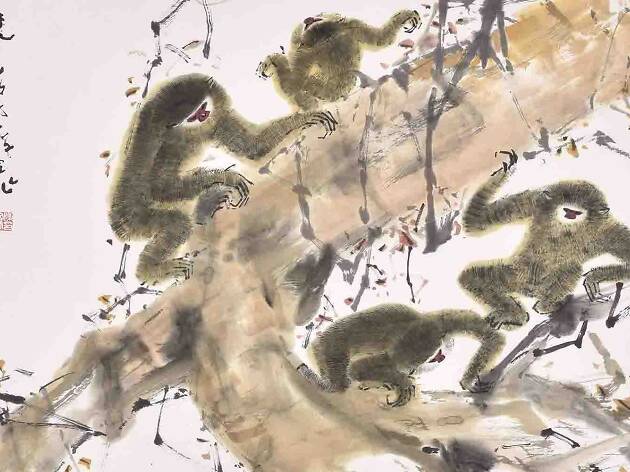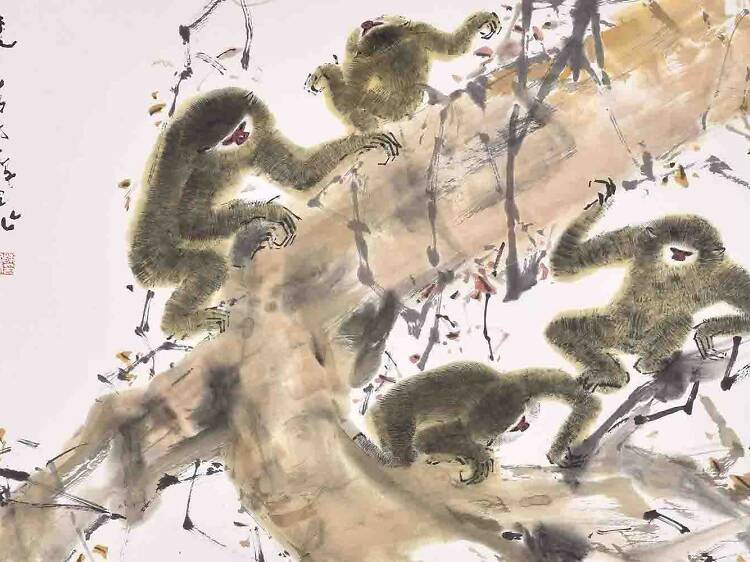 Chen Wen His, Gibbon, c. 1980, Chinese ink on Rice Paper, 139 x 70.3 cm, Collection of Johnny Quek. Image Courtesy of Johnny Quek.
You're more familiar with Chen Wen Hsi's work than you think. He's the artist behind the two gibbons on Singapore's $50 bill. The Chinese artist arrived on our shores in 1948 – he initially planned to stay for three months – but ended up gaining citizenship and becoming an important protagonist of the Nanyang aesthetic. The prolific painter's works include abstract and figurative Chinese ink paintings that can fetch a princely six-figure sum.
KEY ART Gibbon, portraying some of the friends that didn't make it on to the $50 bill. Catch them and more of Chen Wen Hsi's work at Merlin Gallery.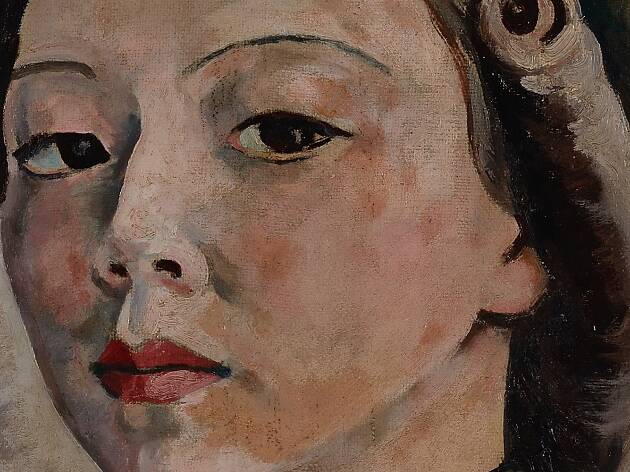 Georgette Chen, Self-Portrait, c. 1946, Oil on canvas, 22.5 x 17.5 cm. Gift of Lee Foundation, Collection of National Gallery Singapore. Image courtesy of National Gallery Singapore.
On the lookout for a homegrown feminist icon? Head over to the National Gallery Singapore (NGS) and take inspiration from the works of arguably the most important woman in Singapore's art history, Georgette Chen. She was the first female teacher at the Nanyang Academy of Fine Arts and a prominent artist in the pioneering Nanyang generation.
KEY ART Look out for her self-portrait at National Gallery Singapore's DBS Singapore Gallery. The painting portrays the artist in a cheongsam and brings forth Singaporean culture in a post- Impressionistic style.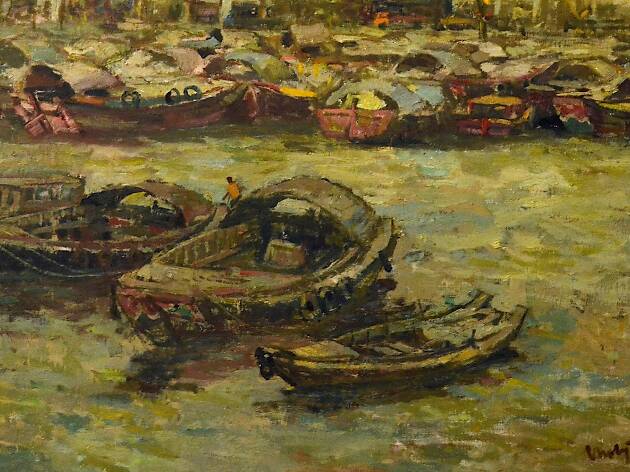 Tan Choh Tee, Singapore River, 1977, Oil on canvas, 54 x 72 cm. Image courtesy of ArtCommune Gallery.
Keeping the spirit of Nanyang alive – having been tutored by the masters themselves – is a star from the second generation Nanyang movement. Tan Choh Tee made his mark on the local art world with his kinetic oil paintings, a style used by impressionist artists like Claude Monet and Édouard Manet. Tan's paintings are a nostalgic treat, displaying vibrant scenes of life in Singapore before the skyscrapers.
KEY ART Singapore River, one of the artist's earlier work that brings together his Nanyang tutelage and spirited approach to the artistic expression. Check it out at the ArtCommune Gallery.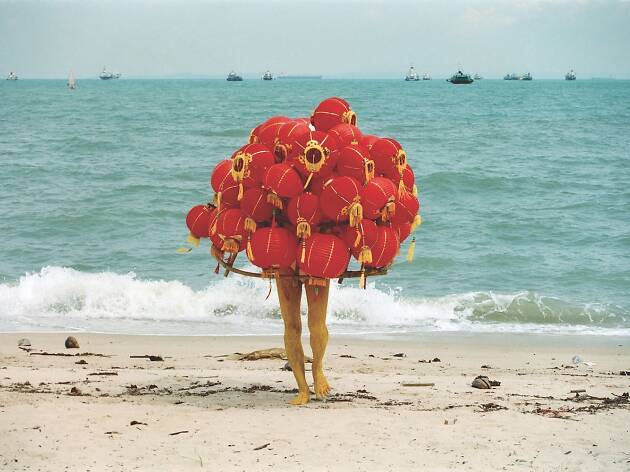 Lee Wen, Strange Fruit, 2003, C-print, 42 x 59.4 cm. Image courtesy of Singapore Art Museum.
Lee Wen, who passed away recently due to a lung infection, was an exceptional multidisciplinary artist and a force to be reckoned with on the Asian performance art scene. Due to a series of work that saw him bathed in bright yellow paint, he was given the moniker 'Yellow Man'. His artistic practice explores identity, ethnicity and freedom in unconventional ways. The Singapore Art Museum, which is currently closed for renovation, houses a collection of his works including several related to the Yellow Man series.
KEY ART The Singapore Art Museum might be closed till 2021, but you can still view Lee Wen's pieces on its website, including his seminal work, Strange Fruit.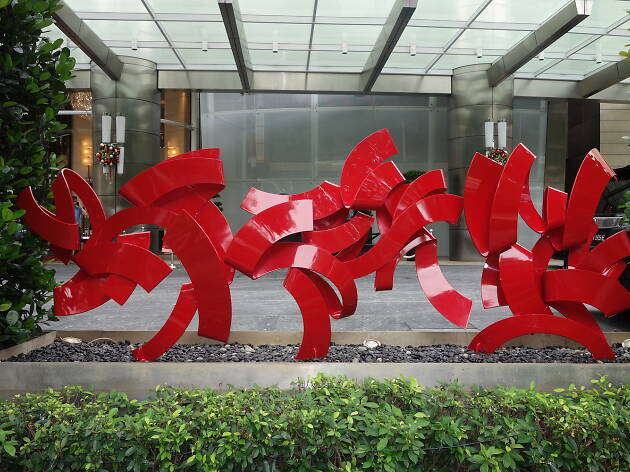 Anthony Poon, Sense Surround, 2006, Painted Aluminum, dimensions variable. Image Courtesy of the National Arts Council.
Your eyes aren't playing tricks on you – Anthony Poon combines visual art and geometry to create abstract pieces for your viewing pleasure. Mastering the abstract expressionist and optical art styles, the late artist created a multitude of works across various mediums including relief paintings and sculptures. He was awarded the Cultural Medallion in 1990 for his contributions to the art scene in Singapore.
KEY ART Check out the shape of his unique vision (quite literally) in this aluminum sculpture displayed at the front porch of The St. Regis Singapore.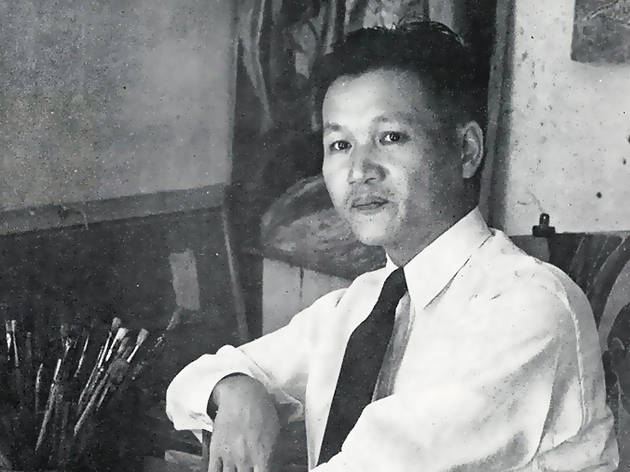 Photograph: Esplanade
Cheong Soo Pieng is known for his distinctive style of painting Malay women after a 1959 trip to the Dayak longhouses of Borneo. Besides painting both in the Eastern and Western techniques of Chinese ink and oils, Cheong also sculpted and crafted metal installations. But his Nanyang-style paintings have garnered him attention.
KEY ART You've definitely seen one of his most iconic and stylised oil paintings, Drying Salted Fish, in which he depicts an idyllic Malayan village scene. It's featured on the back of Singapore's $50 bill, so pay attention the next time you're holding one.
Other local artists you need to know