Heads up! We're working hard to be accurate – but these are unusual times, so please always check before heading out.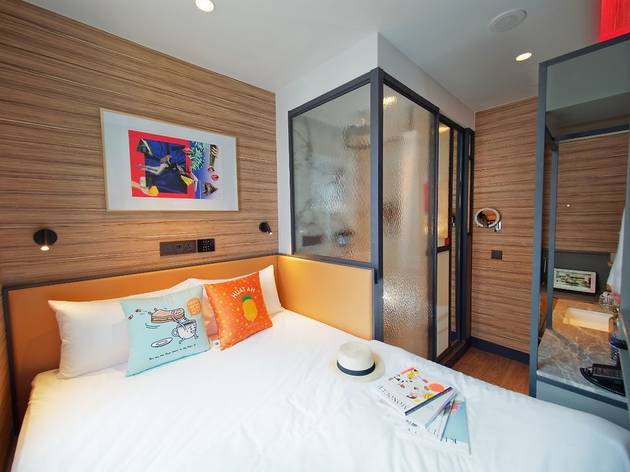 Staycation Spotlight: Hotel Soloha
A design-led boutique hotel located in the heart of the buzzy Keong Saik district
The birds sing and crickets chirp in the middle of Keong Saik. That might seem out of place in the bustling neighbourhood packed with restaurant and bars, but that's because it's coming out from the speakers of Hotel Soloha.
The boutique hotel, located in the heart of the hip district, offers a hidden oasis within the neighbourhood's iconic shophouses. Mother Nature serves as design inspiration in the four-star property, complete murals of animals and nature-themed carpets.
But here's the real draw – Hotel Soloha is offering a staycation promotion that starts from $98. We review what a night at this affordably priced hotel is like.
RECOMMENDED: What a staycation at Marina Bay Sands Singapore is like right now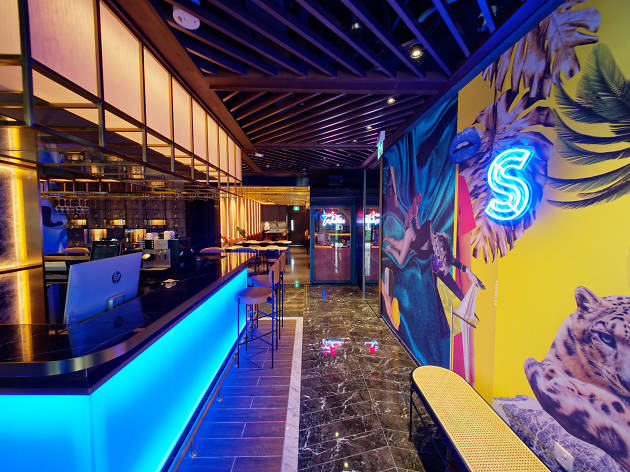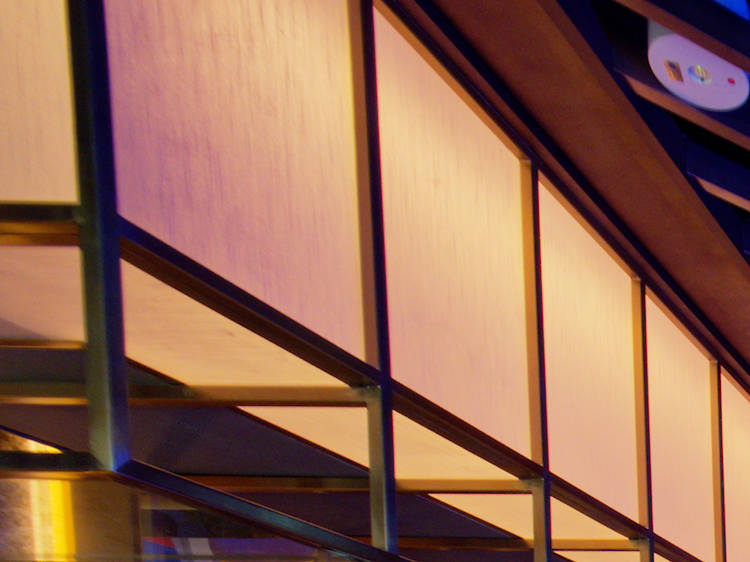 Photograph: Hotel Soloha
It's clear that Hotel Soloha isn't a typical hotel. Even the check-in counter (or the lack thereof) proves that. The process takes place over the bar counter, with check-in starting from 3pm. It's also where you can grab a drink or two. The bar-reception counter shares the same space as Takeshi Noodle Bar, the only food and beverage option in the hotel.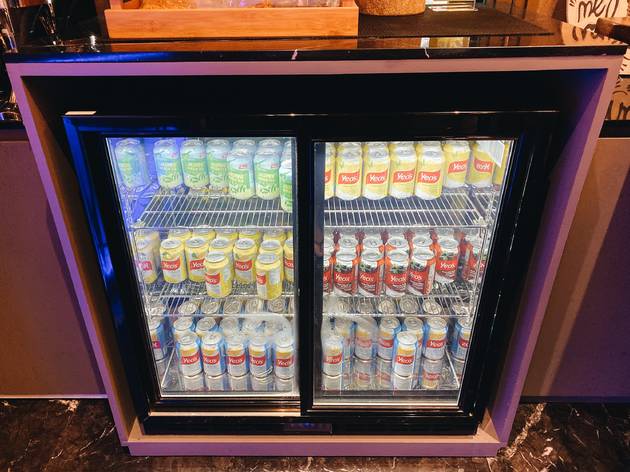 Photograph: Fabian Loo
Before zipping up to check out the room, load up on snacks and canned drinks to fill the mini-fridge. Options of muruku and mixed nuts come pre-packed, together with drinks that run the range from green tea to soya milk. A nice touch to chase away the midnight munchies, or to crunch on while bingeing on Netflix.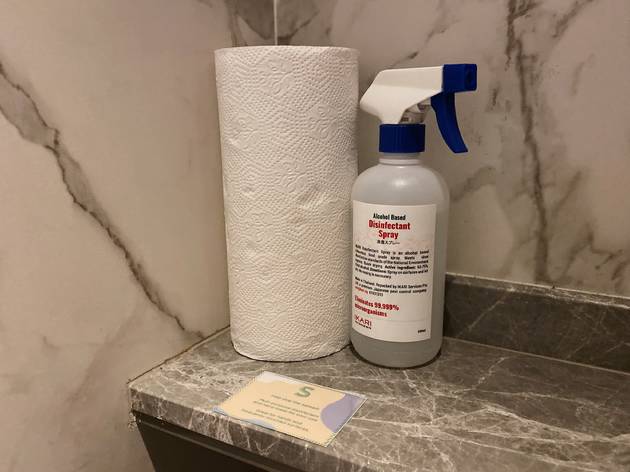 Photograph: Fabian Loo
The property might be certified SG Clean, but those who want to be sure can wipe down the room with the hotel's disinfectant for extra peace of mind.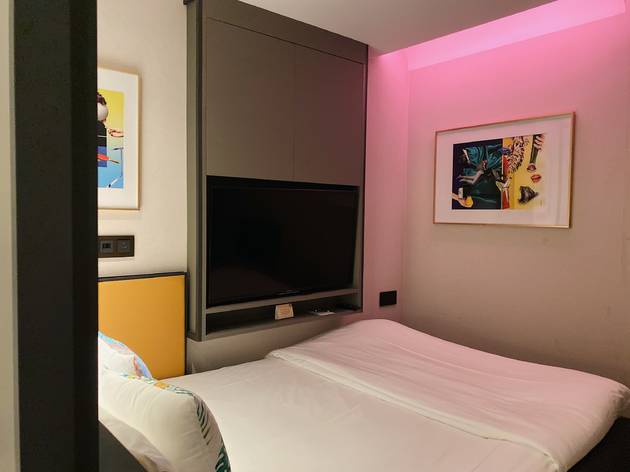 Photograph: Fabian Loo
Not that there's much to clean anyway. Each room is a snug configuration of essentials: bed and bathroom. But designer furnishings make the tight space much more livable and attractive. Mood lightings can be configured according to how you're feeling, and there's a large smart television that allows you to connect to your own Netflix account (just remember to log out before leaving). The shower, from Hansgrohe, is activated with a push of a button. Apart from that, there is hardly any free space to lounge around – not that you should, though. The prime location of the hotel means some of the district's top eats are easily accessed in minutes.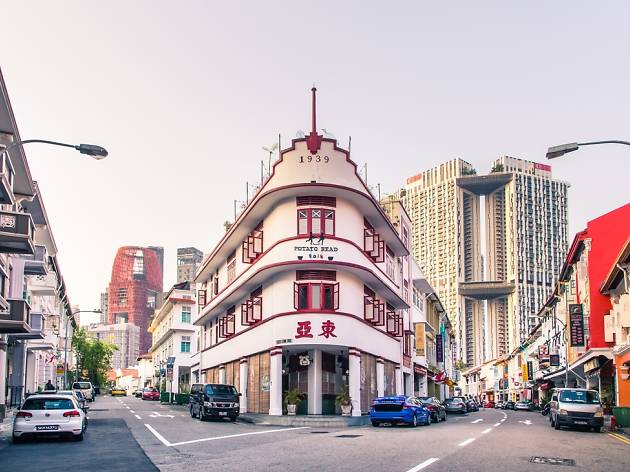 Photograph: Potato Head Family
Given how there aren't many amenities around (the hotel does not have a pool or gym), your best bet is to head out and explore Keong Saik. In particular, heritage joints of Tong Ah Eating House and Kok Sen Restaurant are all located within five minutes from the hotel. Ka Soh Restaurant is also just a 15-minute walk away. For modern eats, check out our ultimate guide to Keong Saik.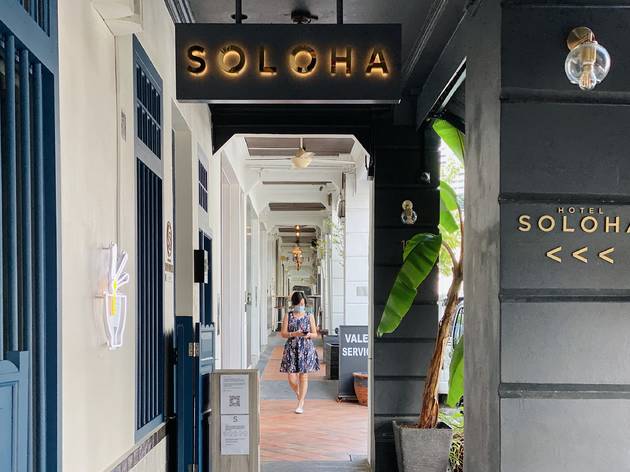 Photograph: Fabian Loo
Hotel Soloha offers a very convenient location to explore the buzzy location of Keong Saik, and we reckon it'll be great for foodies looking to eat their way through the neighbourhood. But a stay here remains functional at best; there isn't much in terms of perks or benefits to be enjoyed (no late check-out). And the affordable price tag reflects that. At $98, it serves as a very comfortable room to nurse your food coma after a long day of eating and drinking.
Explore your own backyard