The hip-hop culture in Singapore started the same way it did when it hit the streets of New York – graffiti, breakdancing and DJ-ing. But while it made waves in the West in the 1970s, its moment in the East came much later on. If you have to name one local hip-hop icon of the yesteryears, it'll likely be Sheikh Haikel who became popular in the 1990s with Ashidiq Ghazali as rap duo Construction Sight.
While hip-hop's early beginnings were heavily influenced by American culture and sound, today, it has spawned successful subgenres such as UK grime, reggaeton, and even K-hip-hop. But what about Singapore hip-hop?
Without a doubt, the scene here is growing, with many young rappers coupling their unapologetic selves with tight bilingual (sometimes multilingual) rhymes over jazz, soul and electronic music to document their lives as well as others' in Modern Singapore. These game-changers are also adding Singlish and Singapore slang to the mix – and owning it – proving that Singapore rap is a galvanising force in its own right.
Telling us more about the hip-hop scene here are three local trailblazers: bilingual rap wunderkind Fariz Jabba, hip-hop maven THELIONCITYBOY, and sampling trio Mediocre Haircut Crew. Ahead of their live Al!ve Vol 6 sets at Capitol Theatre on January 30, the rappers share with us about their signature sound, bringing their experiences and observations to live through music, and the songs they listen to when they're not spitting bars.
RECOMMENDED: 4 local hip-hop artists you should know and 8 local artists that should be on your radar in 2021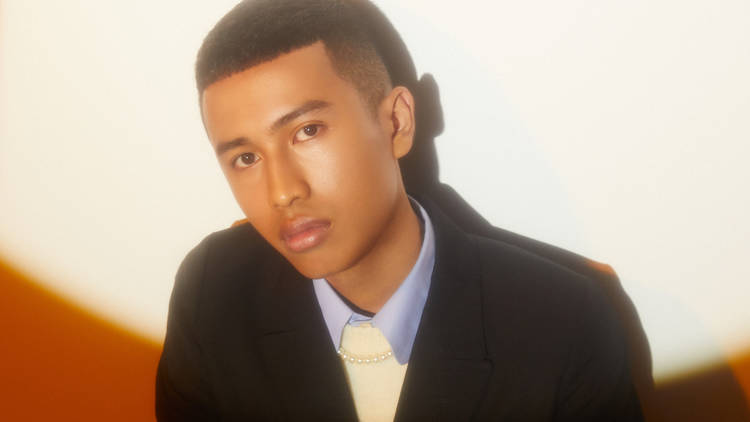 Photograph: Fariz Jabba
First things first, what gets you excited about Singapore?
Fariz Jabba (FJ): I love the fact that everything is 15 to 30 minutes away. Traffic is great on most days, and there's food literally everywhere. I honestly don't understand how somebody who grew up here would want to migrate – my friends, culture, family, everything I need and want is here.
THELIONCITYBOY (TLCB): I think growing up in Singapore is such a unique experience. We look forward to each other's cultural festivals because we celebrate together. I feel like my memories are in different languages, soundtracked by cultural songs that I'm so familiar with. It's just one of the many things I love about our culture.
Mediocre Haircut Crew (MHC): Family, and being a 20-minute ride away from my homies at all times.
I think growing up in Singapore is such a unique experience. We look forward to each other's cultural festivals because we celebrate together. I feel like my memories are in different languages...
There's no denying that the return of live music performances gets us excited. Tell us more about your upcoming live set at Al!ve Vol 6.
FJ: I'd say this is the most preparation I've ever done for any of my shows – back to back rehearsals with my DJ, stage choreography, new graphic visuals, fly outfits, the whole deal. This show means the world to me. With the [current] state, I don't know if I'd ever get the chance to perform again, so I'm going to perform like it's my last show.
TLCB: I've had to re-imagine the show because of the current climate. It's been really exciting to make it more theatrical.
MHC: They can expect to hear they're favourite tunes and it'll be a nice jam on stage.
Most of you have performed in front of a live audience since the green light was announced back in November 2020. What was it like to not be able to do so for about seven months since the circuit breaker?
FJ: I kept busy by surrounding myself with family love, exposing myself to new forms of art like painting, learning audio production, writing stories and a whole lot of journaling/reflection. It felt like a gap year, having to recalibrate and assimilate into this new normal whilst having to handle the mental stress. It wasn't easy, but with the help of my loved ones, they made it bearable.
TLCB: Performing on stage makes up a large part of why I became an artist. Even when I'm writing songs in the studio, I'm already imagining how I'd perform it to a crowd – my mind just wanders off like that. It was a little tough to know that I wasn't going to do that for a while but I took that stay-at-home circuit breaker period to collaborate and link up with artists around the region. I dropped a whole EP from that work – Circus Breaker.

It seems like that the halt didn't stop you from releasing new tracks. Tell us…
Dari Sini by Fariz Jabba is a contemporary rework of the timeless classic Pandang Kasih that was first popularised by Malay icon Saloma. It's one of the three captivating tracks from the One 65 EP. Tell us more about the inspiration behind Dari Sini, and the message behind the EP.
FJ: The symbolism behind Dari Sini lies in two things: my heart and where I am. It was inspired by the story of how my parents got together. I realised that deep feelings transcended through generations, hence the concept of the music video. ALYPH sampled Pandang Kasih because the song mainly describes that overwhelming emotion of seeing that special person for the first time. The One 65 EP shines light to old Singaporean classics, revamping it to something special for the current time we're living in.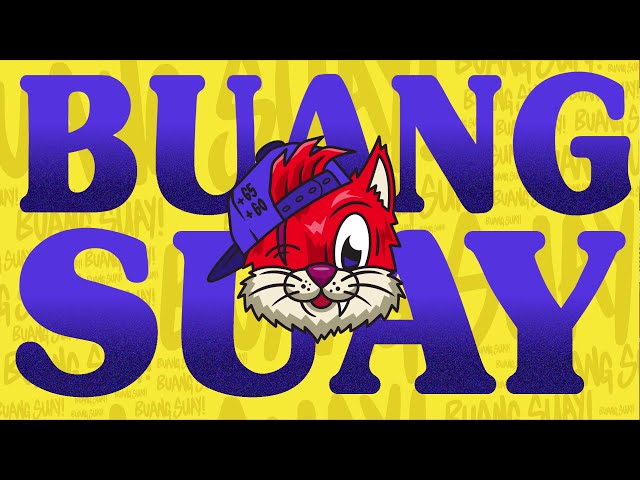 The travel restrictions did not stop THELIONCITYBOY from joining forces with artists across the Causeway – collaborating with Malaysian rappers Zamaera and Alan D for Buang Suay. Tell us more about it.
TLCB: I knew I wanted to share my thoughts on how to look forward into 2021, sort of keep your chin up. The producer Mingaling really lit the spark when he sent me the beat. We sent it to the other artists and it was such a natural and honest experience. I felt like a fan watching them piece their verses in. Thanks to technology, we got to finish it though we're across the closed Causeway. I hope we get to perform the song together in the same space one day – either in Singapore or Malaysia.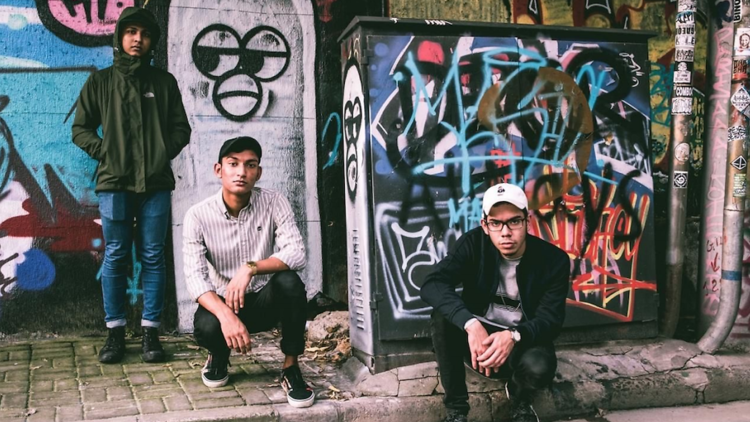 Photograph: Mediocre Haircut Crew
MHC Mixtape is a compilation of unreleased bangers. It was announced on Instagram that proceeds from the album will go towards charities and organizations fighting discrimination. How has your experience growing up as a minority in Singapore shaped your music?
It has given us a platform to have a voice and articulate certain perspectives we have on subjects that we care about. The experience of a minority in Singapore is incomparable to that of what minorities face in places like the US. Not saying that Singapore is perfect, because it isn't, but we try to do our part when we can, to help the people whose cultures we borrow so much from.
How would you describe your blend of hip-hop?
FJ: My blend of hip-hop is Singaporean. My goal is to represent how we speak, live and value things as people. Singapore music will be heard and celebrated worldwide.
TLCB: The recipe is Singaporean.
MHC: It's schizophrenic.
My goal is to represent how we speak, live and value things as people. Singapore music will be heard and celebrated worldwide.
Thoughts on the hip-hop scene in Singapore?
FJ: Singapore hip-hop is very unique to our roots. Being in a society with a mix of cultures, languages and dialects, our bounce is pretty niche to where we are. I love it!
TLCB: We're a growing scene and the most honest one when it comes to telling the Singaporean story in lyric writing.
MHC: It's really coming into its own. There are a lot of people in the scene doing some amazing things – B Gourd, Abang Sapau, Jema and Fariz Jabba are killing it. But I think Singapore has a [long] way to go before it cultivates a unique sound.
What would you like to see in terms of representation in Singapore's music scene?
FJ: I think people need to embrace how we speak in Singapore rather than just only leaning towards what is universally accepted. I would love to hear the Singaporean accent and style in the upcoming songs and releases.
TLCB: I'd love to see more female rappers on stage!
MHC: Individuality.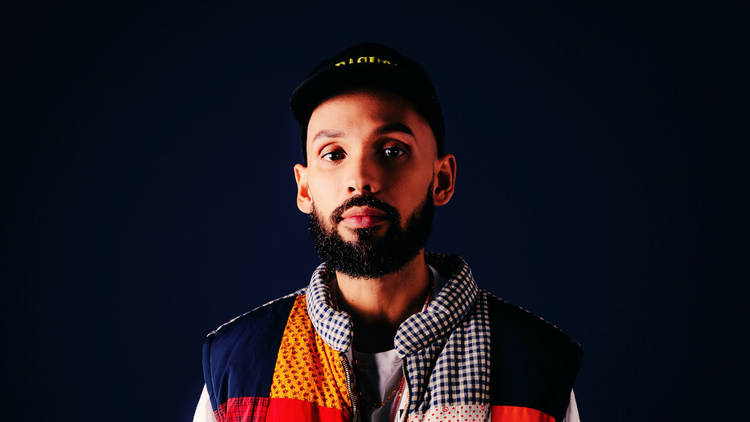 Photograph: THELIONCITYBOY
What are you currently playing on repeat?
FJ: I'm listening to a lot of jazz-rap, trying my best to broaden my horizons and discover new and old artists. The catalogue right now is straight to the '90s. I just wanted to understand how the sound and culture was truly like, back when I was born.
TLCB: Together by Kaytranada featuring AlunaGeorge and Goldlink.
MHC: Sex Tape Volume II by Jema. Altruism 2 by fauxe. Sweet trip, slowthai and the avalanches.
What's next for you?
FJ: Working on my EP this year – a lot of collaborations and side projects.
TLCB: I'm working on new music. Can't wait to share it with you!
MHC: We're taking it slow for now, nothing planned, but we are taking some time for our own personal endeavours.
Lastly, what are you looking forward to this year?
FJ: More perspective and peace within myself. I also look forward to seeing my brothers and sisters grow and upgrade and bloom!
TLCB: To share more memories on stage with the audience, my band and my team.
MHC: Travel if possible, going to other live shows and emotional and financial stability.
Fariz Jabba, THELIONCITYBOY, and Mediocre Haircut Crew are set to perform at Capitol Theatre on January 30 as part of Al!ve Vol 6. Tickets start from $58, and are available at Sistic and BookMyShow.