Joy and exuberance, new discoveries and new beginnings. These are the themes of Marguerite's new Spring menu. Inspired by a garden in first bloom, Chef-Owner Michael Wilson proudly showcases craft, provenance, and produce through whimsical contemporary creations.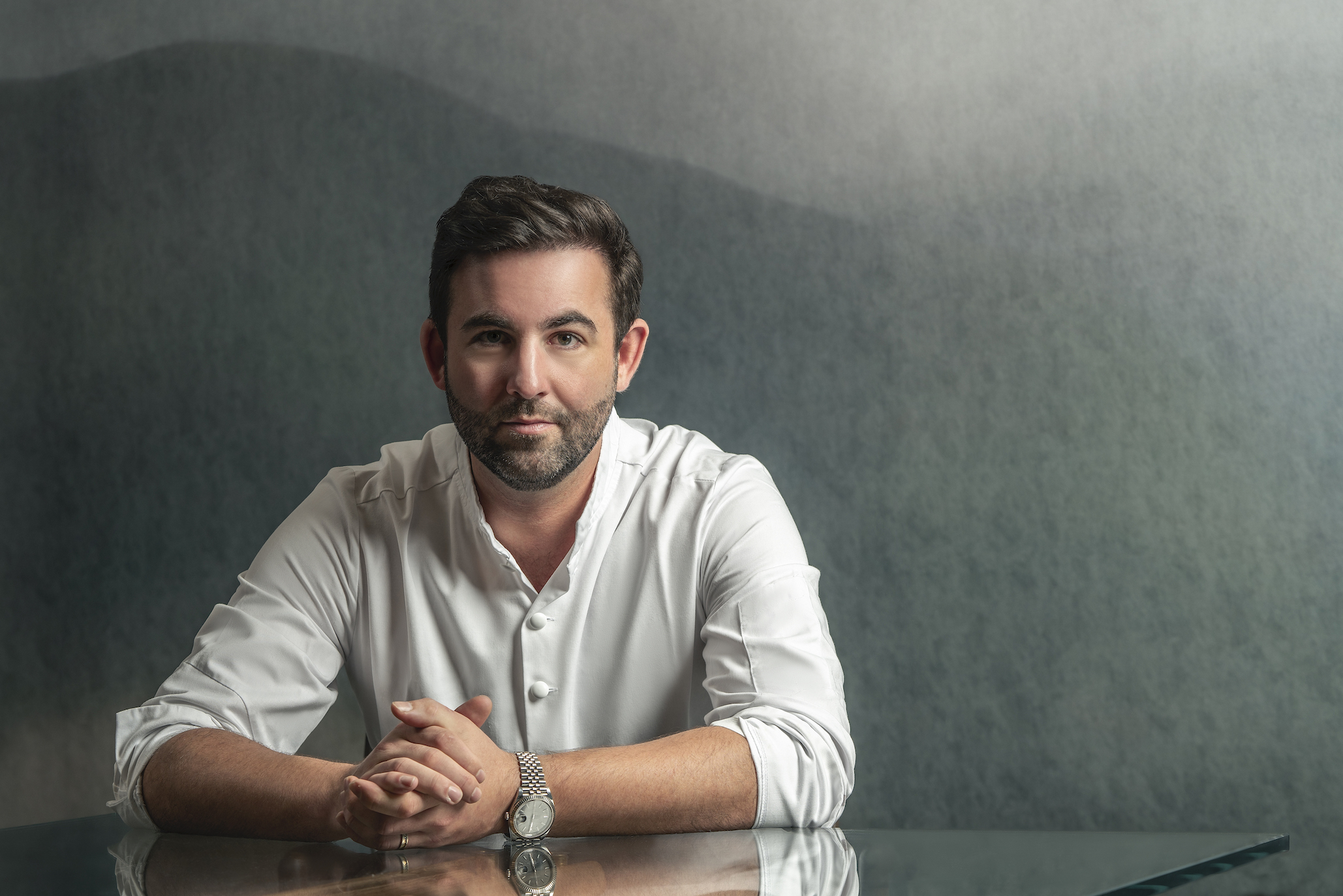 "Our approach to Spring was to allow the inherent beauty of the ingredients to speak for themselves through our cooking," says Wilson. For a seven-course tasting menu, each plate seeks to surprise, delight and perhaps even evoke a little hands-on fun – stripping away the typical fine-dining pretence.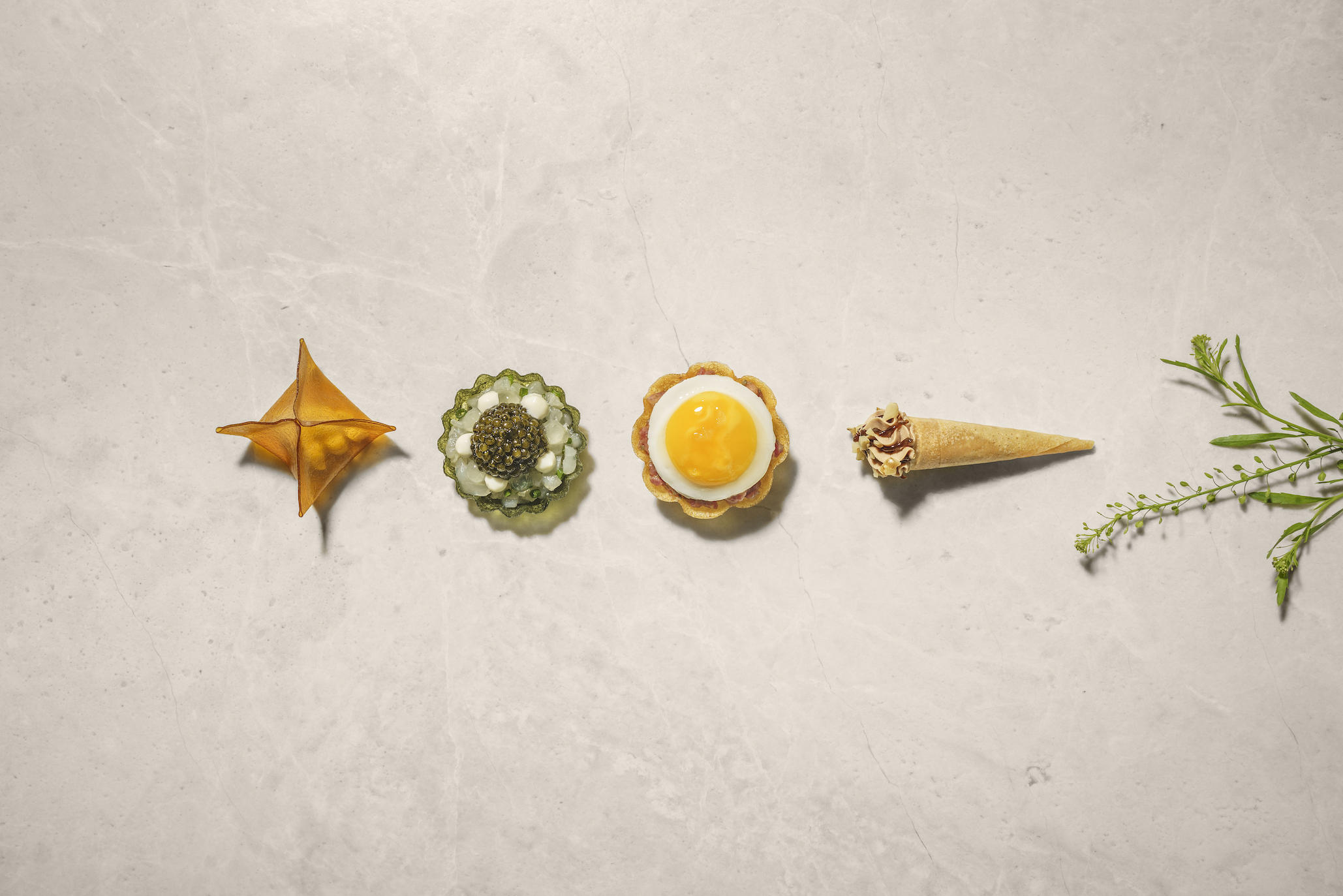 To start, canapes. These came straight out of the culinary theatre of the open concept kitchen island. Cue the cameras as these morsels are truly exquisite. Expect four bite-sized snacks (from right to left); a velvety Foie Gras Cornetto, an intensely flavoured Steak Frites, Kingfish and Caviar, and Apricot and Comte 36.
Our favourite? The Kingfish and Caviar. This bite saw seven-day aged kingfish diced and tossed with chives, olive oil, mackerel garum, seaweed vinegar – all atop a crisp algae shell. Then, a smoked cream, made from smoked salmon skin infused with milk and cream, is daintily piped and finished with a crowning glory of Amur caviar.
"That looks like something that came out of a Hermès showroom but edible," exclaimed my dining counterpart. While that remains to be disputed, the Apricot and Comte 36 showcased Wilson's playful riff on a pairing of sweet wine and cheese, all in one bite. What you get is a harmonious blend of tangy, sweet, nutty and smoky notes from the 36-month aged Comte cheese and sweet Sauternes wine encased within a gel-like film of apricot leather.
The element of hands-on fun concludes with the first appetiser. Set atop an atypically savoury cucumber meringue is naturally sweet Dungeness crab that had been sous-vide at 65 degrees and finished with herbs and flowers – French marigold, mizuna and basil.
Next, a gazpacho – a classic Spring dish – to wash it all down. The bright green lettuce gazpacho, made up of ten different herbs and spices, is poured tableside onto a savoury cucumber sorbet dressed with wood sorrel. A refreshingly cold and herbaceous expression that whets the appetite for what's to come.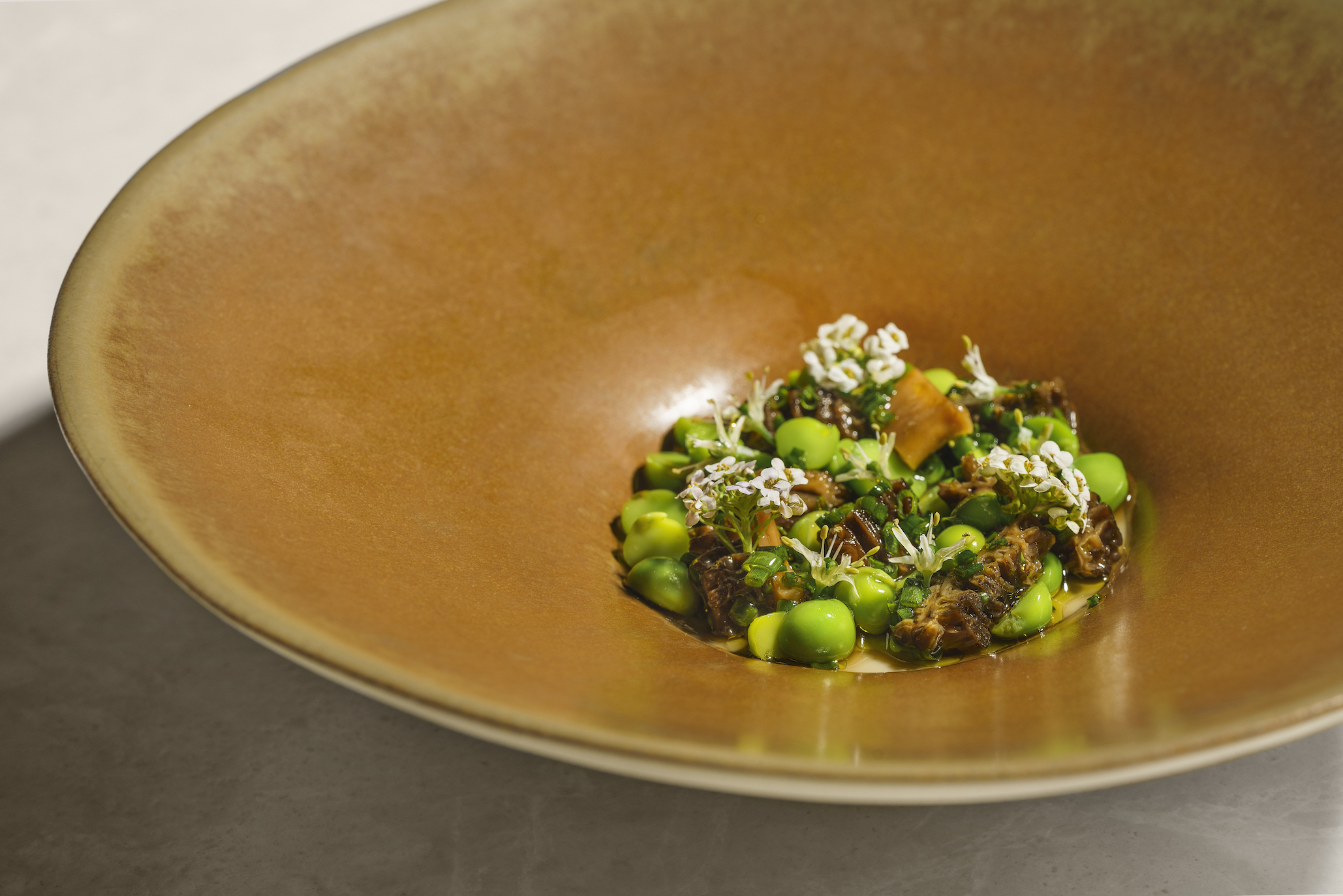 With our clean hands, we anticipated what seemed to be the epitome of Spring on paper. Morel mushrooms are cleverly shown through two mediums: one where he transforms mushrooms into a steamed custard made from mushroom broth and eggs and the other, simply sautéed mushrooms. The silky custard is bejewelled with snappy spring peas, grilled asparagus, and earthy sautéed morel mushrooms. Lifted with bright lovage oil, lemon juice and burnt butter while chive flowers and wild garlic flowers round up the presentation.
With my first spoonful, my brows were raised and the metaphorical bulb lit up in me. I was reminded of a soul-comforting bowl of herbal chicken soup except there was no fowl play in this mix.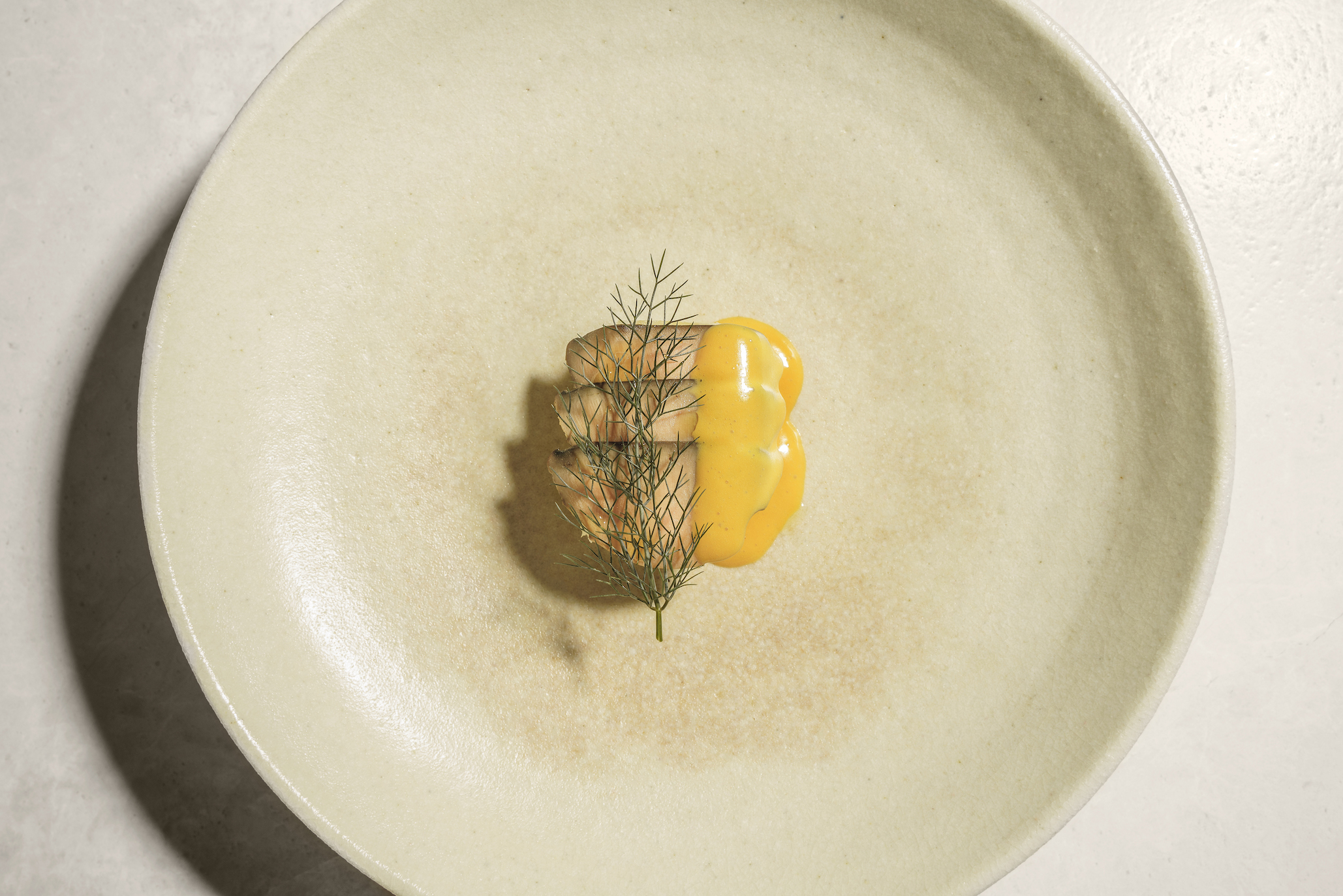 While the New Caledonian blue prawn tagliolini remains a roaring favourite amongst regular diners, we had our eyes set on the Patagonian toothfish – sustainably sourced and aged for seven days before a gentle poach. The protein is dressed with bright and airy passionfruit sabayon – for a tinge of acidity, a sprig of bronze fennel from Cameron Highlands – for a burst of herbaceous spice, and intricately layered with razor-thin slices of Pāua abalone. Beneath it lies fennel puree, blanched broad beans and basil oil, harmonising delicate Spring-forward flavours. To us, it was a dish that displayed masterful balance and execution. You heard it here first: it'll soon become the talk of the town.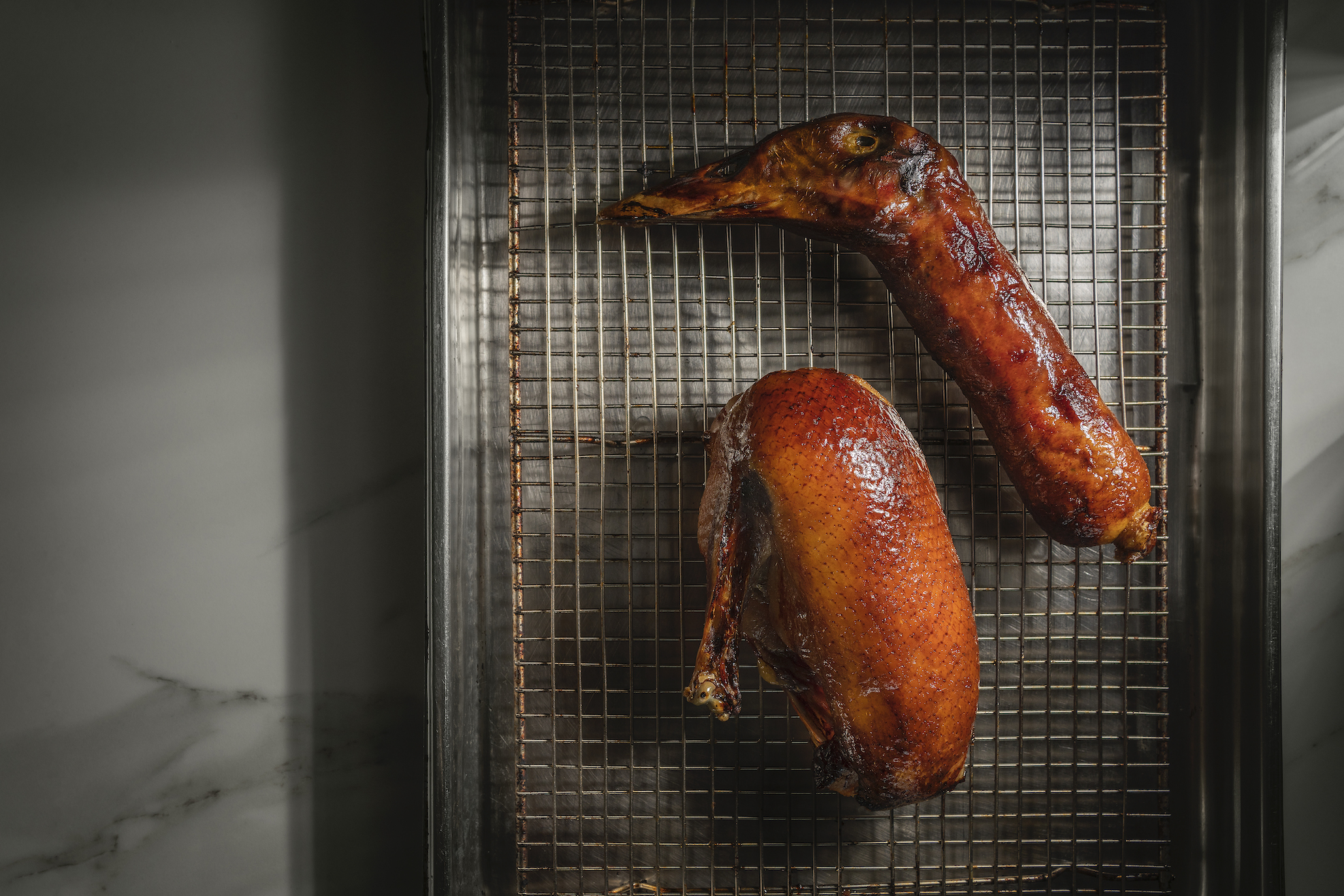 When the final main arrived in a red cast iron pot, we certainly did not expect a duck neck to appear after the smoke dissipates. We soon realise that it isn't entirely what it seems. This sausage farce is actually made by stuffing a boned-out duck neck with meat from an Irish silver hill duck leg and luscious chunks of foie gras. The result? A clean and fork-tender sausage without any gaminess.
That's not all. The roast Aylesbury duck dish also came with a cut from the breast that featured crisp skin (from being dry aged) and succulent meat that could square up with some of the finest zabutons out there. Paired with spiced fermented plum ketchup, vanilla Jerusalem artichoke puree, charred bluebonnet kale, slivers of fresh plum, and drizzled with duck jus, it comes as no surprise that the visually appealing dish is one of many in Wilson's iconic repertoire.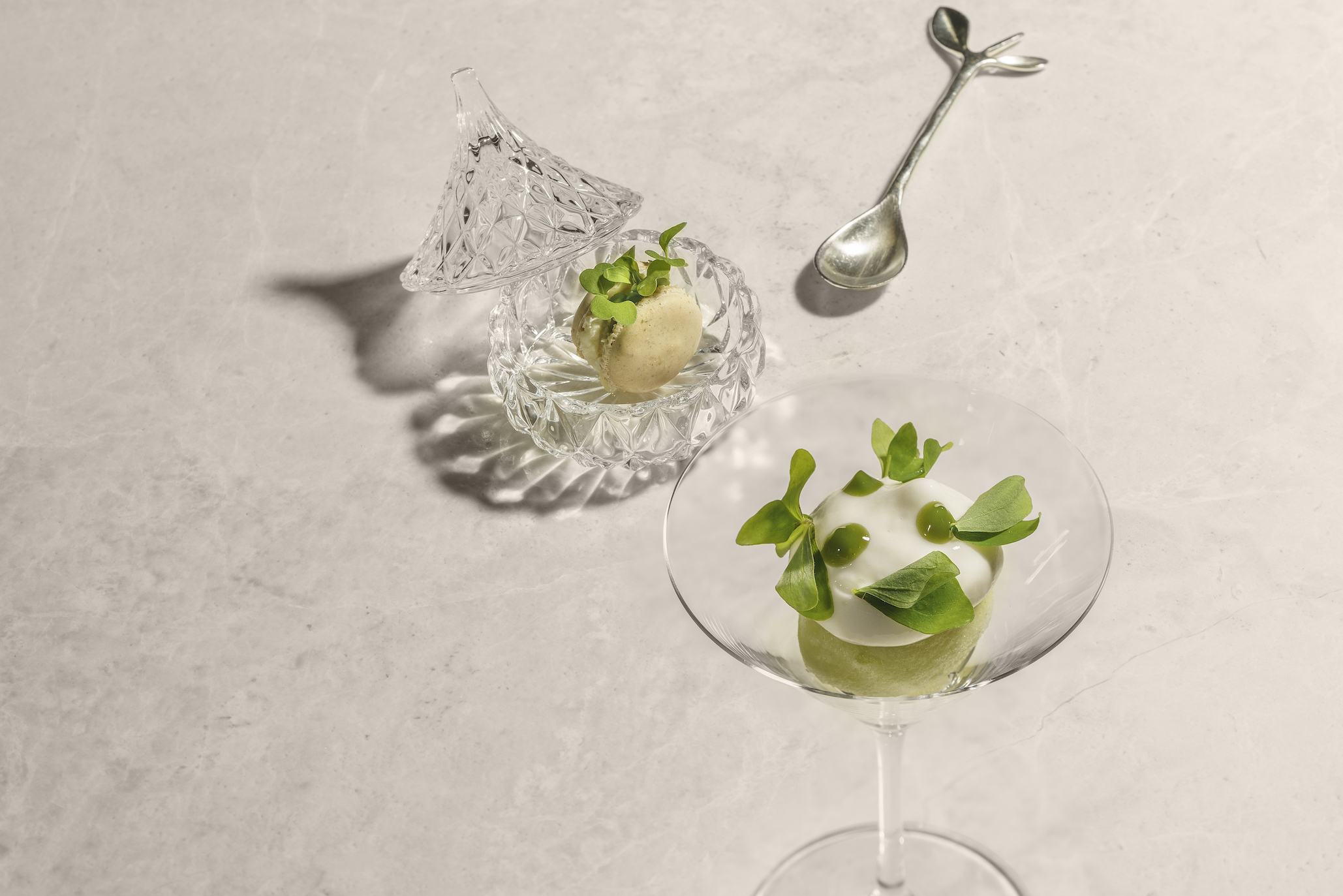 Dessert is a duo of sweet and savoury. We first crunched into a walnut macaron filled with bold gorgonzola dolce, fennel marmalade, Granny Smith apples and arugula. Chasing it with the vibrant apple, Chartreuse and mint sorbet, this thoroughly cleansed our palates.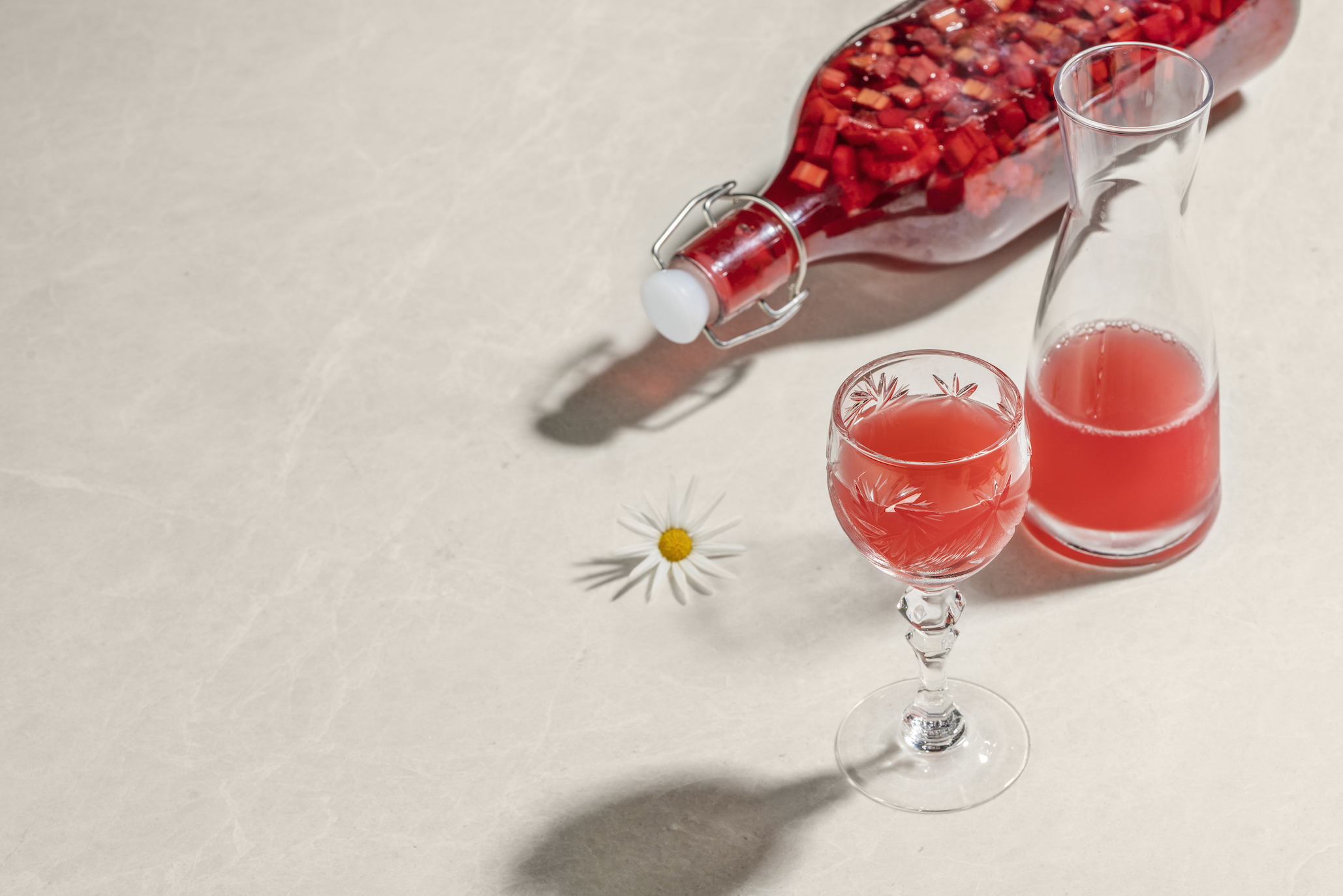 Of course, fancy libations are pedestrian in a place like Marguerite. But what left a lingering impression is the non-alcoholic temperance that was designed to offer similar depths and complexities to traditional booze. We had the pleasure of sipping on a well-balanced Granny Smith's Shiso (paired with Dungeness crab) that resembled a Sauvignon Blanc with notes of apples, mint, and hay.
While the oaked celeriac and gala apple (paired with toothfish) had a nose that oddly reminds us of Chinese water chestnuts, it drinks fruity and has vanilla notes like a Chardonnay. Both temperances displayed light-bodied drinkability with a short finish that is very much approachable for everyone – a fairly lauded performance in a time and space where attempts are aplenty but most are not quite there yet.
Book here.
READ MORE
So France has quietly opened a new chic bistro in the middle of Orchard
Get cosy at Forma, Joo Chiat's newest handmade pasta joint
Sago House announces inaugural collection of cocktail NFTs