Now we're no stranger to the alluring MO BAR with its most recent achievement of ranking #36 in the World's 50 Best Bars 2021. Following up from the venerated Volume Three menu which explored the cultures and histories of Asia Pacific during the pandemic, the highly anticipated Volume Four menu emerges from new horizons to immerse guests in the untouched flavours across the Pacific Ocean. Cleverly fashioned into an interactive sphere menu, the 3D globe showcases intricate details of the cocktails alongside whimsical illustrations that seek to enchant. Soaking up all the vibes, we were eager to get acquainted with the brand new cocktails and culinary creations.
Yet another nod to the rising non–alcoholic movement, the team meticulously designed a few inclusive tipples that presented the option to exclude alcoholic spirits upon request. Inspired by the treks up the majestic mountain range in Taiwan, the Formosan ($26) is an indulgent blend of coffee and whiskey with a luscious coconut cream that floats atop that resembles the fluffy clouds wafting above the mountain ridges. Don't mind us as we went ahead with the inclusion of whiskey as this playful expression drinks smooth with hot and cold sensations.
We made our way to Seoul while the enchanting Full Moon ($26) awaits us. Drawing inspiration from ancient South Korean traditions of wishing for bountiful harvests during a full moon, it poetically stars as a rum-based tipple that drinks of sweet Asian pear with hints of fresh wheatgrass. Sporting an undeniable camera-friendly printed rice paper as garnish, this is without a doubt – and yet again – becoming one of Singapore's top Instagrammable cocktails.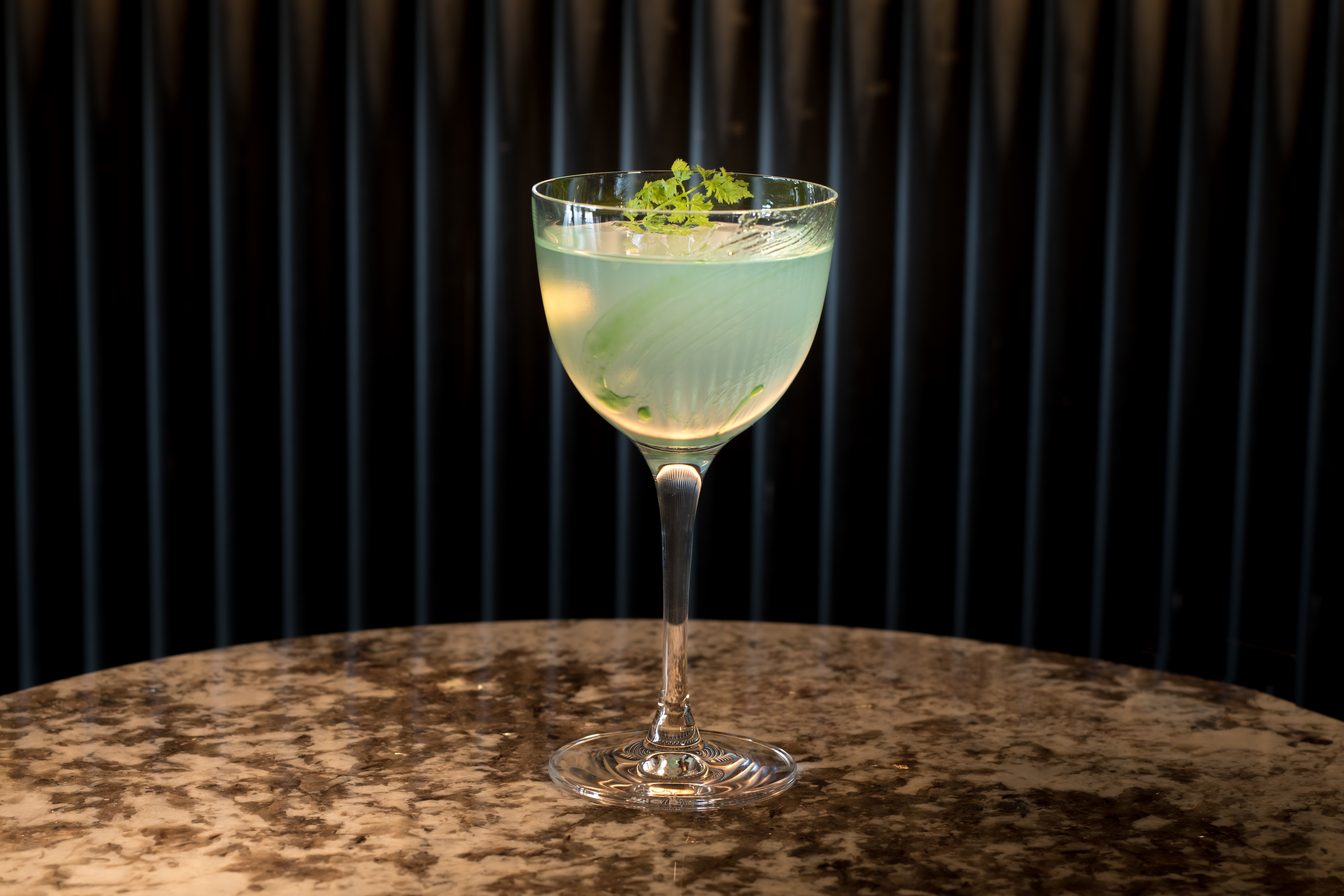 In search for something peculiar, the amiable crew suggested a trip down under to Cairns with Daintree ($25). Before you discount its potency with its rather dainty appearance, we suggest slowly sipping on this tipple as the edible paint – which had us both curious and a little psyched up – is made from a formidable Absinthe. Refreshingly tart, herbaceous and just like almost everything from down under that could potentially be lethal, this definitely isn't a drink for the faint-hearted.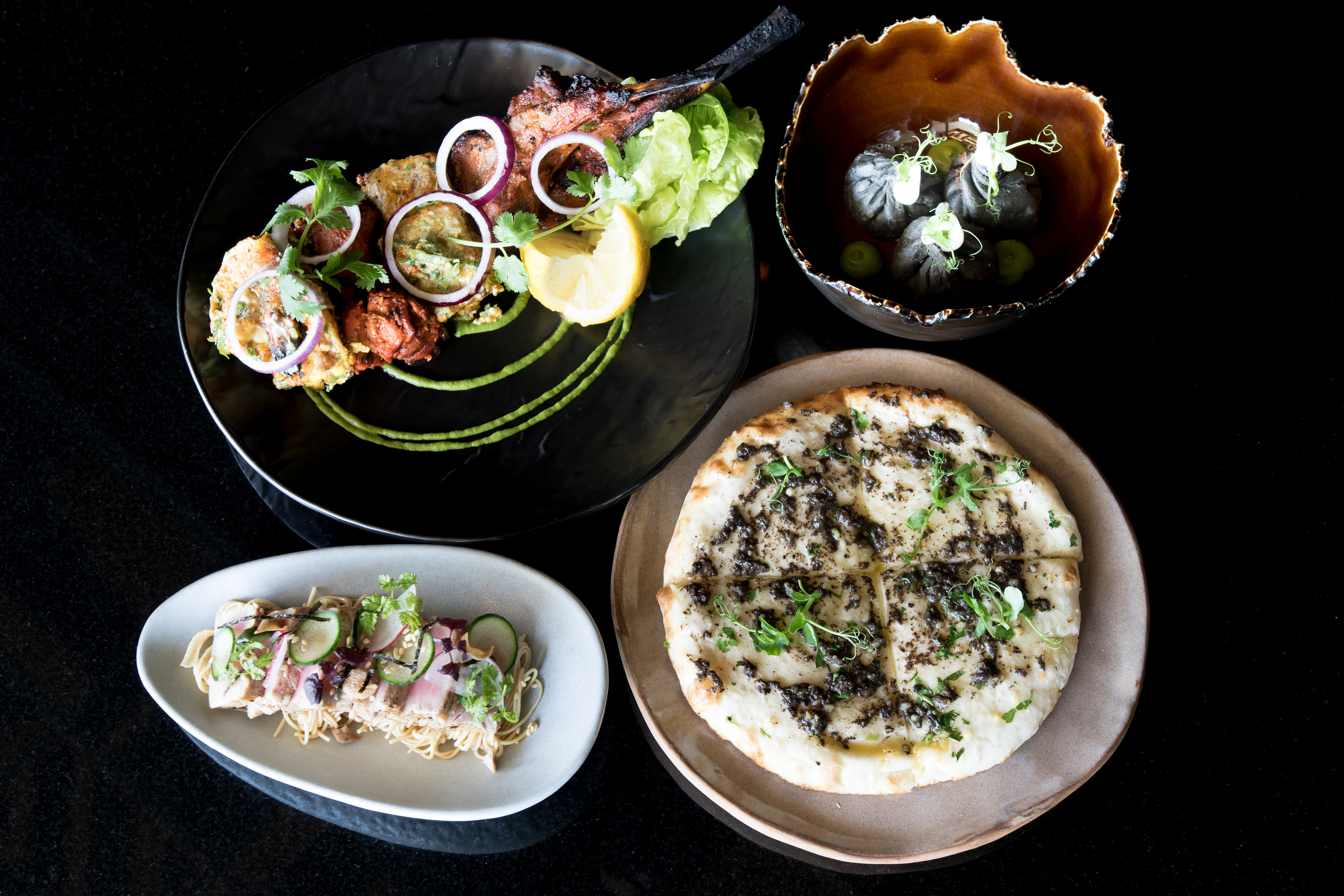 Of course, an opulent evening isn't complete without food fit for royalty and boy did MO BAR turn up the heat with new additions to their scintillating food menu. Of everything that was introduced, we're leaning toward the well–finessed dishes that had Indian cooking influences. The mysterious flaky Charcoal Puff ($16) was stuffed with fragrant potatoes, edamame, cheese and a bright mint chutney to deliver brilliant bites bursting with flavours of Indian spices while the Truffle Cheese Naan ($18) was a crowd-pleaser that blessed our mouths with soft pillowy bread, stretchy mozzarella and a redolent truffle paste that will satisfy the most avid of truffle fanatics.
But here's what really got us starstruck. Aptly named as the Royal Indian Tandoori Selection ($42), this lavish platter presented choice cuts of chicken, prawns, seasonal fish and lamb cutlets that were executed to tender perfection with flavours that transported us on a mental trip to the stunning Punjab region.
Since the dawn of Covid-19, it is clear that Singapore's bar scene has been significantly watered down in compliance with the authorities. As such, only bars with tenacity and grit through brave exploration and development of restaurant-quality food menus can ultimately reshape Singapore's future of bar consumerism, and MO BAR is surely a fine embodiment of that silver lining.
Read more
Oatside: A fresh face to the oat milk space
Satisfy your sweet (and boozy) tooth at Museum of Ice Cream's 'Adults Only' Affair
An afternoon trip around Southeast Asia, Japan, and Europe, all in bites