In just three months, a lot has changed – in Singapore and the world. In a bid to flatten the curve, everyone has been social distancing or staying in more. It's affected the way we work, live and play. The impact of implementing 'circuit breaker' measures can be seen throughout Singapore, from people donning masks when they go out and to a drop in traffic on our roads.
According to new tracking data from Google, the team at Urban Analytics Lab have observed the drastic changes in mobility and movement during the first week of the 'circuit breaker' period. A few obvious factors leading to this are the stringent preventive measures put in place, like the closure of all bars and entertainment venues, companies switching to telecommuting, non-essential stores having to cease operations until at least May 4 and the no dine-in rule for hawker centres, coffee shops and restaurants.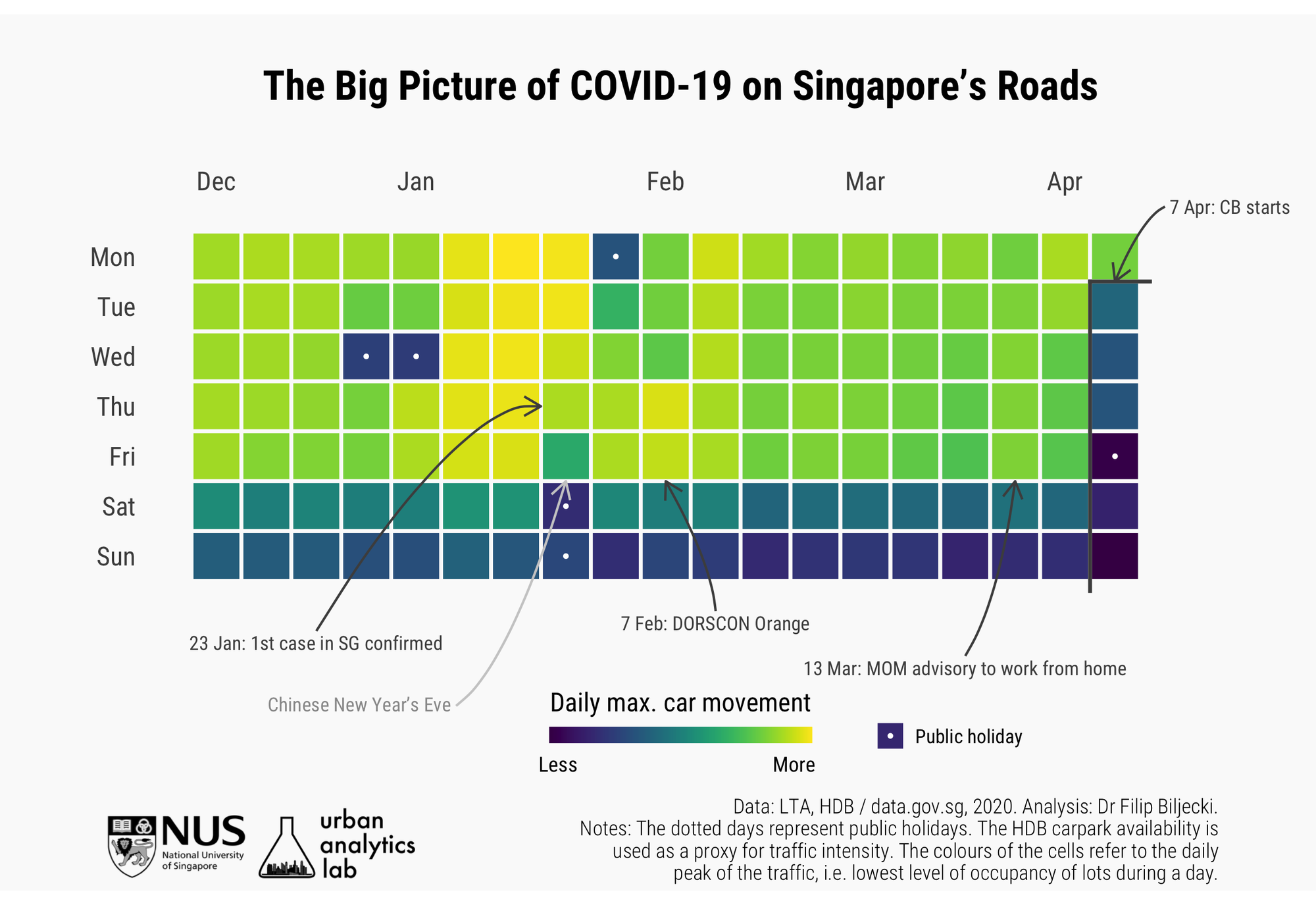 Singapore residents have been generally compliant, adhering to the new measures and social distancing guidelines. The data shows a major drop in traffic on the roads. Despite ERP charges being suspended during the period, it seems that more people are staying in. Interestingly enough, data also shows that traffic over the weekends have been decreasing before the first case was announced but after the government announced the DORSCON Orange status, even less traffic was recorded on the roads.
The above graph also shows that Singapore has experienced the sharpest drop in mobility across the 41 cities analysed in the past two weeks. The insight offered by the NUS Urban Analytics Lab is that this is "good news" as it "indicates that people are taking the measures seriously, drastically changing their behaviour overnight."
If data and numbers intrigue you, read the full report and keep tabs on upcoming ones that chart data after the additional new measures that have been added recently.
Read more
Things you need to know about Singapore's 'circuit breaker' measures
Everything you need to know about face masks in Singapore
Watch African penguins from Singapore Zoo roam around the empty premises