What was thought to be an end of an era with its sudden closure back in 2021, the legendary NOX Dine in the Dark has found a new home – housed in a two-storey space at Club Street. Lauded as one of Singapore's most unique dining experiences, the entirely new menu draws inspiration from European cuisine and local influences. Guests are treated to creative expressions from quality ingredients that play around with bold flavours, arraying temperatures and varying textures that are bound to tease all senses.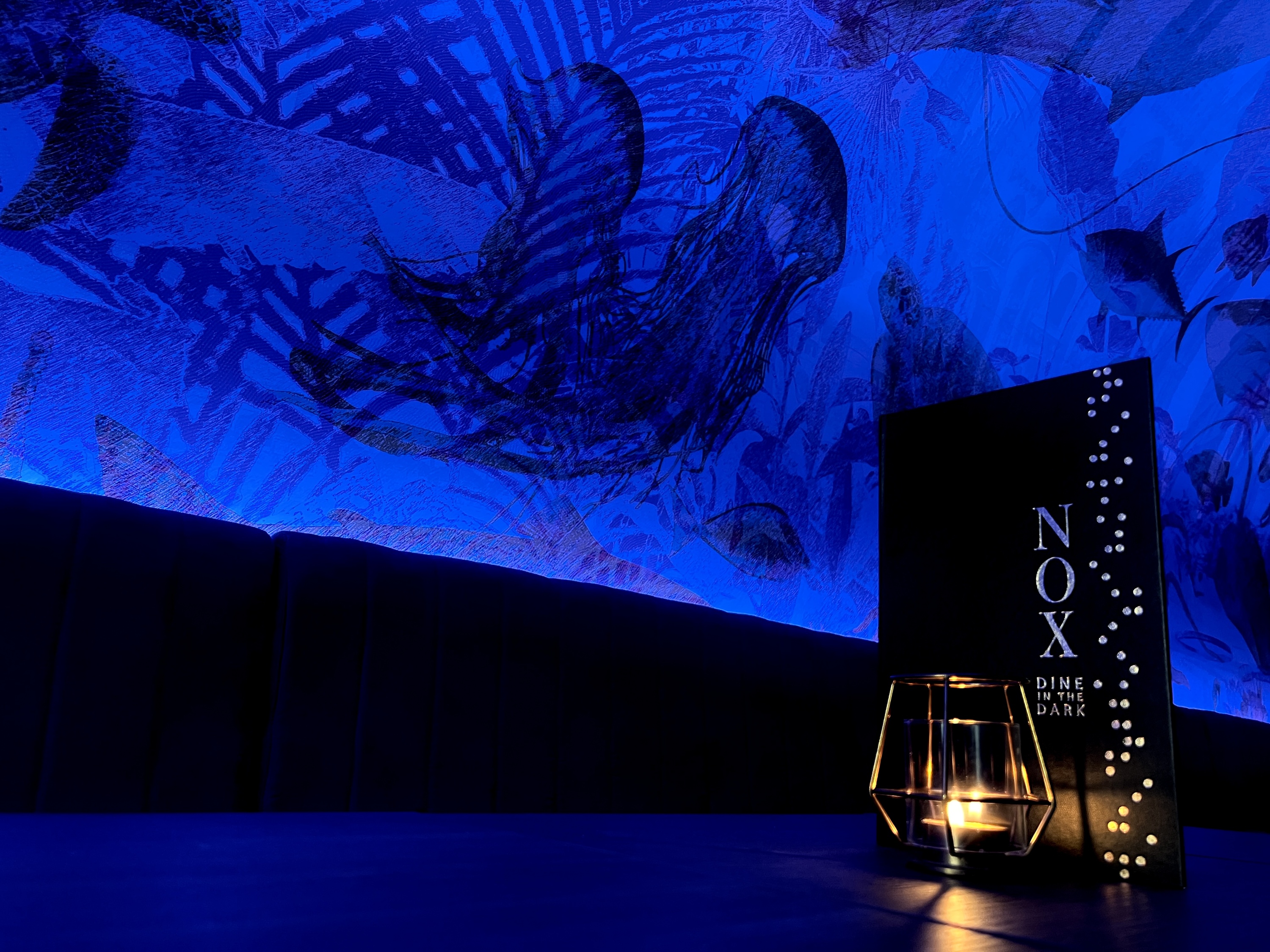 A dashing new spatial design on the first level is both mysterious yet inviting with burnished copper furnishings, warm-toned interiors and an alluring RGB art wall that illuminates the space. The kaleidoscope of fun colours and graphics reflected motifs of botanicals, underwater creatures and a couple of iconic landmarks. Doubling as a holding room before the dining experience and a cocktail bar, I settled in and lounged on plush velvet seats while served with curated cocktails – designed by Sam Wong, Diageo World Class 2015 Finalist and Ah Sam Cold Drink Stall fame – that's totally worthy of your next Instagram flex.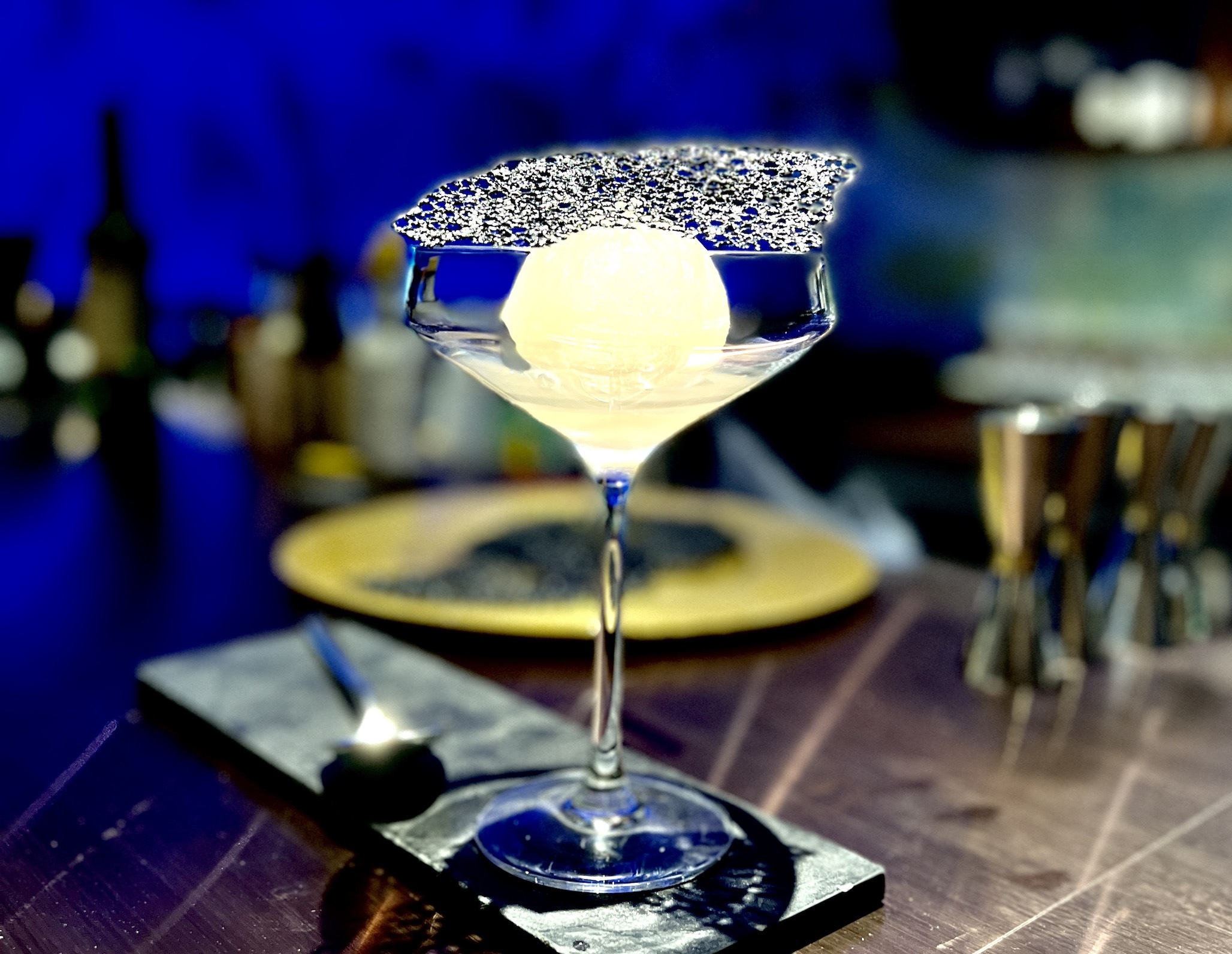 While waiting, my evening got off to a flaming start with Ignite My Passion, a sexy tipple served in a suave tiki mug and lit up to flames in front of my eyes that's guaranteed to raise brows – if they haven't got burnt off. It may seem a little daunting at first with the flames and all but trust me, this smooth drinking aperitif drinks refreshingly tart with notes of tropical fruits. Another good aperitif to start is the Kwai Fei which sees the likes of gin and elderflower liqueur combined to deliver a tasty thirst-quencher that drinks brightly floral and citrusy. Safe to say, it's very likely I'll be back to work my way down the new list of cocktails.
Before plunging into the dark abyss of the 40–seater dining space in level 2, I was told to leave all of my belongings and my phone behind – even my watch with a small spec of lume wasn't spared. I was introduced to our visually impaired hosts and the next thing I knew, my hands were on a stranger's shoulders slowly inching towards complete darkness till our designated seats. Once in, there was a complete sense of comfort and tranquillity as I ease into the mystery courses which were intently kept secret from us for the final review after. Throughout the course, I felt euphoric from my heightened senses in the midst of darkness while our diligent host assured our table with witty banter and his charming radio-worthy voice which I later learnt that he used to teach English drama professionally before he lost his sight.
I often find myself embarking on a touch fest to locate my utensils, guessing the aromas that whiffed past me and also a thrilling attempt to pour water in the dark. One thing I noticed is that hosts click with their mouths or finger snap – sort of like audible morse code – to highlight their position to any nearby hosts who are around to avoid unnecessary bump-ins with each other. Oh and by the way, just because you can't see anything, doesn't mean anyone's watching as I observed infrared cameras being placed around the ceilings of the room. Perhaps big brother likes watching you pig out or it may just serve as a gentle reminder for those with frisky hands.
Overall, I found the experience humbling and thought that it was definitely an eye-opener for anyone who signed up. I'm glad that the refreshed concept remained true to its original vision of supporting the visually impaired community through hiring and providing a platform for visually impaired waitstaff, allowing them to share a slice of their everyday perspective with guests. Despite enjoying the delicious courses, what I found most rewarding was spending two hours in the shoes of the visually impaired and interacting with these brilliant hosts who had personalities that are larger than life. They've truly got my deepest and utmost respect.
Tasting menus start from $88, with wine flights beginning at $30 and cocktail pairings from $50.
Book here
Read more
A trio of culinary, libation and dessert pop up not to be missed
Oatside: A fresh face to the oat milk space
Satisfy your sweet (and boozy) tooth at Museum of Ice Cream's 'Adults Only' Affair