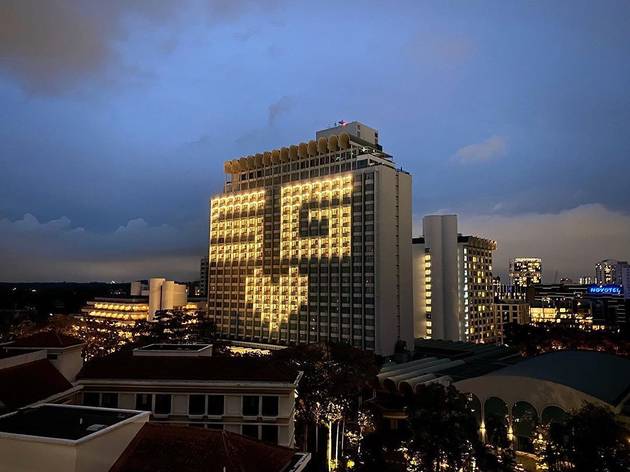 Shangri-La Hotel Singapore lights up for the next two nights in solidarity with essential workers
Posted: Thursday April 30 2020, 4:23pm
In the current situation where businesses are forced to be shuttered temporarily, gatherings with our friends and loved ones are prohibited, and physical touch is almost a crime, the nation's morale is as low as ever. However, we've seen various acts of selflessness and solidarity from the nation – from heartwarming notes of appreciation for delivery riders to various charities and initiatives aiming to help our migrant workers tide through these tough times.
And while hotels in Singapore are also facing turbulent times, they're doing their part to keep spirits up. In April, we saw Marina Bay Sands light up every night to spread a message of hope and support for #SGUnited. Now, Shangri-La Hotel is brightening up Singapore's gloomy skies. The luxury hotel on the edge of Orchard Road has lit up their facade with "SG ❤️," in a move to show solidarity with essential workers.
The inspiring visual display takes place for 3.5 hours each night from April 28 to May 1. 121 of its rooms will illuminate, resulting in the inspiring visual display that happens for 3.5 hours each night.
"To all our essential workers with their never-ending efforts to keep Singapore safe, sending love from us at Shangri-La Hotel, Singapore," the hotel said in a Facebook post. The hotel also quoted lyrics from Dick Lee's National Day song Home, which, over the past two months, have become the theme song we never knew we needed.


Share the story