When it comes to upscale Japanese restaurants, Taiga Dining is definitely one to visit if you're looking to splurge on a bit of gluttony. Housed in Regent Singapore, the swanky 11-seater culinary theatre is stylishly designed to reflect Chef Taiga Kanekuni's home prefecture of Kōchi where hills are aplenty. Cleverly masked as a part of a rocky wall sculpture, Taiga Dining's entrance teases for what's to come.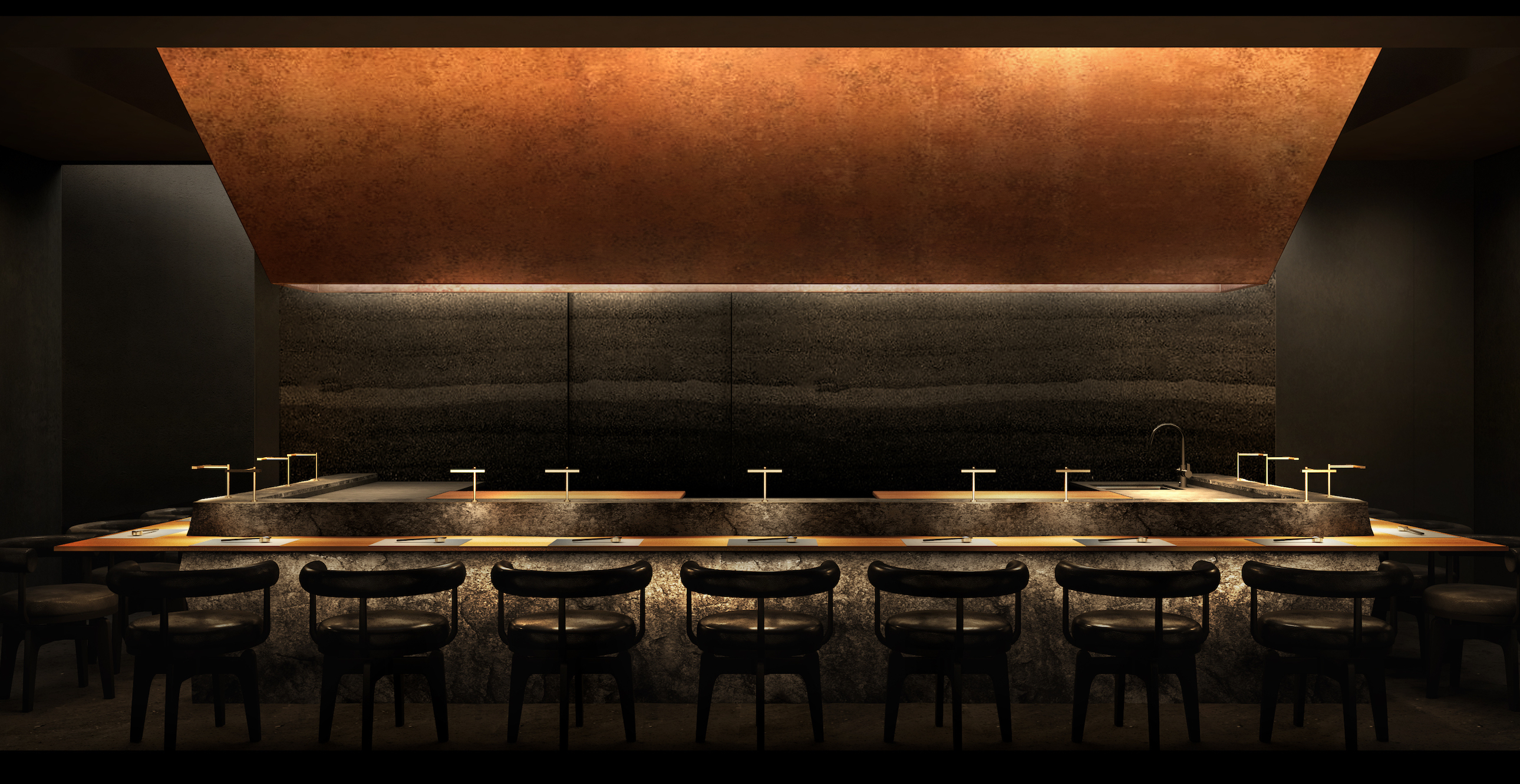 As we enter, it becomes pretty metaphorical. We make our way down a darkened valley and into the sleek dining cave – in true cave-exploring fashion. There, we're greeted by abstract mountainscapes, a split-face granite backdrop, a $50,000 Hinoki wood bar counter, exquisite table lamps, and sleek leather chairs, all sequestered under an intuitive day-to-night lighting facade by Barrisol. The place unmistakably screams contemporary luxe and we assure you it doesn't take long for one to come to the realisation that no expense was spared during the seven-figure facelift.
Easing into the dark ambient space, we're introduced to three omakase menu options; Ino Shika Cho ($280), Ka Cho Huu Getsu ($380) and Hi To To See ($480), priced the same for both lunch and dinner. In line of sparing no expense, we opt for the Hi To To See omakase menu which showcases five artistic seasonal appetisers, ten nigiri sushi, fishbone miso soup and a dessert to end.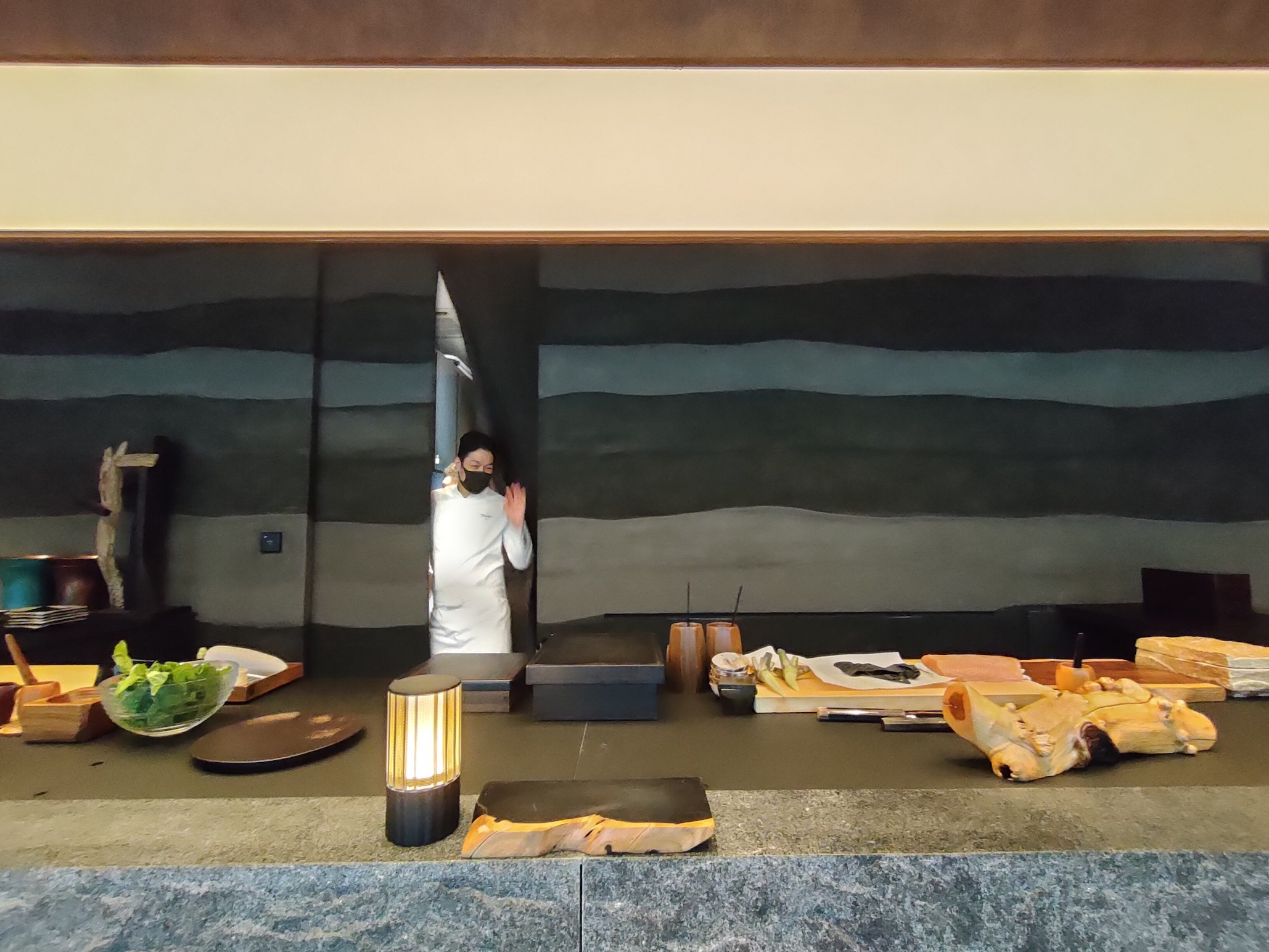 That is when Master Chef Taiga Kanekuni appeared from the kitchen dungeon. Bringing over 20 years' worth of experience in traditional Edomae style sushi-making to the table, Kanekuni first cut his teeth in Niigata and Tokyo before moving to Singapore to work at high profile sushi-yas – Sushi Amuyu and Sushi Kou. Nothing says "you have my vote of confidence" like having a restaurant named after you. We knew we were in safe hands.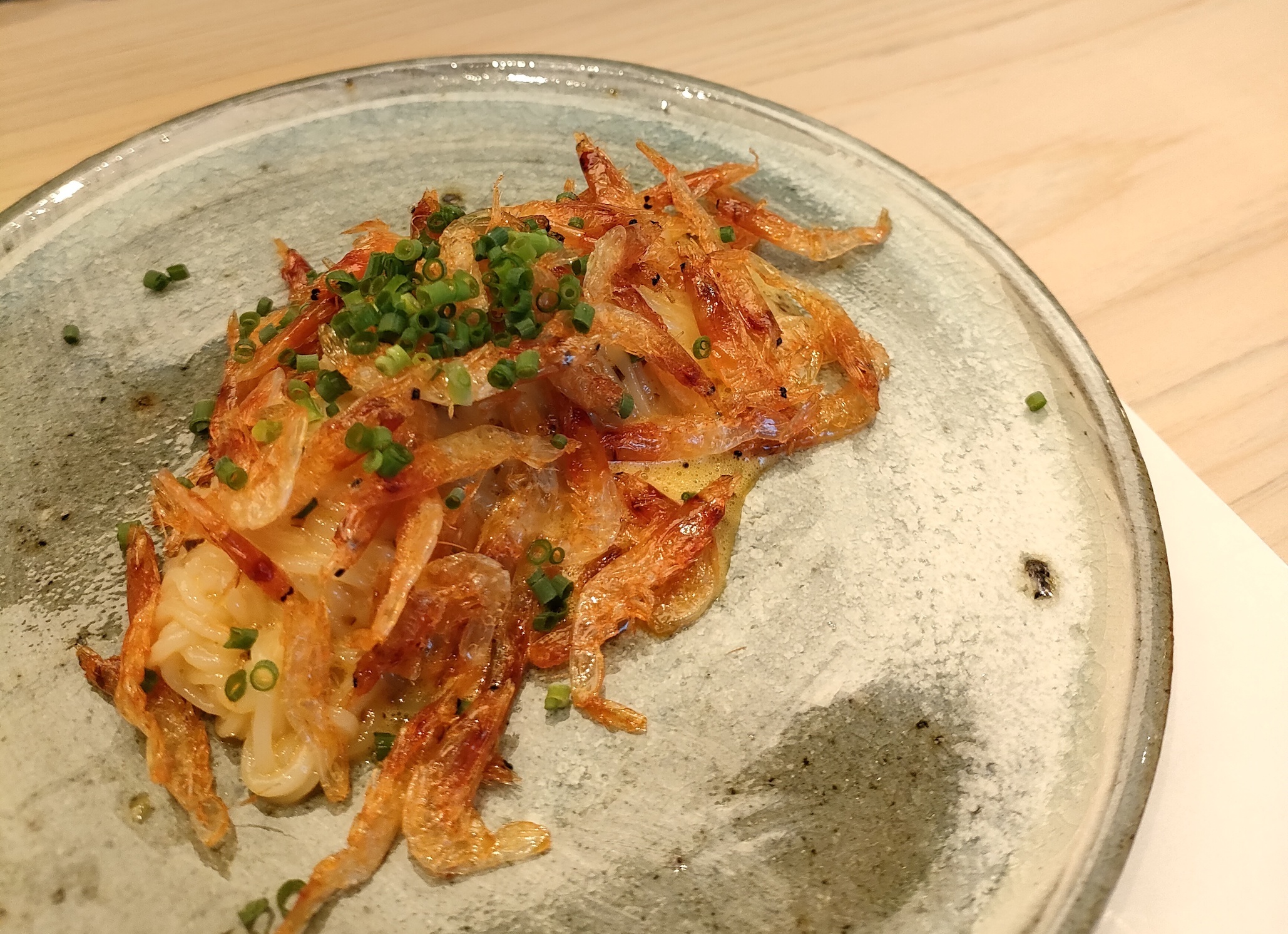 Opening the lineup of five appetisers is the Sakura Ebi with Somen, tossed in egg-yolk and adorned with crisp sakura ebi for a delicate balance of smoky-sweet and umami flavours. What follows is the Sakura Trout with Sweet Tomato and Caviar encased in a glass orb, a refreshingly tart yet sweet treat that offers a burst of brininess.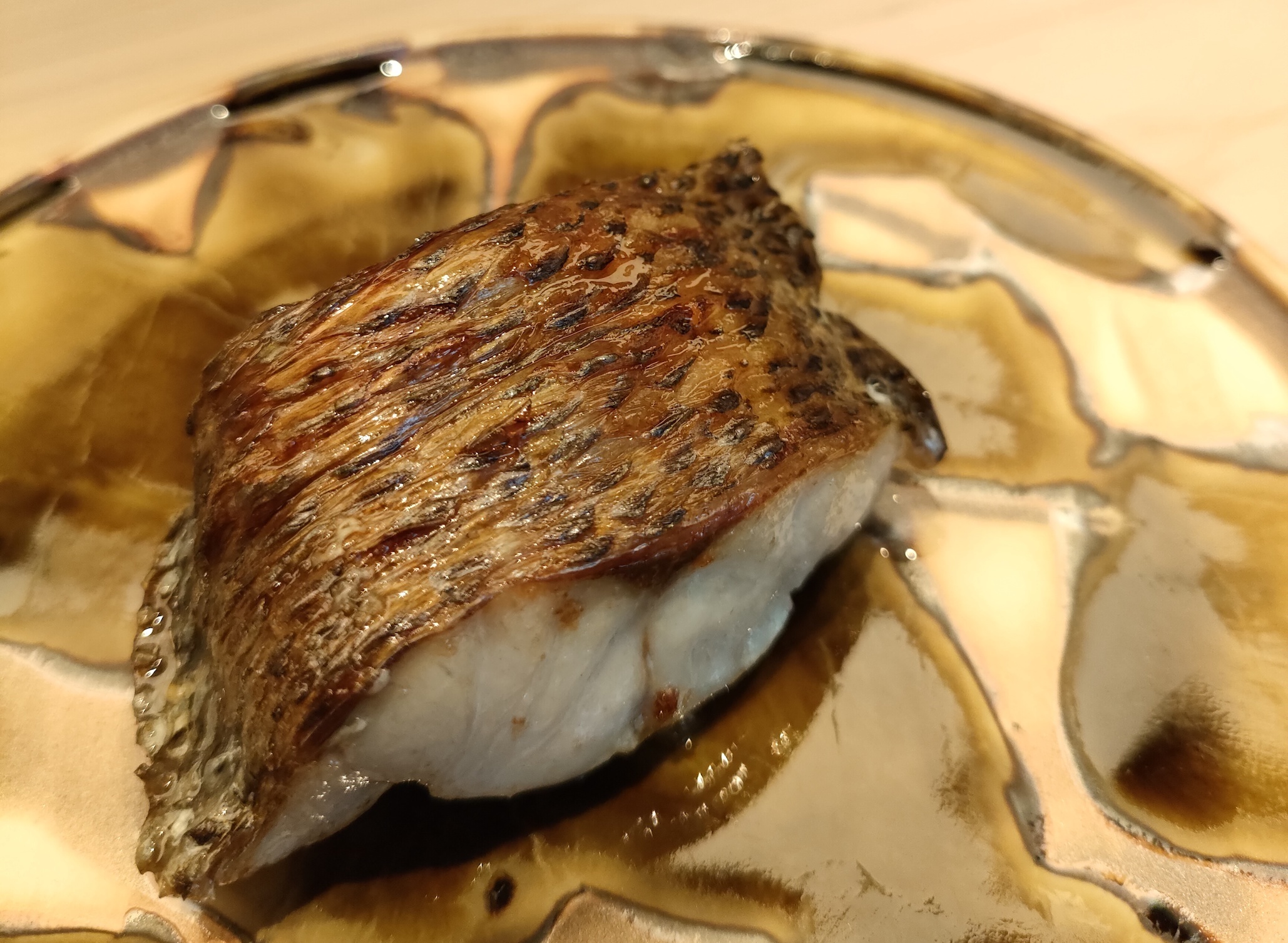 A wisp of faint smoke reached us even before the Blue Fish with Japanese Radish arrived. A glistening slab of juicy oily fish with perfectly charred skin is crowned atop a bed of soy-tinted daikon and a lick of spice from horseradish. Kanekuni's treatment of the protein is a great showcase of his "shokunin kishitsu" or simply put in English, craftsman's spirit.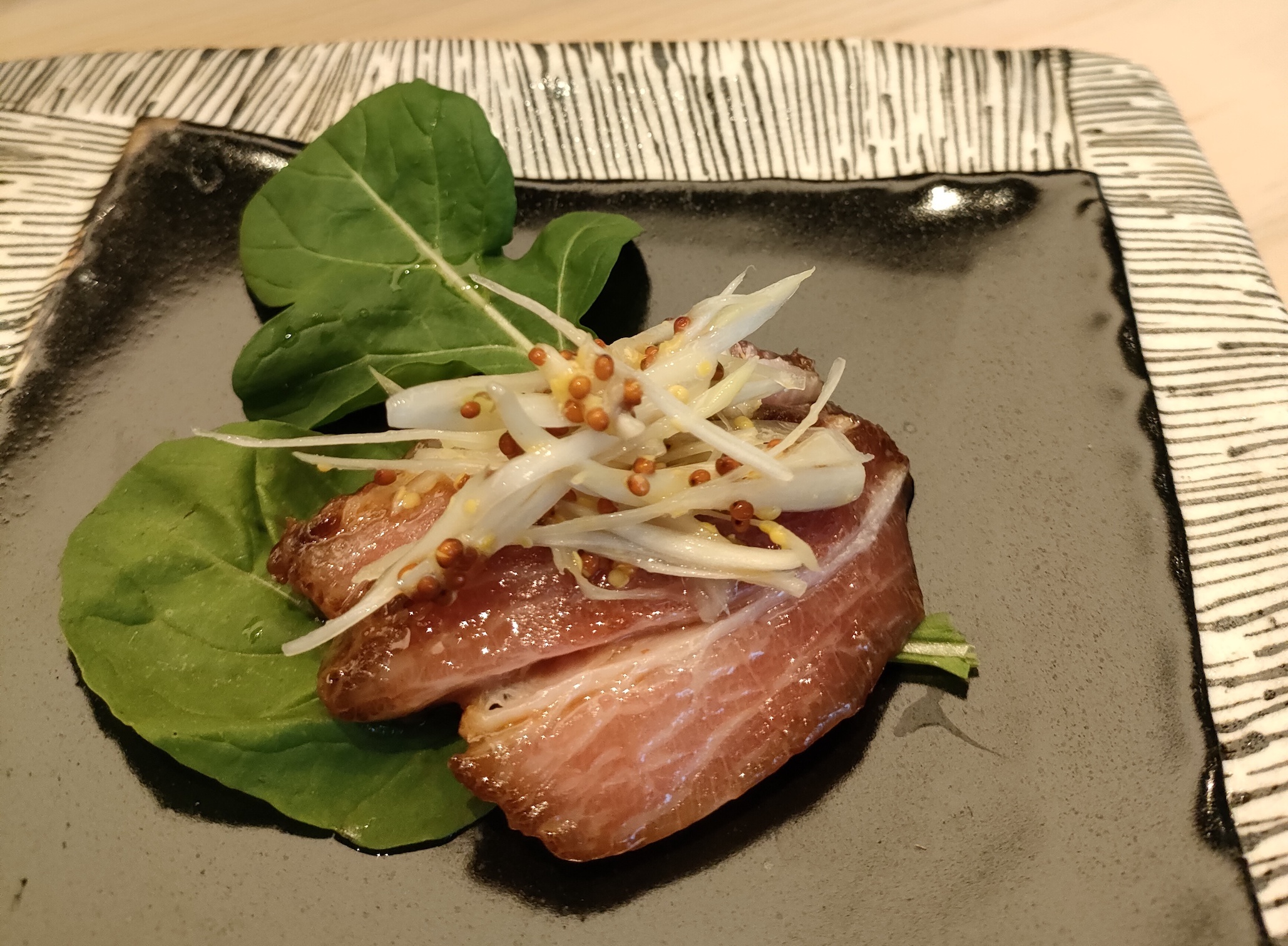 While staying true to tradition, Kanekuni reveals a touch of his playful and experimental side in the next dish as he teases a little Italian influence – gained from an early stint at an Italian restaurant back in Tokyo – with the likes of arugula, caviar and truffles. Behold, the Fatty Tuna pickled in Soy Sauce featuring decadent slices of otoro, nutty arugula, Ibaraki shallots and mustard seed garnish – a well-balanced dish with robust depth that is bound to please otoro lovers.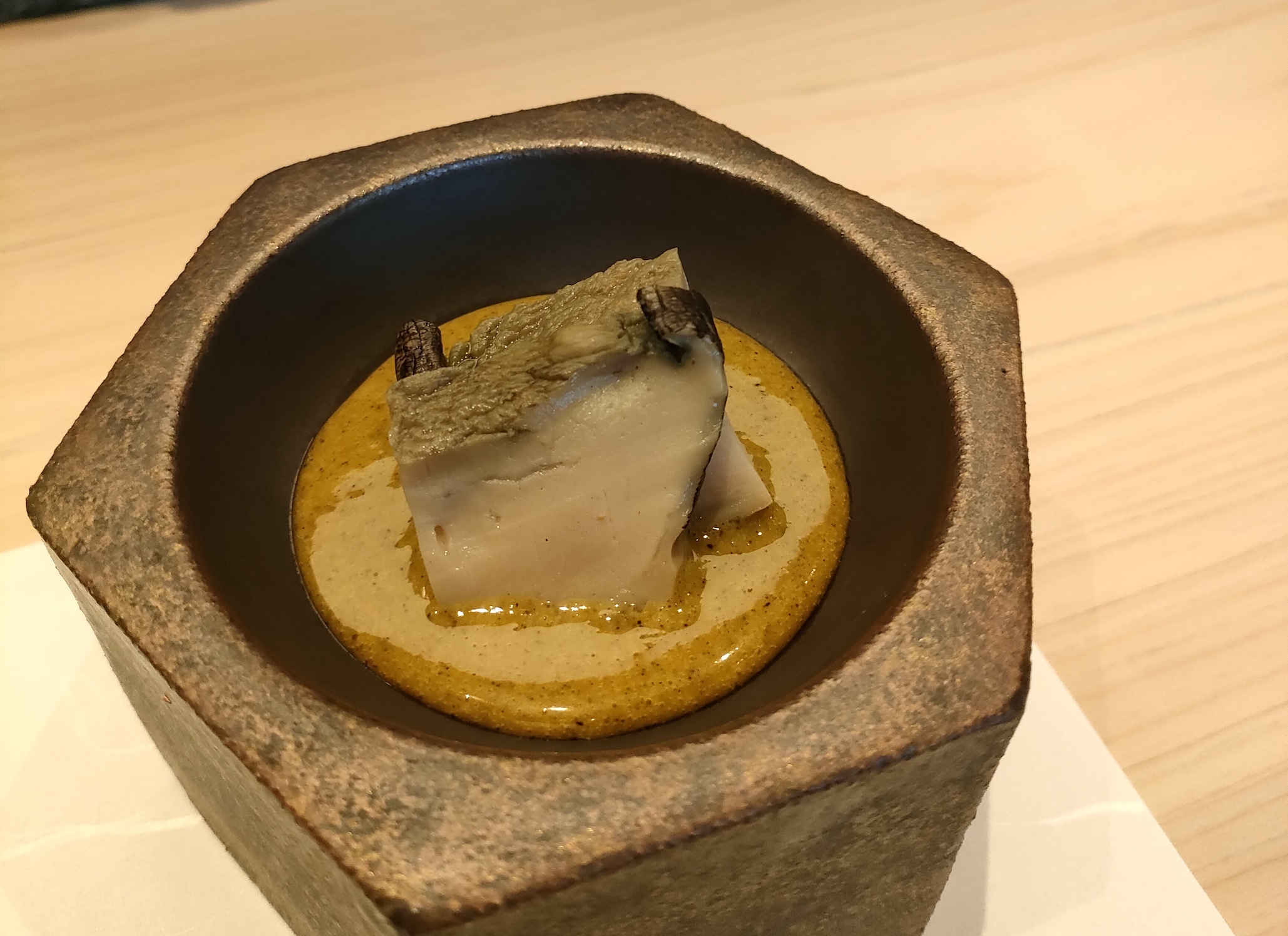 The last of the appetisers comes in the form of Abalone in Liver Sauce. Tender slices of abalone from Iwate Prefecture wallow in a moat of liver sauce made from emulsifying egg yolks with abalone liver to deliver a slurry of rich velvety textures. Got leftover sauce? Here's a tip – ask politely for a spoonful of rice, throw it in the mix and don't let any of that moreish sauce go to waste.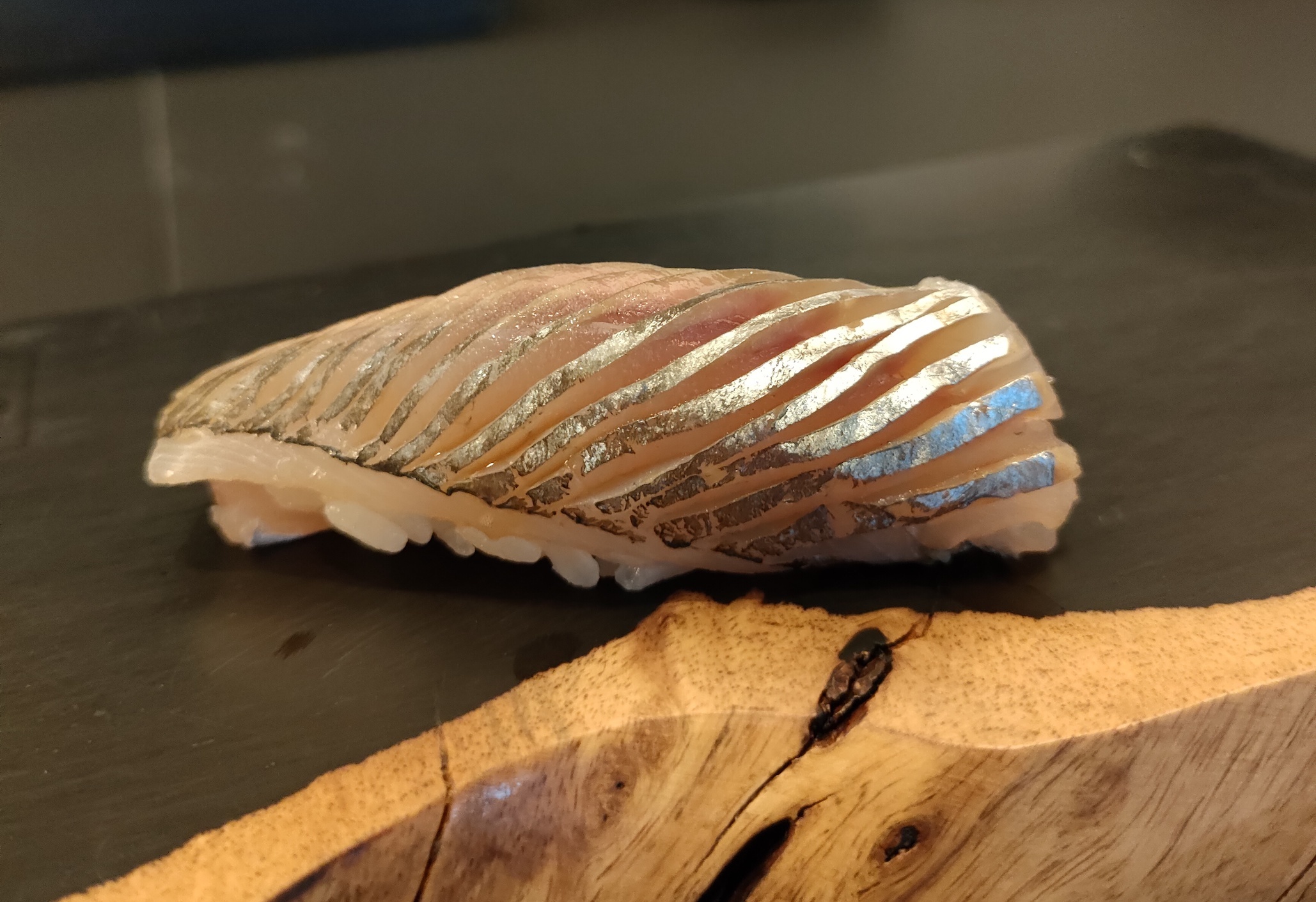 Delving into the sushi nigiri, five tickled our fancy. A beautifully scored silver-skinned horse mackerel (aji) delights us with its slightly briny, sour and sweet umami notes. Kanekuni then adds his flair to it with a touch of chilli peppers to inject a little vibrancy that eventually resulted in raised eyebrows.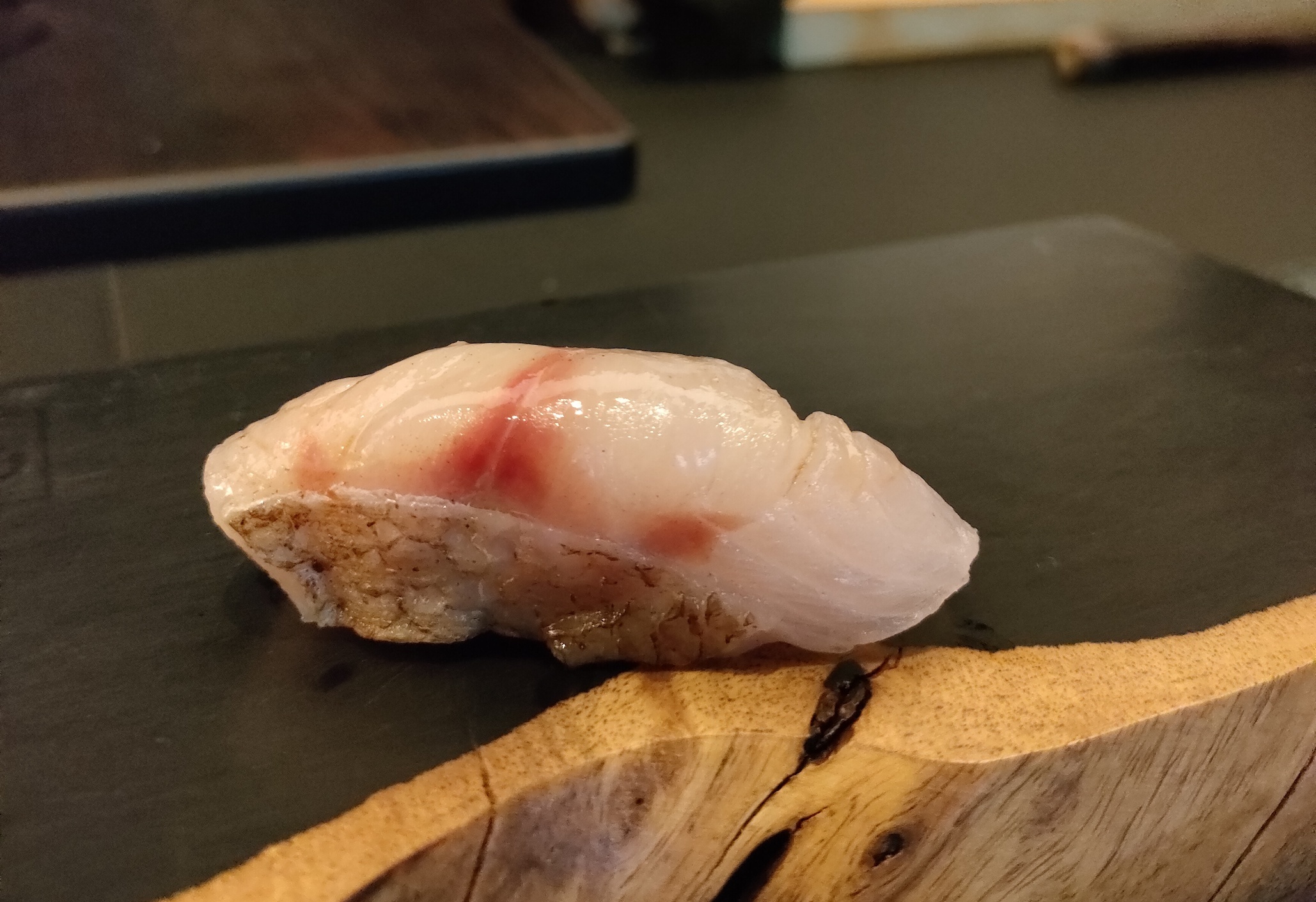 Another moreish treat is the buttery thornyhead (kinki) braised in a sweet umami sauce over sushi rice and covered in a blanket of fresh Japanese chives. A velvety soft blackthroat seaperch (nodoguro, pictured above) is bincho-kissed with a slight char on the skin to bring forth full-bodied flavours and a nice mix of fatty and lean textures.
There's a sense of serenity when dining here and the concept of time seems to elude us. We marvel at the skilled hands of the calm and stoic master chef as he methodically hand-presses each nigiri. Occasionally, we would swing a compliment after tasting dishes we enjoyed. In exchange, Kanekuri would break a smile and share bite-sized information on the treatment and provenance of the ingredients.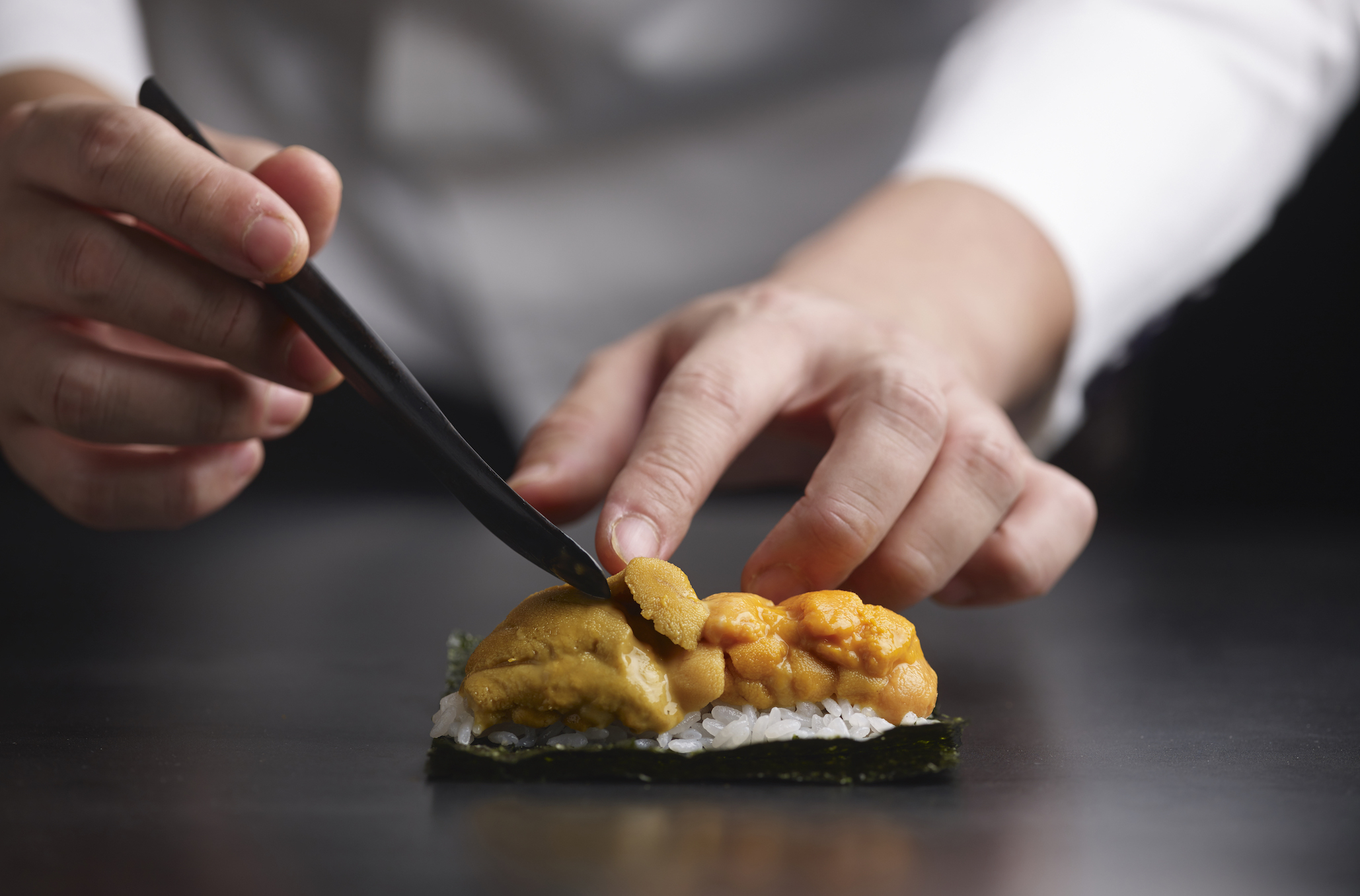 As sea urchin (uni) becomes run-of-the-mill in omakase restaurants, diners are also becoming more perceptive of the ingredient. Honouring in-season uni (for us – Murasaki Uni and Bafun Uni, both from Hokkaido) in a hand roll, he lightly brushes the cold golden nuggets with soy sauce and cuddles them with a grade-A jet black nori sheet. Kanekuri's gentle treatment showcases the delicate contrast between the grades that is certainly distinguishable.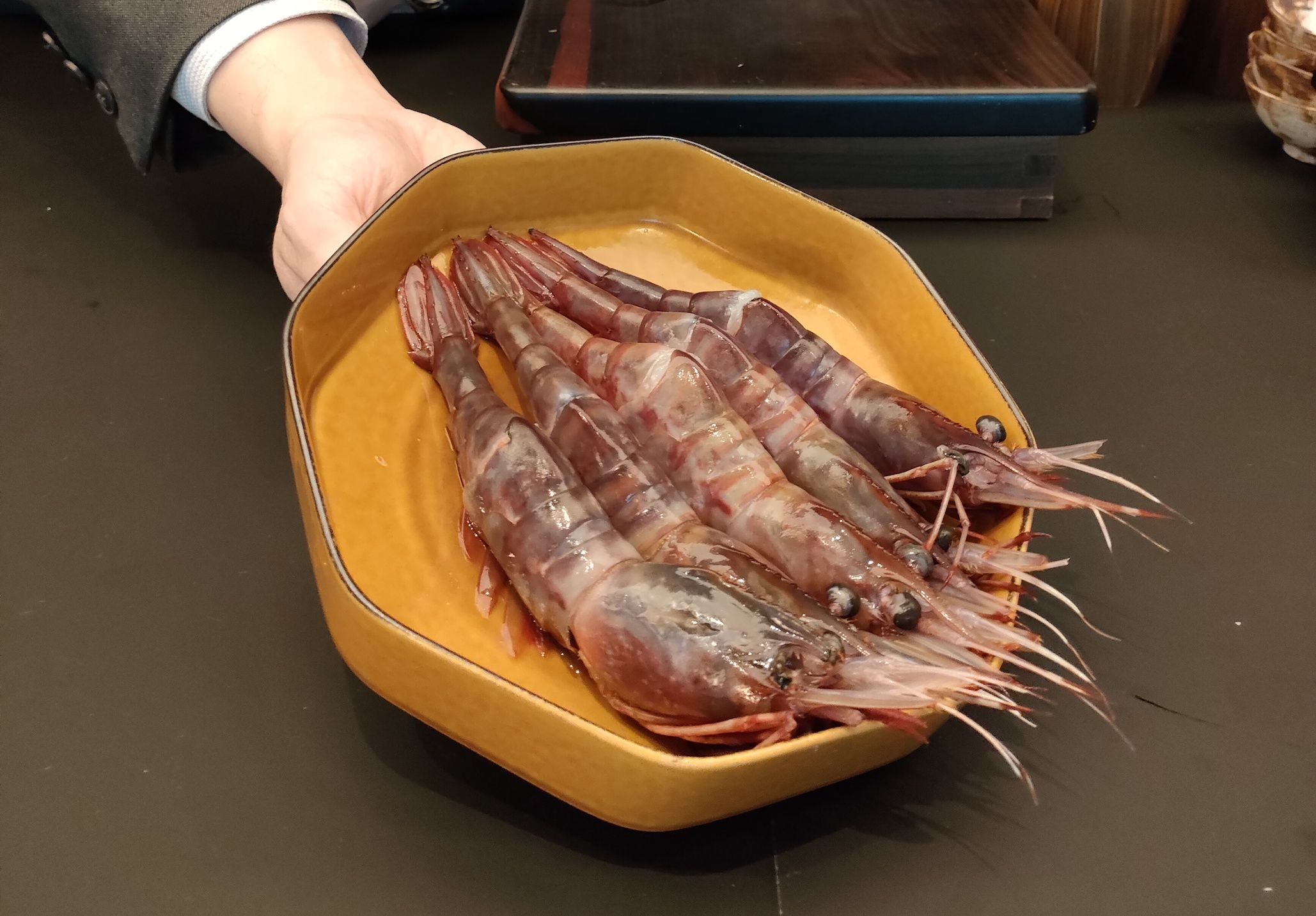 Anyway, instead of jumbo sweet shrimp (botan ebi), we were treated with an even rarer variant – the phantom shrimp (budou ebi). Known for its mysterious existence, it is not surprising that even most Japanese have never seen or eaten this shrimp before. A flexing display of Kanekuri's pledge to sourcing the finest and freshest ingredients exclusively from a single trusted source for over 10 years.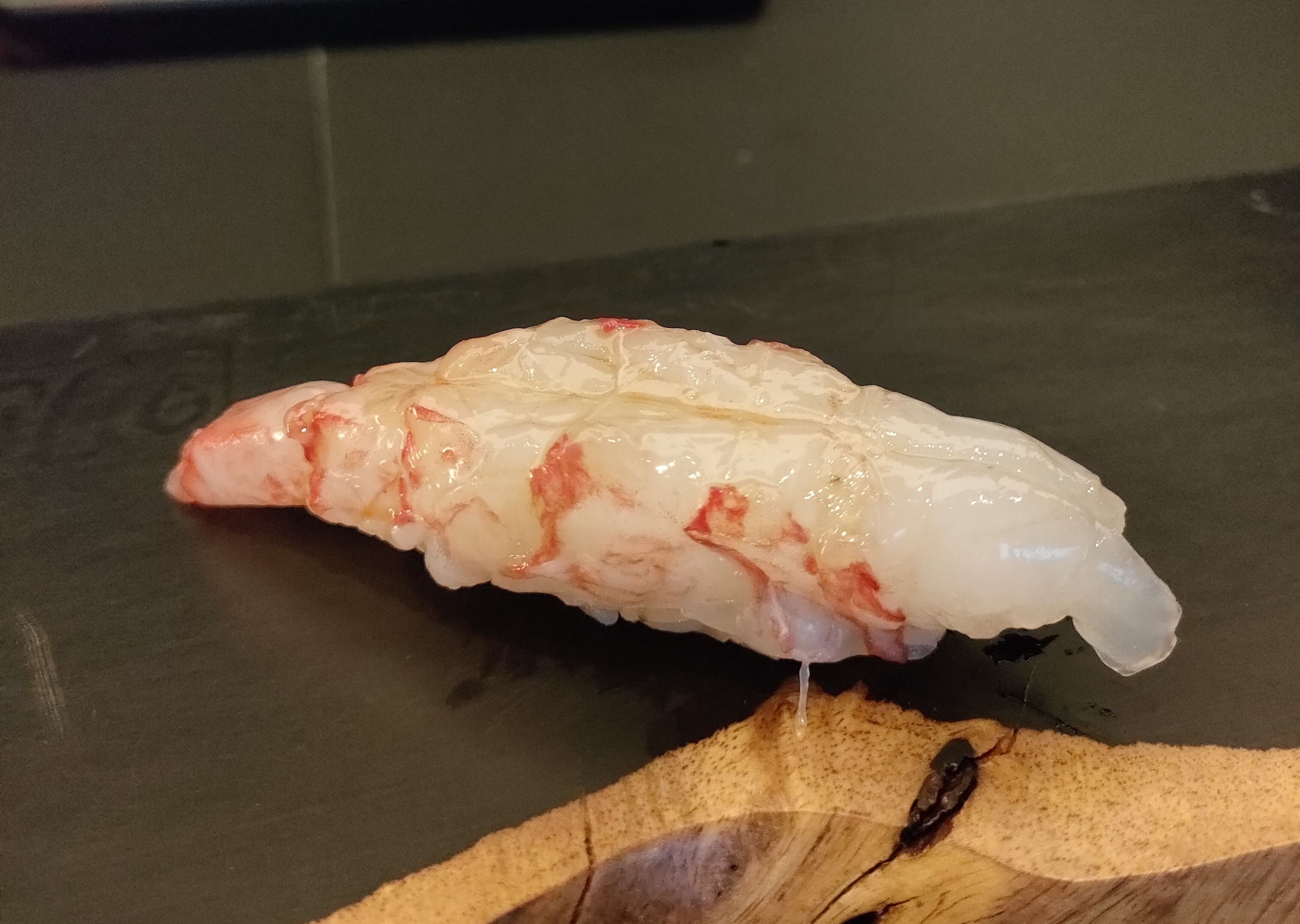 Creamy, supple, the budou ebi melts in your mouth like a sweet seafood cotton candy. It's unlike any other we've had before and left us longing for a second encounter. While paraded with sushi nigiri, we observe that the petite shari (rice) is often hidden underneath distinctively large drapes of neta (sushi topping) and by no means we're complaining. But what lies in the ingenuity is Kanekuri's shari blend which combines four different types of Japanese rice from different prefectures with red and white vinegar. The result? Sushi rice that is fluffy yet bites firm with a balanced touch of acidity that does not overpower the subtlety of the fresh seafood.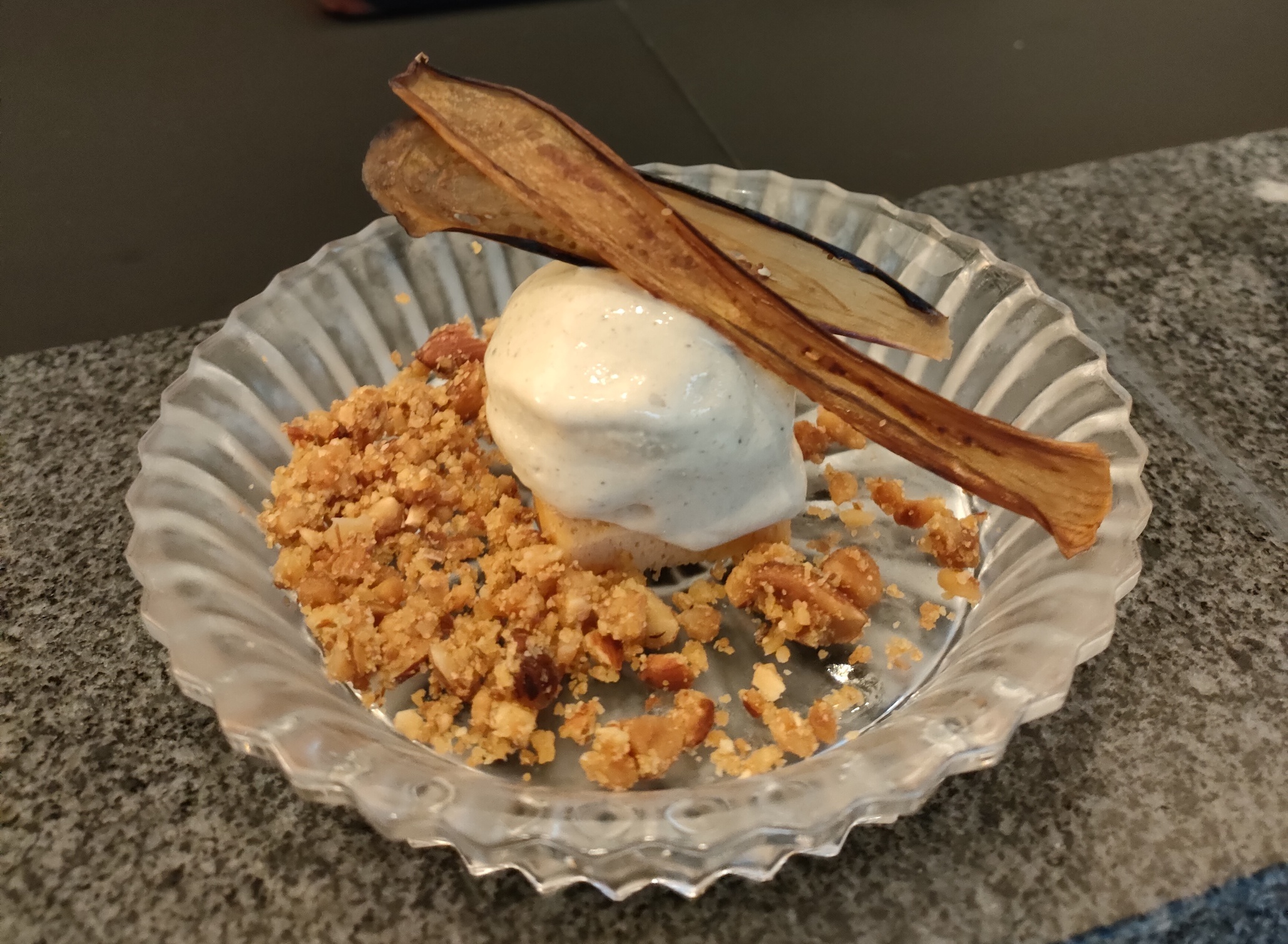 A warm bowl of umami-laden fishbone miso broth segues us into dessert. Savoury yet earthy eggplant ice cream hides a sweet Japanese omelette beneath with slivers of paper-thin eggplant and is finished with crunchy walnuts. A fairly bold take in contrast to the reserved offerings served in other omakase meals – typically fruit. While enjoying our dessert, we savour our final sips of warm roasted Hojicha. It may come with a hefty price tag in exchange for sheer indulgence, but a dining experience here is definitely worth splurging over on special occasions. Word of advice, make sure you're able to find it in case you're planning to impress a date.
Book here.
READ MORE
Restaurant Gaig's refreshed menu brings vibrant Catalan fare to life
The Last Supper at Mandala Club promises an epic culinary showdown
Three Michelin-starred SingleThread arrives in Singapore this July