Welcome to Your Daily Dose, a daily column dedicated to what Time Out Singapore's editors are loving right now including food, music, movies, theatre, workouts, and more – all of which you can also experience form the safety and comfort of your home while Singapore's 'circuit breaker' measures are in place till June. Make the most of your home-stay by ticking off the 28-day plan we've set up.
Enjoy your weekend lie-in? Great. Now, jump start your Saturday morning with a healthy breakfast and an even healthier schedule with some stretches, breathwork, and yoga (or whatever workout that floats your boat). Once you're all set to take on the world – within your oh-so-comfy pad – check out our list of cool online things to do this weekend. If you need some inspiration, here are some that we're turning on our small screens for.
Yesterday, we sang (and still singing!) along with our favourite artists on PlayOn Fest, went behind the scenes with local artist Leow Wei Li, and hung out with the Sesame Street gang (and special guests Tracee Ellis Ross, Lin-Manuel Miranda, and Anne Hathaway) with Elmo's Playdate. Today, we're logging into the gaming world to catch Travis Scott 'live', watching local theatre company Pangdemonium's play Falling, and checking out the Objectifs Film Library which carries over 40 short films by Southeast Asian filmmakers.
Immerse yourself in Fortnite for a virtual Travis Scott's Astronomical concert
When we heard Epic Games' announcement about hosting a live concert with superstar rapper Travis Scott within its battle royale game Fortnite early this week, we were buzzing. We even did the Milly Rock/Fortnite dance. Travis Scott's Astronomical concert is boasted as a one-of-a-kind experiential performance. The setlist includes hits like Highest in the Room, Sicko Mode, Stargazing, Goosebumps, and the world premiere of his new song with Kid Cudi, The Scotts.
The concert made its debut in the video game on Thursday in the United States (Singapore on April 25 at noon), and attracted over 12 million Fortnite players which broke the record set by the last Fortnite concert headlined by DJ Marshmello. Take this into account with the many more viewers who streamed it via Twitch or YouTube, and you get millions more – goes to show how mega the Butterfly Effect rapper is.
As you'd expect from a Travis Scott performance, the out-of-this-world stage is "lit" – think a giant spaceman, fire mic stands, rollercoasters, underwater spots, and psychedelic effects. On the day itself, players can make their way to the in-game waiting room opening 30 minutes prior to start. Then prepare to see a strange object floating towards you before exploding to reveal a giant Travis Scott stomping around the island – yes, the entire island is the stage. You can run across the water to get a better view or even closer to the rapper as he performs.
While it's not a full set – lasting about 15 minutes – the 'live' video game concert is definitely an experience not to be missed. And anyone who has been to a Travis Scott arena concert can attest. Astronomical is set to have another three more performances today, with Singapore and the rest of Asia showcase at noon (SGT). The game is free to download on iOS, Android, PlayStation 4, Xbox One, Nintendo Switch, PC, and Mac. Be there, or be square.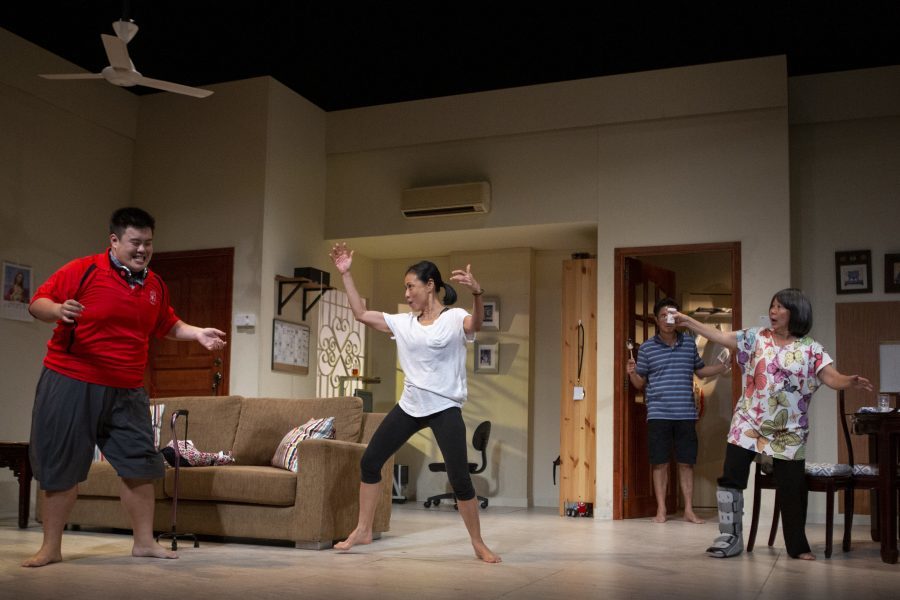 Watch Pangdemonium's play Falling
There's never a time we'll say no to another great play (thank you, theatre wizards, for bringing some theatre magic into our living rooms). Joining the crew of global theatre companies streaming their plays online is Pangdemonium. The local theatre company is spearheaded by actor Adrian Pang and his wife Tracie, and are known to portray both family-friendly and thought-provoking stories on stage that are relatable for Singaporeans. Moving and inspiring, their productions have definitely taken Singapore's theatre scene to new heights.
Speaking of heights, Pandemonium's 2016 production of Falling is streaming for free online. However, it's only available from now until April 26 at 11.59pm. Word of advice: take a box of tissues with you before pressing play. Written by Deanna Jent, the soul-stirring play is based on her own experience as a mother of an autistic son in Singapore. It shines the spotlight on a family struggling to make ends meet while shaping their lives around the autistic child Josh (played by Andrew Marko). After Grandma Sue (played by Neo Swee Lin) arrives for a weeklong stay, the precarious balance is shaken, leading to a deeper exploration of taboos and misunderstandings that revolve around marginalised communities. The play also features local stars Adrian Pang (of course), Tan Kheng Hua, and Fiona Lim.
"In this challenging time when we need stories more than ever – stories of courage, of strength, of survival – we feel that we need to share Falling with you," Pangdemonium states in a recent Facebook post. Whether you're watching the play with brand new eyes, or want to revisit the hauntingly heart-rending story, you can now do so via Pangdemonium's Vimeo page from now until April 26. Additionally, if you've enjoyed the online streaming, do consider donating any amount to Pangdemonium to help them tide through these tough times.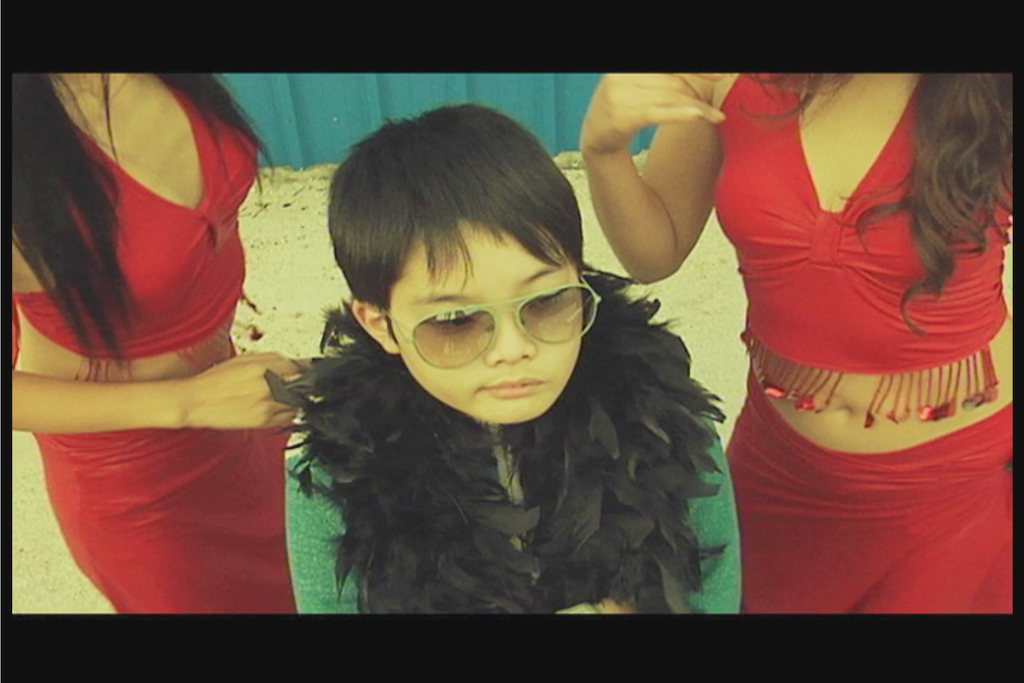 Check out the Objectifs Film Library for short stories by Southeast Asian filmmakers
Over 40 shorts to satiate our hunger for more films? Yes, please. Today, we're tuning into Objectifs Film Library which showcases masterpieces by 14 Southeast Asian visionaries. With the dedicated library, film enthusiasts in Singapore and the region are able to rent and binge the films in the comfort of their sofas. Plus, they can access a wider catalogue at Objectifs Centre for Photography & Film's brick-and-mortar once the circuit breaker restrictions are lifted.
Among the 40 short films are those by award-winning Singapore directors Boo Junfeng and Kirsten Tan, as well as regional filmmakers including Thailand's Pimpaka Towira, Cambodia's Davy Chou, and Vietnam's Nguyen Trinh Thi. Most of these films are exclusive to Objectifs and are not available elsewhere. The library also aims to bring more attention to the significance of short films as a medium for storytelling and plans to expand its catalogue.
"The short film format is one of the most poetic and expressive forms. Objectifs has been committed to distributing short films since as far back as 2006, and the Objectifs Film Library is a continuation of our efforts to showcase short film gems from Southeast Asia and to cultivate an appreciation for the medium and stories from the region", says Leong Puiyee, film programmes manager at Objectifs.
That's not all – Objectifs has a film club in the pipeline, organising events to highlight selected films and invite filmmakers to share more about their craft with fellow film lovers. The first film club event takes place on April 30 at 9pm via Zoom, and it features Kirsten Tan and actress Oon Shu An. The two will be discussing the challenges of nailing their 2007 sex comedy, Come, which is set in Korea. Come is currently available to stream for free via Objectifs Film Library until April 30. See you online on April 30.
Your daily dose: a virtual music festival, a local artist's mini docu-series, and Elmo's Playdate