The best local food in Singapore and where to find them
We asked, you answered. Here are the top ten local dishes as voted by Singaporeans
Chicken rice or laksa? Char kway teow or nasi lemak? Questions like these can ignite fiery debates – which was precisely what we were gunning for when we launched our survey on local food. We were flooded with hundreds of responses on what the 'best' Singaporean dish is and where to find them. Here are the results.
READ The best hawker centres in Singapore and the best mod-Sin restaurants in Singapore
From JUMBO Seafood
Regardless of what some Malaysian minister might say, chilli crab will always be the ultimate Singaporean dish in our hearts. And we've got the numbers to back it up. While many seafood joints selling the dish, 42% our readers voted for the crabs from JUMBO. It's been serving chilli crabs (from $78/kg) at its birthplace, East Coast Park, since 1987 and has long been a favourite of many. The reason for its popularity has to be its choice of crabs – they're all extremely meaty, with extra-large pincers. Its sauce is pretty unique, too, deploying ground peanuts for an added crunch.
From Tian Tian Chicken Rice
There are only three components of this dish: the chicken, the rice and the chilli. But while chicken rice can be found in almost every kopitiam in Singapore, not many get the holy trinity right. Tian Tian is one of them – the stall won 45% of our readers' votes. The chicken (only steamed versions here) is tender and juicy, the fragrant rice is packed with flavour from the garlic, sesame oil and chicken fat it's cooked in, and the potent chilli sauce packs a mean punch.
From Hill Street Tai Hwa Pork Noodles
A one-Michelin-starred meal for five bucks? That's what you're in for at Tai Hwa. Its springy noodles, crispy salted fish, perfectly pink pork liver, minced and sliced pork, and dumplings swim in a spicy and vinegary sauce that you'll be licking clean. Queues can get notoriously long, so here's a pro tip: come at 9am and get a queue number. When the stall opens, priority goes to the first 20 people with number tags. That way, you can sit around 'til yours is called.
From Nam Sing Hokkien Fried Mee
Unlike other Hokkien mee places that are heavy on the zhap, Nam Sing keeps things on the dry side, using thin instead of thick bee hoon. Despite not being drenched in sauce, every strand of noodle absorbs the rich umami of the seafood broth it's cooked in. We couldn't help ourselves and finished the whole plate, even though we ordered the upsized $8 version. While we did find ourselves missing the usual sambal – Nam Sing only offers red chilli that's been soaked in soya sauce – it's nice to let the noodles shine instead of overwhelming it with heat.
From 328 Katong Laksa
328 Katong Laksa won by a landslide with 53% of the votes, edging out Depot Road Zhen Shan Mei Claypot Laksa (23%), Sungei Road Laksa (19%) and other laksa spots (5%). And we can see why. 328's rendition ($5.35-$7.50) lets you scoop all the good stuff into one spoonful – even the fishcake is thinly sliced so you'll get a bite of it along with prawns, beansprouts and cockles. The broth itself is thick and coconut-y, which may to too jelat for some. But not us. And while you're at one of its many outlets, don't forget to order a slice of otah ($1.40) to accompany the dish.
From Satay Club
Once 6.30pm hits, the whole stretch of Commerce Street beside Lau Pa Sat changes. Smoke fills the air from skewered meats grilling over flaming coals, tables and chairs are laid out by the roadside, and people from all walks of life gather for a good meal. Pick any stall from the Satay Club and be treated to a variety of satay beyond the usual chicken and mutton. There's duck, beef and tripe here, too, and you can mix and match 20 sticks or more from $15.
From Hill Street Char Kway Teow
You know it's gotta be good if a line forms for this calorie-laden dish every day – even if posters by the Health Promotion Board around it exhort people to eat a little cleaner. Hill Street's char kway teow (from $3.50) is neither too dry nor wet, with just the right amount of wok hei – those brown bits are actually charred and not dark soya sauce. We also like that the dish is loaded with other ingredients like beansprouts, spring onions, Chinese sausage, cockles and an egg stirred in, giving you a bite of something with every mouthful.
From Springleaf Prata Place
Perhaps more famous for its Plaster Blaster ($5.50), an eggs Benedict-inspired prata topped with ham, a poached egg and hollandaise sauce, Springleaf still does the classic roti prata ($1.20) right. Everything's still cooked to order, ensuring that you're always served piping hot prata that's crispy on the outside and chewy on the inside. If the original is too plain for you, Springleaf is also known for its variety, coming up with all kinds of wacky creations like the Prata Goreng, its take on mee goreng that swaps noodles for strips of prata, as well as the Umami 50, an egg prata with luncheon meat, cheese, chicken floss and mayo.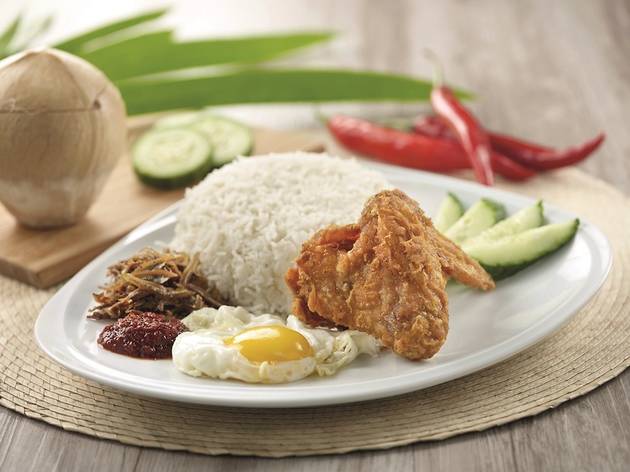 From Selera Rasa Nasi Lemak
This was a tight fight: Selera Rasa won 35% of the vote while Boon Lay Power Nasi Lemak came in a close second with 34%. The family-run operation has been a part of Singapore's food landscape since 1998, dishing out plates of its fluffy beds of basmati coconut rice to hungry queues of people. To speed up the ordering process, everything on the menu comes as a set, so you can't pick and choose what you'd like with your rice. For the works, order the Full House ($4.50), which comes with a fried chicken wing, otah, ikan bilis, an egg and a sweet sambal sauce that's so good when mixed with the rice.
From Fei Fei Wanton Mee
Fei Fei wouldn't be our pick for the best wonton mee in town but the readers voted – and we listened. The thick slices of char siew were too dry, but the saving grace were the springy noodles tossed in a tart chilli sauce. Unlike other stalls, Fei Fei's bowl ($4-$5) of noodles comes loaded with vegetables, making it a healthier choice compared to the other nine dishes on this list. It's not all clean and green, though. The fried homemade wontons are another highlight of the dish, retaining its crunch despite being mixed with the sauce. Oh, and it's open 24 hours, so you can get your fix even in the wee hours.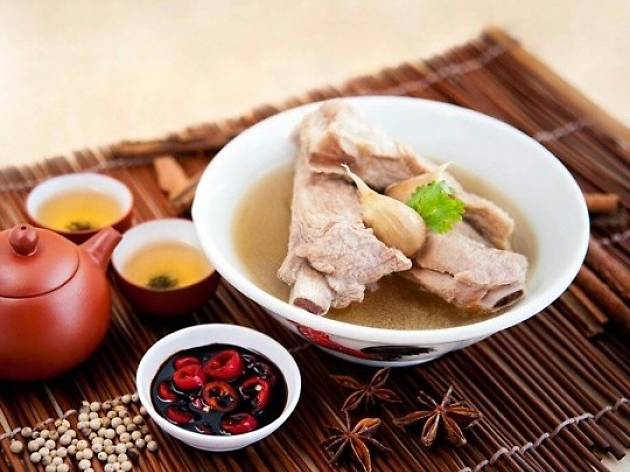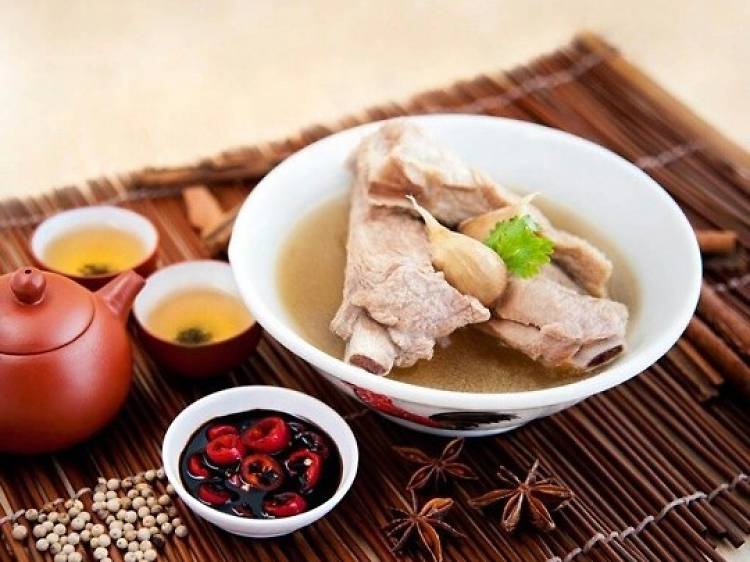 From Song Fa Bak Kut Teh
If the snaking queues that form well before lunchtime are any indication, Song Fa's Bak Kut Teh is definitely one of the best in town. Its peppery bowls of pork rib soup are best enjoyed on chilly days but locals are just as happy to slurp down a bowl on a scorcher. The soup's free flow and best enjoyed with a range of side including steamed groundnuts, vegetables coated in oyster sauce and pork trotters stewed in a herbal gravy.
From Samy's Curry Restaurant
A dyed-in-the-wool local institution, Samy's is as low-maintenance as they come. It's more of a mess hall than a restaurant with its high ceilings, shuttered windows and ceiling fans. In place of plates are banana leaves, onto which servers slop mounds of aromatic, richly flavoured and head-hurting hot curries of which the fish head curry served in a claypot is the most popular. Cool down with some fresh lime juice.
From Ah Heng Carrot Cake
This salted white-radish dish (it contains not a smidgeon of carrot) is fried with a 'cake' with eggs, garlic and spring onions, available 'white' or 'black' – the latter comes flavoured with sweet black sauce. A good rendition should be crisp on the outside and soft on the inside.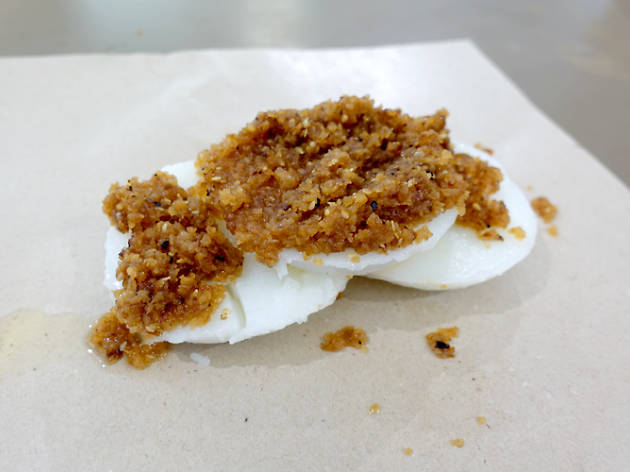 From Ghim Moh Chwee Kueh
These little bowl-shaped steamed rice cakes are topped with aromatic diced chai poh (preserved radish). Soft cakes and the flavour-packed topping mean umami bombs in the mouth. Delightful.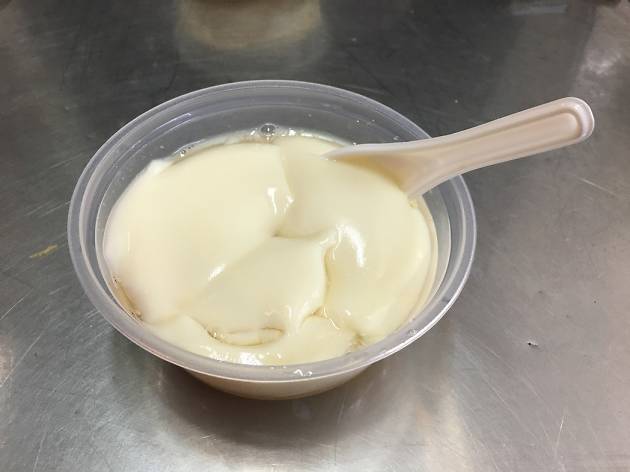 From Rochor Original Beancurd
This soybean dessert is favoured for its smooth, silky and melt-in-the-mouth texture. Traditional tau huay is served warm and flavoured with sugar syrup (order fried doughsticks to go with it); modern versions see the dessert (like at Lao Ban) served in chilled, pudding form. Both are equally good.
Best selling Time Out Offers