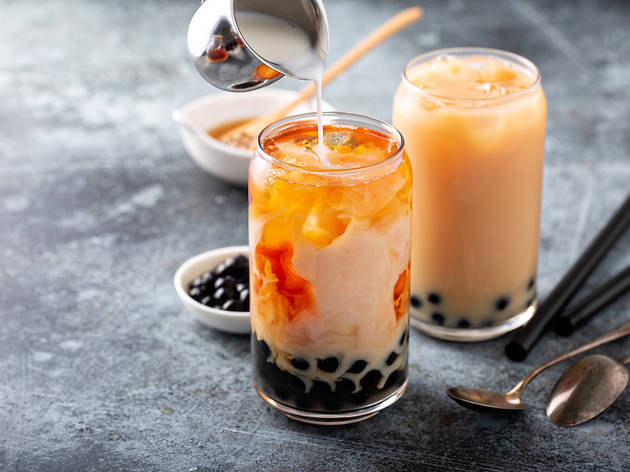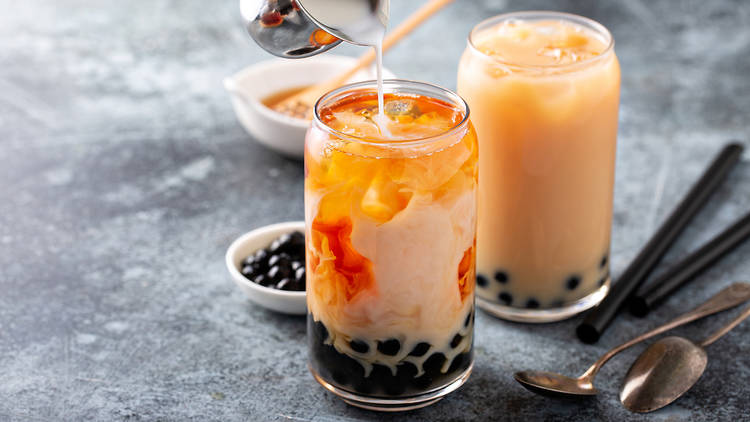 Alternative bubble tea delivery options in Singapore
The boba thirst is real
There are a few things keeping Singaporeans sane during the 'circuit breaker': TikTok, Houseparty, and of course, bubble tea. But with the latest announcement made by the government shutting all standalone food and beverage (F&B) stores, most major bubble tea kiosk have shuttered overnight. Thankfully, not all hope is lost. If you're thirsting for that sweet, milky beverage, these establishments are here to water the drought and deliver your favourite bubble tea straight to your door.
RECOMMENDED: The best local food available for delivery in Singapore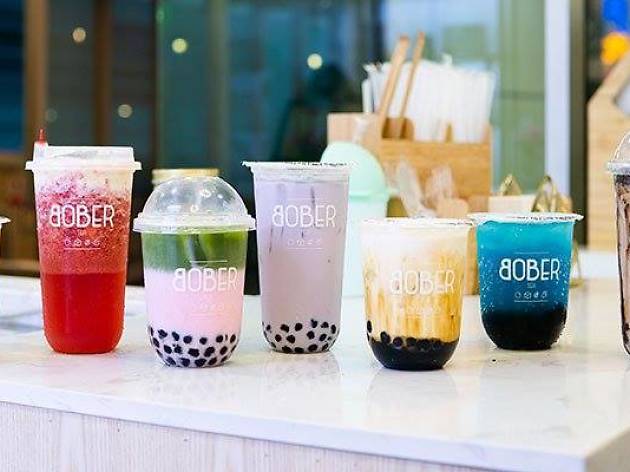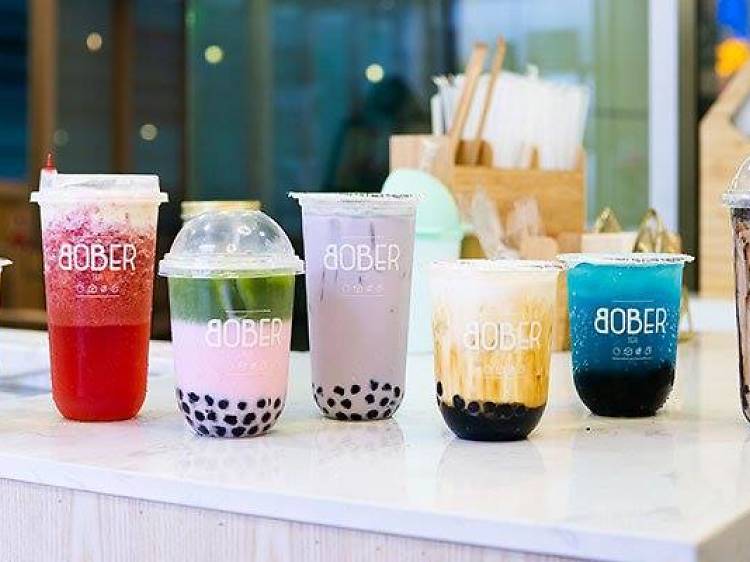 This homegrown bubble tea brand prides itself on using premium grade ingredients like pure matcha powder, Okinawan sugar and Hokkaido milk. Sip on signature creations that include roasted oolong milk tea ($5), Hokkaido Chizu milk tea ($5.30), and ruby grapefruit Yakult ($6.80), as well as a range of five different brown sugar milk (from $5.50) beverages.
Minimum order $15
Delivery fee $10
Order here bobertea.oddle.me/en_SG
You'd detect floral notes in SOD Cafe's signature milk tea (from $3), made from a special caffeine-free tea base. Try it plain, or add in flavourings of almond (from $3.50), brown sugar (from $3.50), and hazelnut (from $3.50), along with toppings of white pearls ($0.50), regular pearls, and aloe vera ($0.50). Beyond the usual variants, the menu also features special brews of charcoal oolong milk tea (from $3.50) and double froth milo (from $3).
Minimum order $30
Deliver fee $10, free for orders above $50
Order here sodcafe.oddle.me/en_SG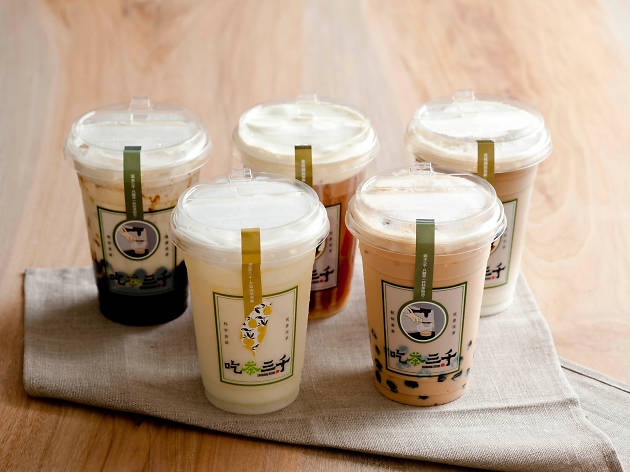 Photograph: Chi Cha San Chen
Chi Cha San Chen and Kemono
Tea specialist Chi Cha San Chen is known for its signature brews, made by Taiwanese tea masters with over two decades of experience under their belt. While its abridged menu features just five drinks, you'll be glad to know that its famous Dong Ding Oolong milk tea ($5.70) is available for your sipping enjoyment. Other options include its classic milk tea with grass jelly ($6.20), green tea with cream ($5.70), fruit tea ($6.50), and High Mountain Pouchong tea with lemon juice ($5.70) – all with a fixed sugar level at 50 percent. And to pair with your milky beverage, there's even the option to choose from a variety of zi char dishes from Mellben Seafood, soya milk from Rochor Beancurd, and Kemono's range of roast chicken.
Minimum order $35
Delivery fee From $5.90, varies according to your location and estimated delivery time
Order here kemono.com/product-category/all/
You can check out your favourite Koi beverage alongside Grain's healthy selection of meals (talk about a balanced diet). The selection includes its flavoured tea series (from $3.20) and brown sugar drinks (from $4.50), along with hot-favourites of Yakult green tea ($4.50), hazelnut milk tea ($3.90), and brown sugar fresh milk ($5.10) – complete with your desired sugar level and toppings of boba (from $0.60) and konjac jelly (from $1.20). Pair your drink wholesome dishes of grilled chicken on spiced multi-grain rice ($11.95) and torched Norwegian salmon on parsley-spinach fusilli ($16.95).
Minimum order None
Delivery fee From $4, depending on your location
Order here grain.com.sg
Another major bubble tea player, Gong Cha, has teamed up with homegrown burger joint Wolf Burgers. But before you go crazy on your orders, know that you might not find your go-to Gong Cha order on the menu. Only a handful of its drinks are available for purchase: the pearl milk tea ($4.50), taro drink ($4.70), brown sugar fresh milk with pearl ($5.60), and QQ passionfruit green tea ($5.20). Toppings cannot be modified, and the only thing you can customise is the level of sugar. You'll also find Wolf Burgers' signature creations on the menu: the Original Wolf Burger ($9.90) layered with sweet onions, cheddar, lettuce, and tomatoes; and the Truffled Mushroom Beef ($10.90) with added provolone cheese.
Minimum order $35
Delivery fee Varies according to your location
Order here eunoia.rocks/wolfburgers, or via GrabFood
With all the extra time on your hands, try making your own boba instead. Homegrown chain LiHO has created a DIY bubble tea kit that's available for purchase on Shopee, each complete with tea leaves, raw sugar, golden pearls, and even LiHO cups and straws. There's the LiHO Milk Tea + Golden Pearl Set ($48), which comes with the usual creamer to add a milky touch, and is good for 15 cups, or the Black Tea Oat Latte + Golden Pearl Set ($85) that comes with Oatly's oat milk for those that are lactose-intolerant, and can make 20 servings. Each kit also comes with a recipe card with instructions on how to create your own bubble tea – either hot or cold.
Minimum order None
Delivery fee Inclusive
Order here Shopee's website
Eat Three Bowls might specialise in Taiwanese street food, but its take-out menu also includes the all-important drink that originated from the country: bubble tea. You'll find a lean selection of classics, from the bubble tea latte ($4.30) to fresh milk with brown sugar pearls ($4.30) and green tea with Yakult ($4.30). For the complete experience, opt for the namesake package deal Eat 3 Bowls ($16) which comes with its signature dishes of chicken rice, braised pork rice, and mee sua, complete with your choice of drink.
Minimum order None
Delivery fee $15, free for orders above $80
Order here eat3bowls.oddle.me/en_SG
Got a sweet tooth? This dessert stall, located in Maxwell Food Centre, will satisfy with its menu of traditional sweet soups and bubble tea. Drink options run the gamut from brown sugar pearl milk tea ($2.90) to freshly brewed golden oolong tea ($1.80) and earl grey milk tea with pearl ($2.60). You'll find fancier concoctions at this humble stall too, with choices that include collagen milk tea ($3), yam fresh milk tea ($3.50) and Pei Pa Koa milk tea ($3.60). As you customise your drink with toppings of black pearls ($0.40), milk foam ($0.90), and even peach resin ($1), throw in orders of some sesame paste ($2.40) or peach resin soup ($3.20) for the older folks at home.
Minimum order None
Delivery fee From $12.50
Order here WhatApp your list to 9753 5109, or view the full menu and ordering instructions on its Facebook page
Monga Fried Chicken might be known for its tasty fried chicken ($6.90), but its bubble tea selection is also worth a try. Hot-sellers include the creamy Black Dragon ($4.20), which is Monga's version of the brown sugar milk tea, or opt for the refreshing grapefruit green tea ($4.50) or osmanthus oolong tea ($3.30) to wash down all the grease. Note that Monga's bubble tea cannot be purchased as a standalone item and can only be ordered together with its food.
Minimum order $30
Delivery fee Free
Order here Text 8896 5136 to place your orders at least one day in advance
The best of Taiwanese fried snacks can be found at I Love Taimei – from juicy chicken thigh ($6.50) to Taiwan tempura ($4.30). And they are best washed down with the store's colourful selection of bubble tea. Try the 1988 Milk Tea ($5.40) with gradients of winter melon tea, milk tea, and butterfly pea flower tea; or get the Sunny Island ($5.40) with mango, fresh milk, butterfly pea flower tea, and mango pearls. Note that the store will not be accepting any walk-in orders of bubble tea, and all takeaway drink purchases have to be made with an order of food. Its bubble tea delivery services remain as usual.
Minimum order Varies
Delivery fee Varies according to your location
Order here Available on local delivery platforms including GrabFood and Foodpanda
You'll find kombucha and other fermented drinks on the menu at Teapulse. And we know what you're thinking – can kombucha really be considered bubble tea? It can in our books. There's tea in it (kombucha's made by fermenting tea with sugar), white pearls and more importantly, it's hella refreshing on a hot day. Grab its premade concoctions ($5.60), which comes in flavours of lemongrass kombucha with aloe vera, probiotics hibiscus lemonade with white pearls, and probiotics honey lemonade with chia jelly. While Teapulse's physical shop space might have been forced to close (no more takeaways), the tea bar has a licensed centralised kitchen it can continue to work out of to provide its fizzy concoctions during this period.
Minimum order $20
Delivery fee $3, free for orders above $30
Order here teapulse.sg/
8 Degrees offers an extensive menu of dishes from the must-have Taiwanese dishes like oyster mee sua ($5.80), stewed pork belly rice ($5.80) and salted crispy chicken ($7.80), to fusion dishes like the pork belly pasta ($9.80) and sakura prawn fried rice ($11.80). There's just as much variety in its bubble tea series, including warm ($4) and cold versions ($4.80) of the bubble milk tea, grass jelly milk tea ($5.80), rose milk tea ($5.80), and wintermelon ai-yu green tea ($5.80).
Minimum order $38
Delivery fee $5, available only for locations within 8km radius of the restaurant
Order here 6284 8266, or access the full menu on its website
If you're a fan of brown sugar milk tea, then The Perankan's Signature Malacca Bubble Drink ($5) is sure to satisfy. Each comes made with a special blend of gula Melaka and mini pearls, and there's even the option to add in durian pengat ($5) or D24 durian ($3) are a truly Singaporean drink. The bubble tea is available a la carte, or as part of the restaurant's bento meal (from $9.90) which comes with options of chicken buah keluak, beef rendang, curry chicken, and more.
Minimum order $50
Delivery fee $10
Order here order.theperanakan.com/en_SG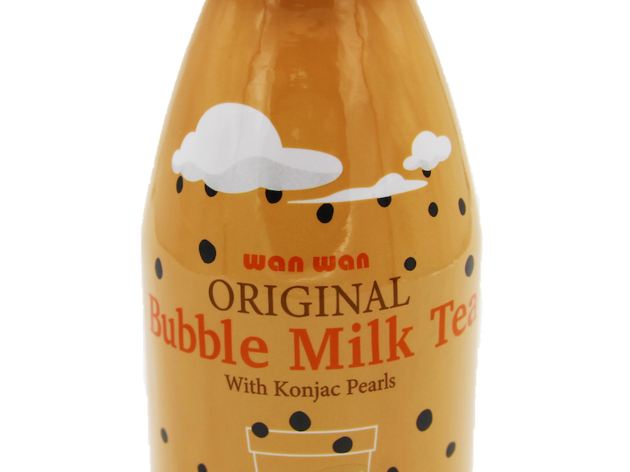 Photograph: 7-Eleven
Save on delivery fees and drop by your neighbourhood 7-Eleven instead (with a mask, and at odd-timings, of course). Beyond groceries and snacks, the convenience store also stocks a small range of bottled milk tea that can be savoured any time. Grab the Wan Wan milk tea series ($2.20), which comes in flavours of original and brown sugar, and complete with chewy konjac pearls. Depending on your outlet, you might also find Polar's bubble peach tea with pearls and Nestea's Okinawa brown sugar milk tea from Taiwan.
Best selling Time Out Offers