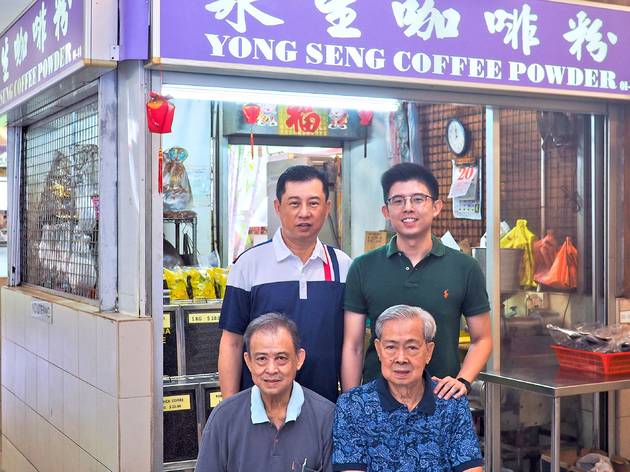 Hawker spotlight: a specialty hawker coffee shop passed through the generations
At the helm of Yong Seng Coffee is third-gen owner Marcus Tay, who hopes to showcase how traditional Nanyang kopi and modern specialty coffee can co-exist
Coffee has always been part of Marcus Tay's life for as long as he could remember. His memories of childhood come intertwined with the familiar scent of the beans – a result of growing up in a family of coffee roasters.
"For the longest time, I could always smell coffee in the house," shares the 28-year-old.
His family runs Yong Seng Coffee, which roasts Nanyang-style kopi since 1974. It was founded by Tay Yiong Theng, grandfather to Marcus, who started working with coffee beans at the tender age of 20. The business grew, and Marcus' father and uncle both joined to help with the stall's operations.
Fast forward some 46 years, a new chapter at Yong Seng Coffee is brewing. Marcus has decided to join the family business and continue its legacy – bringing with him fresh ideas and new ways of working.
RECOMMENDED: Masterchef Singapore contestant opens a stall selling handmade noodles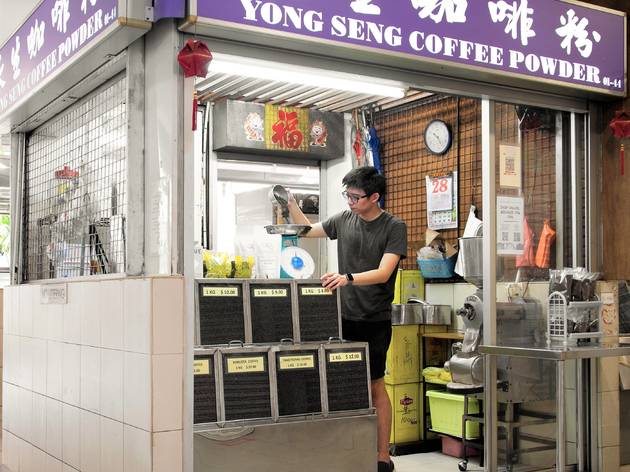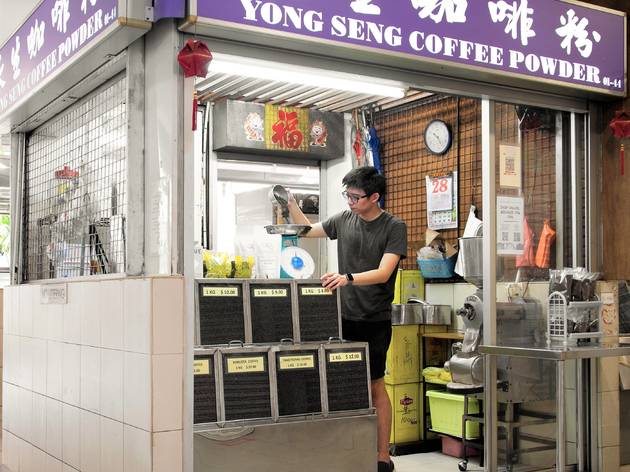 Photograph: Yong Seng Coffee
But the young entrepreneur wasn't always keen on taking over the family business. "Everybody wants to go down the safer route – and that's what I did too," shares Marcus. He embarked on a career in business consulting at RSM Singapore, where he worked for half a year.
And while working one night, it suddenly dawned on Marcus – that he was stuck in a job that he didn't enjoy. "I asked myself: is this something that I want to do in the future? Obviously not," he says. "I wanted to do something with coffee." In August last year, Marcus decided to trade his desk-bound job for one at Tiong Bahru Market, where Yong Seng Coffee is located.
Luckily, Marcus already had experience helping out at the stall – during school holidays and other pockets of free time. It also helps that Marcus grew up drinking kopi – a Nanyang-style variant that the stall specialises in. But he was equally interested in modern, specialty beans, particularly so after experiencing Australia's coffee culture. "I was used to drinking kopi, which is usually just bitter and strong," shares Marcus. "But when I went to Australia, I was exposed to all these specialty beans, and I got to taste all the different notes that coffee has."
"Now, I want to share this experience with others."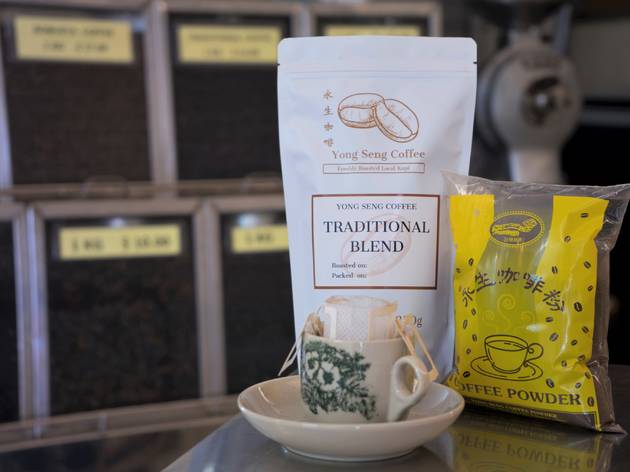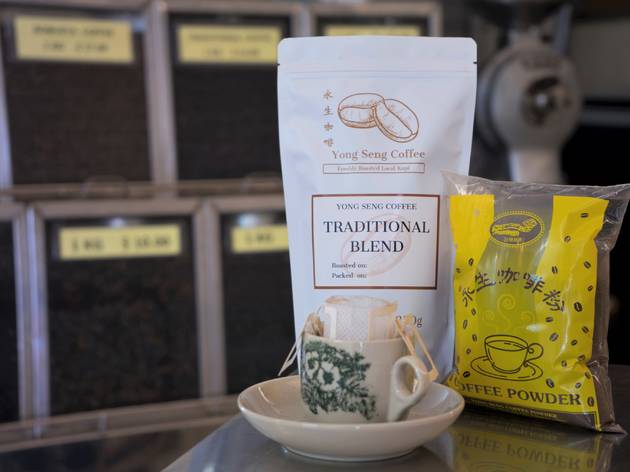 Photograph: Yong Seng Coffee
So beyond traditional blends of Nanyang-style robusta beans, Marcus has introduced a monthly 'Dyscover' series where he spotlights arabica beans of different origins from regions around the world. He explains: "I am still sticking to Nanyang kopi – I am still very proud of it. But at the same time, I also want to expose my customers to the vast array of flavours that coffee can offer."
"There is a space for them to co-exist together."
And since joining the business, Marcus has set up an e-commerce platform for Yong Seng Coffee, and ramped up social media and marketing efforts to help boost the visibility of the brand. "These are the behind-the-scenes work that nobody really sees, and yet takes up the most time," he says. He might have traded a comfortable desk-bound job for a manual one with longer hours, but Marcus hasn't once regretted his decision. "I'm sure some people will think that it's silly to leave an office job to come work in a market," he says. "But this is something that I'm passionate about."
He adds: "It's no longer a job that you do when there are no other options. It's a job where you can help improve, with new ideas, knowledge, and technology."
Spill the beans
According to Marcus, local kopi is made predominantly using Indonesia robusta beans, which boasts a higher caffeine content. "It's more bitter, and has an earthy profile," he says. Nanyang-style coffee roasting also involves adding sugar and margarine into the process. This extra step helps lend a silky mouthfeel, and makes for a smooth, rich cuppa. Marcus adds: "I think its this silkiness in our kopi that is unique to Singapore."
Specialty coffee, on the other hand, favours the usage of arabica beans. These come with lower caffeine content, and often come with underlying notes of fruits or berries. It also makes for a more nuanced drink.