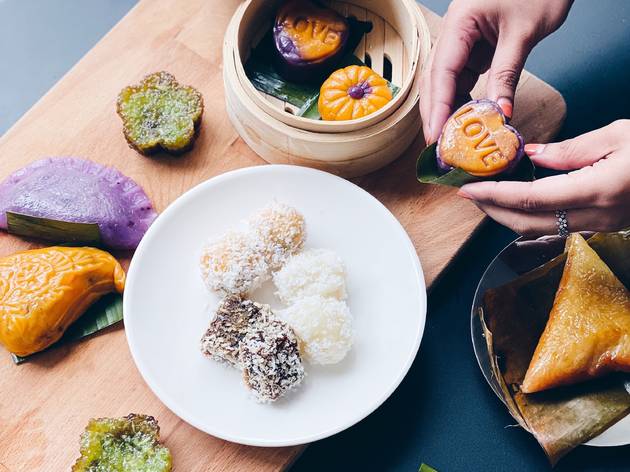 In-kueh-dible tales: the people preserving a piece of our kueh heritage
Colourful bites that keep part of our culinary tradition alive
Sweet or savoury. As a snack or dessert. In a circle, square or any shape under the sun, kuehs come in many different forms. They made an appearance in the cuisines of various cultures, from the Chinese and Indonesians to the Malays and Vietnamese. But in this modern age, this snack that's rooted in tradition is quickly losing its relevance. Here are some of the people who are doing their best to keep this delicious piece of heritage alive.
RECOMMENDED How a local artist helped a traditional soy milk business adapt

Apart from the usual turnip filling, One Kueh at a Time owners Nick Soon and Karen Kuah wrap soon kueh with unusual ingredients like beetroot, hae bi hiam and even bak kwa.
These novel creations are new additions to the menu it offers at One Kueh at a Time's fresh store space. The pair previously worked out of a hawker stall in Berseh Food Centre, selling traditional kuehs made using recipes passed down from Nick's family.
"It was a great experience for us," recalls Karen. "The hawker stall was like a lab to experience, and to learn more about the business."
Now, with their new, bigger space at Pandan Loop, Nick and Karen have the space they need to create and tinker with recipes. The bak kwa soon kueh ($2.50), for instance, draws reference to the store's address, which it shares with the Lim Chee Guan factory. Naturally, bak kwa from the brand is used in this salty-sweet creation as well.
"We create flavours based on childhood memories and the food we like to eat," adds Karen. Sar Nia's Haebi Hiam ($2.50) was fashioned as a homage to a close friend who shared her recipe of the spicy shrimp with the couple.
But even at their new location, the couple insists on preparing the kueh by hand. Carrots and turnips are manually shredded and wok-fried before getting wrapped in a delicate skin – one kueh at a time.
"I think that somehow, handmade things are nicer," says Karen. "It's just like eating home-cooked food."
At their hawker stall in Tanjong Pagar, mother-daughter hawkers Sandy Tan and Elizabeth Chan press various kuehs into shapes of teddy bears, koi, and even flowers – creating adorable variants of the traditional treat.
"I realised that a lot of young people don't eat kueh," shares Elizabeth, who joined her mother's stall to raise more awareness for the traditional treat. "We hope to pass down the heritage of kueh and appeal to the younger generation by making [the creations] more playful."
To do that, the pair work with various hues beyond the usual ang ku kueh-red – vivid shades of purple, orange, yellow are derived naturally from sweet potatoes and worked into the dough to make a strong visual impact. "Every piece of kueh is like a piece of art," says Elizabeth.
But it also makes the kuehs healthier. "Our kuehs are less sweet and less salty," she says. The stall's png kueh, for instance, is made using a higher proportion of sweet potato instead of commercial refined starch, resulting in an exterior skin that's softer and "won't stick to your teeth".
Aside from using unusual ingredients, Kueh Ho Jiak has also brought kueh beyond the hawker stall and into unexpected places – events like the Singapore Airshow and dessert tables at birthday parties.
Elizabeth shares: "Through what we do, we hope we can keep traditions alive."
"Every piece of kueh is like a piece of art."
- Elizabeth Chan, co-founder of Kueh Ho Jiak
Ang ku kueh is a common Chinese confectionery that's often consumed for luck and longevity, and used as offerings for ancestors. Peanut and salted mung bean filling are most typical, but today, you can find flavours of mango, green tea, and even durian at Poh Cheu Kitchen.
The store has been steaming ang ku kueh since 1985, and is currently helmed by third-generation owner, Jerome Ng, who hopes to further his family's business and appeal to a wider audience.
"Initially, I didn't plan to come to this business at all," shares Jerome, who is an accountancy graduate. The turning point came when his grandfather was hospitalised and he started thinking about stepping up to the plate. He adds: "I wanted to carry on the family business and pass on this tradition for the future generations."
Learning the family recipe wasn't easy. Jerome spent some one and half years in the kitchen – picking up the ropes and enduring the humid working conditions. "The toughest part is that everything is handmade, so a lot of things are based on experience," he says.
But Jerome's biggest challenge is to make kueh more accessible for everyone. The heritage store now has an online portal for deliveries and pick-ups, and has rolled out cashless payments to keep up with the modern consumer.
"I hope that one day, ang ku kueh will not be seen as just an offering for ancestors, but as a dessert on every table that can be enjoyed at any time," says Jerome.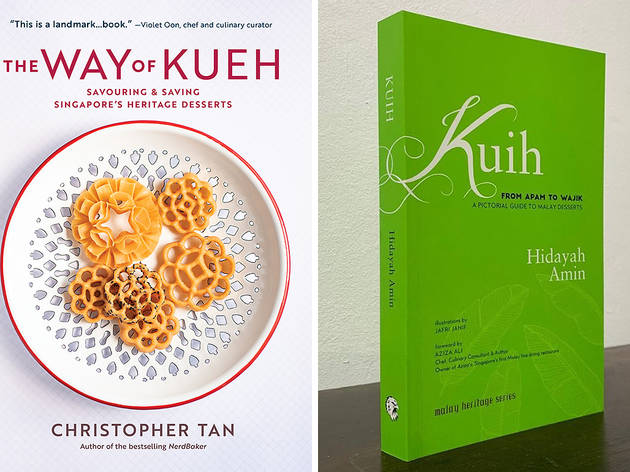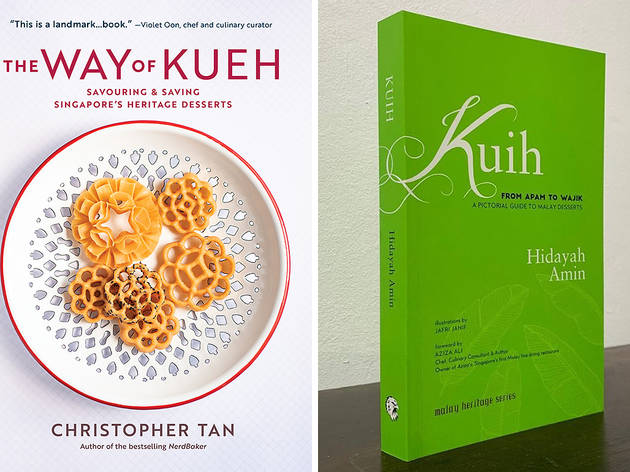 Photograph: Christopher Tan & Hidayah Amin
Beyond the kueh makers cooking up a storm in kitchens, others have chosen to share their knowledge of kuehs through another age-old method: writing.
Author Christopher Tan wrote The Way of Kueh in hopes of inspiring people to start making kueh at home.
In his book, he explores Singapore's kueh culture and its connection to local traditions and heritage. "With the advent of commercially sold kueh, the practice of making kueh from scratch at home has declined," shares Christopher, who is also a culinary instructor.
"As it declines, all the foodways associated with it also fades away – not just how it's made, but how and when it's served, and the symbolism it bears.
Similarly, writer Hidayah Amin recently published Kuih: From Apam to Wajik, a Pictorial Guide to Malay Desserts back in February. Like its title suggests, the book explores various Malay kuehs – some 120 of them, including those unheard of by the younger generation, and even some that are forgotten by the older generation.
Most people, according to Hidayah, couldn't even identify the name of kuehs – and Malay variants in particular. "Not everything is Peranakan," she says with a laugh.
So rather than writing a recipe book, Hidayah chose instead to focus on the etymology and stories surrounding Malay kuehs. "I wanted to show that you don't need to be a culinary expert to embark on a journey of discovery," shares Hidayah. For instance, the word 'badak' in badak berendam translates to hippopotamus in the Malay language – a reference to how the snack of rice balls in coconut milk resembles that of the animal soaking in a river.
Through her book, Hidayah hopes to document and preserve the colourful variety of Malay kuehs for the future. She adds: "The next time people eat kueh, I hope that they will be able to identify what they are eating, and understand the culture and stories behind it."