Heads up! We're working hard to be accurate – but these are unusual times, so please always check before heading out.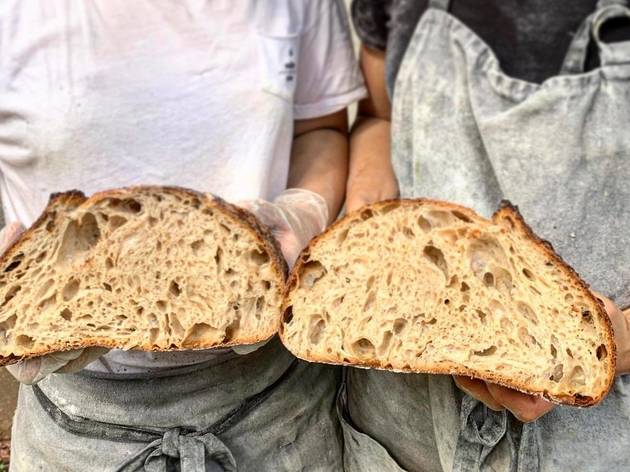 How I met my mother: local sourdough bakers share the secret behind their breads
We chat with Singapore's best sourdough bakers about their mother issues, how they achieve great-tasting bread and more
To most of us, a mother is the woman who gives birth to us, feeds us, and cares for us throughout the years. But to a small yet growing group of sourdough bakers in Singapore, a mother is a totally different nag. They have to feed it, take care of it, and in return – if they're lucky – they are treated to beautiful baby buns that they share with their customers.
Also known as sourdough starters, or levains in French, mothers are fermented doughs made from flour, water and wild yeast and Lactobacillus bacteria from the air. You have to top them off with fresh flour and water regularly so that sugar can be converted to acids, enzymes and carbon dioxide, which affect the flavour, tang, elasticity and porosity of the bread. But even with daily parenting, things can go wrong.
Nick Chua from Nick Vina Artisan Bakery
Chef Nick Chua from Nick Vina Artisan Bakery tucked away in Icon Village at Tanjong Pagar is as experienced a baker as they come. He started making sourdough over 20 years ago in a bakery in Hannover, Germany and brought its 82-year-old mother dough back with him to Singapore.
"It's tedious to maintain a sourdough mother, especially in Singapore where humidity and temperature are concerned," he shares. "Lactic acid bacteria are like babies and have to be treated with care. You might find a good recipe, but it might not apply in Singapore. It takes a lot of experience to understand your dough."
The way a sourdough tastes and behaves depends tremendously on the environment it's in. You can think of it like wine – the terroir impacts the yeast, flour, air and water that make up your bread. The baker also decides on the blend of flour used to make the final product, just like a winemaker choosing grapes. "The mother dough that I'm using gives the bread its unique flavour," says Nick. "Unlike other bakeries that focus more on different designs or filling, I focus more on the different types of wheat and grains to develop my bread recipes. My sourdough is blended with different percentages of wheat flour, rye, spelt, durum, barley malt and cornmeal to make a sourdough that's different in flavour and texture from others."
Pav Khialani from Sideways
One of the best sourdoughs we've come across in Singapore is over at Sideways near Jalan Besar.
What makes a good sourdough, you might ask? A shatteringly crisp crust that gives way to soft and moist bread filled with pockets of air. The flavour should be tangy and the texture, chewy but not jaw-pain inducing.
Owner and head baker Pav Khialani's loaves are all that and more, thanks to the woodfired oven he built with his bare hands that imparts a smoky flavour to the bread. His mother, of course, plays a part too. Instead of acquiring it from a far-off bakery, Pav made his first starter, developing it through trial and error. "My starter is entirely made in Singapore with a mix of flours, local filtered water and lots of local humidity," he shares. "At first, I ended up throwing a lot of bread away because they were no good. I started researching online for more information and testing more recipes before gradually developing my own sourdough loaves."
Emerson Manibo from Starter Lab
There are many different styles of sourdough available in Singapore. Barely a week old, Starter Lab at Havelock Road serves American-style sourdough, which is typically lighter with a more pronounced sourness than European-style loaves. Emerson Manibo, its consultant baker, was gifted Sullivan Street Bakery's Jim Lahey's My Bread: The Revolutionary No-Work, No-Knead Method nine years ago, and after trying out a few recipes, he was completely hooked on dough.
After doing stints in New York's Per Se and Roberta's Pizza as well as Della Fattoria and Tartine in California, Emerson moved to Bali to set up Starter Lab in Canggu. The climate, humidity, ingredients and biomes in Bali posed a challenge when Emerson first tried to create our starter," explains Min Seah, Emerson's business partner and the owner of Starter Lab Singapore. "After a few failed attempts, our starter finally took and became active and happy. That was just three years ago and the reason why we call ourselves Starter Lab – it has been a place of experimentation since the beginning. We hand-carried our wholewheat starter and the rye starter like precious cargo in small bottles from Bali to Singapore, which will evolve into something that's uniquely Singaporean."
The breads at Firebake
Over in the east, Firebake makes around eight types of bread daily crafted from two main starters: a Katong-born mother for white bread and a rye starter from Yallingup, Western Australia.
But to Firebake's founder, Konstantino Blokbergen, the flavour of the bread doesn't just depend on the mother – flour, water and salt, as well as the fifth ingredient of time are also essential to achieve the desired result. "You need to plan 24 hours ahead to get the optimum starter quantity and condition for your baking needs," he says. "Our main focus is the flavour and nutritional aspect of the bread. There is a fine balance between the impact of the starter versus the flavours we extract from the other ingredients through bulk fermentation."
Then there are those who fill their loaves with different ingredients, like Lionel Hor who runs Mr Kneady's, a hawker stall dedicated to sourdough at Simpang Bedok. He was a full-time baker at renowned artisan bakery Maison Kayser, doing stints at its New York and Reykjavik outlets. "I think the most unique thing I have to offer is size," he says. "I don't think there's anyone else in Singapore doing 250g loaves. My brand is based on transparency too – I list out all the ingredients I put in my bread. I have cranberry turmeric, walnut, Emmental oregano and pumpkin seeds, all from just $3 a loaf."
To Jaslyn Chua from Micro Bakery and Kitchen, a brunch spot at Serene Centre, bread making is such an emotional and challenging craft – which makes every baker's bread great, different and most importantly, precious. "I had this aching longing to build a happier community that propagates genuine connections – so I thought bread could be an answer."
A sourdough mother is, after all, a living and breathing work of nature that bakers shower with love and careful attention. They pass this on to the people who break their bread. The poem that Jaslyn attaches to her care guide puts it more aptly: "You asked me to tell you my stories/I said I'll bake a loaf of bread for you/If all bakers were poets/ They will write their stories in the dough that they make/and have you decipher their words/through the bread that you eat".
Find the best sourdough at these places