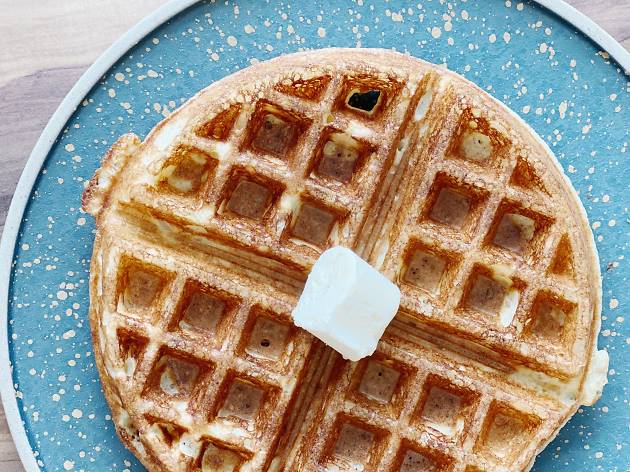 On the rise: where to get sourdough waffles in Singapore
These crispy, feathery light treats are bubbling in popularity
There's a member of staff, a little over 158-years-old, employed to help out in the kitchens of Tiong Bahru Bakery Diner.
The seasoned worker has baked in restaurants around the world – Brazil, France, the United States. And now, in Singapore, the old-timer is responsible for making the waffles served at the diner's outlets in Funan and Raffles City. Except, this long-standing employee isn't any other experienced baker; it's an ancient sourdough starter.
The fermented dough is added to waffle batter to make its popular 100% Sourdough Waffles ($21/$23). "Our starter, because of its old age, adds a complex taste and sourness," says Chef de Cuisine Paul Albert. "When creating the recipe, we wanted to develop natural flavours from the sourdough process."
While sourdough waffles aren't exactly new, the creation is seeing a slow rise in popularity locally. Moving beyond sourdough, these restaurants and bakeries are incorporating their starters into waffle batter, croissant doughs and more to create treats that are both sweet and savoury.
A gut feel
Under Paul's hands, the age-old starter is added to the liege-style batter to make a crispy base that comes topped with sweet Thai mangoes and lemongrass chantilly cream, or lashings of bacon and maple syrup.
He first laid hands on the 158-year-old starter while training in a bakery in Brazil. "Since then, I have travelled everywhere with him," says the chef.
But using this ancient dough isn't an easy task. For one, making sourdough waffles is a lengthy process – it takes 48 hours to be exact. "You need time to let the naturally occurring lactobacilli and yeast do their job," shares Paul. Singapore's tropical climate can affect the proofing process as well. Success ultimately boils down to one factor. He says: "All you have is your gut feeling, and getting the timing right."
Wholesome treats
It started with a love for bread.
Crown Bakery and Cafe was set up with the belief that people should be able to enjoy baked goods without the use of artificial colouring, flavouring, preservatives, and other chemical improvers. "Food should remain wholesome and delicious at the same time," says managing director Raymond Cheok.
That means that the kitchen makes its own sourdough bread, croissants, and pastries every day. The sourdough buttermilk waffle ($7.38) batter is made from scratch first thing in the morning. "Waffles are a classic comfort dish," shares Raymond. "So we wanted to craft a version that was unique to our cafè's promise."
A mixture of the cafè's raisin yeast and natural leaven is first stirred together with Japanese-imported wheat flour. It's then left to ferment – a key step, according to Raymond. "The fermentation takes a longer time, which helps to break down the gluten, making it easier to digest," he shares.
"It also directly affects the final taste of the waffle, giving it a mild tangy taste and light raisin fragrance."
Down to the last crumb
The eco-conscious ethos of Allium extends beyond choosing sustainable ingredients and a plant-forward menu. It can also be found in its sourdough waffle ($15).
"It is a dish that allows us to cut down and manage our food waste better," explains executive chef Dillion Ng. The restaurant bakes its own sourdough bread for the brunch service, and the process often creates leftover starter. Rather than throwing it out, Allium turns the excess into desserts.
The batter is then left to sit for over a day before it hits the waffle iron, and the result is something unlike regular waffles. "It is really crisp on the outside and fluffy on the inside, with a fruity aroma that can only come about as a result of the lengthy fermentation," shares Dillion. Simple touches of maple syrup and whipped butter complete the dish.
The brunch-only treat is popular even among the restaurant's crew. Unsold waffle batter is never wasted; it gets cooked and served during staff meals. Dillion sums up the appeal of sourdough waffles nicely: "Trust me when I say this: we will always look forward to it."
Other sourdough dishes
Sourdough pizza
Baker & Cook's Dean Brettschneider flexes his dough-making muscles to hand-roll thin-crust pizzas made from a 20-year-old starter. The dough is risen with wild yeast for up to 18 hours, before toppings like mozzarella, parma ham, and rocket ($26) or pulled barbecue chicken, cranberry compote, and camembert ($26) are tossed on and baked in a gas-powered brick oven.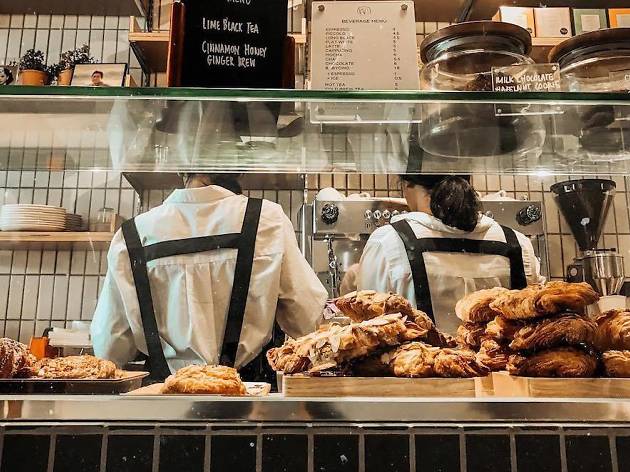 Sourdough croissant
What started out as a pop-up has grown into a permanent space filled with all of Mother Dough's famous creations. Aside from the chocolate pound cake ($4), try the almond croissant ($4.80) if you chance upon it. It's often sold out – a testament to the flaky goodness of the sourdough croissant that comes filled, and topped, with almond cream and slices.
Sourdough french toast
It's hard not to feel fab when tucking into bakes named after your all-time favourite divas like Beyonce ($9.50/slice) and Diana Ross ($9/slice). Turn up the indulgence and get the Fabulously Fluffy French Toast ($11) where sourdough brioche comes soaked in a batter of eggs and cream. It's then pan-fried and garnished with a sprinkling of cinnamon sugar and a side of maple syrup.
More places to get that dough