By no means is Sol & Luna the highest rooftop restaurant in town. But upon stepping out of the lift on the 17th floor, it's a stunning 100 metres up in the sky. As a new Latin-European restaurant in the 51-storey CapitaSpring Building, it overlooks the entire CBD: sprawling sunset views and a glimpse of the Marina Bay waterfront included. Not going to lie, as a part of well-established F&B 1-Group, and one of the five 1-Arden concepts, we certainly had high hopes for this new bistro.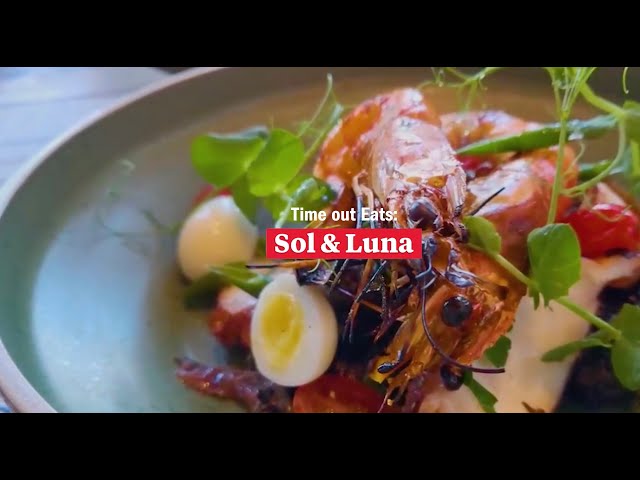 Sol & Luna, as abstract as it sounds, simply means "sun and moon". It indicates that they're open from sunrise to sundown, and they truly are: brunch, tapas, and even afternoon tea menus available for those who feel peckish throughout the day. You'll be walking through a lush rooftop garden to get there, a 43,000 square foot Green Oasis – as they call it.
The food here is inspired by Latin-European cuisine. Confused? Us too, at first. It's basically a mishmash of different influences from various European countries. With that said, they do use locally-sourced produce, showcasing our country's prawn and fish farms and so-called "ugly vegetables" from Edible Garden City. But in terms of the menu's inspiration, think Italy, France, Portugal, and Spain – you'll see this in dishes like their White Gazpacho ($19), served with a grilled half avocado, and the tapas-sized serve of Fried Soft-Shell Prawns ($16) which had a refreshing drizzle of lime aioli to cut through the deep-fried crunchiness.
Chef Felix Chong isn't playing: he's had ample experience in some of Singapore's top Italian restaurants. When we first tried the Truffle Risotto ($25), his entire background made sense. He's worked in the kitchens of Senso, Forlino at One Fullerton, and the now-defunct Otto Ristorante – all F&B joints that received rave reviews. And that's exactly why his risotto was noteworthy, with the use of acquerello rice – an aged white rice that absorbs liquid without being overly gloopy.
Another dish stood out too: the Wood-Fired Sardine ($19). A true example of deceiving appearances, since this looked exactly like an ordinary meat sausage – one you'll get at a casual BBQ. But instead, it was generously stuffed with mussel, herbs and pine nuts, all delectably wrapped up in parma ham.
While it's a prime spot for a casual business meeting, with lunch sets starting from $35/person for a two-course meal, they're also open throughout the day. You can also look out for QR codes to order from Sol & Luna remotely – no matter where you are in the CapitaSpring rooftop garden.