The best 7-Eleven Singapore snacks to try
7-Eleven has got some pretty decent snacks – we would know because we ate all of them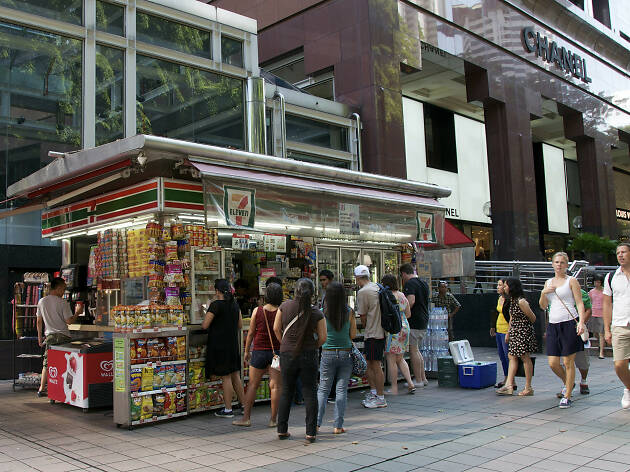 If one parked at every corner, we often take the the reliable convenience store for granted. More than just a place to pick up a few mints, iced coffee drink or a pack of cigarettes, 7-Eleven has levelled up quite recently with their new and improved range of ready-to-eat microwavable meals and more surprisingly, Japanese snacks.
We did the work for you so you don't have to, and cleared out the shelves of our nearby 7-Eleven in the name of research – here are our findings.
RECOMMENDED: The best Don Don Donki snacks to try and unique local snacks to try in Singapore
Chocolate-coated rusk biscuits
This ain't your normal chocolate biscuit. Packed in individual wrappers, it already gives you the promise that it is a special biscuit. Take a bite and be surprised by how it's crumbly and crunch at the same time. The chocolate is also rich, and not of the cheap quality.
Strictly for garlic fans only, this fried garlic snack is pungent, spicy and robust in flavour – everything a garlic lover would like. For those partial to garlic, best to stay way because the flavours might get too overpowering.
Sakusaku corn cheese snack
One of our favourites, this snack is one that grows on you. It's shaped like a flaky and crunchy puff with thin layers dusted in cheese powder. The salty cheese-y flavours can be surprising at first but hey, we made it through the bag in the end.
Rice cracker with rich cheese
A familiar snack gets a boost of flavour with this version from 7-Eleven. Like it promises, you can definitely taste the 'rich' cheese flavouring – imagine your typical rice cracker but saltier and covered in orange dust. You might want to properly wash your hands after a go at this snack.
Yes, it may sound disgusting at first but do ignore the scientific name for Mentaiko. It's hard to replicate the authentic taste so it's no surprise that these rings taste nothing like the real thing and more like the very orange old-school snack, Super Rings.
Who would thought that chocolate covered corn puffs would taste this decent? It may sound decadent but it makes for an easy snack to munch on. The corn puffs are light in texture and the chocolate is semi-sweet so if you're for something subtle and not overpowering, this one's for you.
As simple and straightforward as its name implies, this is basically a biscuit stick coated with dark chocolate. A mild-tasting snack that's good for the munchies, this average no-frills snack delivers.
Bite-sized chocolate brownie
If you prefer crusty and crumbly brownies, pack this one for snack time. It might not be as sweet as warm fudgy brownies but it's just as easy to eat. Crusty on the the outside, but slight chewy in the middle, it's nothing fancy but we'll take it.