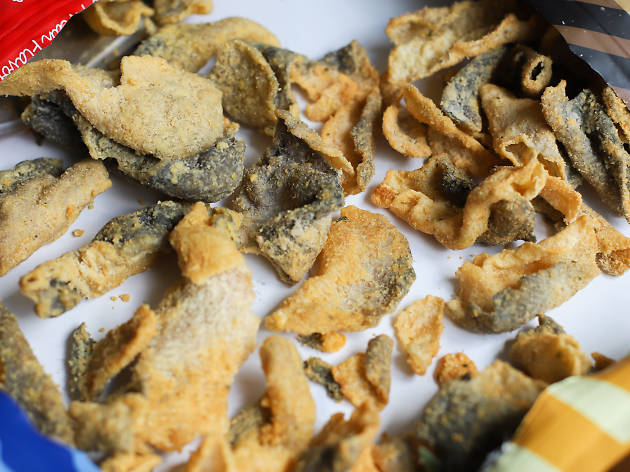 Unique local snacks to try in Singapore
From chilli crab to chicken rice, we go to Flavour Town when it comes to local snacks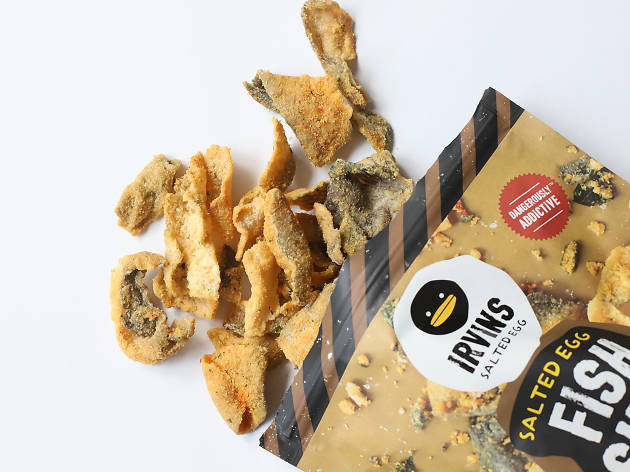 Photograph: Kashmira Kasmuri
Thanks to how generous it is with the seasoning – each crisp comes coated in a thick layer of delicious salted egg yolk, and is packed with as many curry leaves as there are fish skins for an even more delightful flavour.
TRY Irvin's Salted Egg Salted Egg Fish Skin, available at Plaza Singapura and Orchard Gateway, and online, $8 for the small pouch and $16 for the big pouch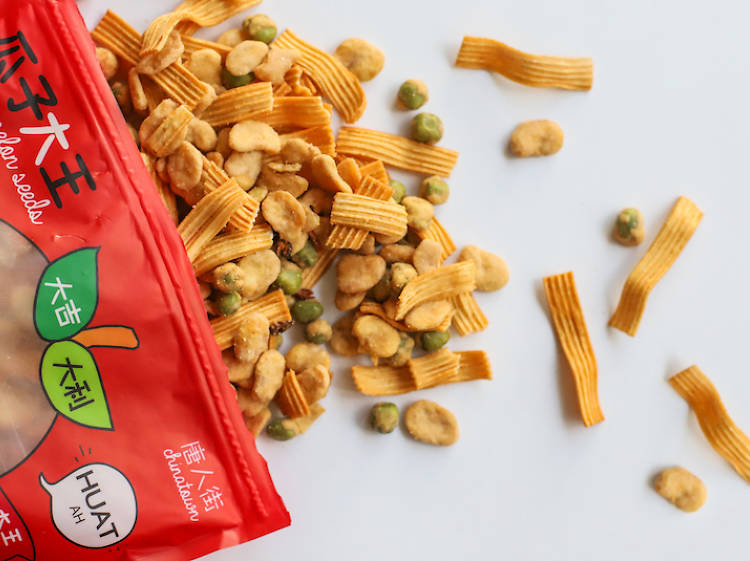 Photograph: Kashmira Kasmuri
Mala hot pot-flavoured mix
We know how addictive Mala is so the influx of spicy snacks this year is only good news for us. The King of Melon Seeds are known for their huge selection of snacks in a variety of flavours. Our favourite? The Mala Snack Mix of broad beans, peanuts and spicy noodles that's salty, easy to binge on and hot and numbing – just like how we like our Mala.
TRY King of Melon Seeds Mala Hot Pot Snack Mix available at kingofmelonseeds.com.sg, $12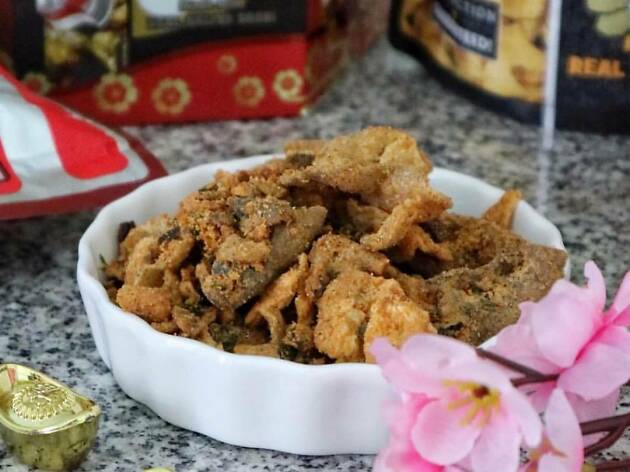 Salted egg yolk mala fish skin
If you're torn between choosing the salted egg yolk snack or the spicy Mala chips, you can actually have the best of both worlds with Crusty's Mala-flavoured salted egg crispy fish skin. Obviously it's going to be indulgent and super rich from the first bite, overwhelming even with the layers of sweet, savoury and spicy coming together all at once. Generous with the spices and seasoning, it's worth the $7 price tag.
TRY Crusty's Mala Salted Egg Fish Skin available at various supermarkets, from $7.90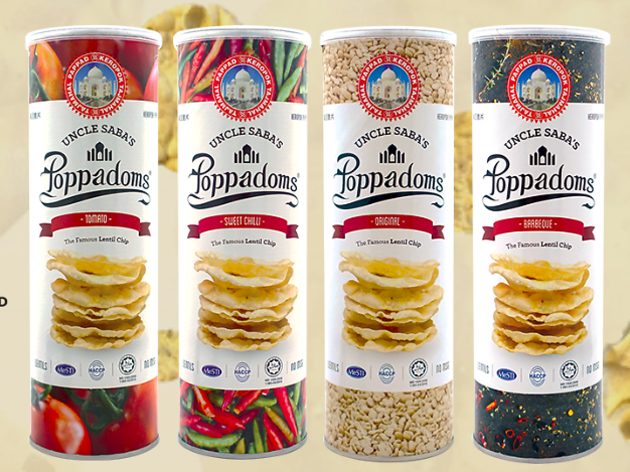 Though not originally from Singapore, Uncle Saba's Poppadoms are wildly popular here. Unlike the ones we can get from any good briyani stall here, these lentil chips are bite-sized and healthy – it's made with more protein and fibre and contains less carbs and saturated fats compared to potato chips. It is also suitable for a vegan and gluten-free diet.
TRY Uncle Saba's Poppadums available at various supermarkets, from $2.50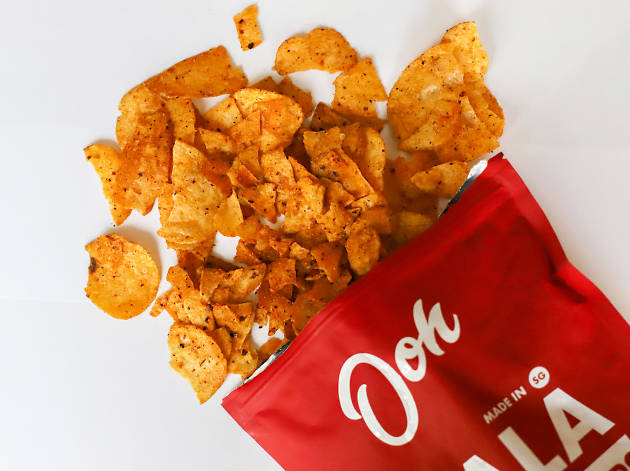 Photograph: Kashmira Kasmuri
Feel the burn with this one, in a good way. As with most Mala dishes, the numbing spices really creep on you with every bite. Take your time to go through a pack – while it's highly addictive, it can cause some pain if you wolf it down too fast!
TRY Ooh Lala Mala chips available at various pop-up shops or www.ooh.sg, from $5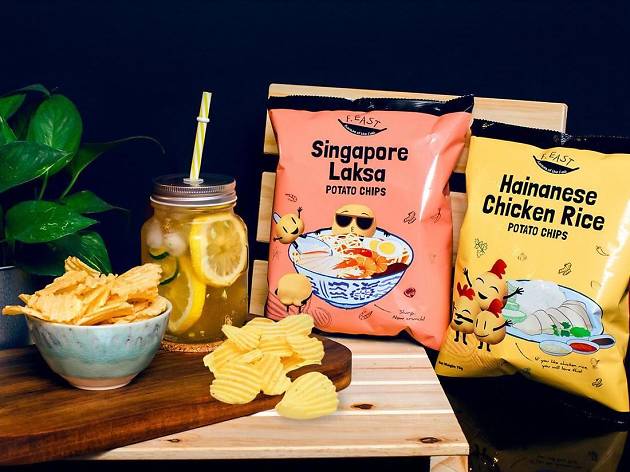 Laksa and Hainanese chicken rice chips
How else to honour two local favourite dishes than by making them potato chip flavours? While the flavours take a little getting used to, we appreciate being able to taste the important ingredients like ginger in the Hainanese chicken rice chips and coconut in the laksa chips.
TRY F.east Laksa and Hainanese chicken rice chips available at all supermarkets, $2.90
The only problem we have with this is that – why didn't we think of this sooner? Gourmet popcorn with a local twist, if you like your popcorn sweet then this one will be fun for you. Light, crunchy and hella unique, you'd want to keep this as a permanent fixture in your snack roster.
TRY The Kettle Gourmet Teh Tarik popcorn available at www.thekettlegourmet.com, $10/three packets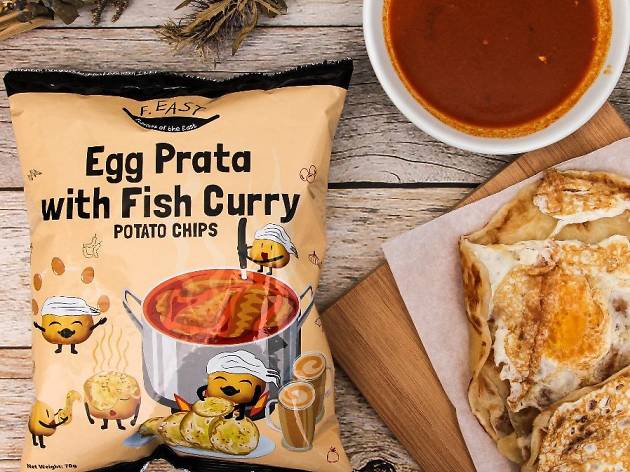 Egg prata and fish curry chips
Real prata for breakfast, the potato chips version for snack time. Once again, the folks behind the chicken rice and laksa chips have concocted another local delight immortalised in a potato chip. You'll definitely taste the tangy kick from the curry in this one.
TRY F.east Egg Prata and Fish Curry chips available at all supermarkets, $2.90
Word of warning: this one ain't cheap. At $47 per tin, you better be eating really slowly to make it last. Despite the price tag, these cookies are amazingly authentic-tasting. You get the full experience of nasi lemak, complete with the anchovies and nuts.
TRY The Cookie Museum's Nasi Lemak Cookie available at various locations and www.thecookiemuseum.com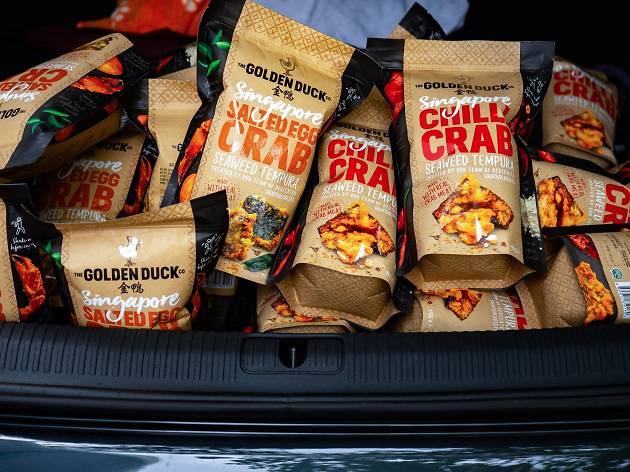 Chilli crab seaweed tempura
We're very familiar with the salted egg yolk range of this snack but kicking it up a notch a little (and on the spice as well), The Golden Duck has recently launched a chilli crab seaweed tempura snack with real crab meat. There's a lot to process in one 110g packet – the spices, the crunch, the crabmeat, crab stick, chilli flakes and dried coriander – and in a good way.
TRY The Golden Duck Chilli crab seaweed tempura available at various outlets or www.tgdsingapore.com, $7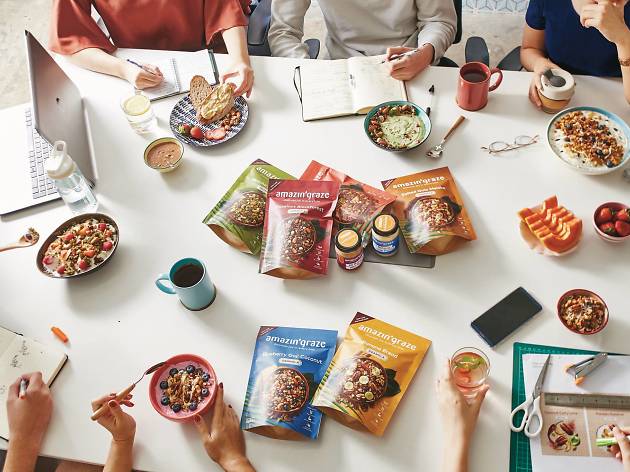 Think granola has to be all healthy and all bland tasting with a million good ingredients but no good taste? Not with this one. Healthy and delicious, this mix of rolled oats, buttery pecans and almonds are caramelised with silky-smooth golden coconut kaya.