If only carnal conversations are as easy as singing the words to Salt-n-Pepa's 1991 hit Let's Talk About Sex. But with sexual wellness experts and advocates, it's fair to say that Singapore has come a long way since any conversations about the birds and bees – and a very, very intimate version of self-love – are considered taboo.
One of those taboo topics is the art of female pleasure. Bridging the gap between sex (solo or consensually partnered) and wellness, many sextech companies are going mainstream by offering products like sex toys beyond sex shops or drugstores. It's slowly becoming a self-care essential, much like a good face cream and oils.
And this is something that Janice Lee has been doing for about three and a half years now. This International Women's Day, we spotlight Janice and the work she does. Introducing herself as "every woman's new best friend", she is also a business development consultant for sextech companies where she helps put sexual wellness products in mainstream channels like Watsons and Guardian, as well as adult toy retailers.
But it's not just about selling vibrators. Janice wants to educate others on sexual wellness, and getting "the tough sex convo going." We chat with the sexual wellness advocate on taking on a taboo job, normalising sex talk, the art of self-pleasure (including her top tips for beginners), and her confidence-boosting mantra.
RECOMMENDED: The authors of Scarlet Harlot: My Double Life on being an escort in Singapore and podcaster Nixalina Watson on sex and dating in Singapore
If you're Janice Lee, who is Janicita Ying?
I've created a platform on Instagram called Janicitaying (@janicitaying) – which is a combo of both my name in Spanish 'Janicita' and part of my Chinese name 'Ying' – to advocate for sexual wellness in Asia.
What inspired you to be in the sexual wellness industry?
I stumbled upon the consultancy role in the sexual wellness industry by chance when I met my first client VēDO at a Christmas party after I got back from a sabbatical in December 2017.
The advocacy work was something that made more urgent sense after I discovered how taboo it was to talk about sex and sexuality in our society, as well as how much people needed a safe space to ask questions and open up healthy dialogues around the topics of sex and sexuality.
How important is it to normalise conversations about sex?
Growing up with so many taboos around the topics of sex and sexuality, our sexual health knowledge is almost zilch or fraught with misinformation. Porn addiction becomes a major problem for many men who are unable to differentiate between real and reel life, and find themselves having issues in their romantic relationships. It is imperative that we must learn how to talk about 'consent and boundaries' before engaging in the actual physical act.
Porn addiction becomes a major problem for many men who are unable to differentiate between real and reel life and find themselves having issues in their romantic relationships.
What are some of the things you do to promote sexual wellness in Southeast Asia, including Singapore?
Through my consultancy work, putting adult toys in mainstream retailers like Watsons and Guardian and normalising the shopping experience of adult toys which helps improve the image of adult toys of being seen as sleazy and perverted.
What are the types of brands you choose to represent?
The brands I choose to represent are very sex-positive and they are all about helping all genders especially women to get to know their own bodies and discover self-pleasure. And I always remind people that sex toys are just a different form of play and never a replacement for the human touch.
What are some of the challenges you faced in the role?
Initially, I faced a lot of objections and even ridicule from family and some friends – one of my family members cut ties with me and we didn't speak to each other for one year. Some of the men I spoke with were very defensive and challenged me on the use of sex toys and told me adamantly that they do not need toys, but I always chose to respond cheekily with "Maybe you don't need them but want them?"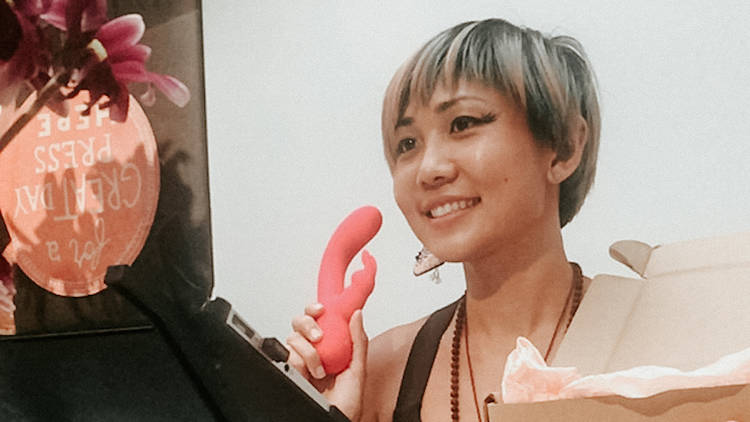 Photograph: Janice Lee
What are your thoughts on self-pleasure?
Many women still carry a lot of shame and guilt if they masturbate. But I always stress that it is important to get to know your own body first and discover what is pleasurable for you.
What are some masturbation tips that women should know?
First of all, set the mood with your fave sensual music, scent, lighting, clothing, or even food and drinks. You may wish to use some erotica audio, text or visual to help you in the pleasure journey. The key here is to feel relaxed and even let your imagination run free.
Start off with touching yourself slowly all over – you do not need to dive straight into the vulva (often we say vagina but really, it's just one part of the vulva, so we should be using the term vulva). There are different erogenous zones such as the mouth, the nape of the neck, the nipple/breast, the inner thigh, the back of the neck, and the ears too.
Remember: masturbation does not have to lead to orgasm. You can always enjoy the journey and eventually get there when you are comfortable enough to explore your genitals. Practice, practice and more practice – it is totally okay not to feel okay initially. Go easy on yourself. You may also want to try out sex toys and lube – you might be surprised how much they can smoothen your masturbation experience!
Any sex toy you'd recommend for first-timers?
Well for first-timers, I would check if they prefer something for internal (ie. G-spot orgasm) or external (ie. clitoral orgasm) stimulation. Typically, bullets are great for the former because they are sleek, tiny and quiet. As for the latter, perhaps one that uses "suction" air pressure from the original brand that started the Pleasure Air Tech Womanizer.
You also host sexual wellness workshops via Zoom. Are people more open to discuss online or offline?
I did one on Sex Toys 101 during the circuit breaker last year. During the session, half chose to turn off their cameras. I also did an Instagram session with Mothership, answering some of their followers' questions. Not surprisingly, many chose to remain anonymous.
I would say that it is easier to have a convo if people can remain anonymous although I'm currently planning a series of live Roundtable sessions at public places where people can come and ask questions and start a discussion with me. I want to create a safe space to engage with people slowly so that I can un-taboo many of these myths or misinformed beliefs relating to sex and sexuality.
I want to create a safe space to engage with people slowly so that I can untaboo many of these myths or misinformed beliefs relating to sex and sexuality.
What empowers you the most?
Knowing that I have unconditional love and support from my family even though they may not fully understand the work I am doing, which allows me to go out there and tell anyone and everyone without any shame nor fear: I sell sex toys for a living.
Share a personal moment of empowerment for you.
It was during my two week-mindfulness meditation retreat at Plum Village by Thich Nhat Hanh in France in March 2017 that I learned what my darkest fear was. This self-awareness has actually made me face up to my fear rather than running away each time this fear comes up. It has been four years and I still haven't overcome it fully but I am pretty proud to say practice has made me 'friendlier' with the fear now.
What is your message for International Women's Day?
Why not celebrate yourself every day and not just only on March 8? It's all about practicing doing little acts of joy for yourself. I say #makelovetoyourself first before together, we #makelovegreatagain – know your body, own your pleasure.
What's next for you?
The #menstrubation campaign launched by Womanizer, a brand I represent. Great study done – 90% of the women in the study found masturbation actually helps to relieve menstrual pain. I have endometriosis so I can totally relate to the findings. I will be helping to promote the campaign, especially in the month of May, which is Masturbation Month, to help more women out there who are in a similar plight as me.
On March 31, there will be a special themed Ladies Night brewing with Heart of Darkness, a gastrobar supportive of female empowerment/sexual wellness. I promise it will be super fun with free sex toys and flower crowns to be given away.
There will also be many more exciting collabs for the next few months within the small but growing sexual wellness community too (April is Couples Appreciation Month and May Masturbation Month). I've also been invited to be the host or guest speaker for some Chinese language talk shows since I'm effectively trilingual.
Follow @janicitaying on Instagram for more updates.