It's not everyday that three so-called millennials leave behind conventional career paths to start a social enterprise. But that's what Chanel Go, Germaine Lye and Mitchell Zachariah Hong did two years ago when they embarked on Our Barehands, a lifestyle label that produces apparel and accessories in partnership with artisan communities around the region.
It all started with a social project in Myanmar. The trio worked with farmers to convert poppy fields – associated with the illegal drug trade – into sustainable coffee farms. The beans went to a café set up in the city, generating employment opportunities for youths as an added benefit.
Having worked on similar projects over the years, Chanel, Germaine and Mitchell were inspired by the traditional crafts, unseen skills and untold stories they witnessed. Plus, the potential for them to bridge that with needed resources. "We saw how businesses can be used for good. It's not about making money, or asking people to consume more than they need," says Germaine.
To mark the second anniversary of Our Barehands, two of the brand's co-founders Chanel and Germaine share with us more about their journey to this moment, some incredible stories from artisan groups, and quick tips to become more discerning shoppers.
RECOMMENDED: The best shops for ethical and sustainable fashion in Singapore and Easy steps to live more sustainably in Singapore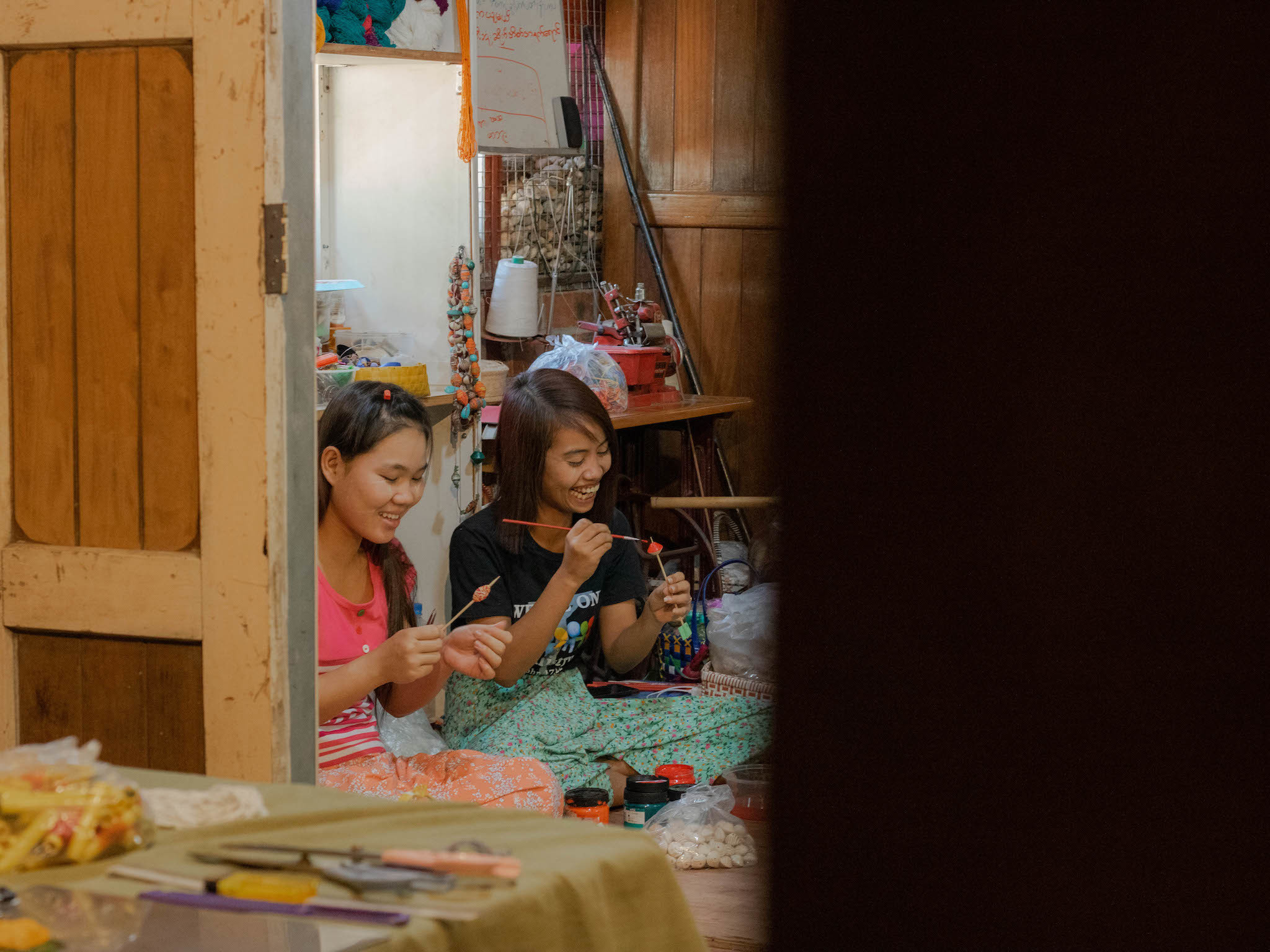 Work with dignity
Call Our Barehands 'ethical' or 'sustainable' if you will, but both Chanel and Germaine shy away from such labels, preferring to focus instead on their mission to build strong communities around the world. What that looks like to them? Stable and dignified employment for the artisan groups they work with, now numbering ten in India, Venezuela, Thailand, Indonesia and more.
When Our Barehands met the Khoyla sisters from India, they already had impeccable skills in beading. "Their beading is amazing, they've done it for generations," says Chanel. "But they work with plastic beads and it breaks easily. They want to keep the craft alive, but also find it hard to support themselves this way."
"What we did was to source for high-quality glass beads from Japan, so they could do the same craft but with different beads, and the results were great," she adds. The Kholya sisters' work now draws upwards of $30 apiece on Our Barehands, a valuable source of income that simultaneously keeps their traditional art alive.
Our Barehands also got in touch with Mr. JS, a talented tailor who saw jobs dry up when the COVID-19 pandemic hit. Having fled from Afghanistan and now settled Malaysia, finding stable and dignified work had always been a challenge for him because of his refugee status.
Describing the excitement when they saw his first batch of handmade apparel, Chanel says, "We were like, 'oh my god, this is so good! It was like finding a hidden gem."
For a skilled artisan like JS, all that was needed was a bit of design input and a platform to help him reach a wider audience. Since partnering with Our Barehands, JS has been able to bring on board five other refugee artists, fulfilling his dream of supporting both his family and the refugee community around him.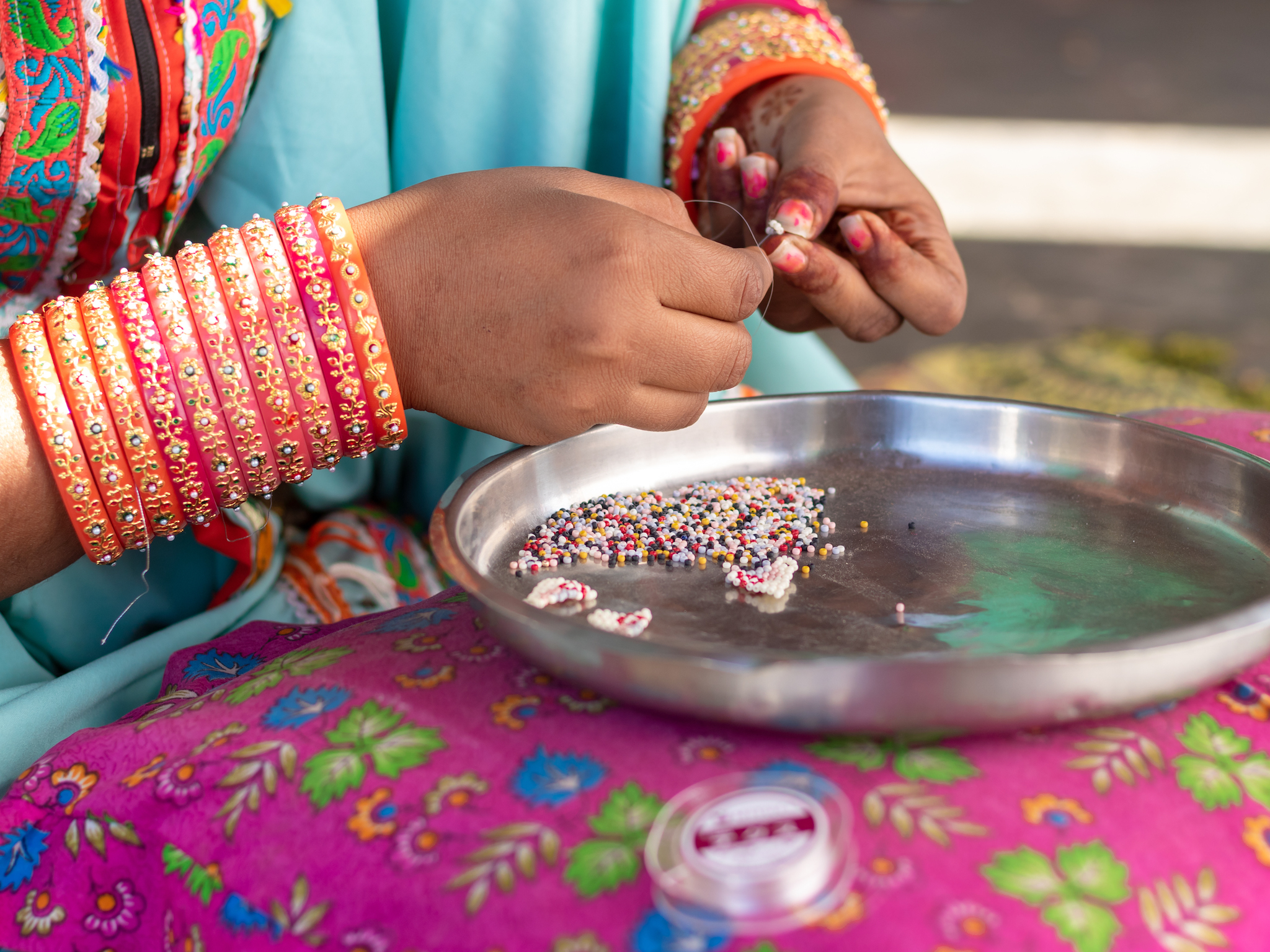 The ideas of 'dignity' and 'collaboration' come to the fore when the co-founders talk about their work.
"It's a constant conversation," says Germaine. Starting from a needs assessment, Our Barehands figures out the best way to help – whether it's upskilling, design input, resource building or market access that the artisans need – ultimately working towards the point that the communities can use their skills to support themselves.
As Germaine puts it, one of the most humbling things about working with artisan groups is learning to respect their needs and goals – and being careful not to impose personal ideals.
"Coming from different worlds, our upbringing, our background and our ideals are different," she says. "It takes time and patience to understand where the artisan group is coming from and what they are trying to achieve, and if we can actually be of value."
Stylish, affordable and made-to-order
If you've ever groaned at the exorbitant costs of sustainable apparel, you'll relate to the founders' decision to make Our Barehands as affordable as possible, while maintaining style and quality. Prices for clothes start at $50 per piece, accessories at $20 and handwoven shoes at $100.
"There's no magic number, but our prices are in the range where we think most working adults will be able to afford, who can pay that marginal amount more because they see the value behind our stuff," says Chanel. "And we're conscious about showing that value – why the prices are this way, and that our artisans are fairly compensated for the business to be sustainable too."
Environmental concerns, while not a focus, invariably factor into their business decisions. Which explains the label's switch to a made-to-order approach in 2020. "Overproduction is probably one of the biggest waste issues in the fashion industry."
And yes, that means you have to wait longer for your items – customisations and all. But as Germaine says, "My personal opinion is that all of us can wait for our clothes, it's not like we'll go naked!"
The style-conscious also won't run out of options. Our Barehands offers beautiful accessories, masterfully weaved handbags, versatile basics and patterned apparel, a testament to the skill of the artisan teams – and also the talents of participating designers.
Most recently, London-based multi-disciplinary artist Chantelle Lin teamed up with the master block printers in Gujarat, India to co-create Natura: From the Earth to the Skies. The collection includes cotton dusters covered in illustrated twigs and gingko leaves. New lines of limited edition collaborations with local artists Mary Bernadette Lee and Zoey from Nakedworks are also due for release soon.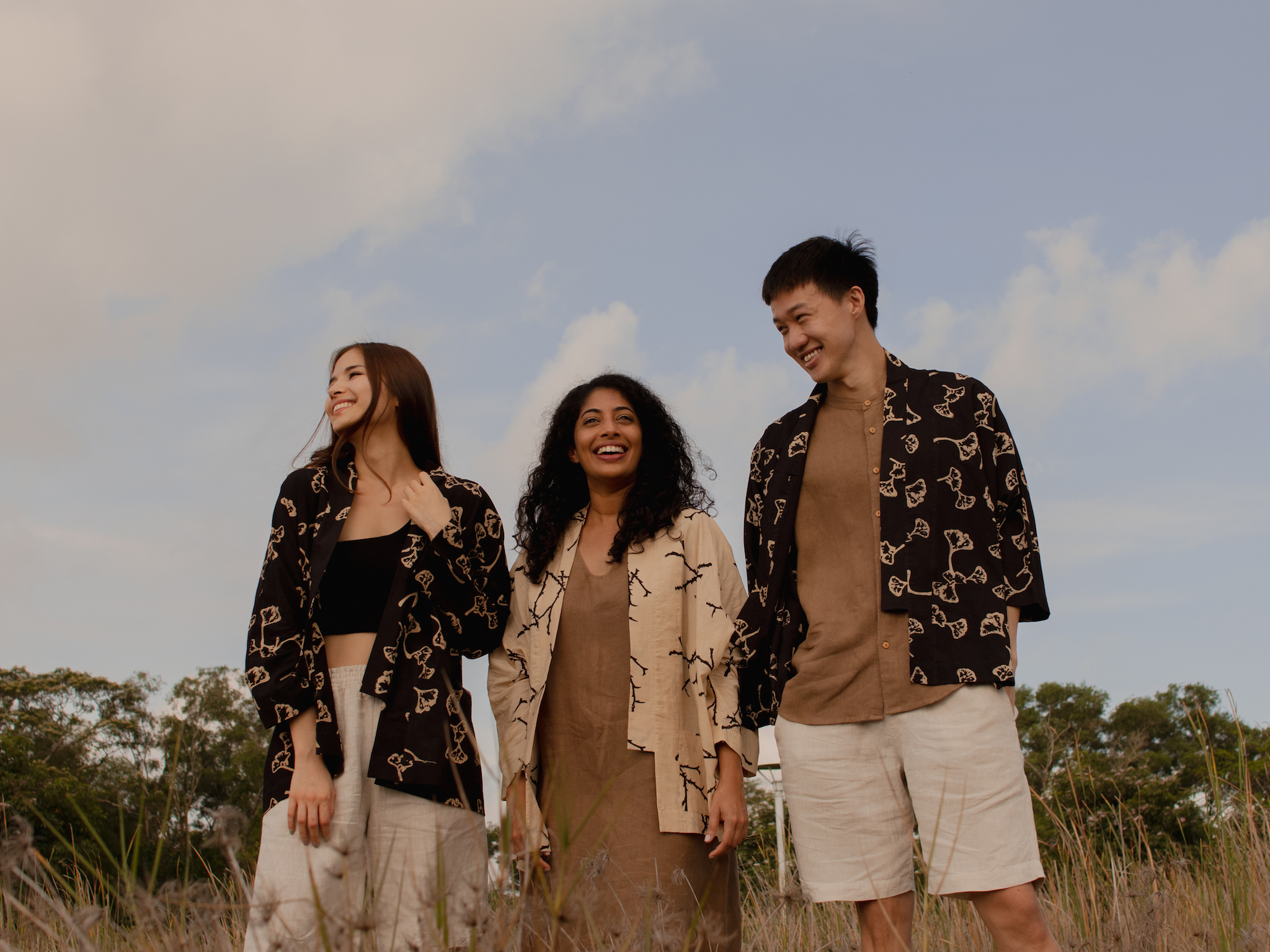 Doing good with your dollar
Most of us want to do good with the things we buy, but wading through the sea of brands claiming to be ethical or sustainable can be difficult and overwhelming. So, coming from a purposeful brand like Our Barehands, how can you be more discerning as a shopper?
The Our Barehands co-founders think that the fashion industry is in a transitory stage, and it pays to give brands a chance, even the ones that are now 'fast fashion'. "It's a relationship. You want to get to know the brand and the founders. Being critical without being constructive hinders growth in all senses," says Germaine.
"Another tip is to ask the brands. We really appreciate it when customers ask us. We realise that most of them come from a good place. And as a brand, you also have to be honest," Chanel adds. "If the company is willing to engage with you in that conversation, then I think that's a very good sign."
Check out the collection online.