Best Korean beauty products in Singapore
Move aside, matte faces – we break down the six basic steps to achieving the coveted Korean fresh-faced, bright-eyed look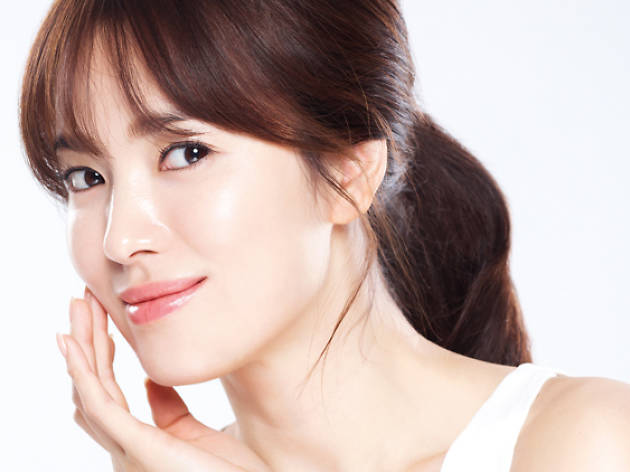 Glowing skin, big doe eyes and an overall look of freshness: the holy grail for those obsessed with Korean beauty (or K-beauty, for short). Unlike Western makeup, which favours heavy contouring and full lips, K-beauty is all about youthfulness – or at least attempting to capture that in your makeup routine. In short, you want to look flawless but never overly made-up.
Here's a crash course on meandering your way around the fickle world of K-beauty trends to put your best face forward.
1
Step 1: Prep
The first step starts way before you even pick up your makeup brush. The K-beauty industry is big on skincare because all Korean looks start with a healthy glow that radiates from within. It all boils down to cleansing, exfoliating, treating, moisturising and diligently applying sunscreen day in, day out. There are no shortcuts to clear skin here.
Get the look
To attain the K-Pop look in under 30 minutes, sheet masks are the way to go. These thin flimsy sheets with cut-outs for eyes, nose and mouth usually sandwiched between two plastic sheets are soaked in large amounts of essence – enough to pat them on your neck and shoulders – targeted at different skin needs.
A popular Korean sheet mask brand is Leaders Insolution, whose range includes AC-Dressing Skin Clinic Mask ($4, Sephora stores) for blemished skin, Amino Moisture Mask ($4.50, Sephora stores) for dull skin and pretty much a mask for every skin type imaginable.
Also slap on Laneige Water Sleeping Mask ($42) as your final skincare step before you hit the sack. The watery gel has a light aroma to help calm your senses (or so the brand claims) and the scent lingers only for a short period of time after application. After your skin soaks up all the goodness overnight, wake up to to supple skin that acts as the perfect base to your makeup application.

Leaders Insolution available at Sephora outlets, Laneige available at Laneige stores.
2
Step 2: Skin
The signature K-beauty 'no makeup' makeup look has a lot to do with skin: luminous, minus the oil slick, is the goal here. Enter the BB (blemish balm) cushion. These are simply BB creams packaged in refillable compacts, with a sponge-like applicator. Unlike traditional foundation, they provide minimal coverage, but leave the face with a dewy finish.
Get the look
If you're flushed with cash, go straight for the Korean luxury brands like
Sulwhasoo
. The brand prides itself on infusing traditional Korean medicine into its products – the
Perfecting Cushion Brightening
($80, Sulwhasoo store), for example, has magnolia blossoms and Mother of Pearl extracts to brighten the complexion. For a pocket-friendlier option, check out
The Face Shop Oil Control Water Cushion
($29.90). It claims to have waterproof and oil-control properties, presumably to combat Singapore's humid weather to ensure we're not walking oil slicks.
Sulwhasoo available at Sulwhasoo flagship and department stores. The Face Shop available at The Face Shop stores.
3
Step 3: Brows
They say eyebrows frame the eyes, and it seems the Koreans like their frames straight. Western makeup prefers arched brows, but arched brows can come across as too fierce and unapproachable (youthfulness, remember?). So set aside the tweezers and embrace the tousled, bushy brows of your prepubescent days. Let your brows grow out and trim them before taking an angled brush, brow palette and filling them in with light feathery strokes.
Get the look
Etude House Tint My Brows Gel ($15.90) is a lifesaver. This peel-off brow gel leaves a natural-looking tint on your brows that lasts up to seven days, making the 2-hour wait as the gel dries on your brows like two thick caterpillars completely worth it. If you're old school, brush on some eyebrow mascara like Etude House Color My Brows ($12.90) after filling in your brows to comb and set them for a refined look that would make Kim Tae-Hee proud.

Available at Etude House stores.
4
Step 4: Eyes
Puppy eye is the new cat eye. Instead of a flick upwards which elongates the eye for a sultry, come-hither effect, the eyeliner extends downwards following the eye's natural slope to give you sweeter, rounder and bigger peepers. Plus, it's way easier to master than its feline cousin.
Get the look
One of the bestselling items from K-beauty cult brand Moonshot is the Line Performer Liquid ($32). It comes with an elastic brush that is smudge-proof and delivers precise lines. The Line Performer Pencil ($26), a gel pencil applicator, is more forgiving if you're trying to draw as close as possible to your eyes by filling the upper waterline, a method known as tightlining.
Bold or dark eyeshadows are a big no-no for daytime, of course. Go au naturel by using neutral colours like the shimmery ones from 3 Concept Eyes (3CE) Long Wear Eye Crayon ($21) range, which are good for both day and night looks. Top it off with a swipe of your favourite mascara.

Available at Sephora stores.
5
Step 5: Cheeks
K-beauty style contouring is more about lightly patting some matte brown powder to key areas such as sides of your nose, hairline, underneath the cheekbones and under the chin to create the illusion of a small nose and a dainty 'V-shaped' jaw.
Get the look
A strategically applied blush can do the trick, too. Instead of dumping a bulk of the blush directly on the apples of your cheek, apply it higher on your cheekbones for an instant lifted 'V' effect. With a light hand, pat on a coral, peach or pink blusher – such as the ones from the Innisfree Mineral Blusher ($12) range – with a fluffy blush using an outward motion. Cheek tints like 3CE Creamy Cheek Stick ($34) are also great for achieving that natural flush.

Innisfree available at Innisfree stores. 3CE available at Sephora outlets.
6
Step 6: Lips
A big trend in K-beauty is the gradient lips where the colour is the strongest in the innermost part of your lips, then gradually fades out as if you've just sucked on a watermelon popsicle. The logic behind the trend is simple: when you de-emphasise the mouth, the eyes appear bigger. Pink, peach and berry colours are the safest choices.
Get the look
Make those lips smackingly good with Laneige Two Tone Lip Bar ($34), which Song Hye Kyo used in Descendants of the Sun (the shades are #3 Pink Salmon and #11 Juicy Pop). The Lip Bar has two complementing colours in a diagonal oblique cut to help achieve a natural gradation effect in one swipe.

Those with naturally dark kissers can still get in on the look. Dab on a tiny bit of moisturising concealer like Moonshot Dark Spot Concealer ($35) to lighten them, and you'll be rocking gradient lips in no time.

Laneige available at Laneige stores, Moonshot available at Sephora stores.