Christmas gift guide: dine-in luxuries
Cooping yourself up this holiday season? You'll want to check out new gourmet delivery service foodpanda finest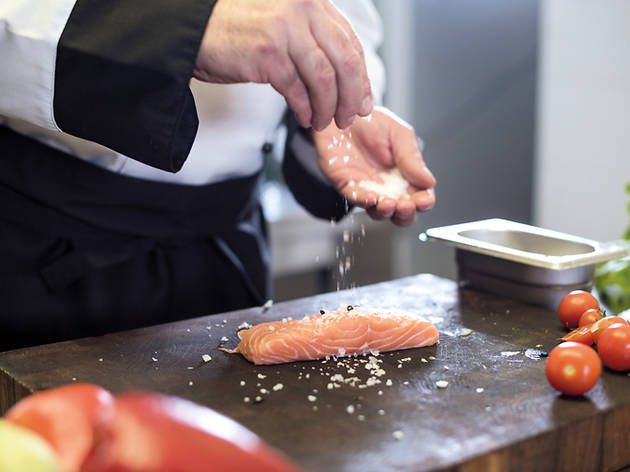 It's the season of unending feasts and fully booked restaurants. So maybe you'd want to skip the queues and enjoy a spot of fine dining right in the comfort of home – preferably snuggled up with someone special.
Have premium cuisine delivered with a few clicks of the mouse (or swipes of your phone) with foodpanda finest, an upmarket version of the brand's delivery service. And it's bound to appeal to even the most in-the-know foodie with its extended menu from foodpanda's already mind-boggling curation of over a hundred restaurants.
What to order
Morning: Breakfast in Bed
Make that breakfast in bed fantasy a reality and wake up to smells that'll remind you of your favourite bakery with homemade pastries from Antoinette. Fill that empty stomach with piping hot country-style mushroom soup ($13), scrambled egg gratin ($16.50), and Antoinette's Breakfast ($24) – eggs, grilled bacon, sausage and a basket of viennoiseries (baked yeast-leavened dough). Here's to enjoying a hearty breakfast with your usual cuppa without even having to fix up your bed head.
Afternoon: A Party Luncheon
Invited some friends over for a chill gathering? Call in some pastas and pizzas for the gang from Italian bistro Chapter 55. Be everyone's BFF when you go for crowd-pleasing finger food such as Buffalo wings ($16) and beef bolognese cheese fries ($15). Finally, satisfy even the heartiest of appetites by getting in lobster ravioli ($26) to share, and end the marathon of comfort food with homemade Rocher gelato ($25).
Night: Dinner dates
Escape the dining crowd and arrange a romantic meal at home instead. If your date is hungry for some Japanese cuisine, try Imakatsu, whose outlet in the Land of the Rising Sun was featured in the Michelin Guide Tokyo. It's known for its crispy and juicy tonkatsu from Kagoshima. Sink your teeth in the pork loin cutlet curry with rice ($25.80) and premium oyakodon ($18.80), a rice bowl topped with chicken and egg. Or, if you're in the mood for love, amp up the romance by sharing Italian classics from MARCO MARCO with its Palermo Pizza ($20.90) – a classic combination of ham, mushroom, and truffle oil – and saucy truffle mushroom ragout pasta ($16.90).
Pair your mains with spirits and quality vino from Wine Connection – try a bottle of Domaine Gille Pinot Noir ($45) if you're having Imakatsu's tonkatsu.
Promotional
Read our guide to Christmas 2016
Shopping, Department stores