START Pasir Ris Park
END East Coast Park
DISTANCE Approx. 11.5km
DURATION 90 mins with no stops
1) Pasir Ris Park
Begin your journey at Pasir Ris Park and make sure to explore its mangrove boardwalk along the way. As you enter the swamp, look out for inhabitants like mud crabs, mudskippers and water monitors lurking in the area. Climb up the three-storey bird-watching tower and you might be able to spot the park's feathered friends such as the white-collared kingfisher and Little Egrets perched among the greenery.

Photo: Chinnian
2) Tampines Eco Green
Continue along the Pasir Ris park connector towards Tampines and you'll come across sprawling greenery formed by open grasslands, freshwater wetlands and a secondary rainforest – you'd never guess they wrap around one of the most populous neighbourhoods in Singapore. Wade through the greens as you take on the hiking trail within the sanctuary to uncover its rich biodiversity, featuring many species of birds, butterflies, dragonflies and spiders. No cycling is allowed in the park, though, but you can either push your bike along the trail or leave them at the designated parking spots nearby.
3) Sun Plaza Park
Hop back onto your two-wheelers and head south. At Sun Plaza Park, go on a sensory journey at the Sense Discovery Garden, a fun zone that offers ten interactive stations such as 'talking' tubes and ladder walls – perfect for the little ones.
Sun Plaza Park's also one of the few locations in the neighbourhood where you'll be able to find the tempines tree, the plant from which the town gets its name. And here's a fun tip: cycle through the park during the flowering season (that's usually when a series of downpours is followed by a dry spell) and you'll get to zoom past a field of pink and white, with the park's trumpet trees in full bloom. Forget Japan – we've got our own version of the sakura season right here.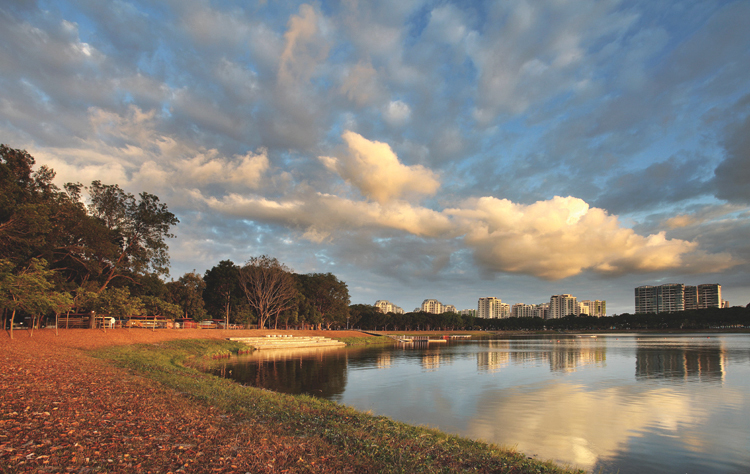 Photo: Allan Jarina
4) Bedok Reservoir Park
Keep pedalling southwards and stay on the Tampines park connector to get to Bedok Reservoir. During the weekends, you'll find plenty of adrenaline junkies gathered here as the park hosts a myriad of water sports activities, from dragon boat to kayaking to wakeboarding. There's also a fishing deck for anglers to try their luck.
If you're feeling peckish after all that legwork, pop by Refuel café. Here, sip on ice lattes or grab a quick bite – it doles out standard-issue café fare like pastas, salads and mains such as barbecue ribs and baked salmon.

Finally, you'll arrive at East Coast Park. Wipe the sweat off your brow and head towards the bougainvillea garden, where you can wander through fields of red, pink and yellow for an Instagram-worthy moment, or access the garden's viewing tower to soak in the breathtaking sight of the beach from above. After, reward yourself with a refreshing coconut from East Coast Lagoon Food Village as you enjoy the sea breeze along the Bedok jetty, which offers a glorious vista of the sunset.