START Tanjong Rhu Bridge
END Sri Manmatha Karuneshvarar Temple
DISTANCE Approx. 10.7km
DURATION 100 mins with no stops
1) Tanjong Rhu Bridge
Begin your journey on this footbridge that spans across the Geylang river and is suspended by thick hangar cables and anchored to a 19m-high 'A' frame at both ends. At night, the pathway is beautifully lit, casting an orange glow upon the water. At the end of it, you'll reach the massive Sports Hub – but don't be tempted to enter Kallang Wave Mall to cool down.
2) Kallang Riverside Park
Just a stone's throw away from Kallang Wave Mall, the 7-hectare park is an oasis that overlooks a winding body of water that empties into Marina Bay. Observe dragon boaters and canoeists display their paddling skills or cheer on competitors during the occasional water sports tournament held here. Further down, watch fishermen reel in their catch from the Marina Reservoir. It's a favourite spot for local residents to walk their dogs, and, if you're lucky, you'll be able to spot Little Egrets and grey herons by the water's edge.
3) Kallang Basin
You'll definitely want to whip out your camera for some panoramic shots upon entering the eastern bank of the Kallang Basin. A hidden gem that offers an amazing view, this vantage point allows you to capture Marina Bay Sands, Art Science Museum and the Singapore Flyer, with our favourite CBD skyscrapers lined up tall behind them – all in one frame. Pro tip: come National Day, the Kallang Basin offers (relatively) crowd-free spots to take in the fireworks.
4) Old Kallang Airport
Here's another gem you'll uncover in your tracks. Hidden between the National Stadium and a bus depot lies what remains of the former Kallang Airport: the terminal building, East and West Blocks, hangar, lion-crested gate posts, and original lamp posts. Built by the British colonial government and serving the city-state from 1937 to 1955, the structure was hailed as the finest airport in the British Empire, placing Singapore as a gateway between England and Australia. Immerse in its historic beauty and snap some pictures as you cycle past one of Singapore's most iconic monuments.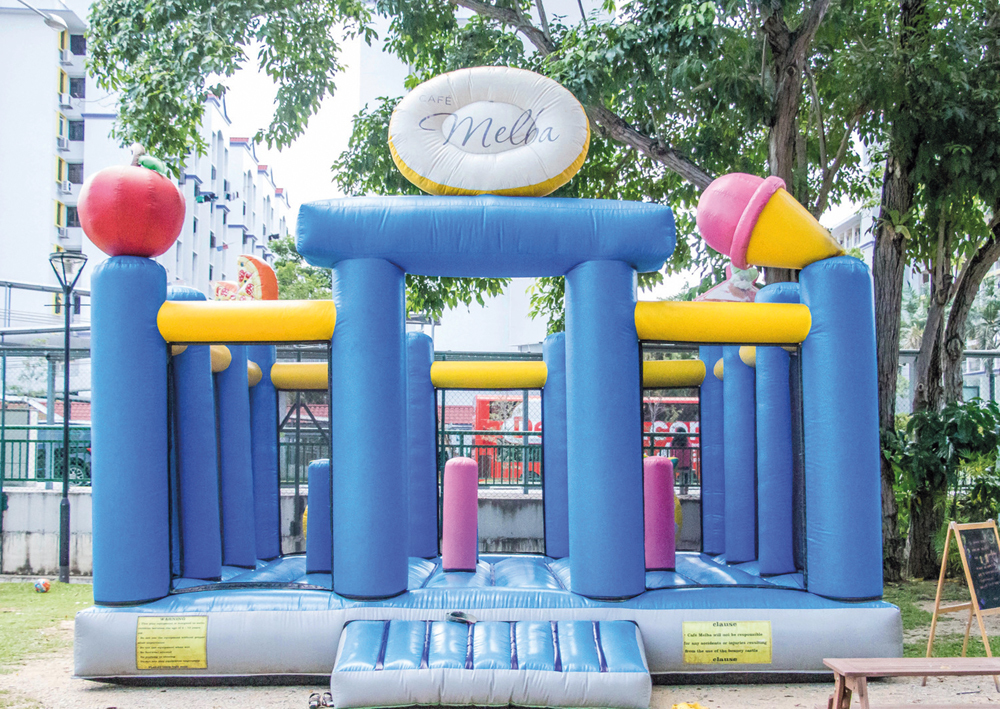 Fill your tummy for the journey ahead at this quaint hideout in Goodman Arts Centre, a tranquil escape away from the bustling city. Bringing Asian-Australian fusion food and beverages to this side of the island, Café Melba is a family-friendly hot spot that offers solid coffee, wood-fired thin crust pizza and homemade café favourites. And did we mention there's a big bouncy playground for the kids, too?
6) Sri Manmatha Karuneshvarar Temple
Head out from Kallang Riverside Park towards Kampong Bugis and you'll pass by this beauty along Kallang Road. Devoted to the Hindu deity Shiva, Sri Manmatha Karuneshvarar Temple has been around since 1888, and was set up to provide a place of worship for the many Tamil workers at the nearby Municipal Gasworks during that period. Hop off your bike and step through the temple gates to admire the Dravindian sculptures, lobed archways and inner columns of the main hall.