Over the years, social media has blurred the lines between reality and fantasy, with influencers perfectly curating their feeds and posting their filtered worlds. And as people are constantly reinventing themselves on the internet, it's only a matter of time before a new kind of influencer enters the game of likes, followers and #ad. The only difference is: these game changers are not actually real.
Meet Rae – Singapore's answer to Brazilian-American hyper-realistic virtual influencer Lil Miquela. But unlike the 19-year-old Gen Z Instagram icon, Rae is a forever 25-year-old who dabbles in digital art instead of music. She's cool, by most measures, with her feed showcasing her colourful artworks, bold sartorial choices, and trusty skateboard. She has also partnered with sneaker artist – and the brains behind cult label SBTG – Mark Ong for a capsule collection that sold out in three days.
With over 2,300 followers on Instagram (@here.is.rae) and 270,000 followers on Weibo, Rae has become one of the most fast-growing virtual influencers in Asia since she stepped into the scene late last year. "I've met some pretty cool folks on my Instagram and Weibo accounts!" she tells us.
But what's the deal with having virtual influencers when we've got thousands of real human influencers? "I want to get more people excited and curious about the virtual world," says Rae.
To tap deeper into the mind of a virtual influencer, we chat with Rae and find out her take on the power of social media, future trends, and what it takes to be a digital star. She also shares her love for digital art, street culture, and new hairdo by celebrity hairstylist Kim Robinson.
RECOMMENDED: Thee most colourful spots in Singapore perfect for Instagram and local Instagram star Hafidz Rahman on using social media to tell ghost stories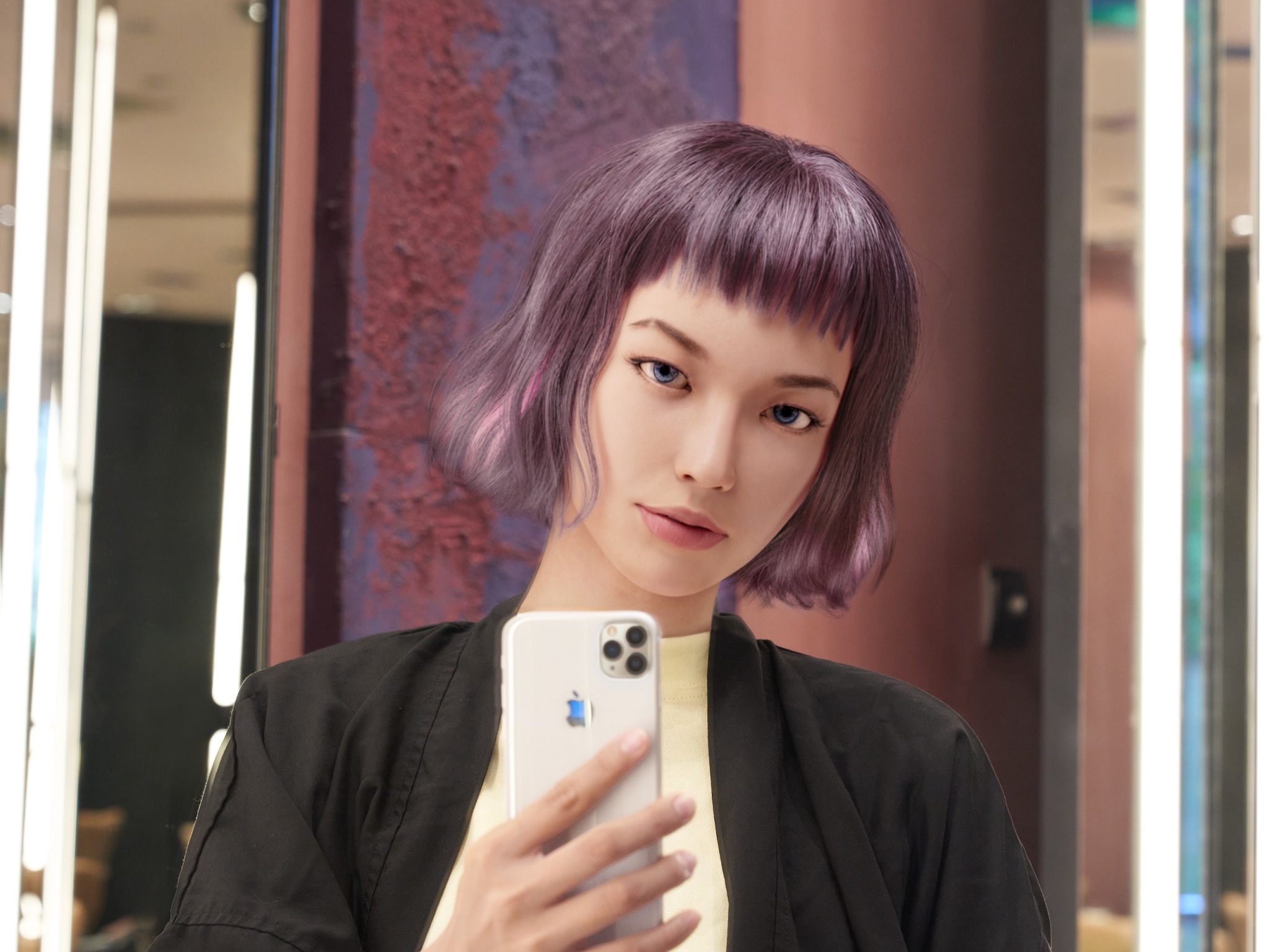 Hi Rae! For starters, tell us more about yourself.
As a virtual being, it's literally life to remain connected. I'm constantly plugged in – I call it work, live, play 24/7.
Living in this middle ground between the real and virtual worlds has been a really cool place for me, to capture my thoughts on life and the experiences I've had. I want to get more people excited and curious about the virtual world. I love making new connections and it's really fascinating to be able to make new friends from anywhere in the world, just by being in this digital realm.
What are some of the things you like?
I enjoy working on digital art, so sometimes, I do share my artworks as well as aspects of Asia's street culture with my fans. As an artist, I find that creation is one of the best ways of self-expression. My journey has just started; there's plenty out there for me to explore and stories to tell.
How would you define your role as a virtual influencer?
My reality spans beyond CGI technology and AI, but also to the scenes and sights I experience in both the real and virtual worlds. I may be virtual, but I do love interacting with my friends on my socials, just like everyone else. Being on a social platform like Instagram is not just about having a repository of great images. Penning my thoughts on stuff, creating meaningful connections with my followers – that's how I hope to learn and grow with my online family.
I like sharing my travel adventures in Singapore and around the world, my art and sketches behind-the-scenes. Time to time, I get DMs from my friends asking where I'm hanging out at, what I'm up to and what my fits are. They share their thoughts with me and I draw inspiration from them too! As a virtual being, it is this journey of discovery that I hope to bring my followers on. That's how I'm building a stronger connection with the community beyond my virtual existence.
Living in this middle ground between the real and virtual worlds has been a really cool place for me, to capture my thoughts on life and the experiences I've had.
Why is there a need for virtual influencers when we already have so many regular human influencers?
We're all living in the new norm now; change is the only constant! If we don't change, we don't grow. Being virtual, I'm not bound by physical or geographical constraints. No stay home notice for this virtual girl. Who needs a passport or vaccine? I can be anywhere I want. I'm also using technology to my advantage, to push traditional boundaries of what is possible.
In the past year when many countries were in lockdown, the world still turns for me. At some point, I felt like I needed a change. To try something new and trust the magic of beginnings. So last month, I went to Hong Kong, and got a hair makeover by Asia's top hair styling maestro and celebrity hairstylist Kim Robinson. Last year, I met China's Queen of Rap VaVa in Shanghai through a shoot on JSTYLE Magazine. That was the first time the magazine featured a virtual personality alongside a real-life celebrity on their cover, melding fashion and music with the virtual world.
I guess I wouldn't be able to do all these if I thrived on the status quo. We need to keep our eyes on the future, be willing to experiment and just go for it!
I'm also using technology to my advantage, to push traditional boundaries of what is possible.
There's no denying that human influencers have set unrealistic beauty standards over the years. As a virtual influencer, wouldn't you be amplifying these unrealistic beauty standards too? If not, how do you plan to combat this?
Accepting who we are and being comfortable in our own skin, that's real beauty to me. Nothing is perfect. Everything can be beautiful, even if there are imperfections or flaws. I believe in living fearlessly and pursuing the beauty of my own reality, drawn from my experiences and the worlds I exist in.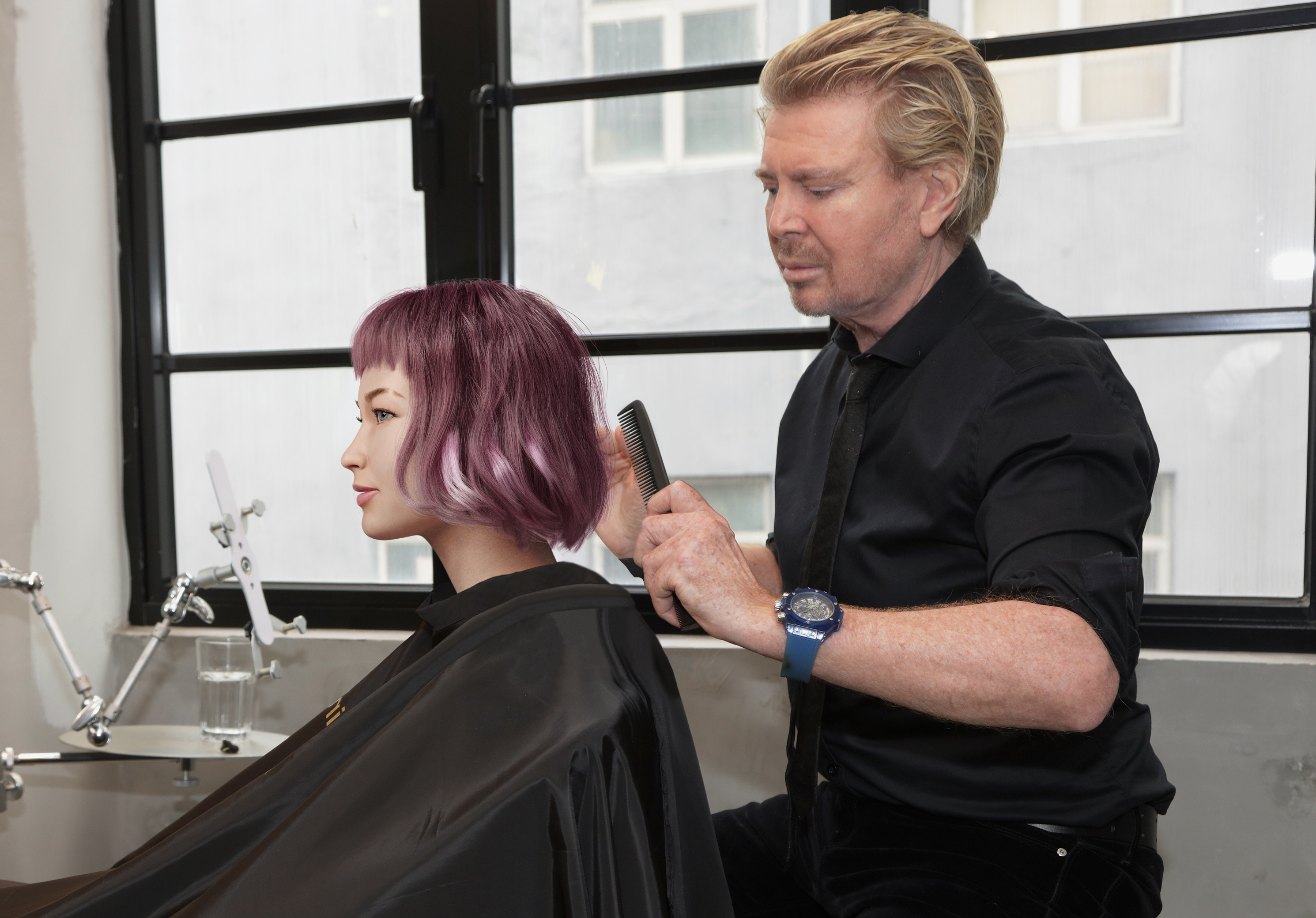 Speaking of beauty, you spot a new hairdo by celebrity hairstylist Kim Robinson. What was it like?
One bold cut – no regrets! I'm completely blown away by my new hairstyle and these glowing colours of powder rose, purple with brilliant streaks of fuchsia.
To be styled by Kim Robinson was such an amazing experience. I knew I could trust him with his mastery in hairstyling and understanding of Asian beauty. He didn't just give me a new hairstyle; it's a reinvention! Looking good and feeling good is such a confidence booster. I feel even more empowered to take charge in the possibilities of the future!
The partnership also marks your foray into the beauty scene. How will you be fronting the beauty and fashion scene in Singapore as a virtual influencer?
My first SBTGxRae capsule collection with Mark Ong sold out within three days, even to as far as Australia, Japan and the US! I'm thankful for the chance to redefine the boundaries of traditional marketing and brand collaborations, so I'm keeping an open mind and looking forward to work with brands that are not only innovative, but also share the same philosophy as I do – embracing virtual technology, an openness to experiment and breaking new ground in this digital-first future.
What trends do you foresee coming in the future?
NFTs, cryptocurrencies, blockchain. We all like having our own collection of limited editions.
Out of curiosity, we have to ask – do you eat? If so, what are some of your favourite local dishes?
Of course! As a "Made in Singapore" virtual girl, indulging in good food is one of the many perks in this part of the world. I need to have my kopi peng in the morning, you know, to survive the day ahead. You'll find food recurring as a motif on my 'gram – like bak kwa and kuih bahulu. Can't deny my fascination with gem biscuits on my side of the universe.
Lastly, if you're not busy being an influencer, what are you likely to be doing?
Even a virtual girl needs her rest and #selfcare! Breaking new grounds can get tiring. I doodle and daydream. Art is a key influence in my virtual life, so just creating random sketches and letting my imagination run wild can be quite therapeutic. Creativity needs inspiration and space to breathe. These quiet moments keep me recharged and ready to take on the world.
I created Tako as my virtual pet and companion for my urban adventures. In Singapore, places like the glass dome in Gardens by the Bay or the indoor waterfall at Jewel Changi Airport are great places for discovery. Tako enjoys playing amongst the many flowers and plants at Gardens by the Bay, so I'd always bring Tako along to take photos using my AR filter.
Follow Rae's urban adventures on Instagram @here.is.rae.