Heads up! We're working hard to be accurate – but these are unusual times, so please always check before heading out.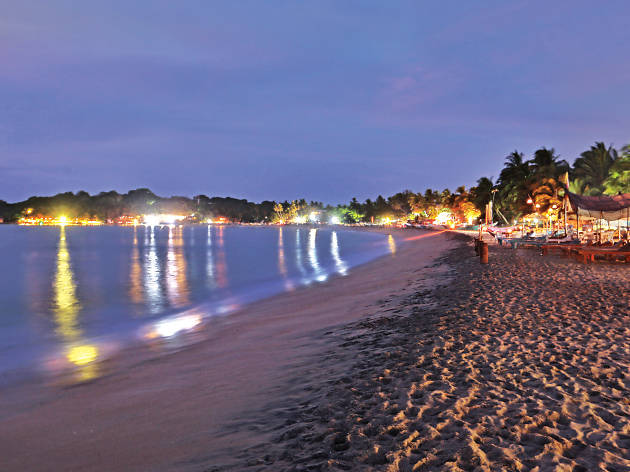 Fill your vacation with laughter and 'vitamin sea'
Explore the aesthetic shorelines and tropical waters of Sri Lanka's intricate coastal landscapes.
A visit to Sri Lanka is never complete without experiencing some of the most beautiful beaches the island has to offer. Whether it is sunbathing, swimming, surfing; relaxing or having fun; there will always be a shoreline that meets your requirements.
Beaches in Colombo
With activities spanning from kite flying, to fishing, to football and beach volley ball to exercising on the Green lawn facing the blue, to jogging alongside the ocean, from chomping down on hawker recipes that line the walkway just over the beach, to an easy check-in at the many star as well as budget hotels conveniently rimming the shore, and most of all before you do, playing a game of tag with the frothy waves until you finally give up…. Galle Face Green, bustles with life, long into the evening. Located close to the south of Fort town, Galle Face Green is a renowned landmark in Colombo. The opportunity to make the most of the sea, sun, stars, sand and stay is right here by this lively coastal marvel.
The beach at Mount Lavinia is one of the most popular spots in Colombo, whether it's for taking a cool dip in the bright blue ocean, or just to soak up some sun. The beautiful stretch of fine sandy shore paired with foaming waves at Mount Lavinia attracts families and young cliques alike. You will find on the beach, children running around, chasing each other and playing with the sand while their parents stand close by with watchful eyes and take in the sea breeze and picturesque scenery. Some are seen taking their canine friends out for a walk, and couples can be spied taking a stroll, hand in hand along the sea's edge. The beach is also a favourite choice for school field trips, picnics and photo shoots.
Beaches in Negombo and West
Two words; Whale. Watching. But there's always the ever so charming beach to make the most of your trip to Kalpitiya. Be there as early as seven in the morning and head off on a boat from coast to spot the spectacular creatures of the sea, dolphins and whales. Expect to see giant flips of tails or even flashes of playful curiosities from the friendlies. February to March is the best recorded times for sperm whale sightings, and acrobatic pods of spinner dolphins. The rare humpback dolphin is also been known to show up in the waters of Kalpitiya. November to April is recommended for calm seas and the sun kissed beach and a 160 kilometre journey from Colombo is well worth it for not only is the ocean safari breathtaking, unless your prone to a bit of sea sickness, but fun on the beach is equally pleasurable.
An Ideal beach town for sun and sea lovers and about an hour's journey from Colombo, Negombo is also a short trip from the airport in Katunayake. With fabulous sunsets, strolls along the shore, little shops selling garments and souvenirs, live bands playing, restaurants peppering almost the entirety of the seaside strip, water sports at the beach park; fishing, kite surfing, snorkeling, scuba, are a part of the everyday sights, sounds and things to do, when in Negombo. This beach town is easily accessible from E03 expressway while leaving from Colombo to the airport or after arrival in Sri Lanka. A short stay on your way, if time permits, would be something to experience.
Beaches in Galle and South