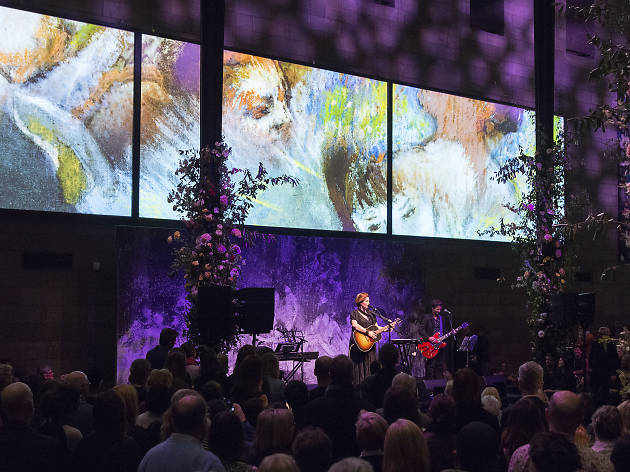 Excuse for a holiday: Friday Nights at the NGV
Thinking of flying south for the winter? Make sure you get to Melbourne on a Friday for great tunes at the NGV during the Winter Masterpieces exhibition
Ah, Melbourne. Our sister in the south. Always keeping the flame of fun alive, even in the depths of bitter winter.
While Sydneysiders sulk under their blankets, the NGV has put on a gorgeous exhibition (Degas: A New Vision) and on Friday nights, you can take it in nice and late. Not only is there art, the landmark gallery's Great Hall will be bathed in rainbow light every Friday night, while some of the best local and international acts get their groove on live. Here's what's coming up. Booking flights in three, two, one...
Clare Bowditch, Fri Jun 24
In between inspiring people to run businesses with heart (Bowditch is the founder of Big Hearted Business), being host on ABC 774's Afternoons show, and getting set to release her eighth album this year, Bowditch brings her ginger glory and crystal-clear folk-pop to the party.
The Goon Sax, Fri Jul 1
Don't moderate your expectations of this teenage Brisvegas indie-trio just because they're named after cheap wine in a bag. Their sound harkens back to the Aus and NZ indie scene in the '90s – and frontman Louis Forster (his dad's Robert Forster from the Go-Betweens) tells tales of the everyday with a Courtney Barnett-esque, almost spoken delivery. Some of their tunes tug the heart strings, without being twee.
The Grates, Fri Jul 8
This is slightly fuzzy, sweet indie rock from another Brisbane-based trio. Drawing on influences from Weezer and the Ramones to the Pixies and Yeah Yeah Yeahs, lead singer Patience Hodgson is Australia's answer to Karen O.
Husky, Fri Jul 15
Indie folk four-piece Husky unashamedly draws on hallowed influences including Leonard Cohen, Crosby, Stills and Nash and Bob Dylan, but they do it respectfully and put their own spin on things.
The Apartments, Fri Jul 22
This cult band was founded in Brissie in the '70s, but found a faithful following in France where they even beat out Father John Misty and Sufjan Stevens for #1 album of the year in 2015 with No Song, No Spell, No Madrigal. Their Aussie rep grew wheels though, selling out Spiegeltent shows and playing as part of the musical lineup for the Andy Warhol/Ai WeiWei exhibition earlier this year.
Halfway, Jul 29
Their name might be a reference to the 50 per cent mark, but these cats go the whole hog with country tinged goodness, again hailing from Brissie.
Jen Cloher, Fri Aug 5
Whether she's part of the Cloher, Dyson, Stringer femme rock dynamo or flying solo (as for these performances), singer-songwriter Jen Cloher is always mesmerising. She's fierce when in full-rock throttle (there was no one better suited during the Patti Smith Tribute as part of last year's Melbourne Festival), but she knows how to take it down a notch too. Her last album In Blood Memory (2013) is still on high rotation.

The Painted Ladies, Fri Aug 12
In 1973 Vic Simms recorded the first Aboriginal protest album, The Loner, while he was in the clink. Sadly only a handful of people ever got to hear it or hear about it (it's been long out of print and copies are as rare as hen's teeth), that was until muso Luke Peacock got hold of it and decided to re-record the album with a bunch of mates including everyone from Danni Widdicombe, Ed Keupper and Ian Haug to Vic Simms himself. Simms is a national rock treasure and this project helps to ensure that more music lovers know about his important legacy.
Jess Ribeiro, Fri Aug 19
We're very fond of J Ribs' (she calls herself that) brand of kinda eerie indie-folk rock. Her 2015 album Kill It Yourself (so named after she was inspired to kill a chicken and prep it for her family to eat in an effort to understand the passage of food from farm to plate – she couldn't do it) puts us in mind of an alternate soundtrack for Twin Peaks.
Kid Congo & the Pink Monkey Birds, Fri Aug 26
This is the highlight of the program, for ours. As a founding member of the Gun Club, a one-time bassist for the Cramps and one of Nick Cave's Bad Seeds, Kid Congo Powers is one of punk's grand daddies. Performing these days as frontman for the Pink Monkey Birds, he takes garage and punk rock to new, fun and even wilder places.
Mick Harvey – Intoxicated Man, Fri Sep 2
Another former member of the Bad Seeds, Mick Harvey is bringing an appropriately Francophile approach to his outing at the NGV. Harvey will perform Intoxicated Man, his respectful and still saucy remake of Serge Gainsbourg's tunes, albeit with all songs sung en anglais.
Pierce Brothers, Fri Sep 9
Twins Pat and Jack Pierce are the real deal: they gave up their corporate jobs to busk and play full-time, a risky manoeuvre which paid off – the lads have now sold well in excess of 50,000 records independently. Expect rollicking indie-pop and a super energetic live-performance. They're so likeable you can't even begrudge the fact one of them has a man bun.
Augie March, Fri Sep 16
A bunch of lads from Shep acquired a cult-indie following in the '00s with clever, wordy indie that otherwise defied being pigeonholed. The news that they were disbanding in 2009 was met with much sorrow, but thankfully, they couldn't keep themselves away – reforming in 2014 and releasing a new album, Havens Dumb. As with all prior releases, it's smart indie.