Janet Laurence: After Nature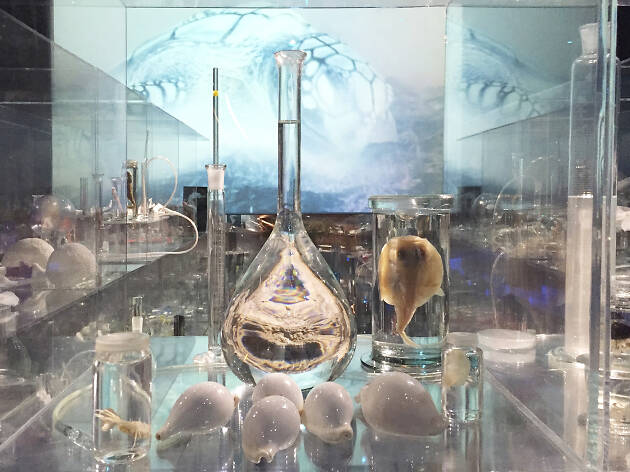 Time Out says
Explore the natural world at the MCA in this survey of an influential Sydney artist
Sydney-based artist Janet Laurence has made a career as an "environmental artist", creating installations that respond to and utilise the natural world as key artistic elements – and she's gained a significant following thanks to her unique style. This major survey at the Museum of Contemporary Art features installations, sculpture, photography and video, with key works from across the course of her 30-year career.
When you walk into the MCA's first floor gallery, the first thing you'll notice is a giant tree that's been dragged into the museum, lying right in the middle of the floor. It's a tree that's died due to drought, but Laurence has bandaged up its joints in an act of healing. Immediately opposite is a display of live plants in handblown glass vessels – all endangered species from the rainforest, being kept on a kind of life support. This meeting of the natural world with scientific and medicinal imagery is key to Laurence's work. There's also 'Deep breathing: resuscitation for the reef', a work made for the Artists 4 Climate exhibition in Paris 2015, featuring specimens from the Great Barrier Reef on loan from natural history museums.
There's also a newly commissioned work at the centre of the exhibition called 'Theatre of Trees', all about the healing powers of plants. It's an otherworldly installation that's taken over the entire first floor northern gallery, with five-metre curtains printed with close-up photography of trees, projections, lighting and three separate chambers where you can explore Laurence's world.
Details
Users say