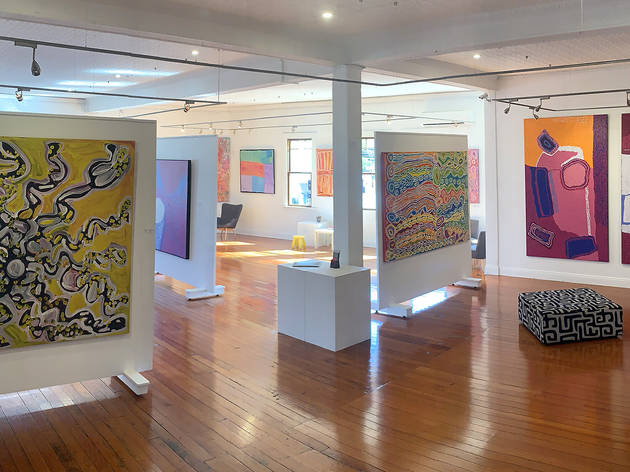 Time Out says
This broad-ranging commercial gallery specialises in Aboriginal art – for serious collectors and total newbies alike
Whether you've got $200 or several hundred thousand dollars to drop on an artwork, you'll find something to your taste at this large commercial gallery – and staff ready to help you navigate your way through the world of Aboriginal art.
But even if you're not in the market to buy, the Kate Owen Gallery is a great gallery to visit, with around 100 paintings on its many walls at any one time. The main gallery space has a rotating series of exhibitions – there's a new one on about every six weeks – and sources art from all around the country, specialising in central desert artists. They've got work by big name artists and relative unknowns, crossing a wide variety of styles; some of their artists are pretty traditional in their practice, but others are pushing artistic boundaries a little bit further.
Those 100 paintings on display are just the tip of the iceberg – there are more than 2,000 paintings in stock at any one time, and you can rifle through them yourself, with works ranging from 30cm by 30cm to 5m by 5m.
The gallery is directed by Geoff Henderson, who has owned the gallery since 2013.
Details