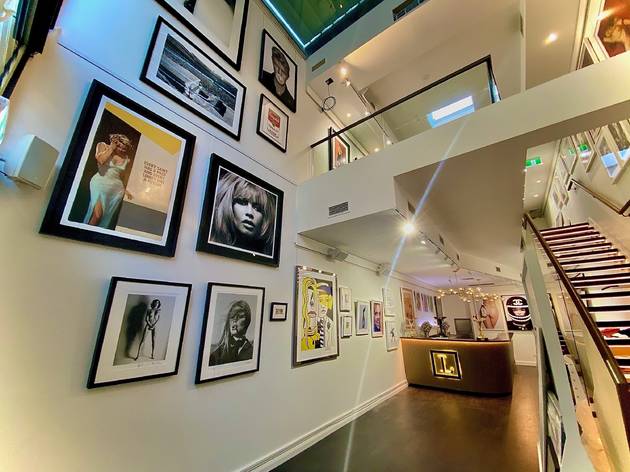 Time Out says
Your go-to gallery for celebrity portraits, covetable photography, street art and more
Founded by 'Mr Paparazzi' Darryn Lyons, this gallery and creative space is a nerve centre for fans of celebrity portraits, pop art and big-name photographers. Lyons Gallery recently upgraded their digs to a two-level building in the unwaiveringly creative hub of Darlinghurst and expect to expand their technological exhibitions and live event capabilities as a result.
Lyons Gallery proudly boasts some quite famous artists in their collection that are available for sale. If you're a photography connoisseur you'll be tickled to know that Lyons Gallery has heavyweights like Helmut Newton, Douglas Kirkland, Terry O'Neill, Brian Duffy (responsible for this supremely iconic portrait of David Bowie) and more. For the art history buffs and colourful collectors there's a heap of Andy Warhol prints, Roy Lichtenstein rarities and eccentric ephemera from The Connor Brothers. Street art fans will also be well fed with hard-to-find pieces from the likes of Banksy, Invader, E$COBAR and Van Donna. Explore the Lyons Gallery full treasure trove of collectible art and pop culture artefacts by requesting a program and having a sniff around their full artists list here.
The new Darlinghurst space means Lyons Gallery is opening their doors and horizons to new possibilities. The gallery is open to hire out their light-filled space for corporate or social events with their full bar licence and has the capacity to host live music events and whatever other bombastic party form you may be cooking up – just ask.
To celebrate the launch of the new space Lyons Gallery is holding a Helmut Newton-inspired opening on Thursday November 12. And keep your eyes peel for a special pop-up Lyons Gallery take over on level six of Westfield in the Sydney CBD. Keep abreast of the gallery's upcoming events and get some regular hit posts of their fab collection on the Lyons Gallery Facebook page.
Details